Holiday Party Plant-Based Recipes
Have you been searching for Holiday Party Plant-Based Recipes?
It's almost that time of year again!
When every weekend is booked solid with holiday work parties, family outings and your best friends annual potluck get-togethers.
We thought we would help out by providing you with some of our go-to Plant-Based Holiday Party Recipes.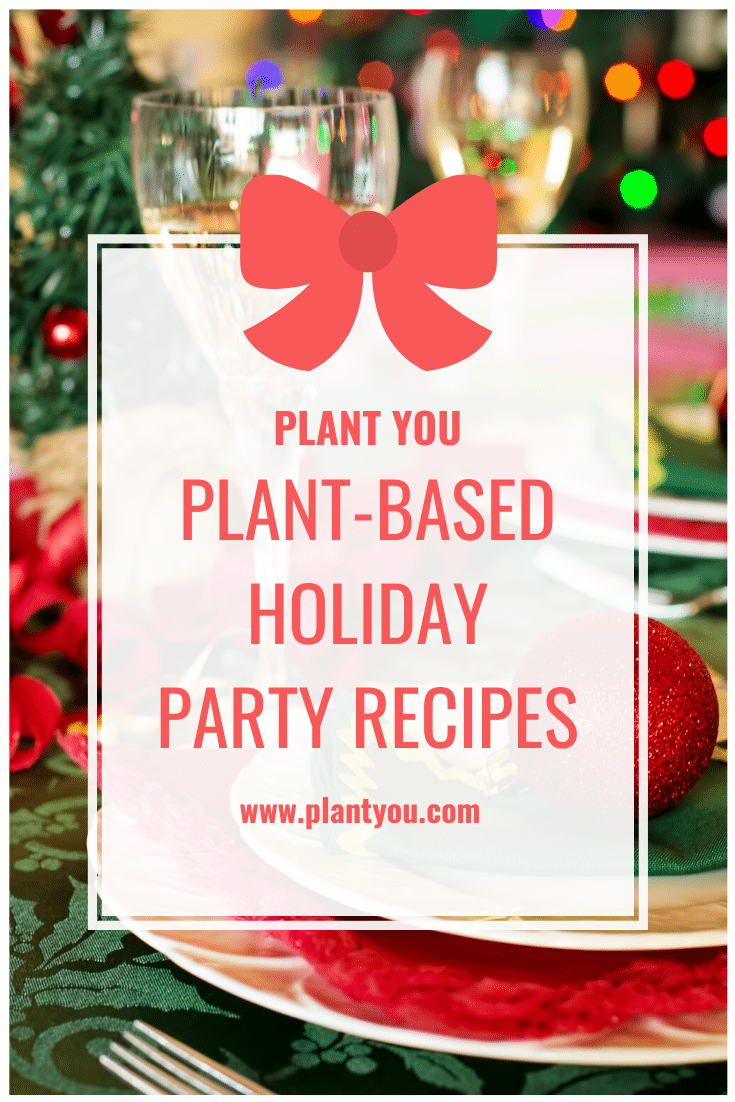 We're here to save you time and money when it comes to cooking up festive dishes! Our whole-food plant-based meal plan a.k.a., Plant Ahead was built on that one premise alone, and we want you to be well prepared for this upcoming holiday season and not to worry about what the heck you're going to cook for the holidays!
Therefore, this week, we're sharing our best holiday party recipe ideas which include an appetizer, potluck dish and our favourite festive dessert!
Can we get a "HALLELUJAH"?
---
Liven up the party with FESTIVE FRESH ROLLS!
If you're heading over to a holiday social its always polite to bring along a snack! Why not make it a healthy app! These festive fresh rolls will be a real crowd-pleaser since they're bite-sized and perfect for eating while chatting up your old pals. 
The Recipe: Festive Fresh Rolls
Ingredients
12 Rice Paper Wraps
1 cup Vermicelli Noodles, 8 ounces dry
1½ cups Matchstick Carrots
1 cup Mint Leaves
1 Red Pepper, sliced
½ Cucumber
2 tbsp Hemp Seeds
½ cup All Natural Peanut Butter
1½ tbsps Soy Sauce, low sodium
3 tbsps Maple Syrup
1½ tbsps Lime Juice
½ tsp Red Pepper Flakes
Instructions
Cook vermicelli noodles according to package directions (approximately boiled for 5-6 minutes). Let cool and set aside. 

Prepare peanut sauce by adding peanut butter, soy sauce, maple syrup, lime juice and red pepper flakes (if you like spice) to a small mixing bowl and whisk until combined. Add enough hot water to thin until a pourable sauce is achieved. Adjust flavors as needed by adding more syrup or soy sauce. 

Prepare your veggies by thinly slicing your red pepper, cucumber, and setting out your mint and matchstick carrots. 

To assemble spring rolls, pour very hot water into a shallow dish or skillet and immerse a rice paper to soften for about 10-15 seconds. Transfer to a damp cutting board or damp towel and gently spread out edges into a circle (this will take a little practice!) 

Add a small handful of vermicelli noodles and layer carrots, bell pepper, cucumber, basil and 1/2 tsp of hemp hearts on top. Gently fold over once, tuck in edges, and continue rolling until seam is sealed. 

Place seam-side down on a serving platter. Repeat until all fillings are used up (approximately 12 fresh spring rolls)! 

Separate your spring rolls into three high quality tupperware containers. Try to make it so they are not squished or they might rip a bit the following day. Also split the sauce into three separate servings and enjoy.
---
This hot and steamy pot luck dish is a classic. 
Are you the only plant-based eater in the office and is that annual potluck event coming up? 
Well, no worries because this Potluck Mac & Cheese is just what you need! Taste buds will be singing with flavour, and this mouthwatering mac will have your co-workers asking for the RECIPE.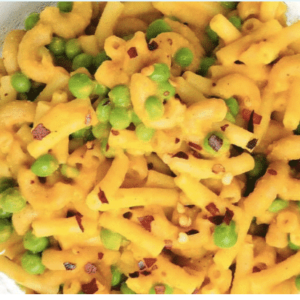 The Recipe: Pot Luck Mac & Cheeze
Ingredients
2 Yellow Potatoes, peeled and cubed
1 medium Carrot, peeled and cut into 1 inch pieces
½ Yellow Onion
¼ cup Cashews
1 tsp Garlic Powder
1 tsp Onion Powder
1 tsp Paprika
1 tsp Salt
½ tsp Turmeric
1½ cups Whole Wheat Macaroni
1½ cups Frozen Peas
Instructions
Peel and cube the potatoes. Peel and chop the carrot. Peel and quarter the onion.

Add the vegetables and cashews to a large pot of boiling salted water. Cover and simmer for 10-15 minutes, until the potatoes are fork-tender. Remove the boiled vegetables and cashews and save about 1 1⁄2 cups of the cooking water. 

Meanwhile, cook your macaroni according to package directions, and either steam or microwave your peas until cooked. 

Add the cashews, boiled vegetables, garlic powder, onion powder, turmeric, paprika, salt and reserved cooking water to a blender. Blend until smooth. Taste and add more salt and spices as needed. I added some hot sauce to mine. 

Pour the sauce over the macaroni and stir to coat. Add the sauce sparingly to ensure you maintain a good macaroni to sauce ratio. Add more almond milk as needed for consistency. Finally, stir in your cooked peas. 

Stir in 1-2 tbsp's of water or almond milk to the macaroni before reheating.

---
YUM! OH WAIT.. these muffins have WHAT in them!? 
Yes, you won't believe that there is zucchini in these delectable Holiday Chocolate Zucchini Muffins!
The whole platter will be gone before you know it and you'll be satisfied to discover that you have actually served up a fantastic dessert favourite! 
This one will be a hit, we promise!
The Recipe: Holiday Chocolate Zucchini Muffins
Ingredients
2 cups Oat Flour
⅓ cup Cocoa Flour
2 tsps Baking Powder
1 tsp Baking Soda
¼ tsp Sea Salt
1 cup Pitted Dates
¼ cup Water
1 tbsp Pure Vanilla Extract
1 large Zucchini
1 cup Unsweetened Almond Milk
¼ cup Dark Chocolate Chips , Vegan
Instructions
Preheat the oven to 350 degrees F, and line a muffin tin with cupcake liners. Whisk all the dry ingredients into a large bowl and set aside. 

Grate or chop your zucchini in a food processor, and lightly pat with a paper towel. 

Add pitted dates and 1/4 a cup of water to a food processor and combine until you reach a paste consistency. Add this, and all the wet ingredients to a separate bowl, along with your grated zucchini. 

Pour the wet mixture into the dry ingredients and mix until combined. Add your chocolate chips and stir in. Add 2-3 tbsp's of the mix into your muffin tin until full, and place in the oven. 

Bake for 45-55 minutes, until a toothpick comes out mostly clean. Then remove from the oven and let cool completely for eating. 
---
I know that you're going to feel confident heading into the holiday season with at least one of these delicious recipes! 
This time of year is very hectic, and the schedule fills up very quickly! Therefore, its best to plan ahead with the Plant Ahead Meal Prep Program. 
Join our whole food plant-based meal prep program and received weekly meal plans, all previous plans and e-books included. Save yourself the hustle and spend more time with your loved ones this holiday season. 
The Plant Ahead Meal Prep Program is ONLY $7.99, and you can cancel at anytime.