Air Fryer Brussels Sprouts
Revolutionize your holiday feast with these delicious, healthy air fryer Brussels sprouts!
With holidays just around the corner, you're about to see Brussels sprouts make an appearance. From market stalls and grocery store shelves to social media feeds and recipe blogs, this time of the year is when Brussels sprouts really get a chance to shine!
Many people consider Brussels sprouts the worst part of the holiday dinner. But that's only because they haven't tried these amazing air fryer Brussels sprouts!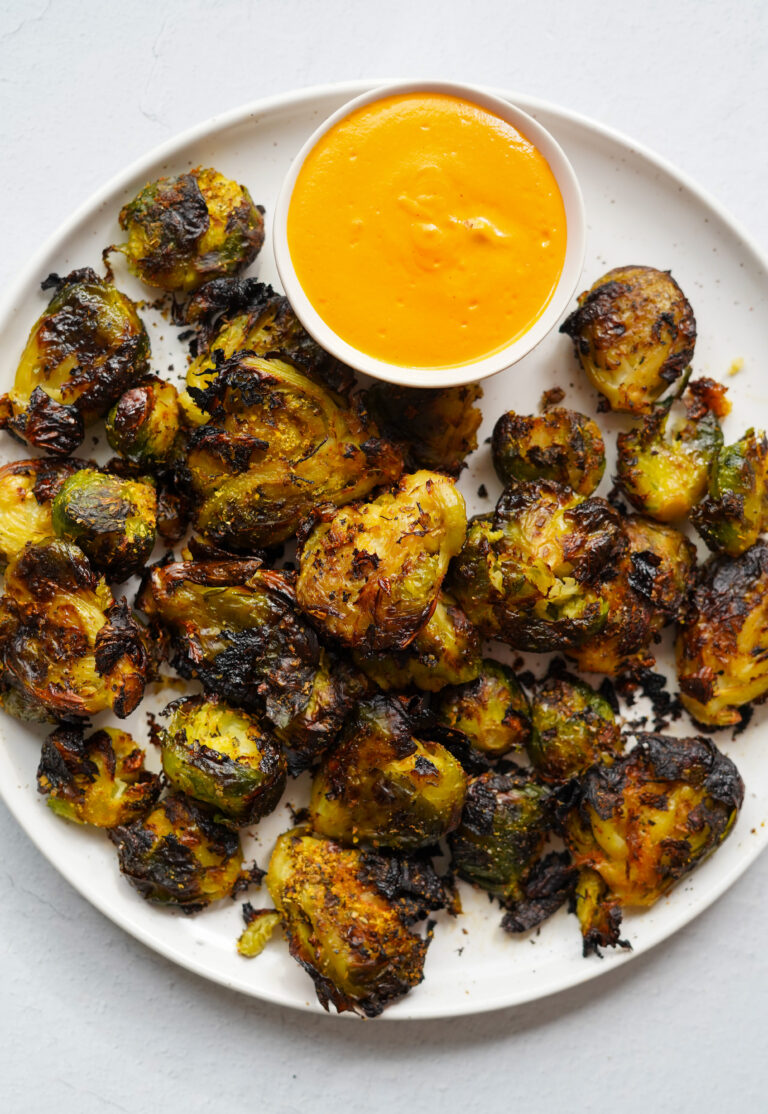 Why You'll Love This Recipe
This recipe transforms Brussels sprouts from smelly, green blobs to aromatic, crispy bites of heaven!
They pair perfectly with roasted red pepper dip, which just so happens to be a sneaky veggie recipe.
As well as being the perfect side for the Thanksgiving or Christmas dinner, these air fryer Brussels sprouts make a wonderful healthy snack!
The beauty of this recipe is that it's incredibly easy to make! It takes just over half an hour, and most of that is hands-free.
The combination of spices used for this recipe will make any vegetable taste delicious!
How to Make This Recipe
Start by trimming the ends off your sprouts and thoroughly washing them.
Next, you will need to cook them partway. This way, you won't face the predicament where the sprouts are burned on the outside but raw in the middle.
You can either steam or microwave your sprouts for approximately 8 minutes until half-cooked.
Once the sprouts have cooled down enough to handle, smash them gently with the bottom of a cup or glass. Place them into an air fryer tray and season with oil, spices, and salt.
Cook them at 450F for 15 minutes, before flipping them and running the air fryer for another 10 minutes until crispy.
Meanwhile, prepare your roasted red pepper dip. Combine cashews, roasted pepper, garlic, almond milk, and salt. Once your sprouts are ready, dip and enjoy!
Hack It!
If you do not own an air fryer, this recipe can be made using an oven. Instead of an air fryer tray, use a lined baking sheet and bake your sprouts at 400F for about 40 minutes, turning them halfway.
Although this combination of air fryer Brussels sprouts and roasted red pepper dip is FIRE, you can use any dip or sauce of your choice. For example, have you tried my vegan whipped feta dip or green goddess dressing?
If you like a bit more spice in your dishes, you could add extra spices to the Brussels sprouts. Try roasting them with cayenne, habanero, or even a sprinkle of jalapeño juice.
While these air fryer Brussels sprouts make a great dish of their own, you can add them to wraps, sandwiches, salads, and stir fry dishes.
The red pepper dip contains cashews and almond milk. For a nut-free version, replace cashews with sunflower seeds and use a different plant-based milk.
Other Recipes You'll Love
If you love simple recipes bursting with flavor, you gotta get yourself a copy of the PlantYou Cookbook! It's full of amazing vegan recipes for every taste and every occasion. You don't need to be an expert cook to make recipes from this cookbook, because it is specifically aimed at home cooks of all levels. Need I mention that the PlantYou Cookbook would make a great Christmas present?
And if you're searching for creative dishes every week, including the holidays, try the PlantYou Planner. This digital meal planner platform has over 600 incredible vegan recipes for you to choose from. Not to mention, every recipe is healthy, beginner-friendly, and made with whole foods. Well, what are you waiting for?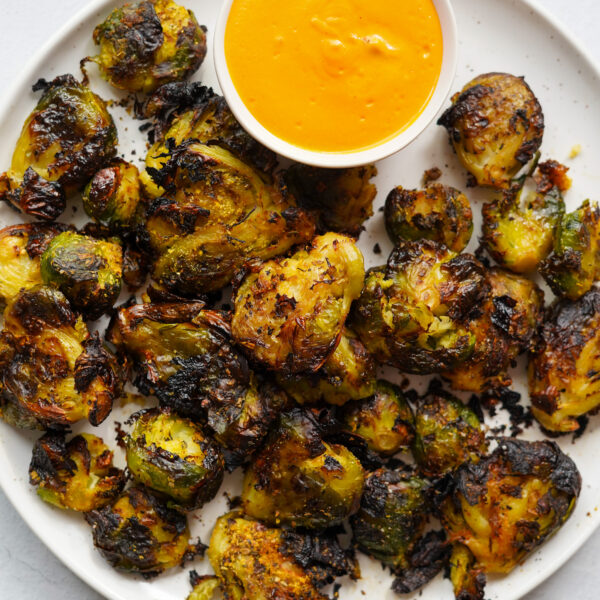 The Recipe: Air Fryer Brussels sprouts
An easy way to enjoy Brussels sprouts as a snack or side dish.
Ingredients
2 lbs Brissels sprouts, ends trimmed, washed
1 tbsp extra virgin olive oil
1 tsp salt
1 tbsp nutritional yeast
1 tsp paprika
½ tsp garlic powder
Roasted red pepper dip
¾ cup raw cashews, soaked for 30 minutes, drained
½ red bell pepper, roasted
¼ cup almond milk
1 clove garlic
½ tsp salt
Equipment
Steamer basket or microwave

Air Fryer

High Speed Blender or Food Processor
Instructions
Using a steamer basket or the microwave, steam the Brussels sprouts for 8 minutes until half cooked.

Transfer to an air fryer tray or parchment paper lined baking sheet. Using a cup, smash the Brussels sprouts until they are flattened slightly. Season with olive oil, salt, nutritional yeast, paprika and garlic powder. 

Air fry for 15 minutes at 450F. Flip the Brussels sprouts, then air fry for an additional 10 minutes, until crispy. 

hile the Brussels sprouts are baking, you can make the vegan roasted red pepper dip. Simply combine all ingredients in a blender until smooth. 
Calories: 180.5kcal, Carbohydrates: 9.6g, Protein: 5.7g, Fat: 14.4g, Saturated Fat: 2.4g, Polyunsaturated Fat: 2.4g, Monounsaturated Fat: 8.4g, Sodium: 896.3mg, Potassium: 238.8mg, Fiber: 1.7g, Sugar: 2.1g, Vitamin A: 504.4IU, Vitamin C: 21mg, Calcium: 31.1mg, Iron: 1.9mg