Vegan Whipped Feta Dip
Do you ever dream that there was a vegan whipped feta dip? Don't worry, I've got you! You won't believe this whipped feta dip is VEGAN and made entirely of whole-food, plant-based ingredients!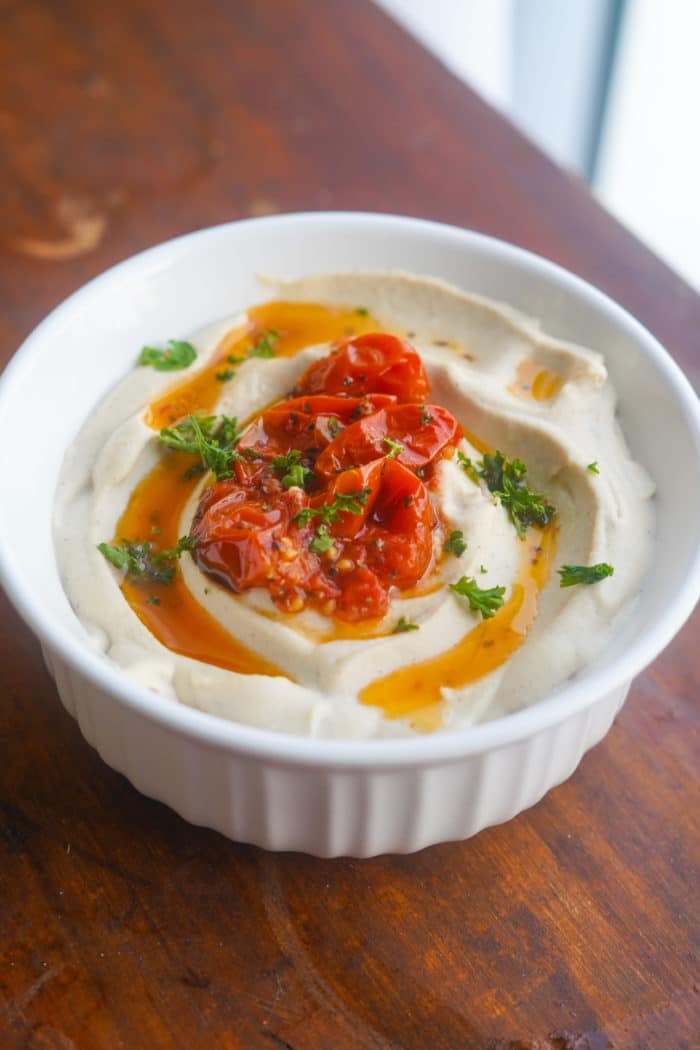 Transitioning to plant-based living can be very challenging, and one of the most difficult parts is giving up your comfort food. Thankfully, these days almost anything can be "veganized". Even better, it doesn't mean you have to sacrifice the taste AND it can be made using whole-food ingredients.
I also recently learned that for some people, the difficulty in transitioning to being vegan comes from their dislike of beans and pulses. After all, they are one of the most commonly available sources of plant-based protein, so what are you supposed to do if you don't like legumes? My answer to that is to incorporate them into your diet in creative ways, sometimes you wouldn't even suspect a recipe contains beans!
We already know beans are magical… but did you know when blended up with cashews, lemon juice, garlic, and spices they result in a delicious vegan whipped feta dip? I promise… just try it!
Why You'll Love This Recipe
First and foremost, like many other PlantYou recipes, this dip is ridiculously easy to make. It takes little effort and equipment, but the result is astonishing!
This vegan whipped feta dip contains healthy fats (thanks, cashews!), plenty of protein, as well as other useful nutrients like fiber or vitamin C.
This recipe is naturally dairy-free, soy-free, and gluten-free. Plus, if you suffer from any of aforementioned allergies, you can ensure there is no cross-contamination when you prepare it.
It's a great variety dip, that can also be used as salad dressing, pasta topping, or sandwich filling.
How to Make This Recipe
Preheat the oven to 400F. Add the tomatoes to the roasting pan, drizzle them with olive oil, and add sea salt. Place the roasting dish in the oven for about 20 to 25 minutes, until the tomatoes have softened and burst, releasing juice. Set aside to cool down.
Meanwhile, add white beans, cashews, garlic, dried parsley, sea salt, garlic powder, lemon juice, and nutritional yeast to the blender. Blend until smooth, adding warm water as needed to create a thinner consistency.
Transfer your dip to a serving dish. You have the option to create a swirl with the back of a spoon for additional effect. Top with tomatoes, fresh parsley, and tomato juice/olive oil remaining in the roasting pan. Enjoy with pita bread or vegetable crudites.
Hack It!
If you can't have nuts, you can create a nut-free version of this recipe by replacing cashews with soaked sunflower seeds or firm tofu.
There are so many ways you can enjoy this vegan whipped feta dip! Aside from the fact you can use it as a literal dip for bread or nachos, that is. You can use it as a delicious creamy salad dressing, pasta sauce, roast potato dip, or even a sandwich filling!
I used regular canned white beans, but you can rehydrate and cook your beans from scratch if you prefer.
Don't throw away the rind leftover from squeezing lemon juice! Make this gentle DIY lemon cleanser instead!
As well as topping the dip with roast tomatoes and parsley, you can also top it with chili flakes, toasted sesame seeds, or crispy onions.
Other Recipes You'll Love
For more easy plant-based recipes, check out the PlantYou meal planner! It's a digital planner that allows you to customize your weekly menu and toggle the number of servings to accommodate your household. Additionally, the planner generates a dynamic shopping list you can take to the store with you! The best part? You can be part of the PlantYou community!
In case you haven't got yourself a copy yet, it's worth grabbing the PlantYou Cookbook from your local bookstore while the stocks last! The support from the plant-based community has been so incredible that unfortunately digitally sold stocks have depleted very quickly. So if you don't want to wait until June for the second print, grab a copy to enjoy 140+ plant-based recipes NOW!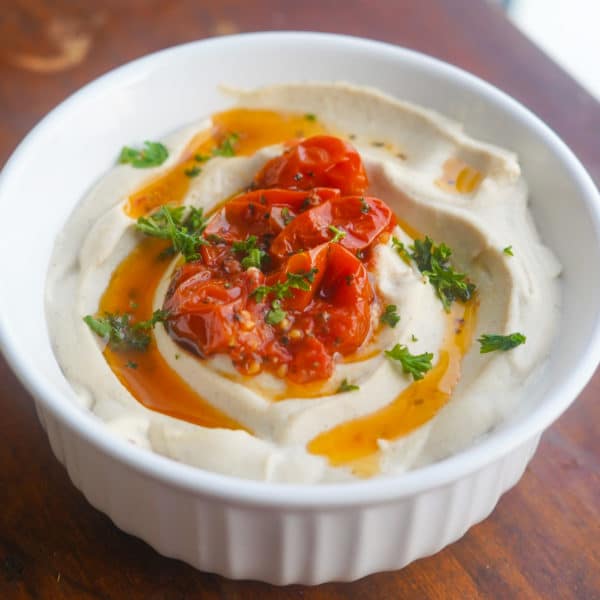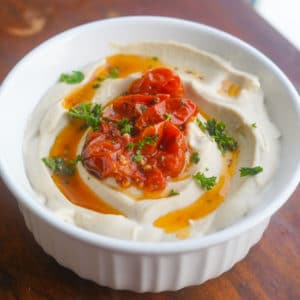 The Recipe: Vegan Whipped Feta Dip
Imagine whipped feta dip without the dairy! This is it!
Ingredients
Roasted Tomatoes
1 ½ cups grape tomatoes
2 tbsp olive oil
½ tsp sea salt
Whipped Feta Dip
1 cup white beans, canned, drained and rinsed
1 cup cashews, soaked overnight
3 cloves garlic
1 tsp dried parsley
½ tsp sea salt
¼ tsp garlic powder
½ lemon, juiced
1 tbsp nutritional yeast
3 tbsp water, or more as needed to thin
1 tbsp fresh parsley, for garnish
Equipment
1 High-speed blender

roasting dish
Instructions
Preheat the oven to 400F. Add the tomatoes, olive oil and sea salt to a roasting pan, and place in the oven for 20 to 25 minutes, until the tomatoes have bursted.

Meanwhile, add all of the dip ingredients to a blender apart from the fresh parsley. Blend until smooth, adding warm water as needed to thin.

Transfer to a serving dish, and with the back of a spoon create a swirl. Add the tomatoes, fresh parsley, and tomato/olive oil remaining in the baking dish on top. Enjoy with pita bread or vegetables.
Calories: 181.2kcal, Carbohydrates: 17.5g, Protein: 8g, Fat: 10.1g, Saturated Fat: 1.8g, Polyunsaturated Fat: 1.8g, Monounsaturated Fat: 5.4g, Sodium: 436.7mg, Potassium: 447.8mg, Fiber: 3.8g, Sugar: 2.6g, Vitamin A: 379.4IU, Vitamin C: 11.4mg, Calcium: 46.6mg, Iron: 2.9mg