Vegan Pecan Pie Smoothie
Here's a holiday classic that you can have every morning: Vegan Pecan Pie Smoothie!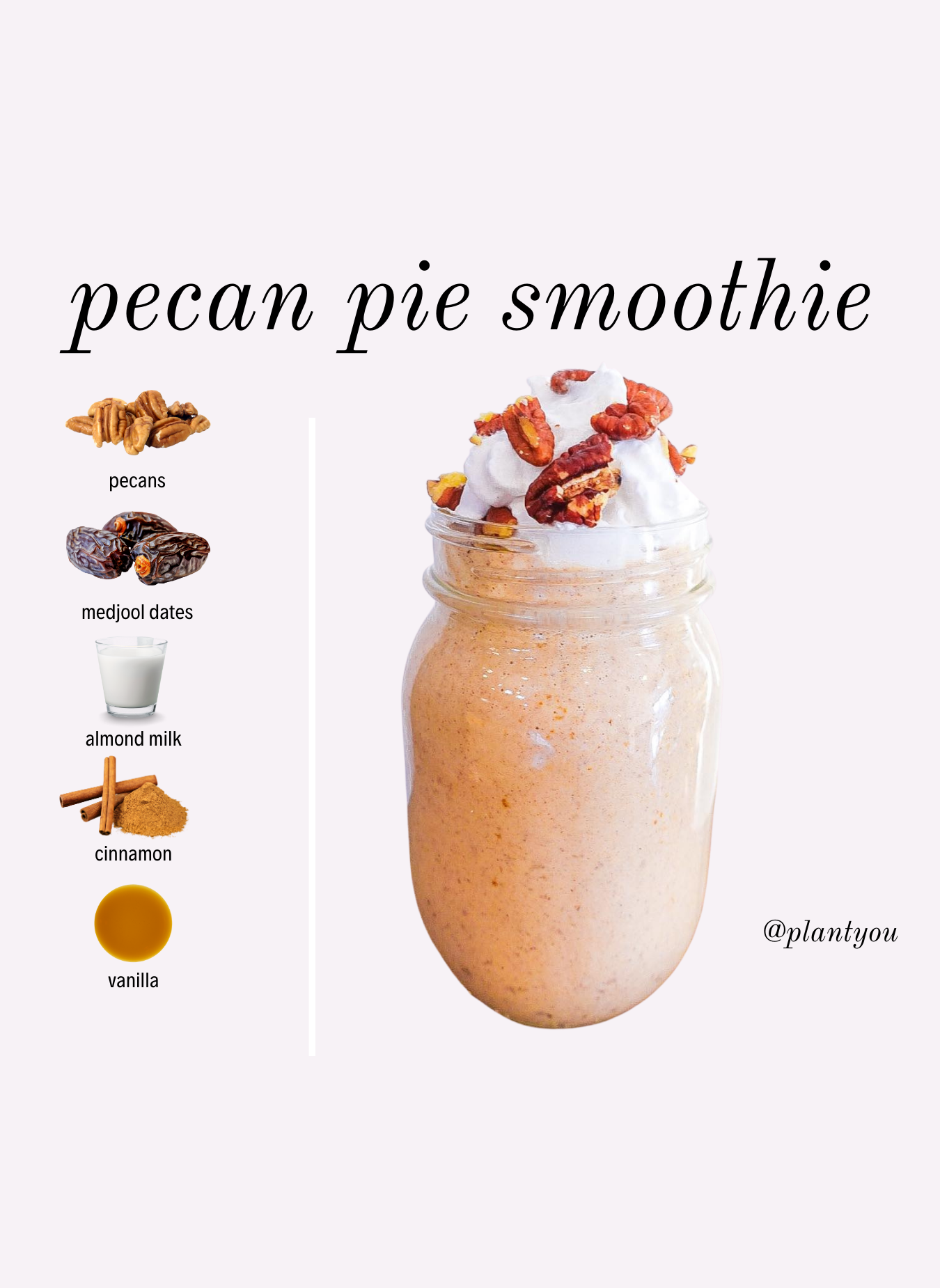 This Vegan Pecan Pie Smoothie is a delicious holiday-themed vegan smoothie that will remind you of all the wonderful flavours of a classic pecan pie.
Pecan pie is one of my holiday favorites so I could not miss this opportunity to have it every single day if I wanted!
This Vegan Pecan Pie Smoothie is super easy to make and can even be topped with coconut whipping cream if you feel extra festive. It has all of the classic pecan pie flavors such as pecans, cinnamon, and dates for a little extra sweetness!
It makes an excellent breakfast for the holidays, or even a delicious, plant-based dessert!
What's in this Vegan Pecan Pie Smoothie?
This Vegan Pecan Pie Smoothie is made of pecans (of course!), a couple of dates for a little added sweetness, almond milk (or any plant-based milk of your choosing), ice cubes, and a dash of cinnamon and vanilla.
And don't forget to top it off with coconut whipping cream! It really adds that pie-like feel.
What makes this smoothie taste like pecan pie?
The pecan pie flavor comes from the mixture of pecan, dates, and cinnamon. The pecans give a wonderful nutty flavor, while the cinnamon adds a nice winter spice flavor. I love using dates instead of sugar to add sweetness to my smoothie because it is a whole-food option.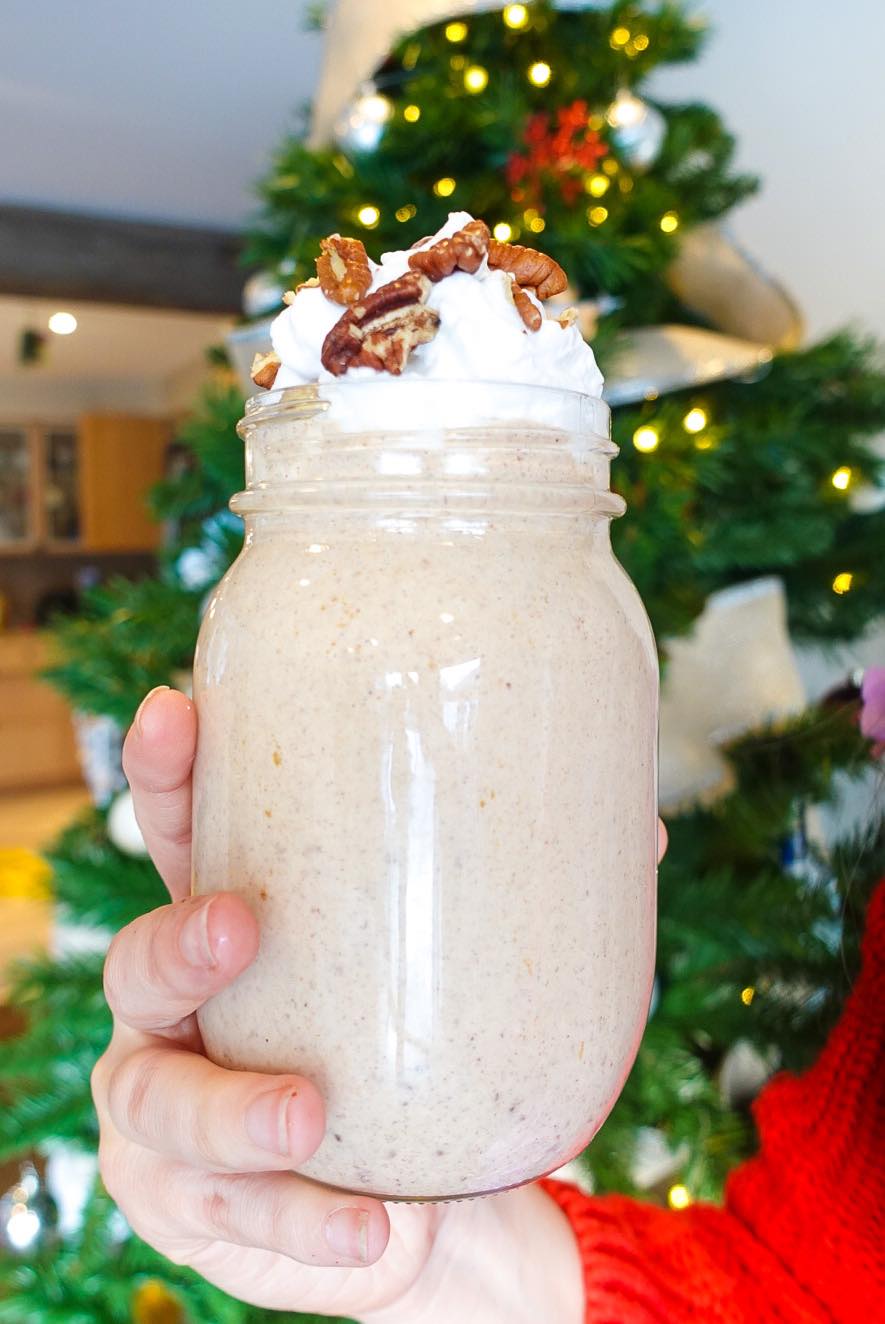 How to Soak Pecans?
Pecans can be hard to digest raw, so I recommend soaking them to avoid any digestion problems; plus, it makes them softer for blending.
You can soak your pecans by placing them in a bowl and then covering them with warm filtered water. For this recipe, I recommend washing them for at least ½ an hour, but you can soak them for longer if you want.
What Blenders Do I Use?
Because pecans are so tough, I love using my Vitamix blender. It is super durable and high-speed. If you don't have a Vitamix, any high-speed blender will do!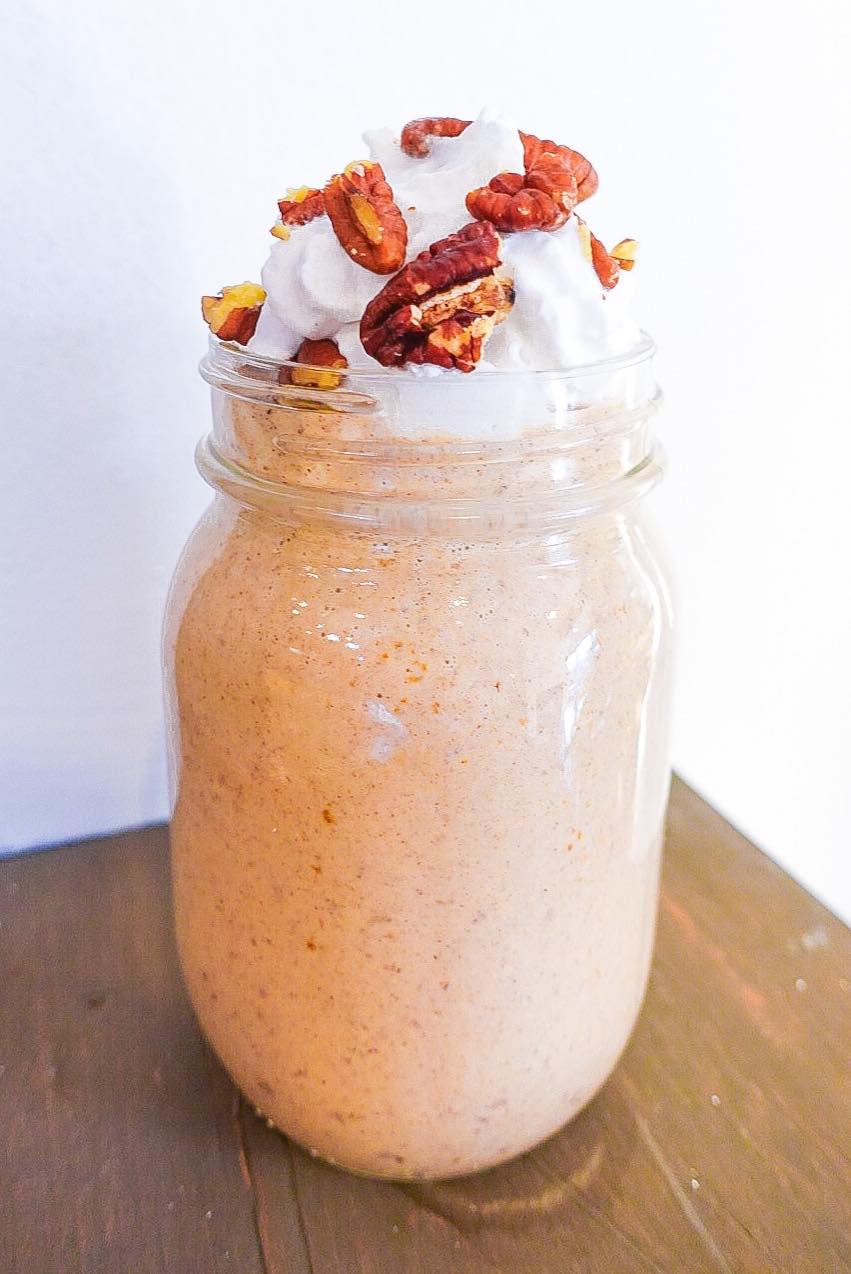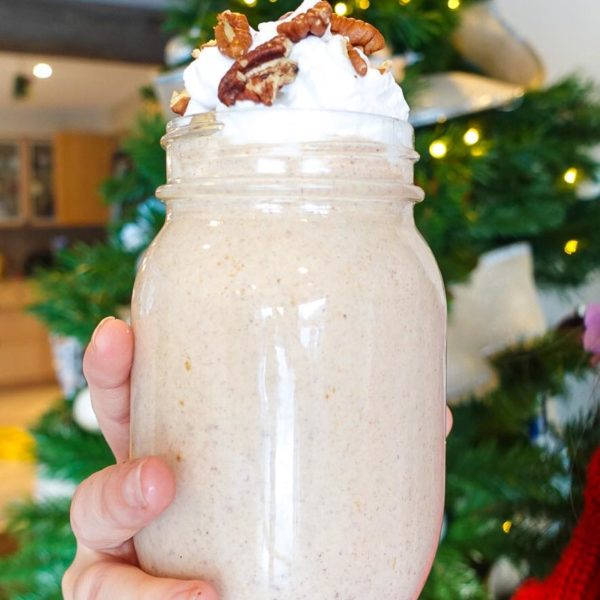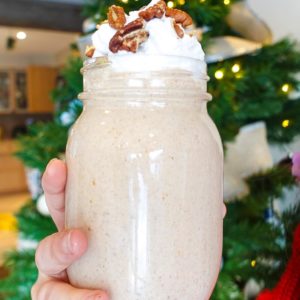 The Recipe: Vegan Pecan Pie Smoothie
A festive smoothie for all your holiday cravings!
Ingredients
¼ cup Pecans, soaked in warm water for a 1/2 hour
2 Medjool dates, soaked in warm water for a 1/2 hour
1½ cups Almond milk
½ cup Ice cubes
¾ tsp Cinnamon
½ tsp Vanilla Extract
Instructions
Combine all ingredients in a blender until smooth. Top with coconut whipped cream as desired.
Other breakfast plant-based recipes?
This recipe is perfect for a holiday-themed breakfast. Here are some more sweet plant-based breakfast ideas!
You can never go wrong with stove-top oatmeal- here's how to make stove-top oatmeal 5 different ways.
This oatmeal is another holiday favorite – Apple Pie Oatmeal! Perfect for a chilly winter morning.
If smoothies are more your jam, this Birthday Cake Smoothie makes your morning a party every time.
And last but not least, these easy and quick Vegan Banana Pancakes are delicious (and might have you playing Jack Johnson all morning)!
Join the Plant Ahead Program for holiday-themed meal plans today!
If you want more plant-based holiday-themed recipes, join us in the Plant Ahead program for weekly holiday-themed meal plans! You will get a weekly grocery list and complete meal plan packed with warm soups, delicious baked goods, savory smoothies, and satisfying bowls.
Ready to start getting creative this winter? Head over here to sign up right now!