Apple Pie Oatmeal
This Apple Pie Oatmeal is a warming and delicious vegan breakfast that comes together in less than 15 minutes!
I'm a superfan of oatmeal. It may seem like a strange food to be obsessed with, but oatmeal is truly such an amazing powerhouse breakfast that's good for you and tastes amazing. Not to mention in almost all the interviews I've ever watched with my favorite plant-based doctors, they seem to start their day with oatmeal!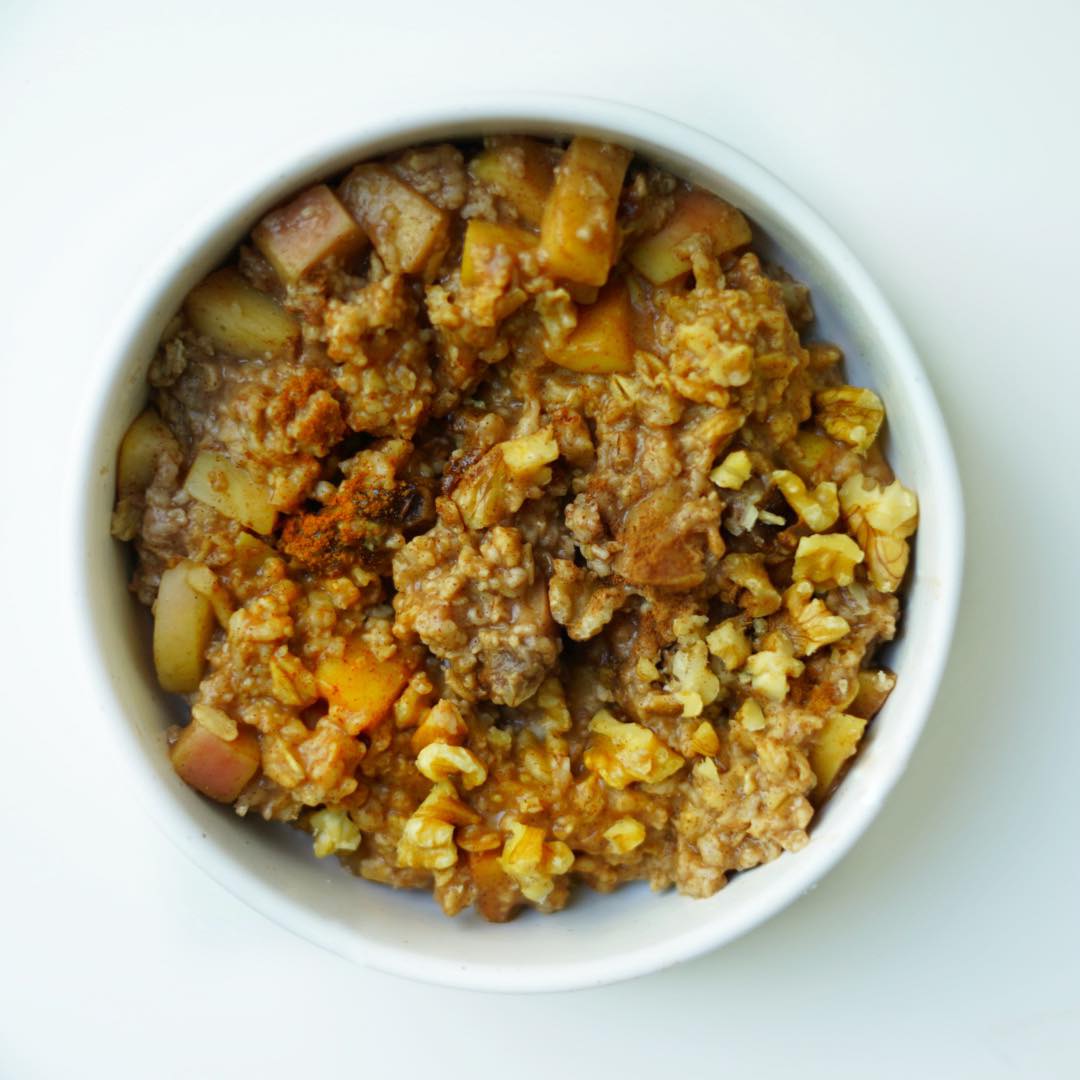 Adding Protein To Your Vegan Oatmeal
I love all different types of oatmeal dishes, but this Apple Pie Oatmeal may be new favorite. Better yet, we've finished this amazing oatmeal off with our absolutely favorite vegan energy bars – Skout!
Their vegan Skout Organic Apple Pie Bars are actually "kid" sized, but they're AMAZING for adding to dishes like oatmeal, or before a quick workout. For this recipe, we actually added the Apple Pie Bar in while the oatmeal is cooking, so it got all soft and uber delicious!
In fact all of their delicious bars are made with good for you ingredients, like organic pitted dates, organic sunflower seeds for protein and organic fruits like blueberries. If Apple Pie isn't your thing, definitely try out Salted Chocolate, Peanut Butter, Cherry and more.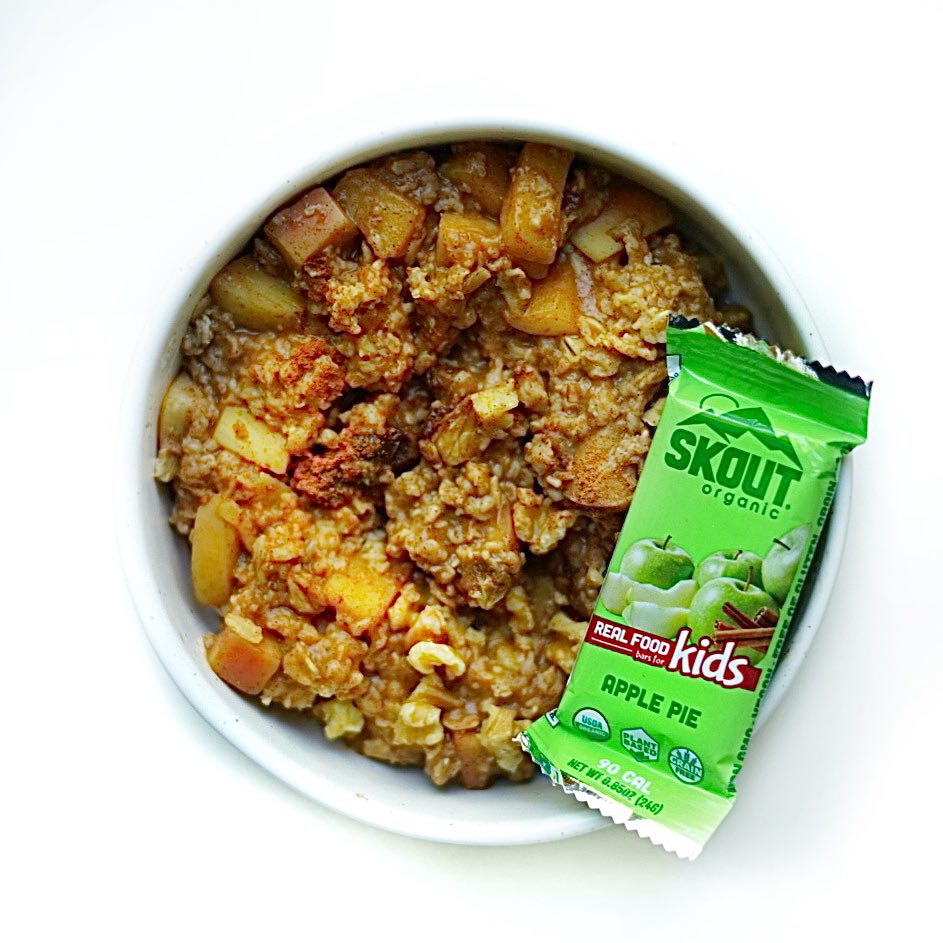 What Else Is In This Apple Pie Oatmeal?
Along with a Skout Organic Apple Pie Bar Kids Bar, you also want to have rolled oats, an apple, some cinnamon, water and maple syrup on hand for this delicious vegan recipe!
That's right. This simple Apple Pie Oatmeal requires just six whole-foods, plant-based ingredients to come together.
In terms of kitchen equipment, all you need is a stovetop and pot and you're good to go.
Can You Meal Prep This Recipe?
I've got good news. This amazing Apple Pie Oatmeal could not be better for a delicious and nourishing meal prep breakfast.
Simply prepare the recipe as laid out below, allow it to cool, and separate into tupperware containers. Refrigerate and enjoy throughout the workweek either cold, or reheated in the microwave with a little extra water to keep the oatmeal nice and soft.
If you're looking for other whole-foods, plant-based meal prep breakfast ideas, we'd also recommend:
Right now, you can also subscribe to receive a plant-based meal plan in your inbox every single week with seven new whole-foods, plant-based recipes by joining our membership program, Plant Ahead. Members also receive access to over a year's database of weekly whole-foods, plant-based meal plans along with shopping lists and caloric information for each recipe. Sign up here.
The Recipe: Apple Pie Oatmeal
A delicious warming breakfast oatmeal that is healthy for you and easy to make.
Ingredients
1 Red Apple
2 Tbsp Maple Syrup
1 Tsp Cinnamon
1 Cup Rolled Oats
2 Cup Water
1 Skout Organic Apple Pie Bar
Instructions
Chop your red apple and add it to a pot with 2 tbsp's of water over medium heat. Now add your maple syrup and cinnamon and stir. Allow the apples to soften for approximately five minutes.

Next add in your 2 cups of water and rolled oats. Stir until the oatmeal has thickened, for approximately 3 minutes. Finally add in your Skout Organic Apple Pie protein bar in small pieces, and stir until it melts in the oatmeal.

Serve with additional cinnamon and walnuts as desired.
Calories: 200kcal, Carbohydrates: 40g, Protein: 5g, Fat: 2g