Vegan Swirled Fudgesicle Recipe (70 Calories)
This Vegan Swirled Fudgesicle Recipe is refreshing, creamy, rich and delicious. They're also made of entirely whole-foods, plant-based ingredients and are just 70 calories, so you can feel great about eating them too!
Who doesn't love fudgesicles? Seriously… Please show me someone who doesn't love chocolatey ice cream deliciousness after a long hot day.
I had a big craving for a fudgesicle these last couple weeks as the sun peeked its head out for summer. Unfortunately I haven't been able to find a store bought brand that's vegan or not packed with refined sugar.
So, I decided to make my own. The best part? They require just four simple ingredients and are ridiculously easy to make! Seriously this is easier than heading out to the store anyways.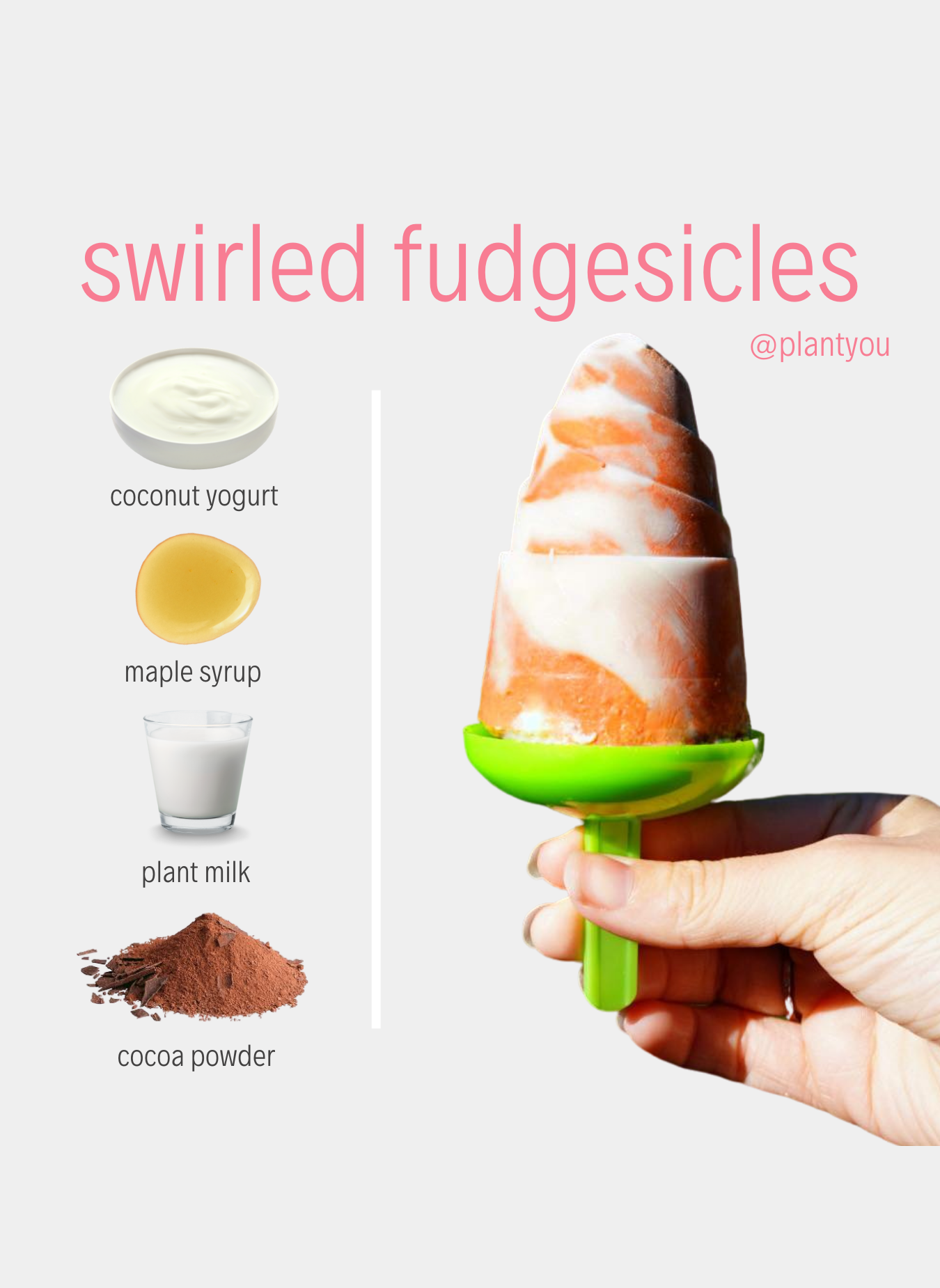 What's In This Vegan Swirled Fudgesicle Recipe?
For this Vegan Swirled Fudgesicle Recipe you need four plant-based ingredients. This includes:
Cocoa Powder (or Cocao Powder)
Vegan Milk (Almond, Cashew, Soy, or Oat should all work for this recipe)
Vegan Yogurt (We used coconut yogurt for ours)
Maple Syrup (This is to sweeten them. You could use another liquid alternative sweetener as well)
That's it! You simply blend these ingredients, put them in your popsicle molds, and enjoy!
How Do You Get A Swirl In This Fudgesicle Recipe?
Getting the signature swirl in these Vegan Swirled Fudgesicles is a lot of easier than you think. Before placing your blended popsicle mixture in your moulds, simply get a heaping spoonful of your yogurt.
Swirl it around the outside of your molds until there are streaks along the edges. It doesn't have to be perfect or fancy. They will still turn out amazing!
How Do You Get The Popsicles Out Of The Molds?
To get these Vegan Swirled Fudgesicles out of the molds, we suggest running them under hot water after they come out of the freezer for around five minutes, or alternatively submerging them in warm water for the same amount of time.
Then slowly grab the handle and slip them out of their molds carefully to keep the beautiful swirl intact.
In terms of popsicle molds, for these fudgesicles we actually used a plastic mold from the dollar store.
If you're in the market for some, these silicone ones have have great reviews on Amazon and I've ordered a pair myself: Silicone Popsicle Molds
What Do These Popsicles Taste Like?
You will LOVE these fudgesicles. They're not overly sweet. They have a coconut undertone (if you use coconut yogurt), and they're nice, rich and fudgy tasting!
I'm obsessed with healthifying some of my favorite treats, so this one fits the mark perfectly. Of course it doesn't taste exactly like a super sweet ice cream cone, but that's kind of why I love it. You'll feel great after eating these Vegan Swirled Fudgesicles.
If you're looking for other Healthy Plant-Based Dessert recipes, we'd definitely recommend:
Strawberry Milk
Peanut Butter Mug Cake
PRINT RECIPE
Vegan Swirled Fudgesicles
Pin Recipe
These Vegan Swirled Fudgesicles are a healthy, rich and delicious popsicle treat perfect for the summer time!
Ingredients
2

Cups

Coconut Yogurt

1/4

Cup

Almond Milk

4.5

Tbsp

Cocoa Powder

2.5

Tbsp

Maple Syrup
Instructions
Combine all ingredients in a blender.

Swirl an additional tablespoon of coconut yogurt around the edges of the popsicle molds to get a swirl effect.

Pour the mixture into the molds. Freeze for four hours until solid.
Nutrition
Calories:
70
kcal
|
Carbohydrates:
12
g
|
Protein:
1
g
|
Fat:
3
g