How to make Strawberry Chia Seed Jam (Vegan & Refined Sugar Free)
This delicious Strawberry Chia Jam contains just three ingredients and is both vegan and refined sugar free! 
Cha-cha-cha CHIA PETS! Who knew that the same little seeds you used to grow a beard in your terracotta garden gnome could have amazing jam-making super powers?!
Today I'm going to show you how you can use CHIA SEEDS make a super EASY and nourishing strawberry jam.
This jam is:
– Delicious
– Fibrous
– Refined sugar free
– Protein filled
I remember when I first quit sugar and found out just how much of the white stuff was hiding in conventional jams. Spoiler alert: Your typical serving (100g) of jam contains over 49g of sugar. Needless to say, I haven't really eaten much since.
Well, the tides have turned my friends. Thanks to this delicious Strawberry Chia Jam I'm now enjoying PB & J sandwiches on the daily!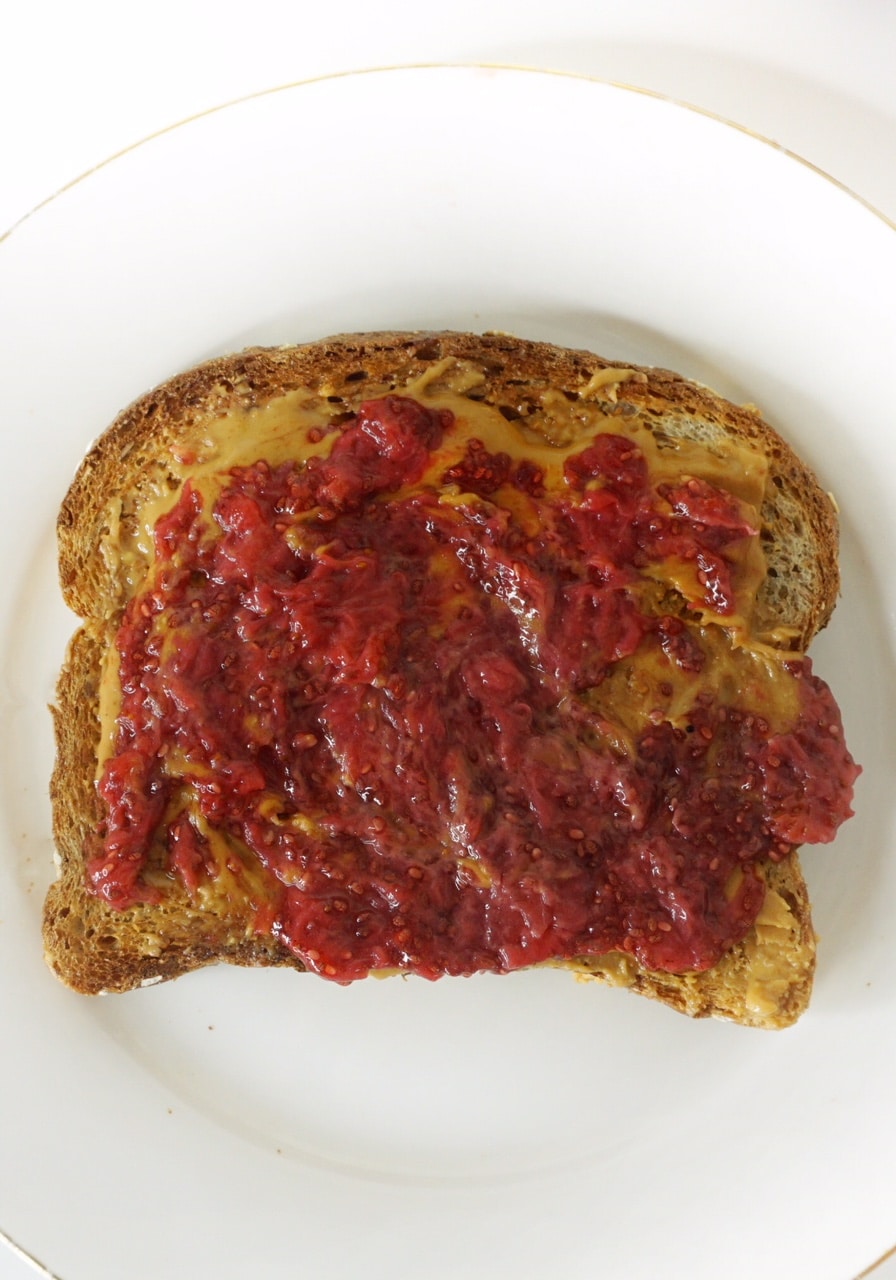 The Power of Chia Seeds
CHOO CHOO! It's time to get on the chia seed train!
These little seeds are an amazing superfood, loaded with omega-3 fatty acids, antioxidants, iron, and calcium.
Luckily for us, chia seeds are also loaded with fiber. If you follow my blog, you'll know that I'm currently taking a Holistic Health Coach Certification program with the amazing Nutraphoria School of Holistic Nutrition.
I didn't realize how integral fiber is in a balanced, healthy diet until delving into the my course. It seems crazy, but over half of Canadians aren't getting enough fiber!
Fiber rich foods (like chia seeds!) help you stay fuller for longer because they can slow the absorption of sugar into your blood stream. Because fiber rich foods are "bulkier" you also feel full quicker when eating them!
Chia seeds are the perfect addition to smoothies (like this PB & J smoothie), puddings and desserts. You can find chia seeds at most health food grocery stores, or buy them on sale here!
The Recipe
Low and behold, here is the recipe for my delicious three ingredient Strawberry Chia Jam. If you prefer raspberry jam or blueberry jam, feel free to swap that out with the strawberries below!
The Recipe: Strawberry Chia Jam
This Strawberry Chia Jam is vegan and refined sugar free. The perfect healthy and delicious addition to desserts and peanut butter sandwiches!
Ingredients
2 Cups Cut Strawberries
1 Tbsp Pure Maple Syrup , Optional
2 Tbsp Chia Seeds
Instructions
Wash and slice your strawberries.

Place the strawberries and maple syrup into a pot over medium heat. Cover and cook for 6-8 minutes until the strawberries are soft.

Once the strawberries are soft, crush them with a fork until you achieve an "apple sauce" like consistency.

Let the strawberry mixture cool and pour it into a jar.

Add the chia seeds and mix. Let the jam sit for a couple of minutes before serving. The jam will become more "jam" after refrigeration.