PB & J Smoothie Bowl (Vegan & Refined Sugar Free)
A delicious, nourishing and naturally sweetened smoothie bowl reminiscent of your classic peanut butter and jelly sandwhich. This bowl also adds a punch of protein with peanut butter and chia seeds, and is vegan, gluten free and refined sugar free! 
Peanut butter and jam. Can you think of a more perfect combination?
PB & J is a classic you really can't go wrong with – even in your smoothie!
Loaded with fruit and your favourite toppings, smoothie bowls are not only healthy but extremely satisfying (especially if you have a sweet tooth, like me!)
Today I'm going to share with you my absolute favourite smoothie bowl recipe. It's a spin on the classic pb & j, and involves only four main ingredients, and a blender!
Simply add mixed berries, chia seeds, peanut butter and almond milk to a blender and blend until smooth. Pour into a bowl and top with your favourites. I love hemp seeds, coconut flakes and more chia seeds on top.
If you love peanut butter as much as I do, you'll also want to make my classic vegan peanut butter cookies and these no bake energy balls!
Adding chia seeds to any smoothie will thicken it up and give it more of a "soft serve" consistency (because who doesn't love ice cream made of fruit?!) Chia seeds also have a myriad of health benefits including: added fiber, omega 3 fatty acids, iron, calcium and antioxidants. You can find chia seeds at most health food grocery stores, or buy them on sale here.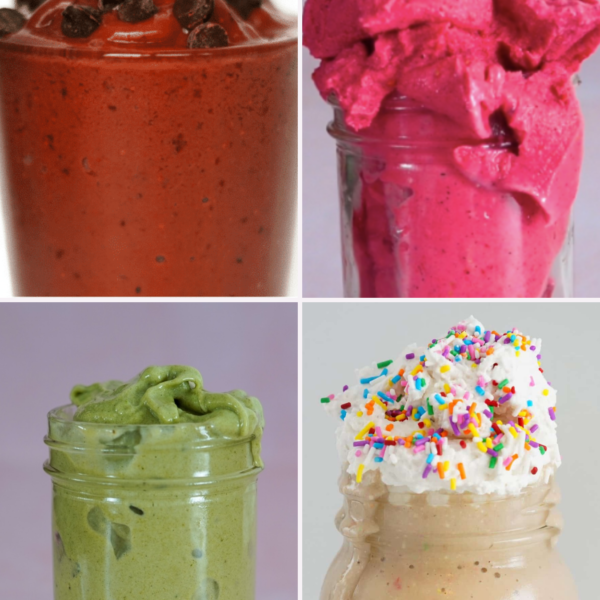 The Recipe: PB & J Smoothie Bowl
A delicious smoothie bowl reminiscent of your classic peanut butter and jelly sandwhich.
Ingredients
1.5 Cups Frozen Berries
2 Tbsp All Natural Peanut Butter
2 Tbsp Chia Seeds
1 Cup Unsweetened Almond Milk
Optional: Unsweetened coconut flakes, chia seeds, more frozen berries and hemp hearts for topping.
Instructions
Add the frozen berries, peanut butter, chia seeds and almond milk to a blender.

Blend until smooth.

Pour the smoothie mixture in a bowl and add your toppings of choice.