Vegan Camping Guide
In this article, we are going to be sharing everything you need for your vegan camping trip! We are covering what gear to pack, what to eat and vegan camping essentials.
Now camping is all about the adventure, and the food is definitely apart of that! When planning your vegan camping trip, you can enjoy simple and delicious recipes that will make you daydream about when you can go again.
Over the years, my family has become quite familiar with plant-based camping. And have become pros when it comes to being organized, prepared and enjoying mouthwatering plant-powered recipes! We've even had non-plant eaters be amazed at how many plants we are consuming and have been inspired by becoming more creative around the campfire.
Most of all, it is incredible to spend time in the great outdoors and one of the best ways to do that is to go camping! It is an excellent way to reconnect with nature and make memories with loved ones. We will not only be sharing the details when it comes to food but also give you the rundown on must-have camping gear and tips for non-vegan and vegan alike.
Now let's get the camping basics covered…
For a camping trip, you will need a few necessary items to have you covered, protected and set up for an enjoyable trip! I've based this list of a 2 person camping trip. I won't be covering what you will need to pack for clothing but will share a great resource! Check that out here.
Tent

Sleeping bags + sleeping pads

Pillows

Toiletries

Large cooler

Dry food box or storage bin

Reusable grocery bags

First aid kit

Flashlights

Reusable water bottle

Tarp (rain cover)

Rope, string or twine

Cloth pins

Folding chairs

Extra batteries

Bug spray & sunscreen

Small tool kit (with a hammer)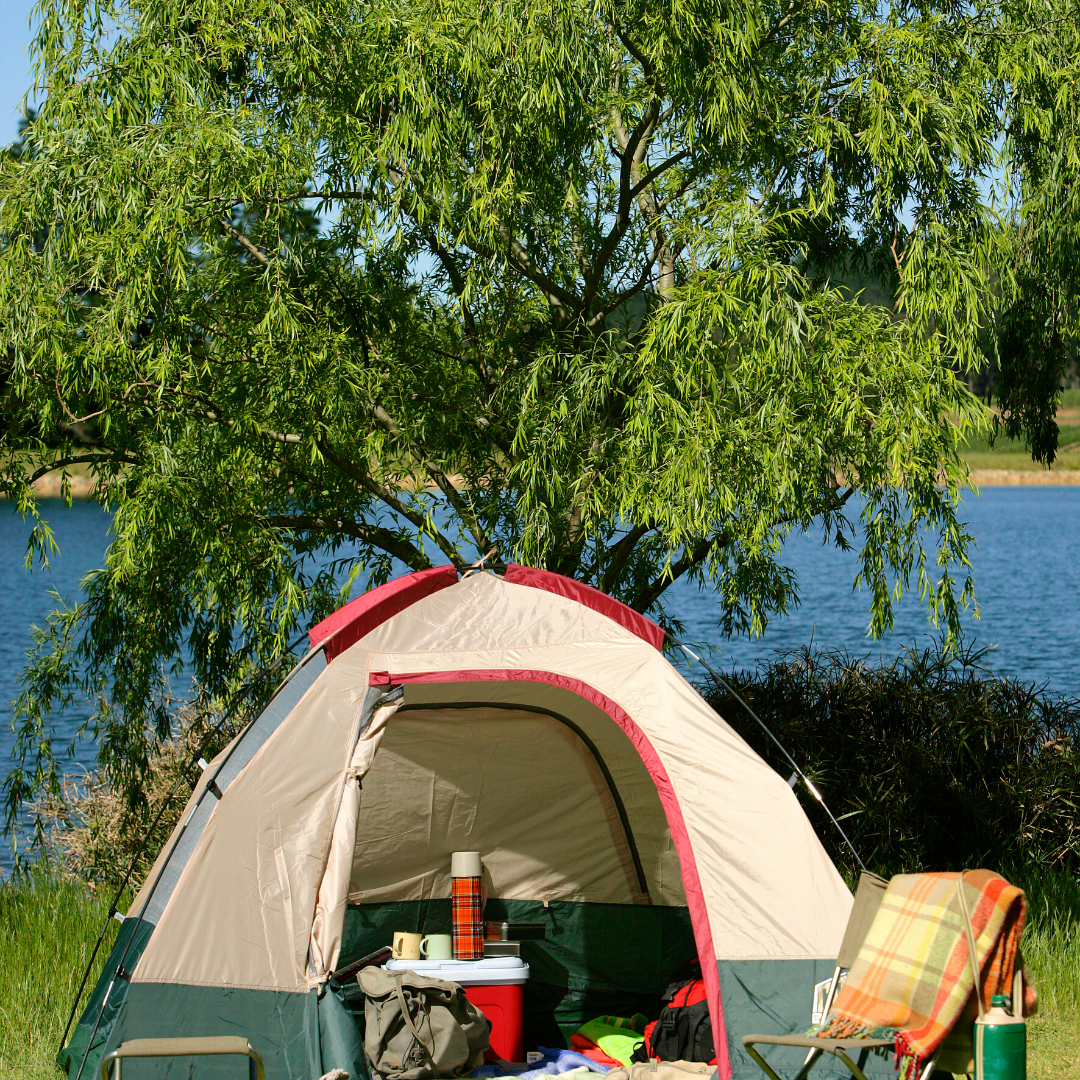 A pro tip:
Buy a storage drawer unit and use it to store all of the smaller items you will need to bring. This way, you will have it organized and easily accessible for transport. It will also save you tons of time with unpacking when you just need to move the storage drawers into your garage or shed. You will be ready for next year! This is a Pinterest hack I picked up a few years ago and will never camp any other way.
Now that you are set up with the basics, let's jump into what vegan cooking gear, you will need to serve up delicious campfire meals!
Here is my rundown of what every vegan needs for cooking while camping:
Cast Iron Pans – This will be your primary tool when cooking over the campfire. I love cast iron because it brings out the flavour of food, it's extraordinarily durable and relatively easy to clean!
Camp stove – Now, I'm a big fan of cooking all my meals over a fire, but a camp stove can come in handy if you are backcountry camping or camping in an area with fire restrictions. This is very common to happen in the summer seasons when rainfall is less likely.
Cooler – A cooler is a staple in my opinion when camping; a cooler will help keep your food fresh and last longer when camping. Also, a cooler is great to have in any household for taking to family gatherings and backyard BBQs. I suggest bringing a smaller cooler to take on hiking trips, beach visits or on a road trip!
Water cooler – This makes life so much easier when camping! You can have a large cooler than you can fill up at a moment's notice on site, it is a lifesaver! When it comes to H20, make sure to have a reusable water bottle and mug in your travel pack.
Non-stick skillet or Dutch oven – both of these will do the job for making a variety of recipes. You can always go without, but I would at least pick one for your vegan recipes while camping.
Misc Items:
Oven mitts

Pot
Grill grate

Large dish bin or metal bowl

Sponges and dish cleaning tools

Camping dining set

Reusable mugs

Tinfoil – lots of it!

Dry food box or storage bin

Coffee percolator or travel coffee maker

Glass meal prep food containers – leftovers!

Camping skewers aka marshmallow sticks

Can opener and bottle opener

Table cloth

Swedish cloths
Cooking utensils: spatula, wooden spoon, bbq flipper and tongs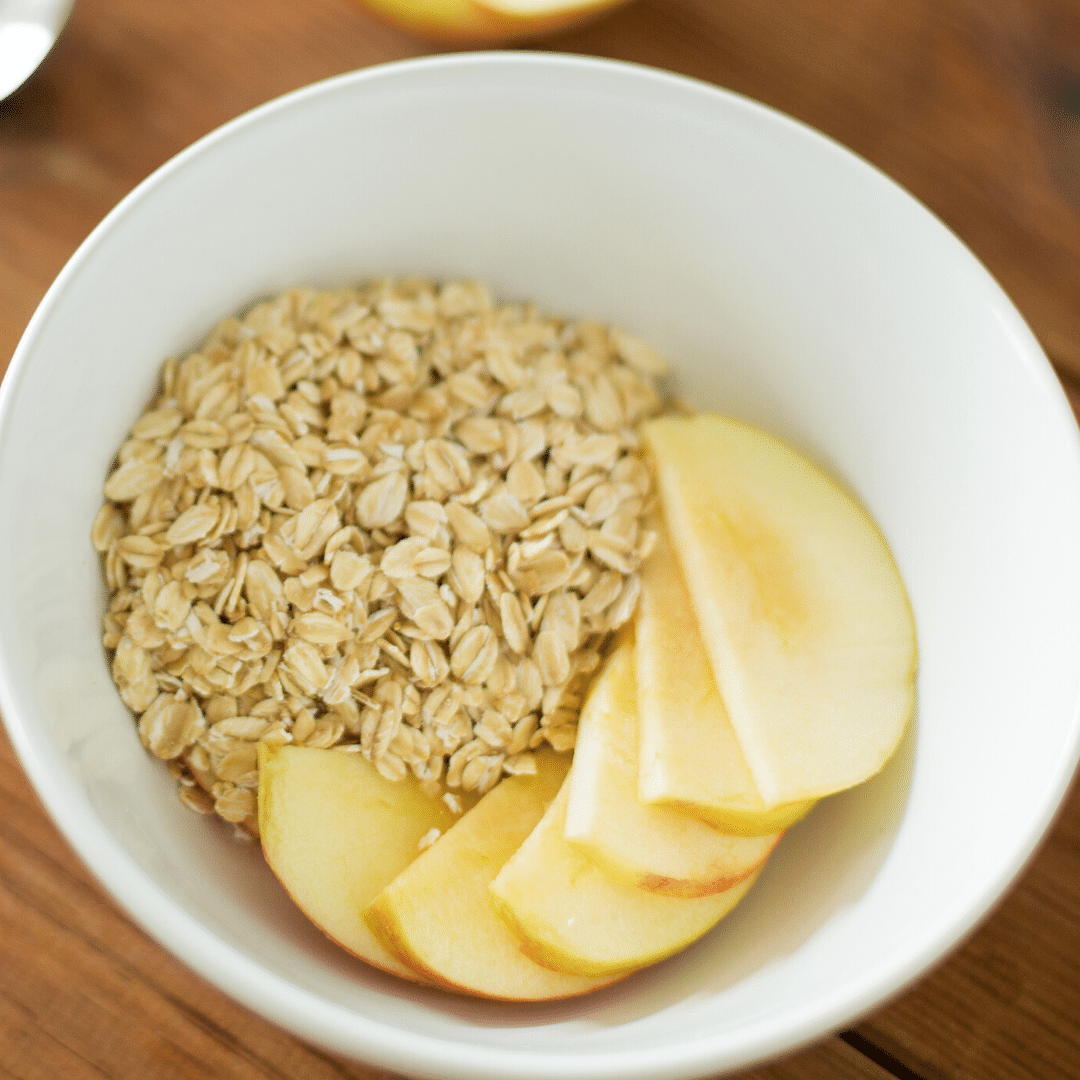 All of the vegan recipes that I will be sharing require minimal ingredients and minimal tools to keep your camping experience easy and straightforward.
Vegan Camping Breakfast Recipes
Vegan Tofu Scramble – Vegan scramble is easy to make, and you can use tofu or any vegan egg product. Put the vegan egg substitute into a cast iron pan, with a variety of spices (turmeric is a must), potatoes, onions, splash of water and red peppers. Voila! You have a campfire scramble!
Oats – Oats is the go-to breakfast when it comes to vegan camping. Make delicious oats with water or vegan non-dairy. You can add a variety of seeds, nuts, dried fruit and maple syrup! My favourite is to cut up an apple, with cinnamon and mix it in while the oats are cooking up over the fire.
Try out this oats recipe on your camping trip here.
Plant You recipes that also would work well for a vegan camping breakfast: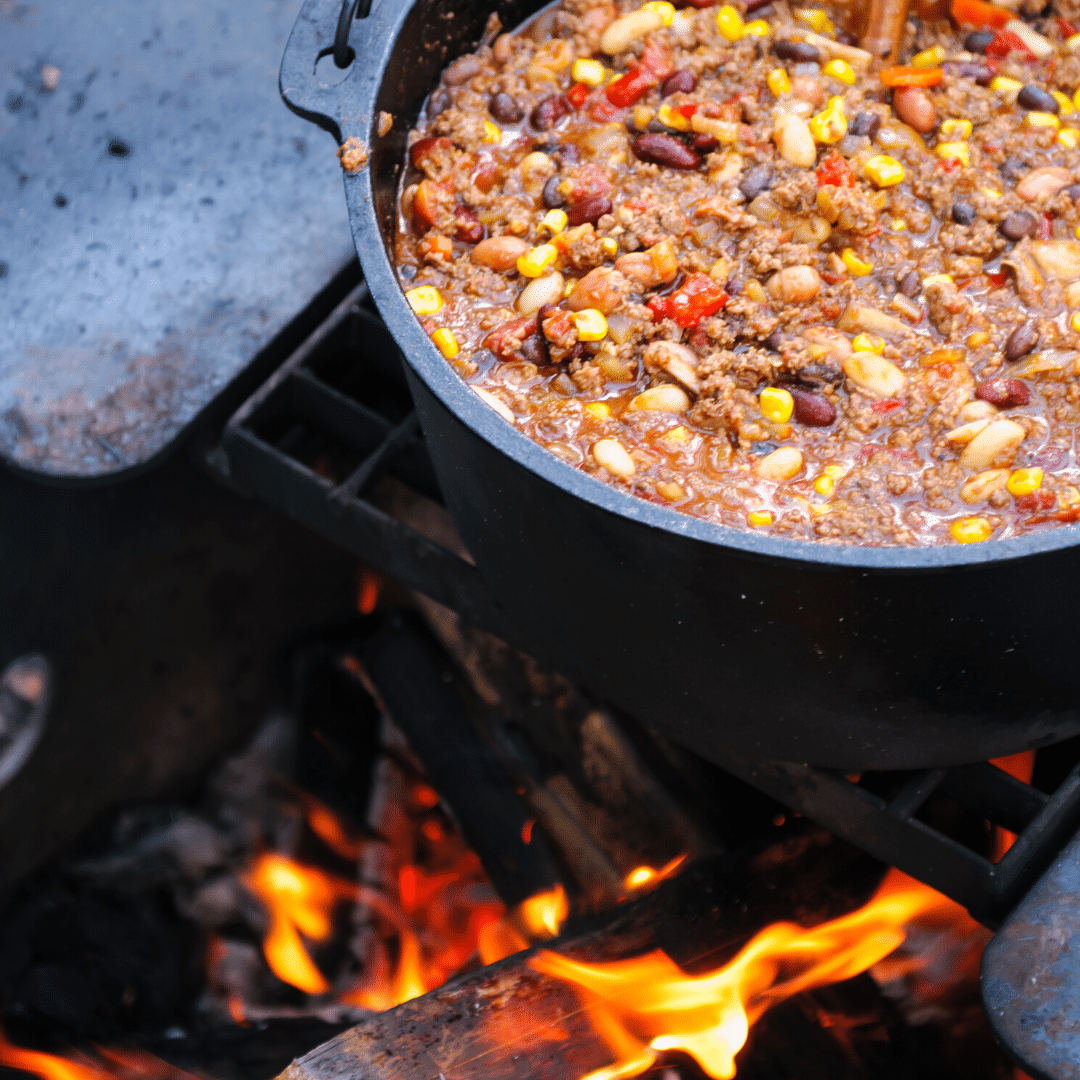 Vegan Camping Lunch Recipes
One-Pot Chilli – lentils or beans, veggie ground, crushed tomatoes, corn and spices! The perfect plant-based chilli is what you need on a camping trip. Chilli will also hold up well in the cooler for the next day. If you bring a Thermus, you can transport this chilli recipe easily for your hiking day trip adventures.
Find our favorite one-pot chilli recipe here.
Vegan Corn on the Cob and Baked Potatoes – This recipe makes every camping trip memorable! There is nothing like roasting corn over a fire. I simply wrap them in foil and submerge them over the campfire grill for both the corn and baked potatoes! You can add vegan butter, oil or a bit off broth to these foil packs. I love to sprinkle garlic powder and sea salt to the combo!
Vegan Camping Dinner Recipes
One-Pot Pasta – Pasta is one of the easiest dishes to prepare while camping! You can transport dry pasta safely and don't have to worry about it spoiling. I would keep it simple with a red sauce or throw in sundried tomatoes, spices and olives.
Here is a Plant You pasta recipe you can try while camping: Vegan One Pot Pasta!
Veggie Burgers or Dogs – This is a staple while camping! There is nothing like roasting veggie dogs over an open fire or grilling burgers in nature. You can either opt for store-bought or try making your own. Try out this sweet potato chickpea burger recipe.
Vegan Tacos – Everyone loves tacos! They are simple to make while camping as well. All you need is a can of beans, spices, roasting veggies and salsa if you desire! Refer to the vegetable foil pack instructions to make your roasted veggies for your vegan tacos.
Vegetable Foil Packs – This is the ultimate vegan camping hack. I actually wish I could make vegetables like this all the time. All you need to do is make a pack with foil and add in vegetables of your choice, chopped with some herbs, vegetable broth, or oil. You can insert this right into the fire pit or let is cook on top of the grill. This is also a great method for cooking sweet or baked potatoes over the fire too.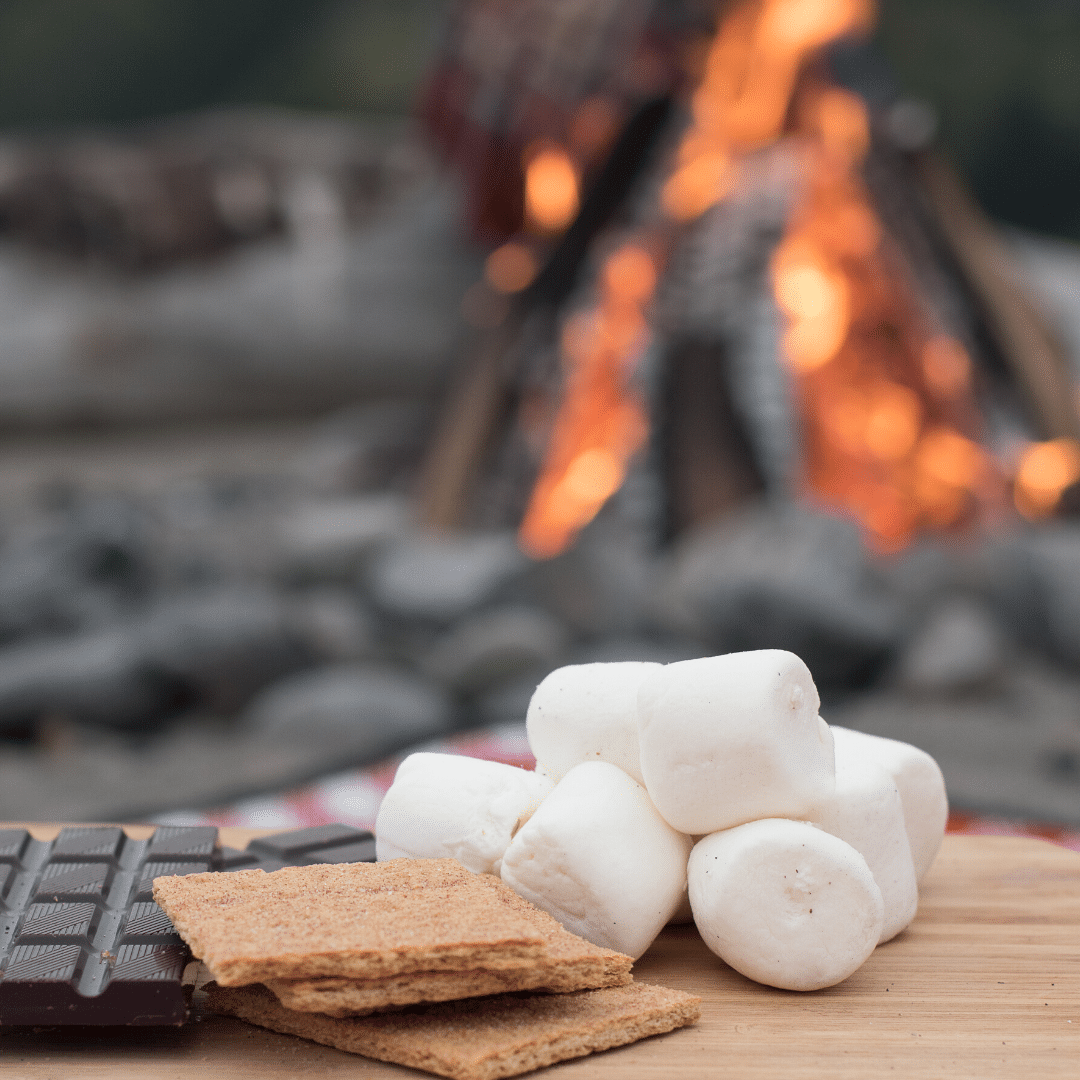 Vegan Camping Desserts
Vegan Smores – Need I say more? It is the most perfect vegan camping dessert. My favorite brand of vegan marshmallows is Dandies. They taste like any other traditional marshmallow and work amazing in a smores. If you are super new to camping a smores is graham crackers with chocolates and marshmallow in the centre. You roast the marshmallow before you combine all ingredients together! This is a classic camping recipe.
Apple Crisp – In my family, you will always have an apple crisp while camping. This recipe is also very simple to do over the fire in a cast iron pan, foil pack or dutch oven. Chop up 2-3 apples and add in brown sugar, vegan butter, oats, cinnamon, nutmeg and granola!
Store-Bought Vegan Camping Food Favorites
Now you are ready to camp but don't forget to grab your FREE camping essentials checklist!