One Pot Whole-Foods Plant-Based Lentil Chili (Bean Free)!
This warm and cozy Vegan Lentil Chili is the perfect recipe to have on repeat this winter. It also comes together in just one pot using simple whole-foods, plant-based ingredients like lentils, cilantro, corn and bell peppers. It's also completely oil free.
As someone who follows a whole-foods, plant-based lifestyle, I'm a huge fan of BEANS of all kinds. With that said, sometimes I like to put a spin on traditional bean filled dishes by swapping in one of my all time favourite legumes, LENTILS!
The lentils give this easy Vegan One Pot Chili recipe a delicious hearty texture without an overpowering flavour. You can also put your own spin on this dish, adding in your favourite vegetables like mushrooms or chopped eggplant.
What You Need For This Vegan Lentil Chili
You just need a few simple whole-food, plant-based ingredients for this delicious Vegan Lentil Chili to come together. This includes:
Crushed Tomatoes
Green Lentils
Frozen Corn
Cilantro
Garlic
Onion
Almond Butter
Cayenne Pepper
Chili Powder
Cumin
We love to infuse our recipes with lots of spices to create deep and delicious plant-based flavors. For other soulful recipes, definitely try out our Mushroom Wellington, Herb & Garlic Vegan Cream Cheese & Vegan Egg Breakfast Sandwich.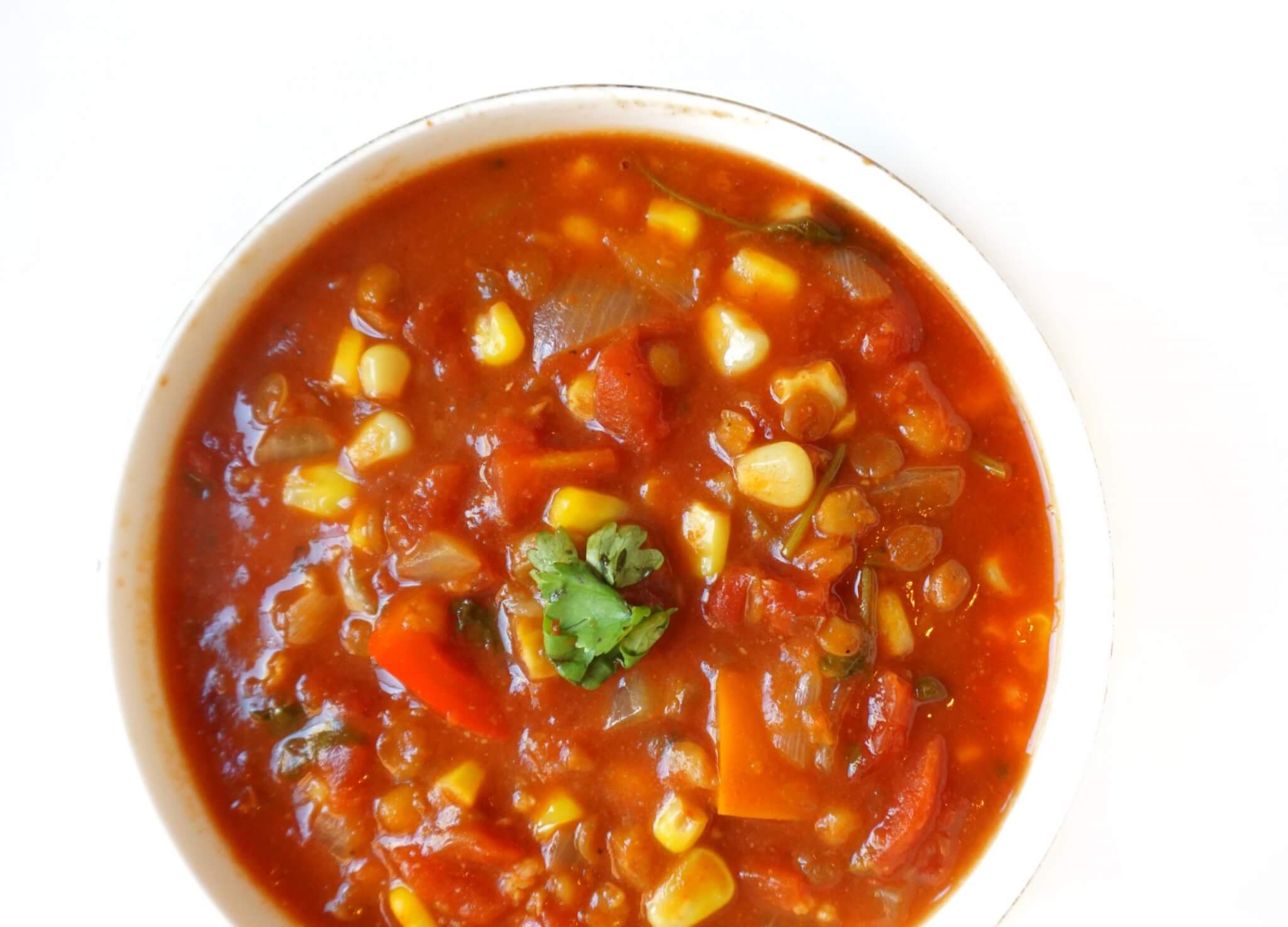 Saving Money on a Plant-Based Lifestyle
This Vegan Lentil Chili is the ideal meal prep recipe, with flavours deepening in the fridge overnight. Utilizing canned tomatoes, dried lentils and frozen corn, this whole-foods, plant-based dish is also incredibly cheap. Each serving comes in at an estimated $1.50.
The full recipe for this Vegan Lentil Chili first appeared in the Plant Ahead Program for members. This is my whole-foods, plant-based recipe program, where I help subscribers SAVE MONEY and TIME with weekly easy to follow meal plans and itemized shopping lists.
Right now, you can get access to my entire past database of meal plans (there's over 40 of them) and hundreds of simple to follow plant-based, oil-free recipes for just $7.99/month with the ability to cancel anytime. A new meal plan with 6-7 recipe drops every Thursday, so don't wait to join!
[maxbutton id="2″ ]
I also recently wrote a blog post with my top money saving tips while following a whole foods, plant-based lifestyle. You can read that here.
The Lentil Chili Recipe
Fiber, nutrient dense and uber flavourful, you will love this easy One Pot Lentil Chili recipe!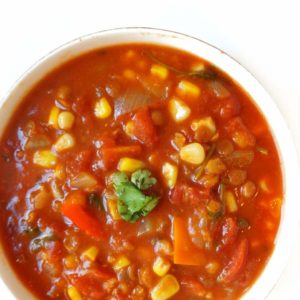 The Recipe: One Pot Vegan Lentil Chili
A simple one pot vegan lentil chili based around whole, plant-based foods.
Ingredients
3.5 Cups Crushed Tomatoes, Canned
1 Cup Green Lentils, Canned
3.5 Cups Organic Vegetable Broth
2 Tsp Cumin
2 Tsp Chili Powder
1 Tsp Sea Salt
¼ Tsp Cayenne Pepper
2 Tbsp Almond Butter
2 Tbsp Maple Syrup
Instructions
Add 1-2 tbsp's of vegetable broth to your pot.

Rinse and drain your can of lentils. Then add the lentils, crushed tomatoes, and broth to a pot and bring it to a boil.

Add the spices and maple syrup, stir and cook over medium-high heat for 15-20 minutes.

Remove from the heat, add the almond butter and stir.

Taste and adjust seasonings as needed. Store in a covered container for up to 5 days in the fridge.
Calories: 269kcal