Vegetable Soup With Rice & Beans
This vegetable soup with rice & beans is the perfect versatile nourishing meal to cut down on food waste. And the best part? You can use whatever produce you have on hand at the end of the week (i.e. spinach, zucchini, bell peppers, cauliflower)!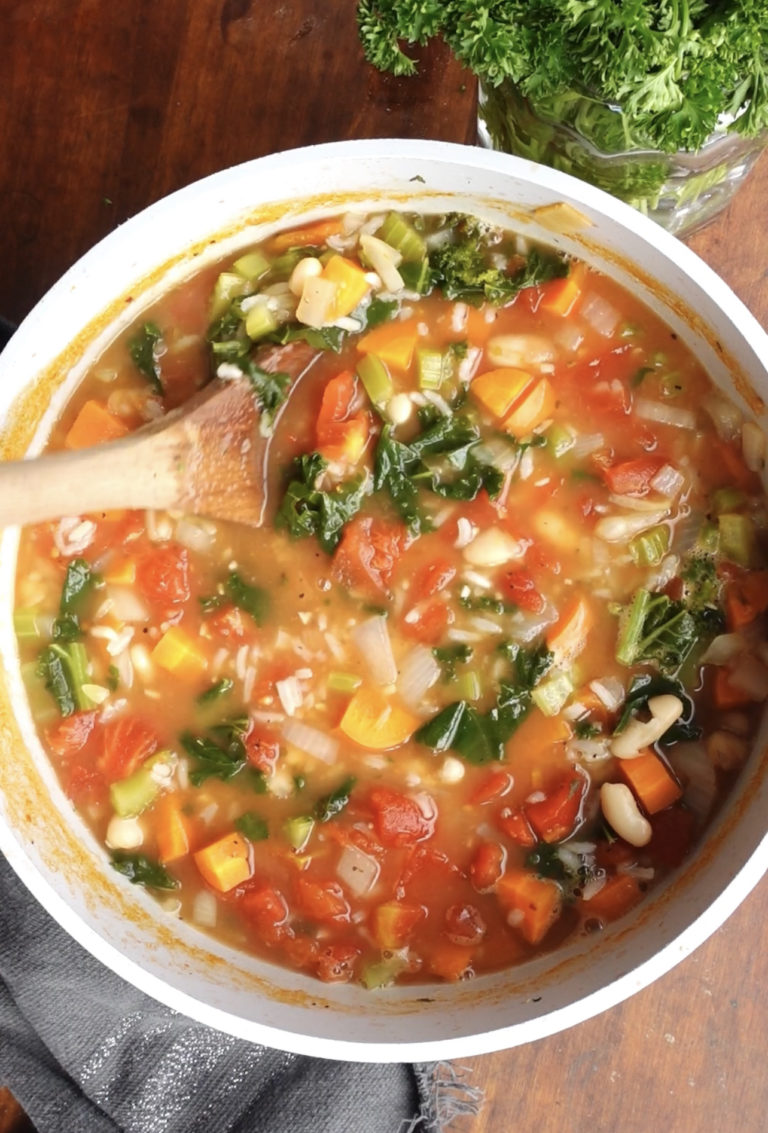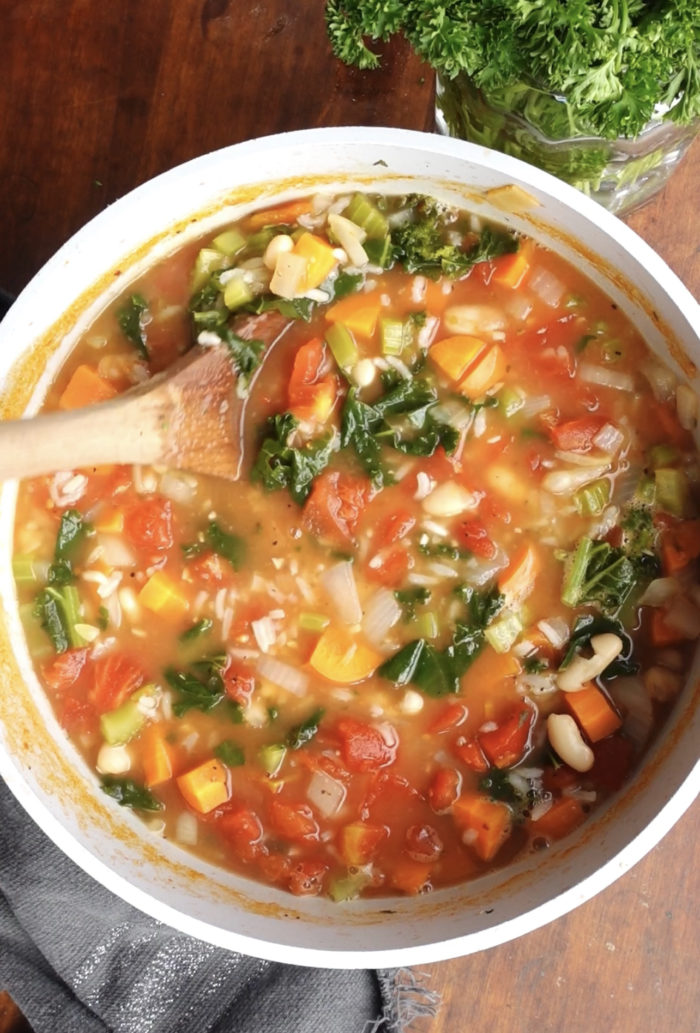 I have been on a mission to incorporate more legumes into meals, as well as reduce household waste. This vegetable soup with rice & beans fits both within my Scrappy Cooking series AND the Cool Beans series! It's the best of both worlds!
In our household, we usually make this soup at the end of the week to use up any leftover produce. The foundational recipe of this Scrappy Soup stays the same each week – but the additional contents can be changed based on what you have in your fridge! If you're anything like me, you forget about the produce at the back of your fridge and this healthy and hearty soup is a great way to use them up!
Why You'll Love This Recipe
It's designed to be affordable. It's made using pantry basics and leftover produce that would otherwise go to waste. As a result, you save money and reduce household waste.
This vegetable soup with rice & beans is an easy way to incorporate more beans (and legumes in general) into your diet. From my experience, dishes that are too centered around the beans may feel overwhelming to some people. This scrappy soup is a more balanced dish that allows you to experience the benefits without the overpowering taste or texture of the beans.
So easy to modify! This soup can have endless variations depending on what you have on hand at the time. You could literally make this soup every week for the rest of your life and not get bored because it's a little different every time.
This vegetable soup with rice & beans is a great dish for meal prep. What's more, if you don't want to eat this soup every day of the week, you can portion and freeze it.
No special culinary skill or equipment required. This is a great meal for beginner cooks!
How to Make This Recipe
Start by rounding up your produce. Don't worry if an ingredient or two is missing – aside from base ingredients like carrots, onions, and garlic, most can be subbed. Prepare the veggies – peel, chop, dice, rinse, etc.
Next, heat a pot over medium heat. Add onion, garlic, carrot, celery, and oregano. Saute until the onions are starting to turn translucent. The carrots should start softening, and the mixture will become more aromatic. You can cook these with a splash of water or oil, as desired.
Add canned tomatoes, vegetable broth, and white beans. Bring the mixture to a simmer and cook for about 10 minutes. Finally, add cooked rice, kale, parsley, and a squeeze of lemon juice. Won't take much longer – keep cooking until the kale has softened and turned a vibrant green color.
You're done! Serve with a hearty slice of bread, some croutons, fresh herbs, crispy onions, toasted seeds… really, anything your heart desires!
Hack It!
Onion, garlic, and carrot are the standard building blocks for many soups and stews. Same goes for vegetable broth, whether you use store-bought or homemade. The rest, however, can be swapped around, which is why it's good to have some canned and dry goods stored in your pantry.
If you have some fresh produce waiting to be used, you can add virtually anything into this scrappy soup. Cauliflower, broccoli, bell peppers, zucchini, squash… If you're adding a ton of veggies, you may want to upscale the rest of the ingredients to match the flavor and texture.
This scrappy soup is a great way to use up leftover rice. That said, you can use other grains, such as quinoa, barley, or buckwheat.
Similarly, you can make this soup with almost any type of bean or pulse. Black beans, red kidney beans, haricot beans, chickpeas, lentils, yellow split peas, green peas… Don't be afraid to experiment! If using dry legumes, rehydrate and cook before adding them to the soup.
For this vegetable soup with rice & beans, I used kale and parsley, but almost any greens will enhance this dish. Spinach, chard, bok choy, cilantro, leeks – give it a try!
Don't rush to throw away the lemon rind once you squeezed the juice. Make this gentle DIY surface cleanser instead!
If you don't have any lemond, you can add acidity to your dish by using apple cider vinegar, red wine vinegar, or citric acid.
Store This Recipe
This soup will easily last 4-5 days in the refrigerator. Alternatively, you can split it into servings and freeze the soup, enjoying it at your convenience.
Other Recipes You'll Love
My main mission as a plant-based blogger is to inspire people to eat more plants. And what better way to do that than with a cookbook? The PlantYou Cookbook contains over 140 simple yet delicious vegan recipes, each accompanied by a helpful infographic. This book was truly a labor of love, and I wish I had a resource like that when I first transitioned to veganism. Hurry up and get your copy while the stocks last, as the next print is not likely to come out until June 2022!
For even more plant-based inspiration, check out the PlantYou Meal Planner! It's a digital meal planner designed to make plant-based eating as easy and hassle-free as possible. You can enjoy the meal plans put together by the PlantYou team, or create your own weekly menu choosing from over 550 recipes available in the database. You can easily toggle the number of servings and enjoy the perks of an autogenerated shopping list produced by the planner. Plant-based living has never been easier!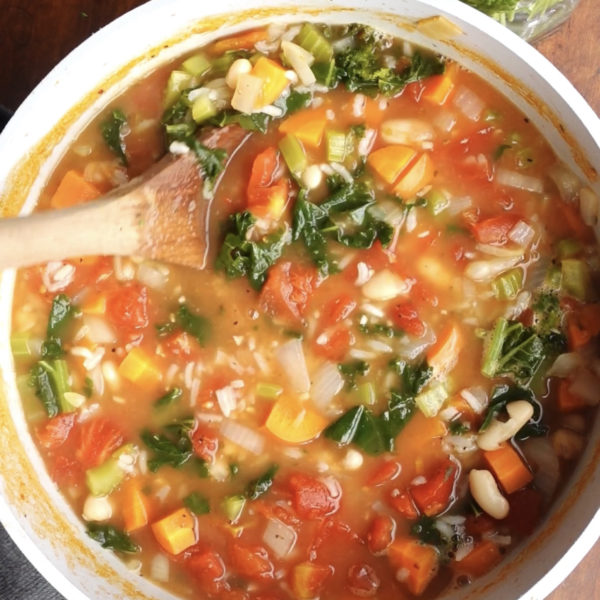 The Recipe: Vegetable Soup With Rice & Beans
A perfect way to use up leftover vegetables at the end of your week!
Ingredients
4 cloves garlic, minced
1 yellow onion, diced
2 carrots, diced
1 tbsp oregano
2 celery ribs, diced
4 cups vegetable broth
2 ½ cups diced tomatoes, canned
1 ½ cups white beans, drained & rinsed
½ lemon, squeezed
1 ½ cups basmati rice, cooked
2 cups kale, chopped
¼ cup fresh parsley
Equipment
chopping board

knife

large pot
Instructions
Add the garlic, onions, celery and carrot to a pot over medium heat along with the oregano. Saute until softened, approximately 6 minutes.

Add the diced tomatoes, vegetable broth and white beans. Bring to a boil, and simmer for 10 minutes.

Add the cooked rice, kale, lemon juice and parsley. Stir until the rice is dispersed and warm, and the kale is wilted. Serve immediately or store in the fridge for up to 4 days.
Calories: 288.2kcal, Carbohydrates: 61.1g, Protein: 9.9g, Fat: 1.1g, Saturated Fat: 0.2g, Polyunsaturated Fat: 0.4g, Monounsaturated Fat: 0.2g, Sodium: 671.5mg, Potassium: 710mg, Fiber: 7g, Sugar: 6.2g, Vitamin A: 6312IU, Vitamin C: 41.5mg, Calcium: 175.1mg, Iron: 4mg