Quick Easy Vegan Banana Pancakes (From Scratch)
These Quick Easy Vegan Banana Pancakes are your new favorite Sunday morning breakfast recipe.
The best part? They only require six whole-food, plant-based ingredients and one bowl to whip together!

How To Make Banana Pancakes From Scratch
As a kid, we lived off the classic Aunt Jemima Pancake mix and fake maple syrup. Don't get me wrong, these pancakes were DELICIOUS – but not so great for you.
Enter in these whole wheat, Easy Vegan Banana Pancakes! I promise you, nothing beats this homemade batter using simple healthy ingredients. In my opinion, this simple pancake batter recipe is just as easy as the store bought stuff anyways.
Here's what you need for the vegan goodness:
One Ripe Banana
Whole Wheat Flour
Almond Milk (or any vegan milk)
Baking Powder
Vanilla Extract
Real Maple Syrup
A little pinch of salt…
All you have to do is combine all these ingredients in a bowl, and BAM. You have a healthy Vegan Banana Pancake batter from scratch and ready to put on the skillet.
You can watch our YouTube video on how to make these simple Vegan Banana Pancakes here. Please subscribe to our channel!
[embedyt] https://www.youtube.com/watch?v=pdCUwKwxliY[/embedyt]
Do You Have To Use Banana in Vegan Pancakes?
The banana in these Easy Vegan Pancakes is one of the crucial components because it adds moistness to the pancakes. We love using banana in recipes like this because it helps counteract any addition on unnecessary oils or butters. It also adds a balanced sweet flavor that we truly can't get enough of!
With all that said, you could replace the banana in these whole-food, plant-based pancakes with a couple of things. Use 1/2 a cup of unsweetened apple sauce, 1/2 a cup of pureed pumpkin, or even a few tablespoons of coconut oil would suffice.
Can you make these Vegan Banana Pancakes gluten free?
We chose to use whole wheat flour for these Easy Vegan Banana Pancakes because it provides a nice, fluffy and light consistency!
However, if you eat a whole-food, plant-based, gluten-free diet, we definitely suggest swapping the whole wheat flour in this vegan pancake recipe for oat flour.
You can make your own oat flour at home by simply placing it in a blender and grinding until a smooth flour consistency is achieved.
An all purpose gluten free flour would likely also work with these pancakes. We haven't tried almond flour or coconut flour for this recipe, so we can't vouch for either of those.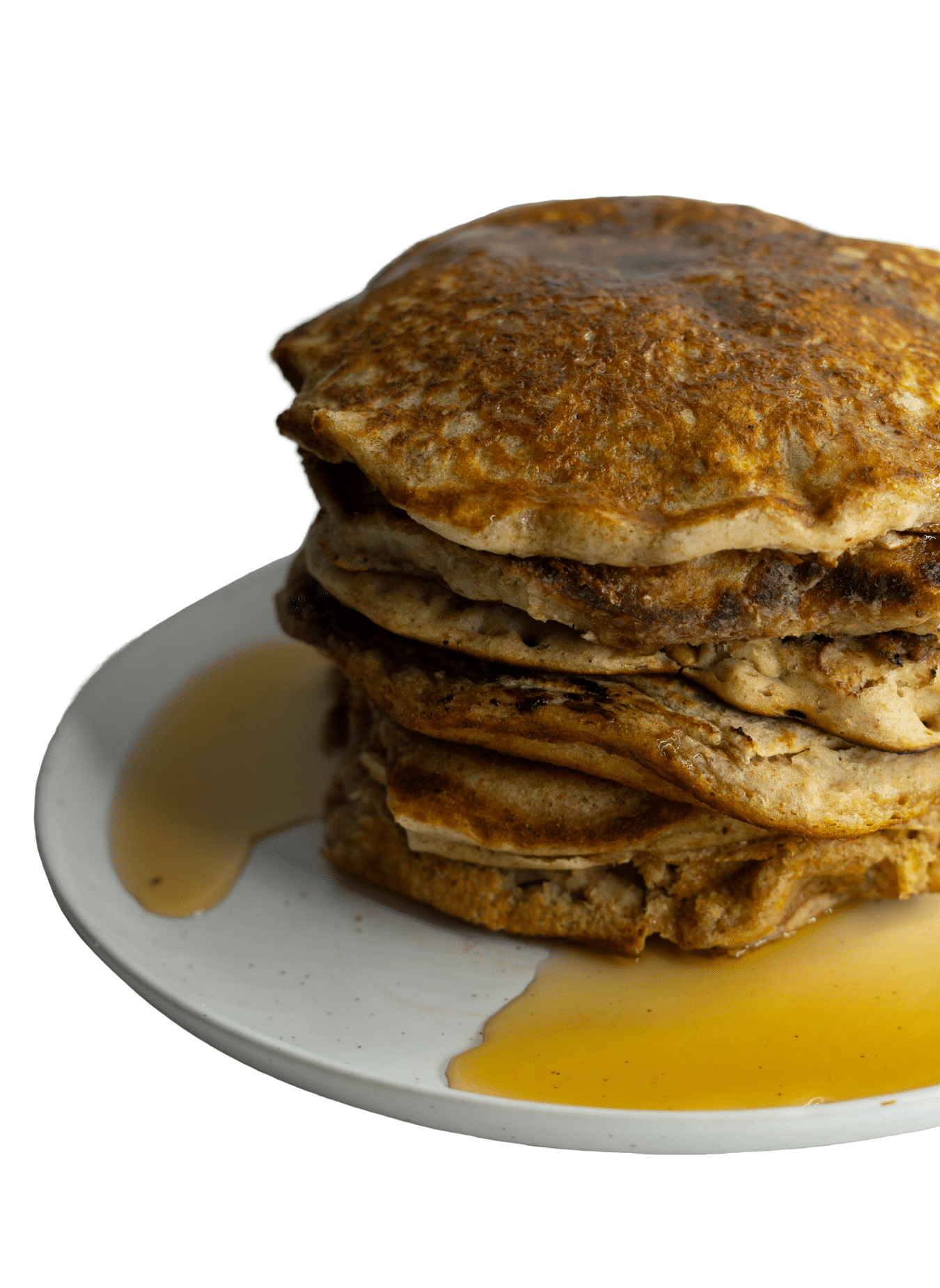 What Would You Add To These Easy Vegan Banana Pancakes?
I love adding dark vegan chocolate chips to my vegan banana pancakes. My fiance loves blueberries in his!
If you're making these simple banana pancakes for your family, we suggest adding the toppings on top of the batter in the pan so they can be customized to each person.
After your pancakes are cooked, these are absolutely perfect with real Canadian maple syrup.
You could also serve these with:
Almond Butter
Peanut Butter
Coconut Whipped Cream
Vegan Butter
Frozen Berries
More sliced banana
The possibilities for these Quick Easy Vegan Banana Pancakes are truly endless!
Can You Make These Vegan Banana Pancakes Into Waffles?
You could totally transform these vegan banana pancake batter into waffles. You would simply need to add 1/4 a cup of the batter into a waffle maker instead of a pan.
If you are looking for a recipe made specifically for fluffy, vegan waffles, we have one of those too! Check it out here.

What Should You Serve These Vegan Banana Pancakes With?
If you're looking to do a full breakfast or brunch spread, we have you covered over at Plant You. Checkout some of our favorite plant-based breakfast recipes on the blog!
Can You Meal Prep These Pancakes?
We've got good news!
These Easy Vegan Banana Pancakes (From Scratch) are totally meal prep friendly.
You can double, triple or even quadruple the batter recipe to give you pancakes for days.
We suggest portioning out your pancakes for the week in some glass meal prep containers. You can read our breakdown on our favorite eco-friendly meal prep containers here.
When you're ready to eat your easy vegan pancakes, we suggest throwing them in the microwave for a minute and a half until they are warmed up. We wouldn't suggest storing these in the fridge with any of the fancy toppings. Add those once they're reheated! These are especially good the next day with almond or peanut butter on top.
You can store these vegan pancakes in the fridge for up to four days in a sealed glass container!
If you're wanting to learn more about meal prepping delicious whole-food, plant-based meals, checkout our latest blog post on Meal Prepping On A Budget.
We also have a completely free meal planning schedule grid that you can print off and place on your fridge. Grab that here.
Finally, if you're looking for someone to do all the meal planning, shopping list compiling and scheduling for you, we've got your back. Join my program Plant Ahead today, and get access to our entire database of weekly whole-food, plant-based meal plans. At the time of this blog post, we have over 65 meal plans in the members only portal (that's over 300+ simple vegan meal prep recipes), and a new one debuting every single Thursday.
Get signed up for Plant Ahead for just $7.99/month (cancel anytime) here!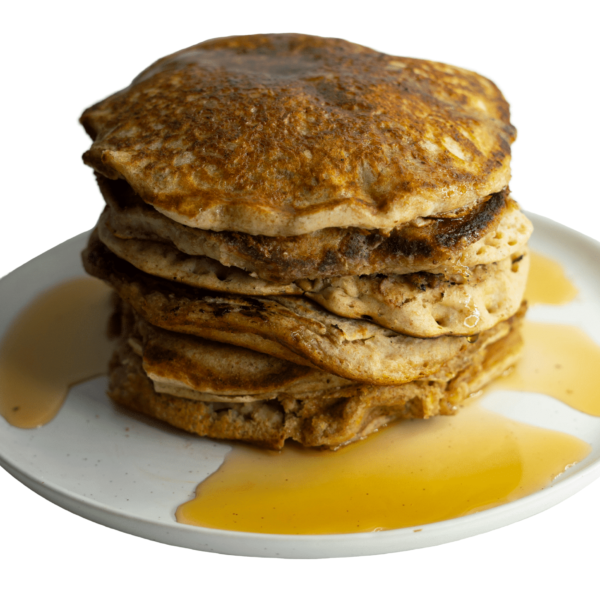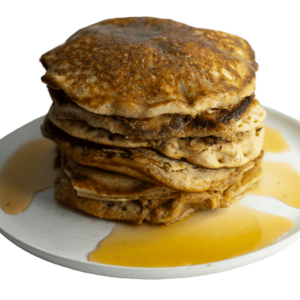 The Recipe: Easy Vegan Banana Pancakes (From Scratch)
A simple six ingredient vegan banana pancake recipe using whole-wheat flour and a banana!
Ingredients
1 Banana, Ripe
2 Cups Whole Wheat Flour
2 Cups Almond Milk
2 Tbsp Baking Powder
1 Tbsp Vanilla Extract
1 Tbsp Maple Syrup
1 Pinch Sea Salt
Instructions
Place your banana in a bowl and mash it using a fork.

Add the rest of your ingredients to the bowl. Using a whisk, mix until everything is smooth and completely combined.

Put a non-stick pan on a burner over medium heat. Add oil or vegan butter to the pan if food tends to stick.

Add 1/4 a cup of batter to the middle of the pan. Cook for 2-3 minutes, and then flip. Cook for an additional two minutes then transfer over to a plate. Repeat this step until the batter is used up.
Serving: 2Pancakes, Calories: 400kcal, Carbohydrates: 67g, Protein: 15g, Fat: 8g