Egg Substitute Guide
When you're following a plant-based diet, eggs are not on the menu, but no need to worry because we've got an egg substitute that will satisfy your taste buds!
The beautiful thing about following a plant-based diet is that you can easily substitute ingredients to adapt to any traditional recipe. You don't need to completely give up the taste and texture of eggs when you have plant-based substitutes available in your pantry.
When transitioning to a plant-based diet, you will become familiar with how to substitute eggs in baking as well as in cooking! Yes, you can still enjoy the classic eggs, bacon and toast. But now do it plant-based! My simple switch to this classic would be a tofu scramble, tempeh bacon and a big slice of sourdough bread. That sounds delicious, in my opinion.
In this article, we are going to cover the best egg substitute options for baking and cooking in this guide.
You will feel ready to take on any plant-based baked goods recipe and know how to substitute eggs in your cooking; since you will have this vegan egg substitute guide in your back pocket.
After being plant-based for so many years, we've come to know our go-to egg replacements and are quite excited to share them with you right below here: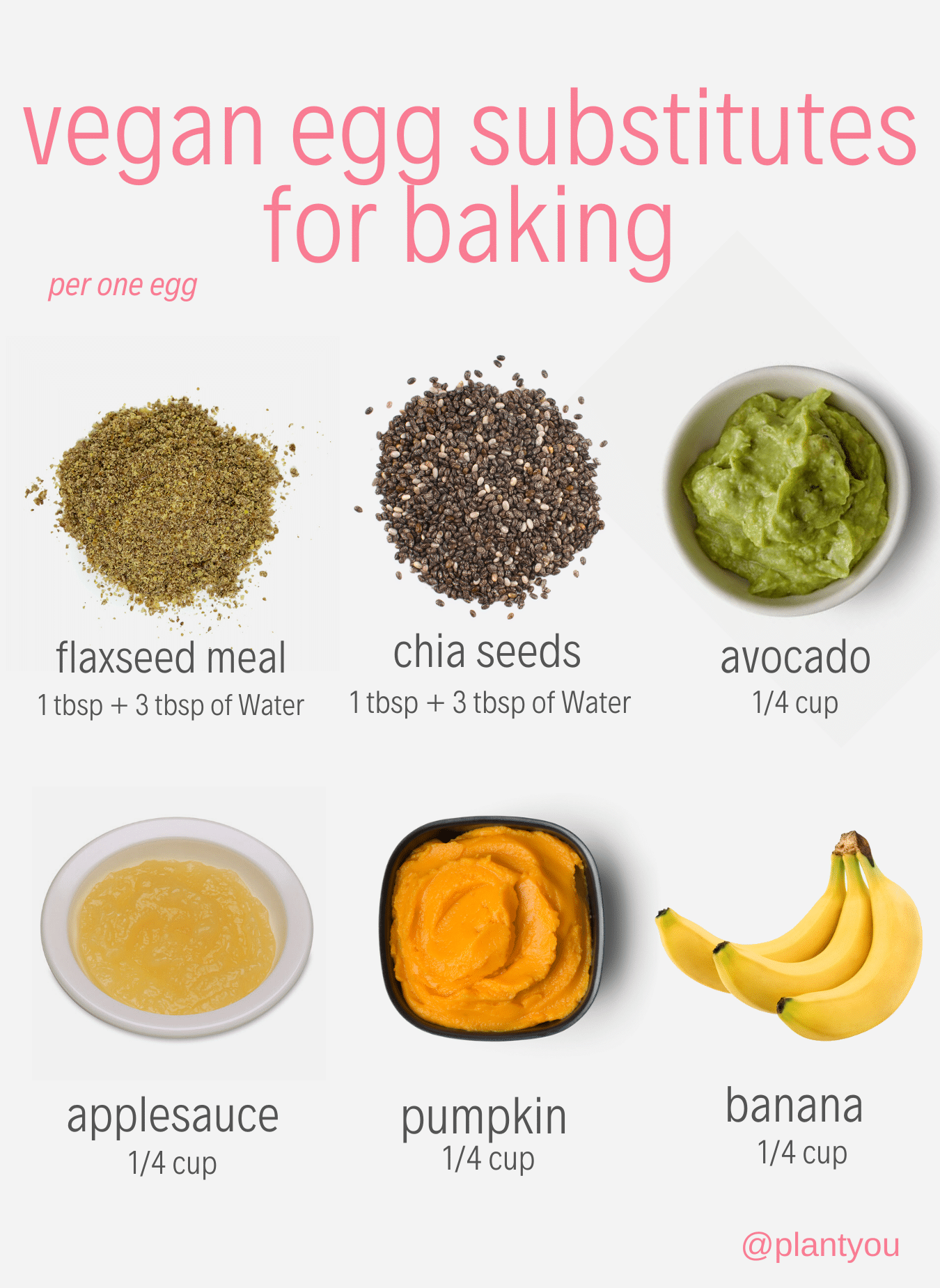 Egg Replacements For Baking
Flax Egg
To make a flax egg, it is simple and super easy.
It will work well in brownies, muffins and cookies. You only need a minimal amount of ingredients to whip up a quick flax egg too. The flax egg will help bind your ingredients together once it becomes thick enough.
Ingredients:
1 Tbsp ground flaxseed

3 Tbsp water
Add your ingredients together and stir, let it sit for about 5 minutes to become thick. This recipe will replace one whole egg.
Chia Seed Egg
For the chia seed egg, you will be using the same method as the flaxseed egg but substituting chia seed for flax! Once thick, you'ill notice that it will produce an adhesive gel that is perfect for baking. Chia seed eggs are amazing in banana bread recipes or one of my snack time favourites like chia seed pudding.
Ingredients:
1 Tbsp chia seeds

3 Tbsp water
Note: Add your ingredients together and stir, let it sit for 5 minutes to become thick. This recipe will replace one whole egg as well.
Banana
In our Plant Ahead Meal Plans, we happen to use bananas a lot in our recipes!
It's affordable and usually already on your kitchen counter. Bananas are definitely one of our go-to egg substitutes in baking. Our rule of thumb is that typically one large mashed banana can replace one whole egg in a plant-based recipe. Also, make sure you're always using a ripened banana, and when you are using overly ripe bananas, it will add a powerful hint of sweetness!
Applesauce
Applesauce is a great heart-healthy egg replacer in baking and often a replacement for oil in recipes as well. You can use 1/4 cup to replace one egg in your baking. Also, you can add half of a tablespoon of baking powder to thicken.
Aquafaba
You may find this example a bit strange, but it makes for an out of this world egg replacer! Aquafaba is the liquid that is actually sitting at the bottom of your chickpea can. You can save the chickpeas for another meal and use the liquid as an egg replacement by mixing with a hand mixer or whisk it 'til foamy for about 10 to15 minutes. Three tablespoons of aquafaba will equal one whole egg. The texture of aquafaba should be similar to regular egg whites. Aquafaba is perfect for recipes such as vegan buttercream frosting, lemon meringue pie or as a perfect marshmallow topper to any dessert!
Pumpkin + Sweet Potatoes
Using pumpkin puree and mashed sweet potato is an alternative option to using as an egg substitute and is delicious in fall or winter baked goods! Pumpkin puree is also low in sodium, high in fibre and full of healthy vitamins. 1/4th cup of puree or mashed sweet potatoes should be equivalent to one egg in a baked good recipe. Both ingredients will add sweetness but won't overpower a recipe like brownies, muffins or sweet loaf.
Baking Soda and Apple Cider Vinegar
This egg substitute is great in cakes and cookies. All you need to do is combine one teaspoon of baking soda and a teaspoon of apple cider vinegar and whisk away! This will create a foamy reaction that is perfect for your baked goods.
Avocado
1/4 cup of avocado works well in baking as an egg or butter substitute. This is best used in soft baked goods like cakes, brownies or cupcakes! These also can work well in other creamy desserts like pudding or ice cream.

Egg Replacements for Cooking
Tofu
Tofu is a good substitute for scrambled eggs. This recipe is trendy in the plant-based community as a healthy breakfast or brunch option. We recommend adding spices like turmeric, black pepper, and kala namak, (i.e., also known as, black salt).
Chickpea Flour
Chickpea flour is a delicious soy-free option to replace eggs. We find recipes like omelettes, stir fry or sauces work well with chickpea flour as a substitute. I would say that it tastes best mixed in with other vegetables as well because when cooked it creates crispy texture. If you use it in a sauce or dip, it will provide a rich creamy texture.
Mung Bean
This one just blew me away when I discovered it the first time, personally. Mung beans are fantastic for making that childhood egg salad sandwich or creating fluffy scrambled eggs. Mung beans are a bit more of a task when transforming them into eggs, however, we've found dozens of mung bean-based egg recipes along the way. If you're looking for a high protein, soy-free option; mung beans can't be beat!
Egg Replace You Can Purchase
We also wanted to mention the many vegan egg replacement options that are now available in grocery stores and online. Eating plant-based has never been easier.
Why Do Vegans Not Eat Eggs?
Well, for many reasons and mainly for animal cruelty is one of the top reasons.
Also, eggs are found to be linked to an increase in cholesterol, which increases your risk of cardiovascular disease especially if one eats too many of them or too often.
Our Favourite Vegan Egg Free Recipe
If you are ready to try out plant-based egg substitutes in any of the recipes, we have many available on the blog and on our Instagram page.
Check them out below:
The Plant Ahead Meal Prep Program Has Your Traditional Favourite Recipes Fully Covered!
When joining the Plant Ahead Program, it is essential to know that we always include your traditional favourites, too. You'll never feel like you're missing out! We always make sure to make them healthy and budget-friendly. We love our program because there is something for everyone, and it makes it really simple to stick to a whole food plant-based diet. If you want to learn more about how you can make your plant-based lifestyle that much better, simply check out the Plant Ahead Meal Prep Program.
Note: This article includes affiliate links