Sweet Potato Chickpea Burgers
Is anyone else having a major craving for veggie burgers as the warm weather is coming our way?! These sweet potato chickpea burgers are made entirely with whole-food plant-based ingredients, and can be ready in 45 minutes!
Burger season is here! With garden parties and backyard BBQs, having an easy veggie burger recipe is a must. And guess what? veggie burgers don't have to imitate meat! My partner asks for these sweet potato chickpea burgers weekly, because they are bursting with healthy plant-power nutrition to support him throughout the day!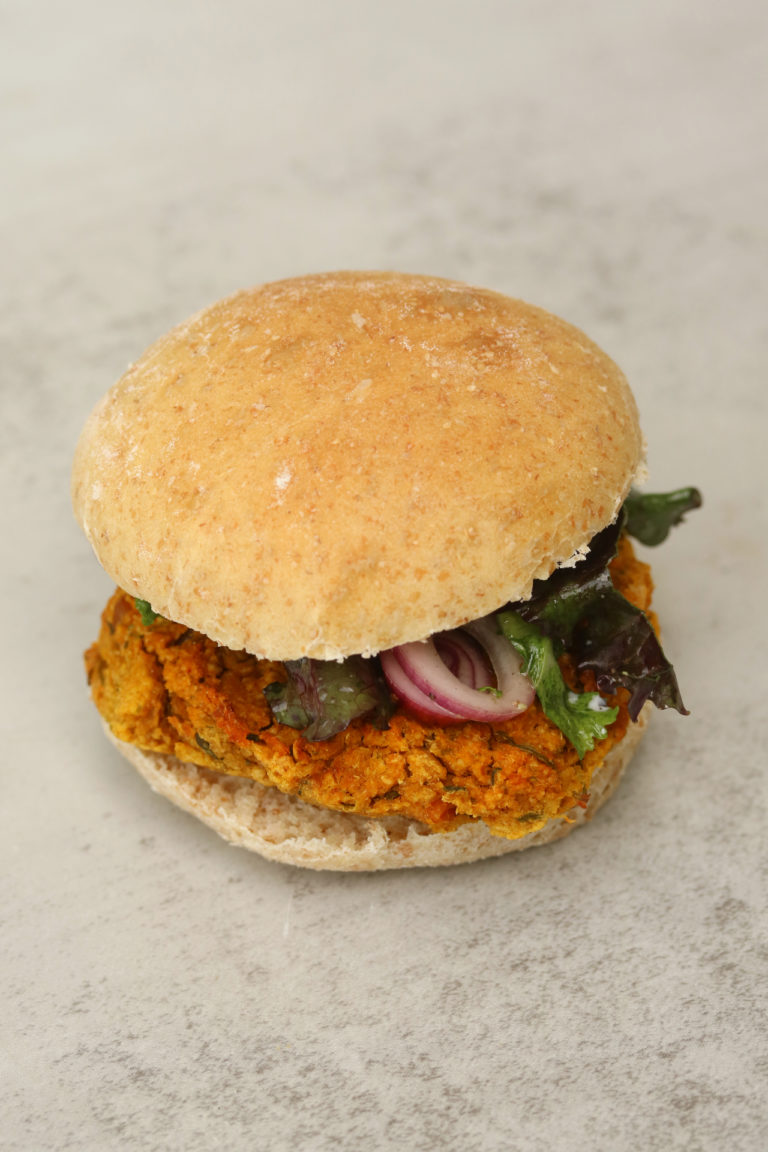 Why You'll Love This Recipe
Our homemade sweet potato chickpea burgers are great for meal prep! They freeze well and hold up in the fridge for 4-5 days without a problem.
This recipe is an excellent option for busy people since they are a one-dish (food processor) recipe with minimal ingredients.
You know what's great about burgers? They are endlessly customizable! From the way you serve them, to the additional spices you add, this recipe can be easily adapted to satisfy the entire household.
These sweet potato chickpea burgers are soy-free, oil-free and nut-free. With a simple adjustment, they can also be gluten-free.
People often associate burgers with fast food, immediately assuming that a burger must be unhealthy. However, these veggie burgers are made with simple whole-food ingredients and baked in the oven. Nothing unhealthy about that!
How to Make This Recipe
Pre-heat over at 375F. Line a baking tray with parchment paper or a non-stick sheet.
Peel and chop your sweet potatoes. Boil them until soft, then drain the liquid. You really want to make sure there isn't an excess of water. In a food processor, combine sweet potato, chickpeas, and parsley.
Add the remaining ingredients into the food processor and continue to blend till the texture is thick and moldable. Wet your hands and mold the mixture into patties. Lay them out on a lined baking tray. This recipe can make 6 large patties or 8 medium-sized patties.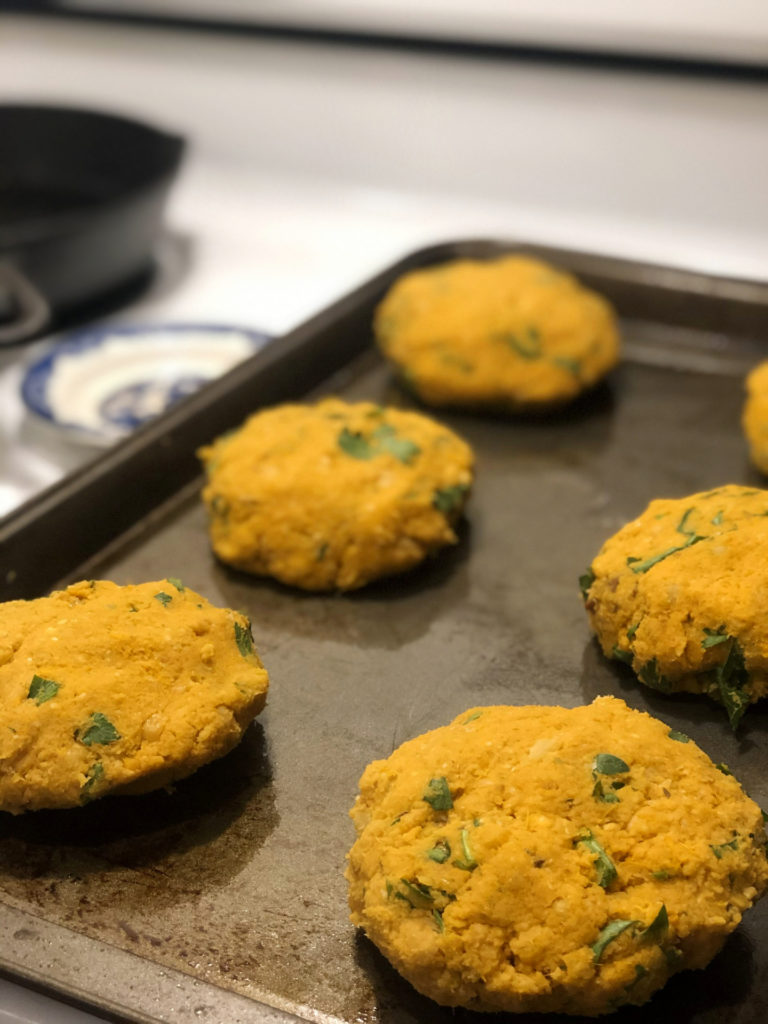 Bake for 25-30 minutes until the burgers are golden brown. You may get nice cracks on the top, too. Flip the burgers about halfway through baking.
You can serve these fresh out of the oven. Alternatively, store in the fridge for 4-5 days, and freshen each burger up in a non-stick frying pan before you eat it.
Hack It!
When meal prepping this recipe, be sure to use eco-friendly meal prep containers to store the patties once cooked in durable and leak-proof containers for optimal freshness!
If you want to take these patties to the BBQ, I would suggest doing this from cooked and frozen, since it will be less likely to fall apart and hold the shape on the grill. Alternatively, wrap the baked patties in foil before you put them on the grill.
These sweet potato chickpea burgers can be shaped to fit the size of the bun. Hell, you can even make elongated patties to fit a sub sandwich, or square patties to fit bread slices.
Do you love spice? Try adding extra spices to this sweet potato chickpea burger to kick up the flavor! You can add cayenne pepper, paprika, cajun mix, liquid smoke (Not a spice but a great flavor enhancer), onion powder, red chili flakes, and more.
How to Serve Sweet Potato Chickpea Burgers
The best thing about burgers is that you can customize them by adding various elements. Think of these veggie burgers as a canvas: it's up to you to create a masterpiece!
You can eat them with sesame buns, wholemeal buns, gluten-free buns, or even sourdough!
What's a burger without a condiment? You might take a traditional route and enjoy these veggie burgers with ketchup, mustard, or vegan mayo. You could always mix it up and enjoy these sweet potato chickpea burgers with fresh guacamole, hummus, buffalo chick'n dip, sweet chili sauce, and more.
What about the toppings? I've got you. As well as enjoying the classic combo of lettuce and tomato, try red pickled cabbage, vegan mozzarella, spicy pickled red onions, or grilled portobello. You also have a vast choice of greens you can add: arugula, spinach, baby kale, microgreens and sprouts.
Not sure what to serve as a side? Try the amazing air fryer zucchini, crispy roasted potatoes, or vegan mac and cheese! You should also check out our incredible selection of salads!
Other Recipes You'll Love
If you love simple vegan recipes like this one, check out the PlantYou Planner! It's a digital meal planner program designed to make plant-based living EASY! For a price of a fancy coffee, you can enjoy a subscription to a meal planner that allows you to fully customize your meals. You can choose your wekely menu from a database of OVER 600 whole-food plant-based recipes. Even better, you can adjust the number of servings for every recipe and take advantage of an autogenerated shopping list based on your selection. Give it a go!
My debut cookbook came out this year, and OF COURSE I had to include a burger recipe! Check out p. 182-183 of the PlantYou Cookbook to make the Bliss Burger!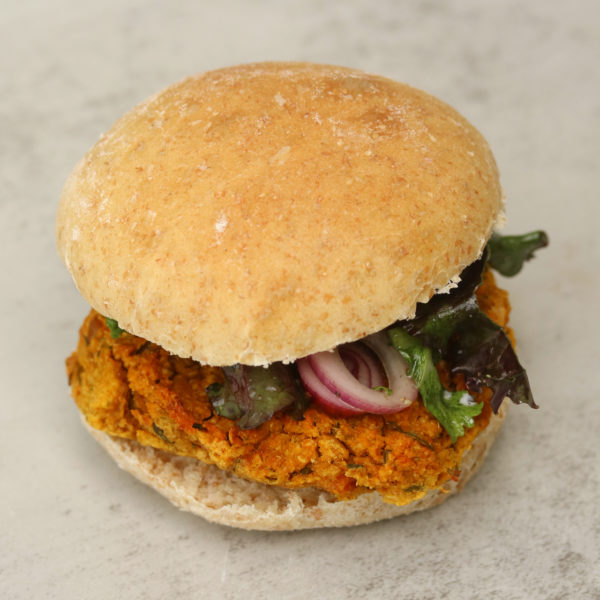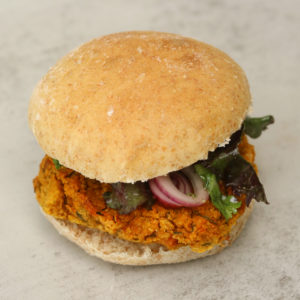 The Recipe: Sweet Potato Chickpea Burgers
Delicious option for dinner or lunch!
Ingredients
2-4 Sweet potatoes, peeled, boiled
2 cups Chickpeas, cooked, drained and rinsed
½ cup Fresh parsley, chopped
½ cup Whole wheat or gluten free bread crumbs, oats could work as well!
½ tsp Sea salt
1 tbsp Garlic powder
1 tbsp Cumin
½ Lemon, squeezed
Equipment
Food Processor

Baking Sheet

baking parchment
Instructions
Pre-heat over at 375F.

In a food processor combine sweet potato, chickpea and parsley. Please ensure your sweet potatoes have been boiled and are soft.

Pour in the remaining ingredients to the food processor and continue to blend till texture is thick and moldable.

Line a baking tray with parchement paper or non-stick sheet. Mold mixture into patties. This recipe can make 6 large patties or 8 medium sized patties.

Bake for 25-30 minutes till tops are golden brown. Flip about half way through baking.

Store in meal prep containers to enjoy throughout the week. To freeze lay burgers flat in freezer in container or freezer bags.
Calories: 202.6kcal, Carbohydrates: 39.2g, Protein: 7.9g, Fat: 2.2g, Saturated Fat: 0.3g, Polyunsaturated Fat: 0.9g, Monounsaturated Fat: 0.6g, Sodium: 310.4mg, Potassium: 504.5mg, Fiber: 7.5g, Sugar: 6.7g, Vitamin A: 11138.2IU, Vitamin C: 14mg, Calcium: 85.6mg, Iron: 3.6mg