Sweet Potato Chickpea Burgers
Burger season is here!
Is anyone else having a major craving for veggie burgers as the warm weather is coming our way?!
These sweet potato chickpea burgers can be made in 45 minutes and are made with whole-food plant-based ingredients that are oil-free, soy-free, nut-free and vegan!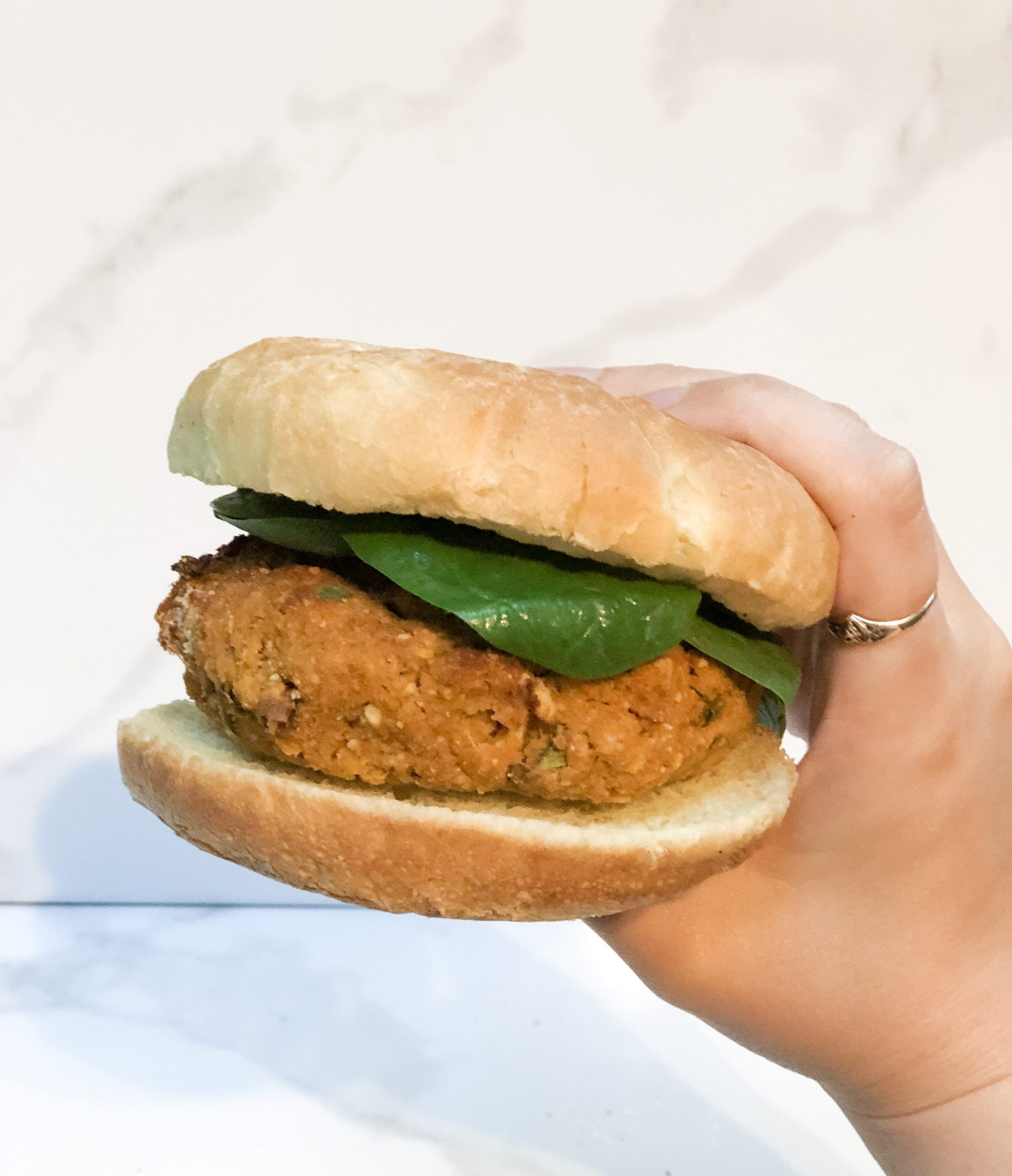 Our homemade sweet potato chickpea burgers are just what you need this weekend, but they also are great to meal prep for the week since they freeze well and hold up in the fridge!
Veggie burgers are an excellent option for meal prepping since they are a one bowl (food processor) recipe with minimal ingredients.
My partner asks for the sweet potato chickpea burgers weekly, and they are bursting with healthy plant-power nutrition to support him throughout the workday!
When meal prepping this recipe, be sure to use eco-friendly meal prep containers to store the patties once cooked in durable and leak-proof containers for optimal freshness!
These sweet potato chickpea burgers are made from plant-based ingredients, so storing is important to keep your burgers tasting great and lasting all week long to enjoy in your meal prep!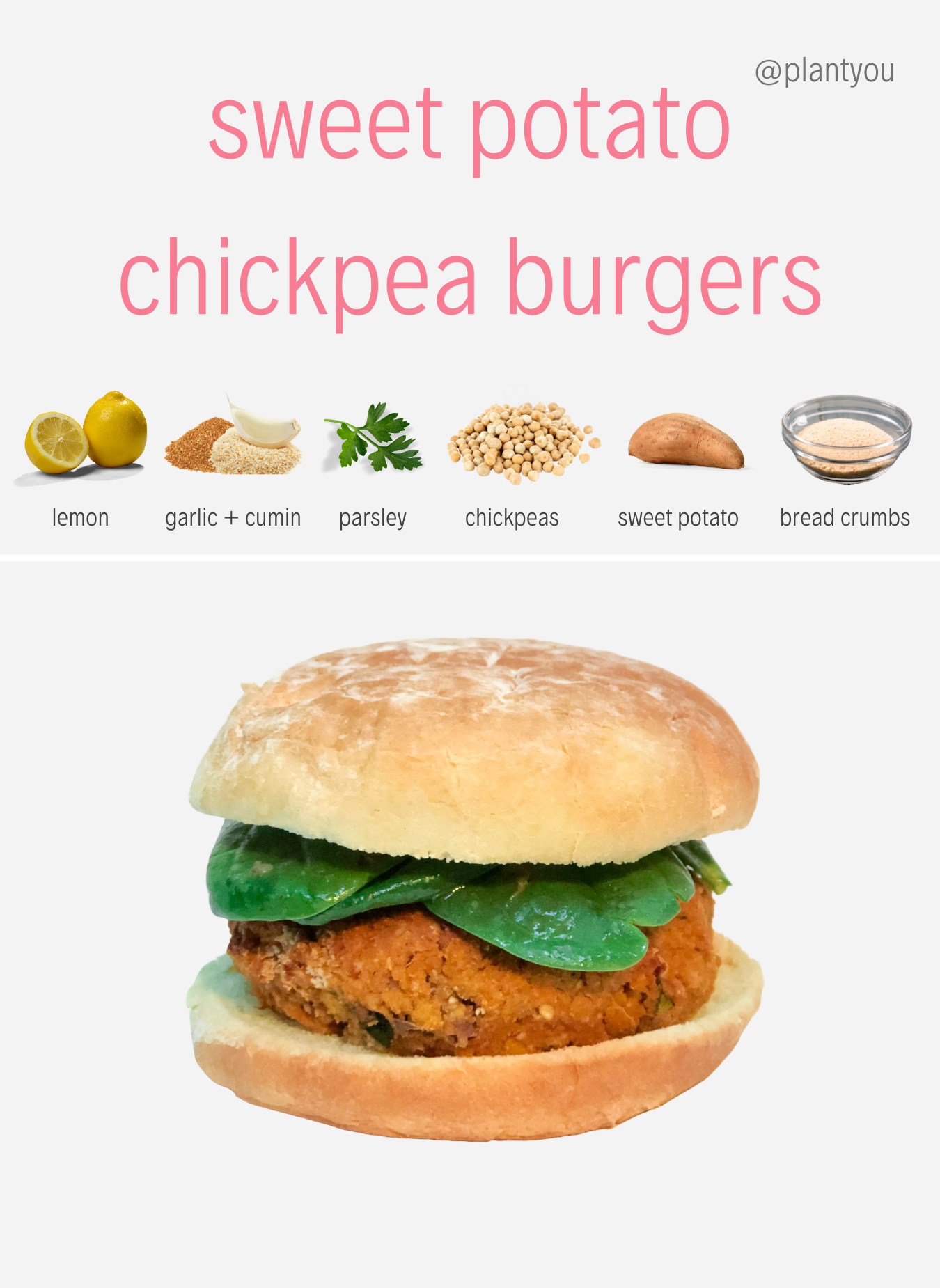 The Recipe: Sweet Potato Chickpea Burgers
Delicious option for dinner or lunch!
Ingredients
2-4 Sweet potatoes, peeled, boiled
2 cups Chickpeas, cooked, drained and rinsed
½ cup Fresh parsley, chopped
½ cup Whole wheat or gluten free bread crumbs, oats could work as well!
½ tsp Sea salt
1 tbsp Garlic powder
1 tbsp Cumin
½ Lemon, squeezed
Instructions
Pre-heat over at 375F.

In a food processor combine sweet potato, chickpea and parsley. Please ensure your sweet potatoes have been boiled and are soft.

Pour in the remaining ingredients to the food processor and continue to blend till texture is thick and moldable.

Line a baking tray with parchement paper or non-stick sheet. Mold mixture into patties. This recipe can make 6 large patties or 8 medium sized patties.

Bake for 25-30 minutes till tops are golden brown. Flip about half way through baking.

Store in meal prep containers to enjoy throughout the week. To freeze lay burgers flat in freezer in container or freezer bags.
Why We Bake These Burgers
These burgers are great to bake! Since we are using plant-based ingredients baking the patties is how we will get the mould to set and hold shape.
They are easily heated up on the frying pan with a couple of drops of water if you are looking to create realistic char marks as traditional burgers have!
If you want to take these patties to the BBQ, I would suggest doing this from cooked and frozen since it will be less likely to fall apart and hold the shape on the grill.
But, these sweet potato burgers are best when cooked in the oven or lightly warmed on the frying pan.
A few tips for cooking sweet potato chickpea burgers or other veggie burgers alike on the BBQ is to set the grill to medium heat and brush with vegetable broth. Flip carefully for 5 minutes on each side.
Another tip would be to put your burgers in a foil packet on the grill. This will make sure they stay in shape but also a helpful hack to minimize dishes when enjoying a weekend cookout!
Do you love spice? Try these spices in this sweet potato chickpea burger to kick up the flavor!
Cayenne
Smoked Paprika
Liquid Smoke (Not a spice but a great flavor enhancer)
Cajun (my household favorite)
Chili Powder
Onion Powder
Red Pepper Flakes
How to Garnish Veggie Burgers?
The garnish possibility for our sweet potato chickpea burgers is ENDLESS! We love adding a heaping amount of veggies to our burgers. A few of our favorites garnishes include…
Spinach, Romaine, Arugula or Iceberg Lettuce
Red Onion
Tomato
Pickles
Kimchi or Sauerkraut
Pickled Relish
Salsa
Mushrooms
Roasted Red Peppers
Jalapenos
Avocado (my fave)
Hummus
Vegan Cheese (If we are feeling fancy)
Our Favorite Store-Bought Burgers
Try out these brands of burgers that we love!
What to Have With Your Sweet Potato Chickpea Burgers
A few of our favorite recipes to make as side dishes to our sweet potato chickpea burgers is grilling or roasting a large pan of veggies. We also love to enjoy in-season produce like corn, asparagus, turnips, summer squash and broccoli! If you haven't tried grilling veggies on the BBQ this is a MUST TRY! The flavor is amazing and it is definitely a change from the usual baking or fry pan method.
We also enjoy these recipes…
Crispy Oil Free Fry Truck Wedges
Recipes you Need to Try Out this Summer
Are you looking for summer-inspired main dish recipes to make that are whole-food plant-based? We've shared many on Instagram that will elevate your taste buds!
Don't waste any time in the kitchen! Join the Plant Ahead Program!
Our weekly whole-food plant-based meal plans make life so much easier! You will quickly see the benefits as soon as you join from saving time in the kitchen, simple meal prep instructions and simple budget-friendly ingredients. When becoming a member of Plant Ahead you will gain access to our database of plant-based meal plans + a new plan each week, shopping list, e-books and an invite to our Facebook support community. Our proven plant-based program cost less than a FANCY LATTE.