Banana Nice Cream Recipes
Summer is just around the corner, and we are starting to enjoy the nice weather by making delicious and refreshing Banana Nice Cream recipes!
Nice cream is one of the go-to options for a healthy dessert in the summer, but we definitely love to make it all year round too! In our article we are sharing our best tips to make perfect nice cream every time.
AND, sharing our favorite Banana Nice Cream Recipes recipes too!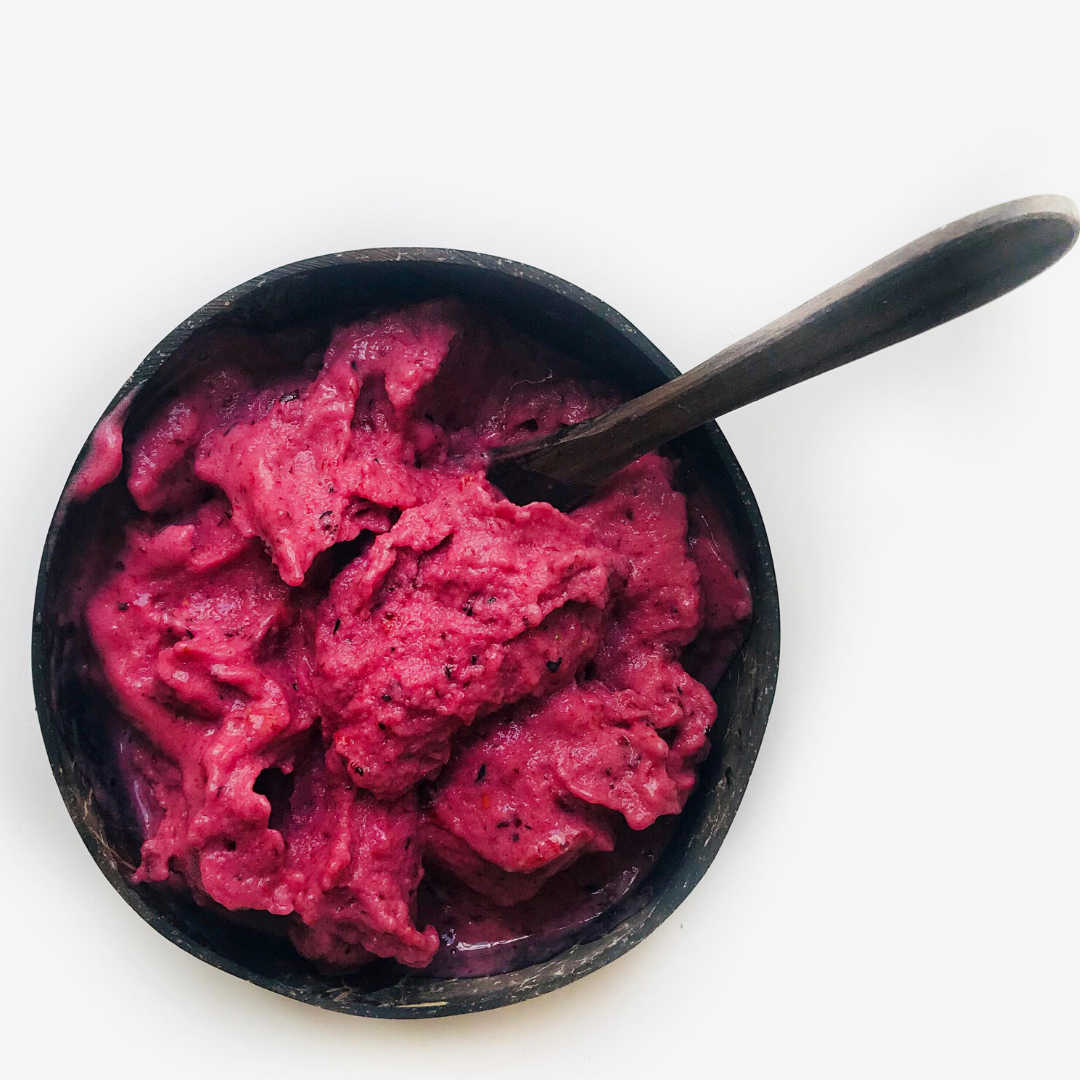 What is Banana Nice Cream?
"Nice Cream" got its name since its a healthy version of ice cream and plant-based! Nice cream is usually sugar-free, made from frozen bananas and blended to an ice cream consistency using a food processor or high-speed blender. Banana nice cream is also gluten-free, soy-free, oil-free and vegan! You also don't need to use banana's to make nice cream. You can also use a variety of frozen delicious healthy fruits, nuts, and plant-based non-dairy products to make healthy ice cream dessert alternatives.
What Equipment Do You Need?
You can use a blender or a food process to make banana nice cream. We use our Ninja Highspeed Blender, and we find the consistency is always thick and creamy like traditional ice cream. You can also use a food processor, and it will turn out well but may take a bit more time and TLC.
I found that when making nice cream in a food processor, I had to frequently scrape down the sides, and it took about 5 minutes longer.
Since I use a high-speed blender for my nice cream recipes, it blends together in 2-3 minutes. You can also use a regular speed blender, but it will have small chunks of the fruit and will be less smooth.
The Best Type of Banana To Use
Spotty ripe bananas are perfect to use in banana nice cream recipes! These bananas are sweet and have a strong flavor. When the bananas are ideal for desserts.
How to Make Banana Nice Cream?
The steps to making a simple banana nice cream recipe are simple!
Follow these instructions for a simple banana nice cream recipe:
Cut up 2-3 bananas into bite-size chunks.

Freeze bananas till completely frozen.

Blend in a highspeed blender for 2-3 minutes or food processor for 5-10 minutes.

Add 1/4 cup of non-dairy milk.

Serve and enjoy!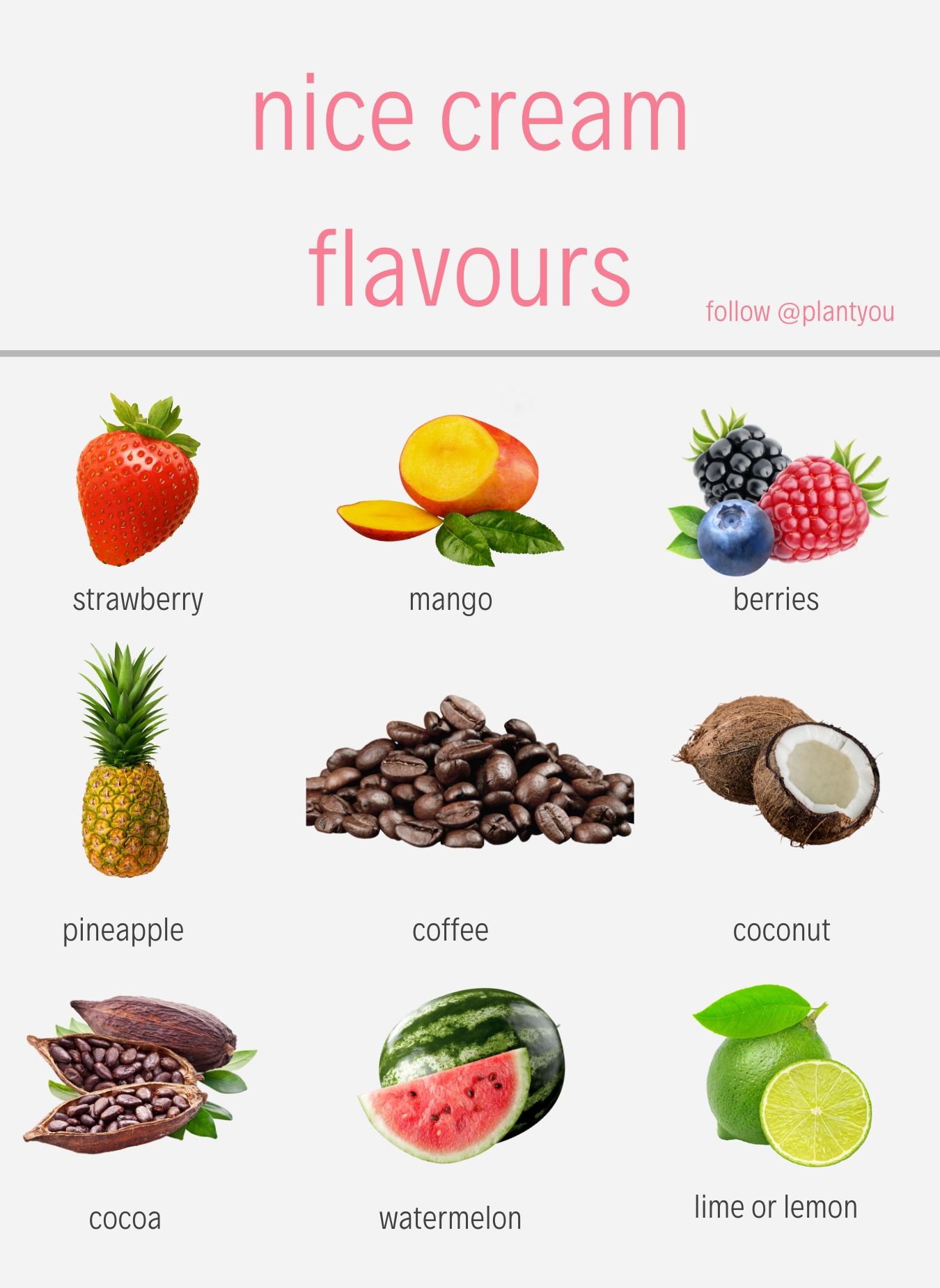 Our Plant You Flavor Favorites
Our favorite way to add different flavours is to add in more delicious fruit to our banana nice cream recipe! We've experimented with different fruits, and these have been our favorites to include!
Frozen Raspberry and Blueberries

Mango

Strawberry

Pineapple

Coconut

Watermelon and Lime
When experimenting with a ton with different flavor combos, we've had success with included veggies and herbs into our healthy nice cream recipes! They turned out delicious every time and replicated many traditional flavors we've all come to know!
Try out these flavor combos!
Banana + Spinach + Mint + Vegan Chocolate Chips

Matcha + Banana + Maple Syrup

Coffee Grinds + Banana + Cinnamon

Banana + Peanut Butter + Cocoa Powder + Almond Milk

Vanilla Protein Powder + Almond Milk + Banana + Strawberry
Our Top 3 Favourite Nice Cream Recipes….
Our Favorite Toppings to Add to Nice Cream
Vegan Chocolate Chips

Coconut Flakes

Citrus

Passionfruit

Almonds or Pecans

Maple Syrup

Carob Nibs

Tahini
How to Make Nice Cream Without Bananas?
It is 100% possible to make nice cream without the bananas! We've created delicious nice cream with other fruits and alternatives as the base, for example, mango, pineapple, watermelon, vegan yogurt, coconut milk, nuts, avocado and cherries.
Now those three recipes are not the only nice cream recipes we've shared in with the Plant You community. We've shared many on Instagram, and these have been a few of our fan favorites.
We've got plenty of healthy recipes in the Plant Ahead Program!
Each week we serve an entirely new plant-powered menu full of delicious and healthy recipes that will keep you more than satisfied on a plant-based diet. We include a labelled shopping list, weekly meal guide and every single recipe has nutritional caloric information to help you stay on track with your health goals.