Baked Oatmeal Cups (Vegan)
These Baked Oatmeal Cups are so delicious you'll actually want to get out of your comfy bed in the morning! Endlessly customizable and made with whole-food, plant-based ingredients, you can feel great about eating them too!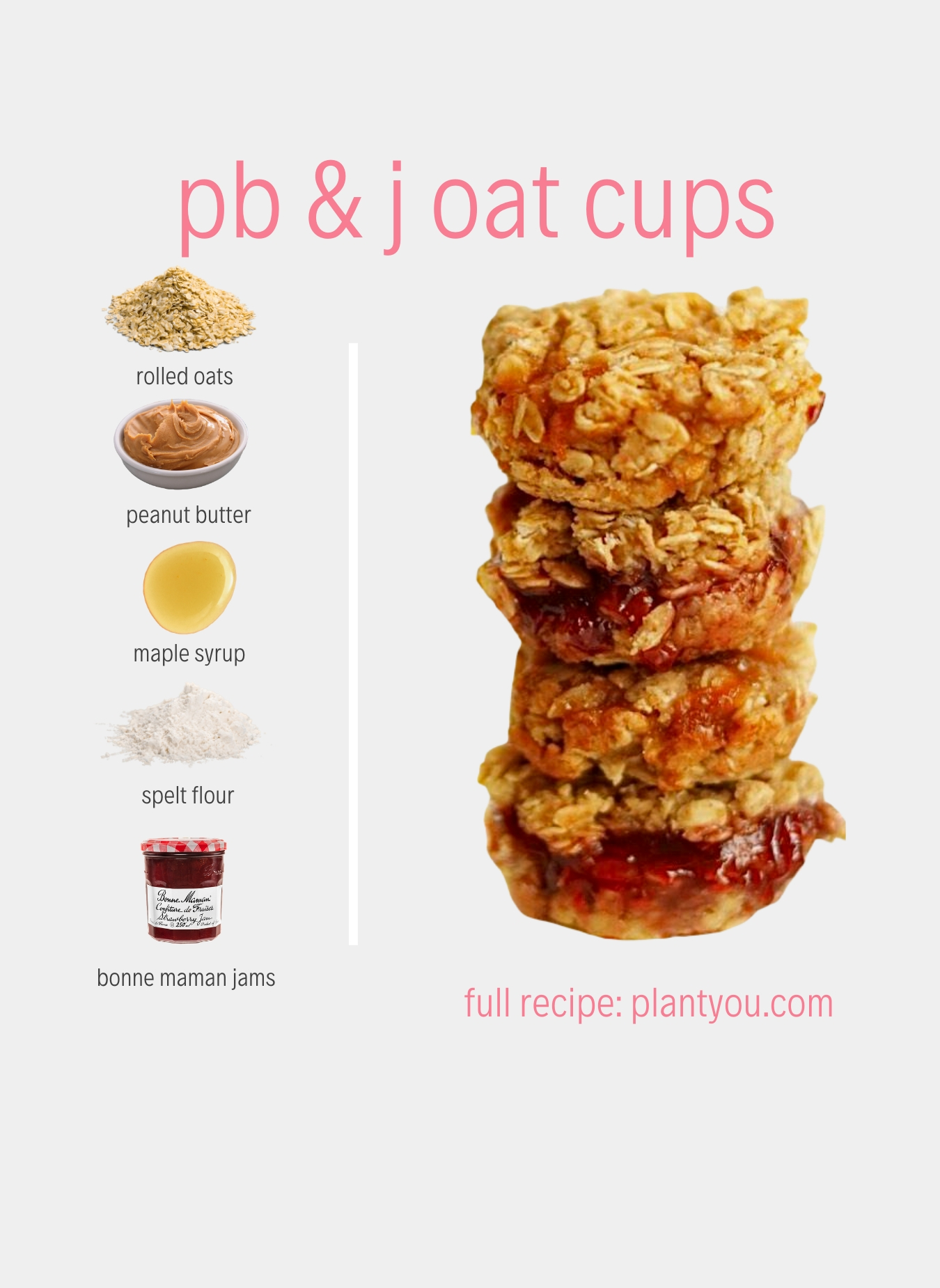 I've always said that meal prepping just one main meal a week can change your life. These easy vegan Baked Oatmeal Cups are the absolute perfect breakfast meal prep recipe. You can whip together 12 of them in less than 20 minutes, and have a delicious plant-powered breakfast ready for the workweek!
What's In Baked Oatmeal Cups?
One of the best parts about these baked oatmeal cups is that they are endlessly customizable to what you already have on hand in your fridge of pantry.
Here's the exact ingredients we used for ours:
Rolled Oats (Quick oats would work as well)
Peanut Butter (Try almond butter, or a nut free alternative like Wow Butter)
Maple Syrup (You can sweeten with any of your favorite liquid sweeteners like agave or brown rice syrup)
Vanilla Extract (Sorry, don't have a swap for this one)!
Spelt Flour (Whole Wheat, Gluten Free… They will all work)!
Your favorite jam (We used Bonne Maman's intense spreads and they worked AMAZING)!
That's it. You just need six simple ingredients to have a delicious breakfast or snack ready to go for the week.
Do You Need To Refrigerate Baked Oatmeal?
Since this Vegan Baked Oatmeal Cups recipe contains no eggs or dairy, you really don't need to refrigerate these. We suggest storing on your countertop for quick access, in an air tight sealed container.
These oatmeal cups will last you about seven days, but I really doubt they'll last that long! My fiance Jesse ate our first batch within TWO DAYS.
If you're wanting to store these away for a busy week, you can also freeze oatmeal cups. Simply freeze again in an airtight container or ziplock, and thaw on your countertop.
[embedyt] https://www.youtube.com/watch?v=KannTW_deJ4[/embedyt]
What Jam Should I Use For These Baked Oatmeal Cups?
If you've been following me on Instagram, you'd know I'm literally obsessed with Bonne Maman's jams! They are made of entirely real fruit, and are one of the most successful food brands in the world for a reason. The quality and taste of their jams are truly unmatched.
For this particular recipe, we used their amazing Intense Apricot Spread which has 38% less sugar than their regular spreads, as well as their classic equally delicious Strawberry Jam!
Should I Heat Up These Baked Oatmeal Cups?
We wouldn't suggest reheating these baked oatmeal cups in the microwave because of the jam. Things can get really drippy and messy. But if you do they are also delicious heated! Just enjoy them with a fork and knife.
If you're looking for some other easy plant-based breakfast recipes to try for the workweek, we have got you covered. Check out some of our other recipes:
We especially think these Baked Oatmeal Cups pair well with our infamous Matcha Latte Recipe. Try it out for yourself and let us know what you think!
If you're looking for more super easy whole-foods, plant-based recipes, you should definitely check out our weekly meal plan subscription. For just $7.99/month you get access to our entire database of over a year's worth of plant-based meal plans and recipes, with a new one coming out every Thursday. Learn more and get all signed up here.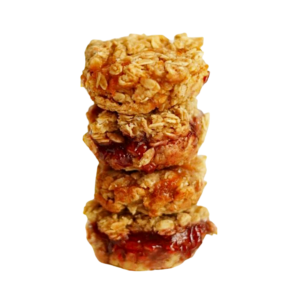 The Recipe: Baked Oat Cups (Vegan)
These easy Baked Oat Cups come together in less than 20 minutes with six simple plant-based ingredients!
Ingredients
2.5 Cups Rolled Oats
1 Cup Peanut Butter, Creamy
½ Cup Maple Syrup
1 Tsp Vanilla Extract
½ Cup Spelt Flour
12 Tsp Strawberry Jam
Instructions
Preheat your oven to 350F.

Add your oats, peanut butter, maple syrup and vanilla extract to a large bowl and stir until combined. Sift in your spelt flour and mix.

Grease or use a non-stick muffin pin. Place 1 tbsp of the oat mixture at the bottom of each muffin tray, then press it down with your hands. Leave at least 1/2 a cup of the oat mixture behind for the top of the cups.

Now place a tsp of strawberry jam in the middle of each of the oat cups. Finally, take the remaining oat mixture and place it on top of the jam.

Place in the oven for 8 minutes at 350F. Let cool before eating. Store in a sealed airtight container on the countertop for 7 days.
Calories: 279kcal, Carbohydrates: 35g, Protein: 9g, Fat: 13g