Edamame Hummus
Welcome back to Cool Beans! Today we are making a high protein dip using an underrated bean, edamame. This edamame hummus has a vibrant fresh flavor reminiscent of guacamole, perfect served with bread or crackers.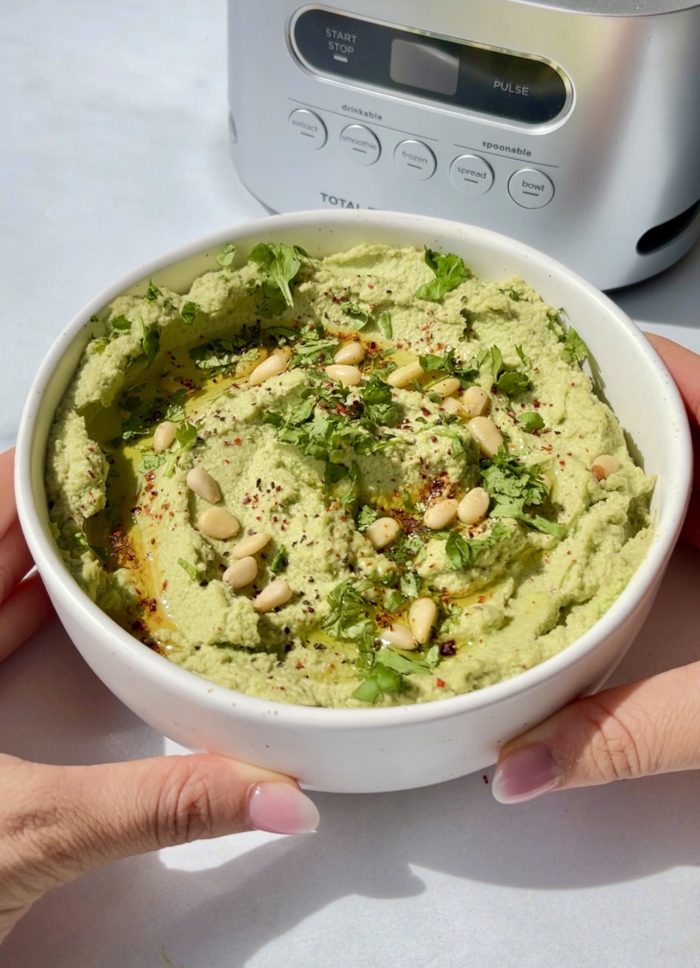 When you transition to a plant-based diet, beans and pulses become one of the primary sources of protein. Unfortunately, not everyone likes beans, so I am here to show you cool ways to incorporate more pulses into your diet. This particular recipe is a dip similar to hummus, except it's made without chickpeas!
Have you heard of edamame? Technically, it's a soybean harvested before it's fully matured. Edamame beans are commonly served steamed or blanched still in their pods, as part of East Asian cuisine. In the stores, edamame is typically sold canned or frozen
This edamame hummus is reminiscent of a light, refreshing guacamole dip, except it's richer in protein thanks to the beans.
Why You'll Love This Recipe
This edamame hummus is like a lovechild of hummus and guac. It's creamy, nourishing, zesty, and refreshing. Once you try it, you'll be making this all the time!
This recipe is so full of green goodness, it will make you feel like a goddess!
This dip is super versatile when it comes to enjoying it! You can eat it with chips or pita, but you can also use it as a spread or pasta sauce. Yum!
You can make this edamame hummus with ONLY 6 INGREDIENTS. Great for people on a budget, as well as those who appreciate simplicity.
How to Make This Recipe
This is just… so simple! Add all the ingredients into the blender and blend until smooth. That's it!
If you want to garnish it before serving, create a swirl with a back of a spoon, drizzle with olive oil and add some pine nuts or fresh herbs.
Hack It!
I am well aware not everyone likes the taste of cilantro. You are welcome to try this recipe with fresh parsley or basil instead!
If you like your dips more spicy, add a pinch of chili powder, or some hot sauce along with the rest of the ingredients.
If you've run out of lemons, you can use lime juice or apple cider vinegar instead.
Don't rush to throw away the lemon rind from the lemon juice! Instead, make a simple DIY cleanser for your kitchen counters.
Other Recipes You'll Love
If you love simple recipes like this one, you're going to want to check out the PlantYou Planner. It's a digital meal planner planform that allows you to choose from 550+ recipes. That's right, you can select your own weekly menu, toggle the number of servings, and enjoy the perks of the autogenerated shopping list tailored to your meal plan! Is your mind blown yet?
And if you're looking for a set of recipes you'll be making again and again, you're gonna love the PlantYou Cookbook! It's the kind of book I wish I had when I first went vegan, because it contains over 140 recipes for every meal and every occasion. Thanks to the amazing support the book has received so far, it's completely sold out online. If you want to get your hands on a copy, check with your local bookstores!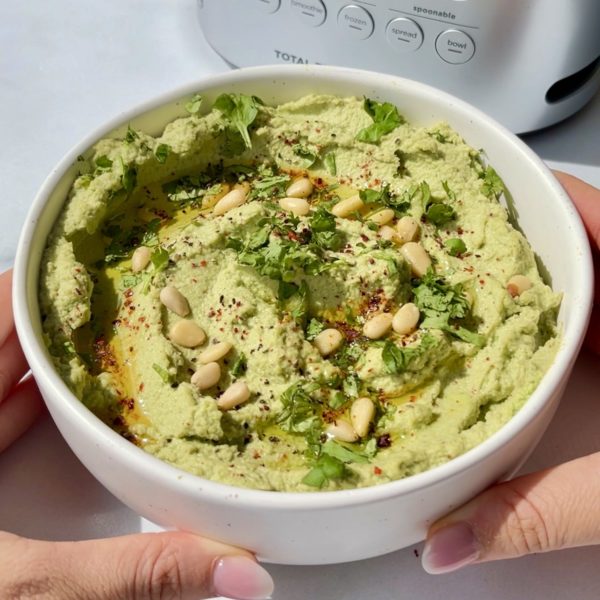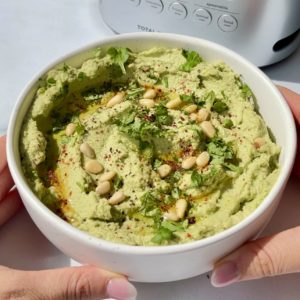 The Recipe: Edamame Hummus
A delicious high protein dip using edamame as the base.
Ingredients
2 cups edamame , frozen then thawed
1 avocado
1 ½ cups cilantro
1 lemon, squeezed
2 cloves garlic
½ tsp sea salt
Instructions
Add all ingredients to a blender and combine until smooth. Top with a swirl of olive oil, pine nuts, red chili flakes and more cilantro as desired.
Notes
If you do not like cilantro, you can simply omit it from this recipe. 
Calories: 124.3kcal, Carbohydrates: 10.2g, Protein: 6.6g, Fat: 7.7g, Saturated Fat: 1g, Polyunsaturated Fat: 1.7g, Monounsaturated Fat: 4g, Trans Fat: 0.1g, Sodium: 201.6mg, Potassium: 437.5mg, Fiber: 5.6g, Sugar: 1.8g, Vitamin A: 322.9IU, Vitamin C: 17.4mg, Calcium: 45.9mg, Iron: 1.6mg