How To Make Stovetop Oatmeal: Five Ways
Oatmeal is one of the most nourishing and delicious ways to start your day. In this blog post, I'm going to show you exactly how to make stovetop oatmeal with four of my favorite recipes to choose from!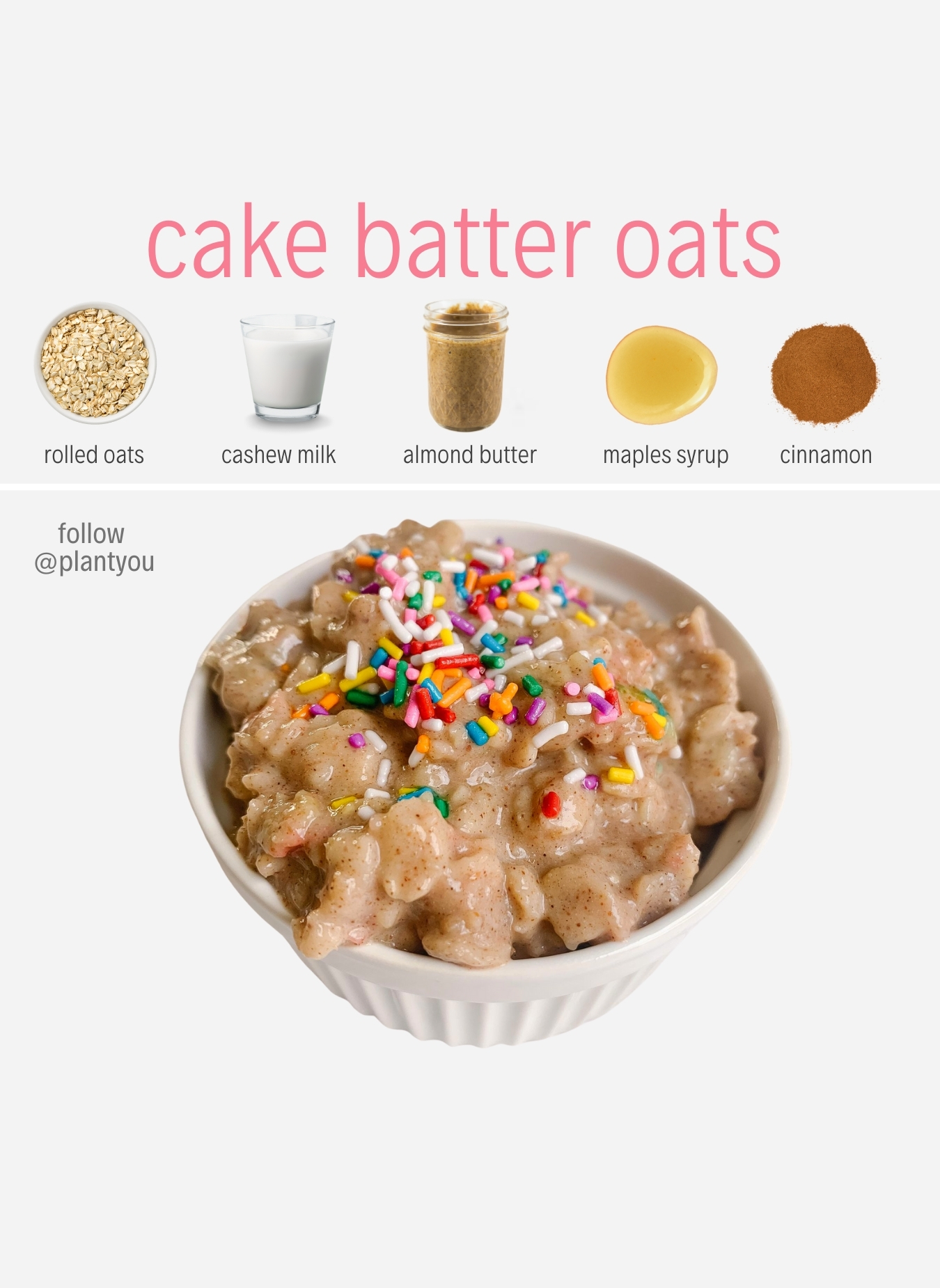 I'm a huge fan of oatmeal. It's fiber, energy rich, nutrient dense, and feels like a hug in a bowl when you make it on the stovetop. It also takes just minutes to prepare, and you can store in the fridge for a quick meal prep breakfast or lunch!
You're in for a treat with this post, as I share my four absolutely favorite stovetop oat recipes that are on regular rotation in our household, including Snickers Oats, Pumpkin Pie Oatmeal, Cake Batter Oatmeal, and Cappuccino Oats for my coffee lovers!
How To Make Oatmeal With Almond Milk (or any other vegan milk)
For my stovetop oatmeal recipes, I love to use a combination of rolled oats (I just use Quaker), as well as almond milk, cashew milk or soy milk. By cooking the oats in the almond milk, you're left with a dreamy creamy thick texture for your oatmeal.
Generally I like to stick to a 2:1 milk vs. oats ratio for my stovetop concoctions, and this generally lends a really nice traditional oatmeal texture. The nice thing is when you're preparing stovetop oats, you can always add more milk and rolled oats as required to get the right ratio for you!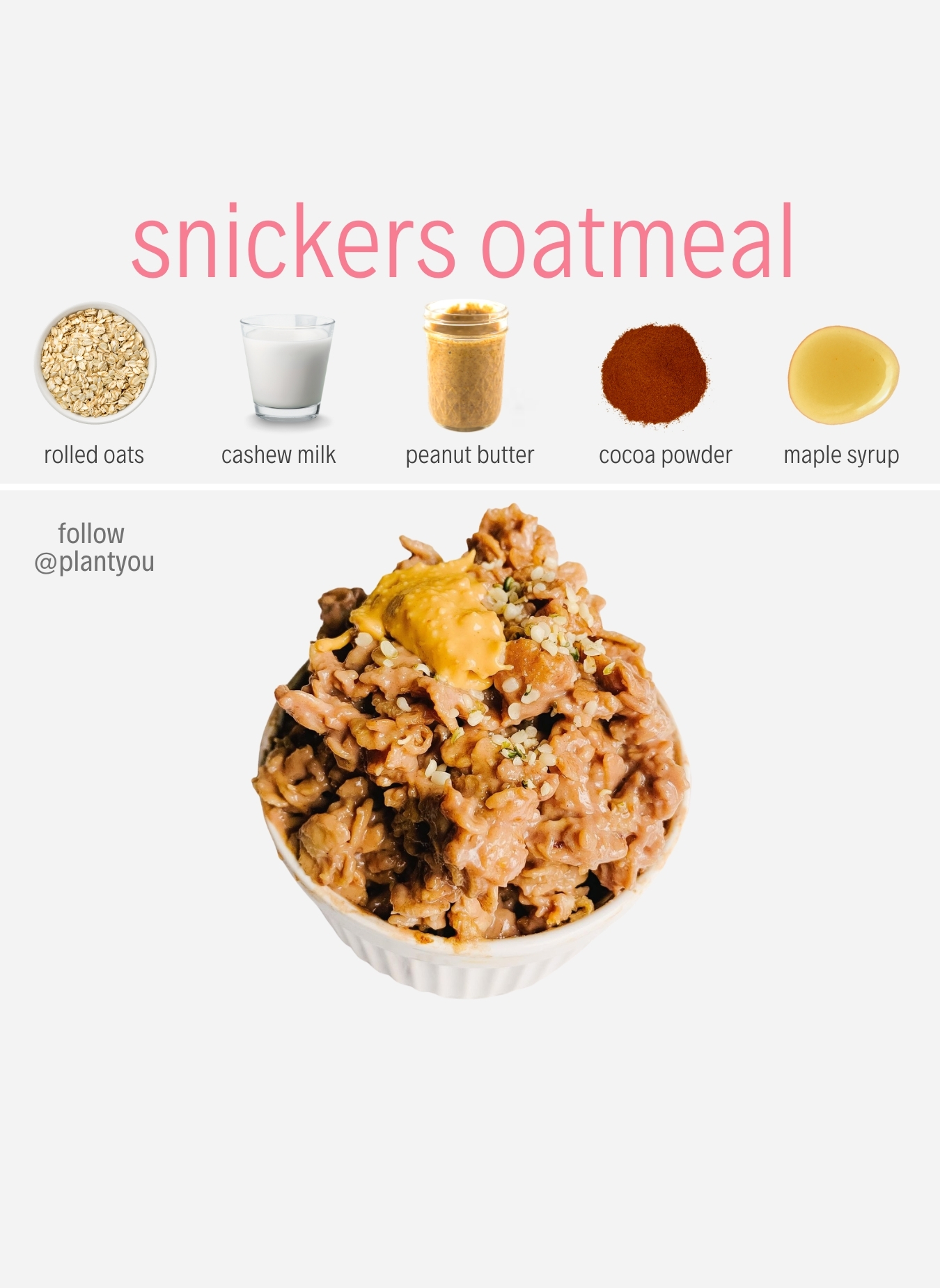 Why Start Your Day With Oats?
Whenever I watch one of those "What I Ate In A Day" videos with my favorite doctors, like Dr. Joel Fuhrman or Michael Greger, they seem to always start their day with oatmeal.
It's no surprise, since oats are an incredibly nutritious breakfast choice. They're rich in antioxidants, have soluble fiber, energy to keep you going throughout the day, and have also been shown to help lower cholesterol levels and improve blood sugar. I love to add ceylon cinnamon to my oats to improve the blood sugar factor even more!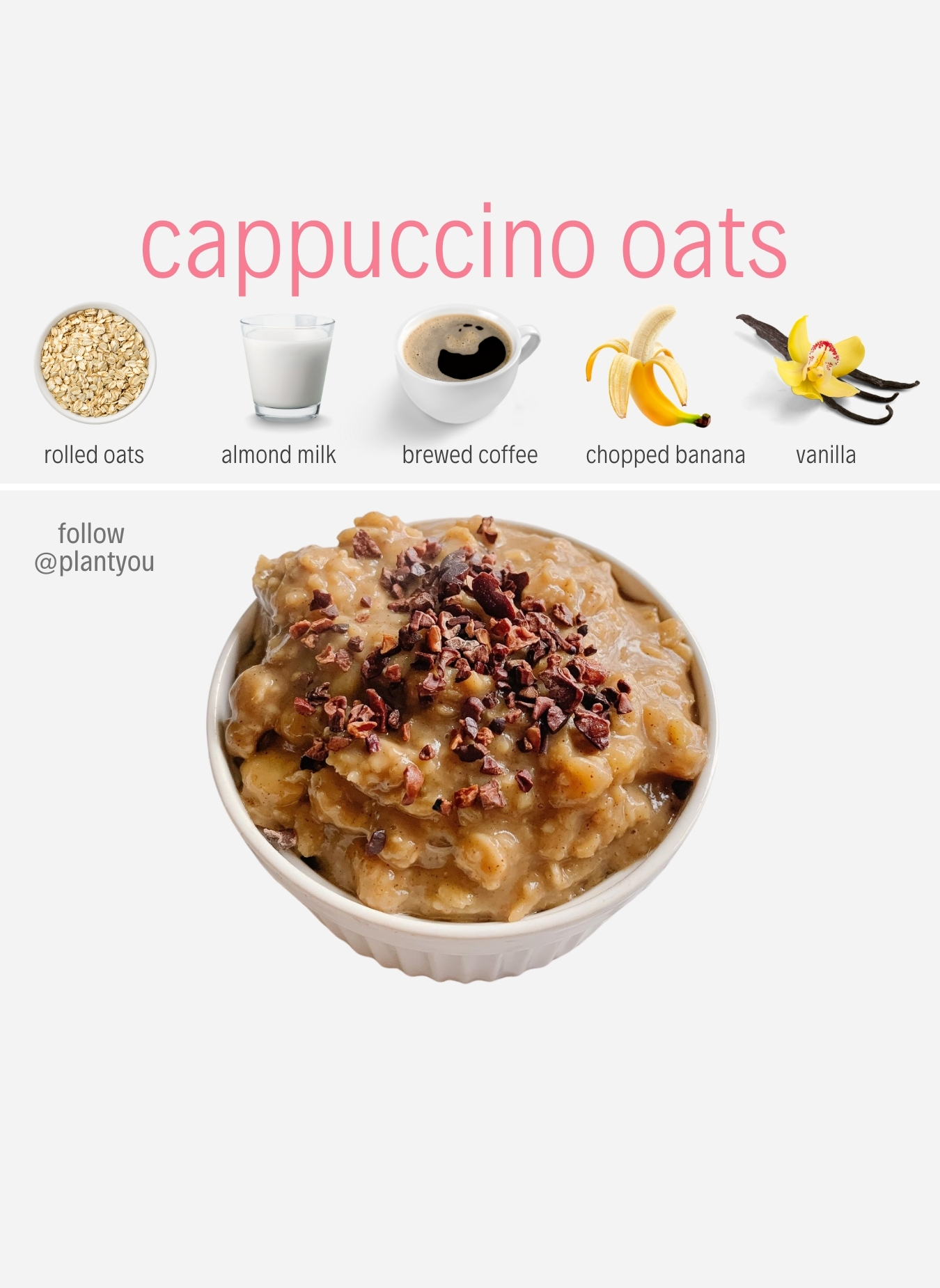 What Pot Should I Use For My Stovetop Oatmeal?
A regular saucepan will do just fine for your oatmeals, or deep set nonstick pan. I love to use a wooden spoon when stirring mine. Here are some of my favorite sauce pans if you're in the market for a new one (these are Amazon affiliate links):
Cuisineart Non-Stick Sauce Pan
If you are looking for other breakfast recipes other than stovetop oatmeal, here are some of my Plant You favorites:
Of course if you are looking for more guidance on how to live the easiest plant-based lifestyle possible, I release a new done-for-you meal plan every week in my program Plant Ahead. The program includes a suggested menu, seven new recipes for breakfast lunch and dinner and a shopping list every week to take with you to the grocery store. You can sign up here.