Plant Presets Instructions
Mobile Download Instructions
Thank you so much for your purchase of our #PlantPresets.
Your food photos are about to go from BLAH to BEAUTIFUL!
Step 1. Download the free lightroom app on your phone.
You will be editing your food photos using the free lightroom app. It is available on both Android and iPhone through the App Store.
Step 2: Download DNG files to your mobile phone
The #PlantPresets come in a DNG format which is standard for lightroom presets. In order to email them to you, your presets were compressed into a ZIP folder attached to the receipt email.

Step 3: UnZip the Files On Your iPhone or Android
The easiest way to unzip the preset file is by downloading a free app on either your Android or iPhone called iZip. Alternatively, if you're on your desktop, you can unzip the files as normal and air drop them to your phone.
Once you have iZip downloaded, then locate your zip preset file in your "downloads" or "file" folder on your phone and tap on Open in iZip.
Now press "unzip all files" and your DNG files will be stored in the app. It's now time to import them into the Lightroom app and get editing your beautiful food photos!
Step 4: Import presets into Lightroom
At this point you should have all of your DNG files saved to your phone – either in your iZip app or in your camera roll. These files look blank but they're simply to carry the presets.
Open the Lightroom Open Lightroom Mobile and tap on the Add Photos button in the lower right corner.
If you have the DNG files stored in iZip, select from files, then iZip Files.
Select the DNG files from iZip and import them into Lightroom.

The presets will look like this once they are in your lightroom library.
Step 5: Save Files As Presets
Open the DNG files one at a time inside the app and save them as their preset names in the top right corner.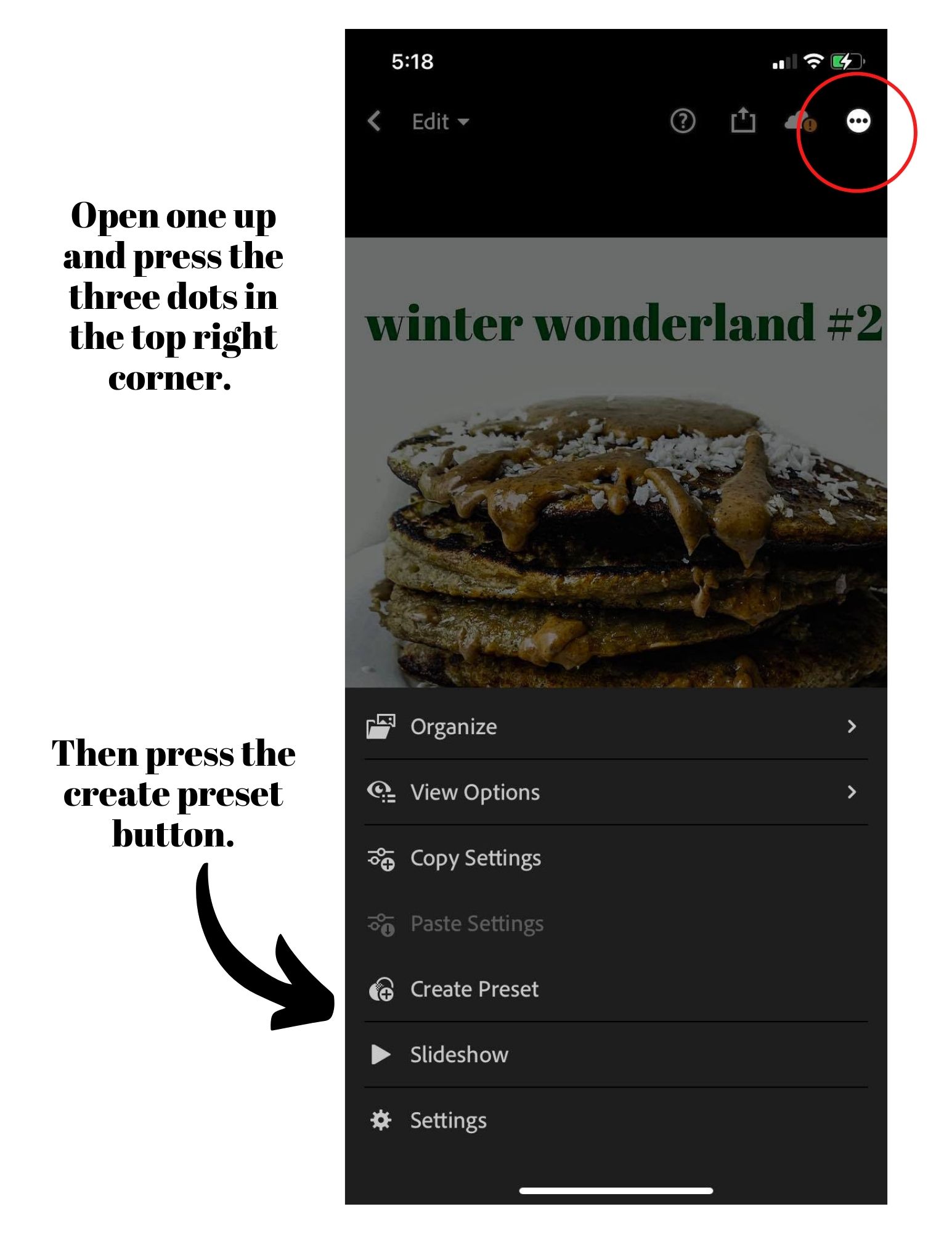 This will open up a "New Preset" screen which allows you to give your preset a name.
When you're done with the settings save your preset by tapping on the checkmark icon at the top right corner.
Repeat this step for each DNG file as you will need to save each preset separately. This only needs to be done once.
Step 6: Start Using Your Presets
Now you can start using your presets. Go back into your camera library and open any food photo. Find the presets icon at the bottom of the screen and tap on it. Now you can apply any of the preset saved settings to your images.
Your food photos might need slight brightness, exposure, saturation and contrast adjustments to make them look their absolute best, which you can find in the customization options within the lightroom app.

That's all there is to it! Enjoy your new plant presets, and remember to use the hashtag #plantpresets so we can share them on our stories.
If you are still having trouble downloading your presets, this video on YouTube goes through step by step instructions (this is not our video but goes through similar steps if you are more of a visual learner).
[embedyt] https://www.youtube.com/watch?v=NYqIzHRlguI[/embedyt]
Finally, if you have any questions about your presets, or are still having issues downloading them, please email [email protected] We will walk you through it within a 48 hour time period.