Taylor Swift's Chai Tea Eggnog Cookies, Veganized
Everyone is talking about Taylor Swift's Chai Tea Eggnog Cookies this holiday season! Here's a veganized version of her delicious recipe so we can all get in on the fun.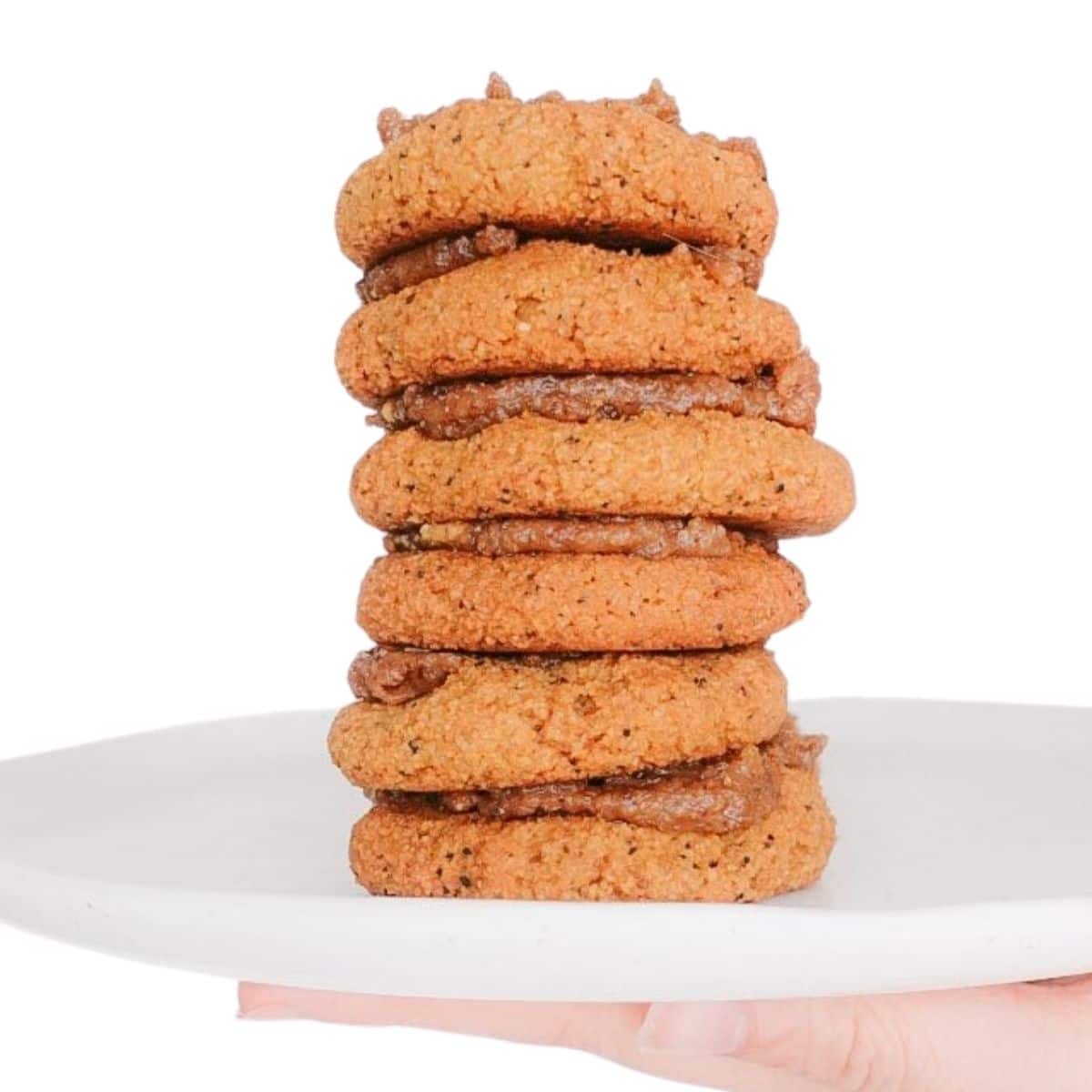 She's a singer. She's a songwriter. And apparently she bakes wildly delicious cookies!
Taylor Swift sent everyone into a frenzy when she shared an image of these delectable Chai Tea Eggnog Cookies on her Instagram story a few years back. Here's an image capture of the story courtesy of Seventeen magazine.
What's in Taylor's Chai Tea Cookie Recipe?
The original recipe has a lot of butter, vegetable oil and sugar. Here's the ingredients list if you want to make the non-vegan version of this recipe!
1/2 cup unsalted butter, at room temperature
1/2 cup vegetable oil
1/2 cup granulated sugar
1/2 cup powdered sugar
1 large egg
2 teaspoons vanilla extract, or the seeds of 1 vanilla bean
2 cups all-purpose flour
1/2 teaspoon baking soda
1/4 teaspoon salt
1 chai tea packet
1 cup powdered sugar
1/4 teaspoon nutmeg
1/4 teaspoon cinnamon
1 tablespoon eggnog
To veganize this recipe, we're going to make a chai tea cookie with almond flour, with the additional of a delicious almond butter eggnog icing! These cookies are truly to die for.
How To Make These Cookies
To make these vegan chai tea eggnog cookies, the ingredients list is a lot shorter than the original version because that's how we roll.
You'll need almond flour, coconut or brown sugar, some baking powder, a chai tea bag, almond milk and vanilla extract. For the icing, you simply need some almond butter, a little vegan eggnog (if you can find some) and a little more sugar for that extra sweetness.
To start, preheat the oven and line a baking sheet with parchment.
You're first going to combine your dry ingredients, including the almond flour, coconut sugar, chai tea bag, baking powder and a little bit of sea salt.
Then pour in the almond milk and the vanilla extract into the bowl, and mix until a batter is formed. You're going to seperate this dough into approximately 15 small cookies about a tablespoon each.
Throw them in the oven, then make the icing by combining almond butter with a little vegan eggnog and sugar. Once the cookies have cooked and cooled, you can slather the icing on and enjoy!
Why You Will Love These Cookies
They're Vegan & Gluten Free: You can serve just about anyone with this simple cookie recipe
They're Easy: They only require a few whole-foods, plant-based ingredients to whip together
They're Festive: We love a good Christmas cookies, and what better kind than a chai tea eggnog cookie inspired by our favorite TSWIFT to ring in the holidays.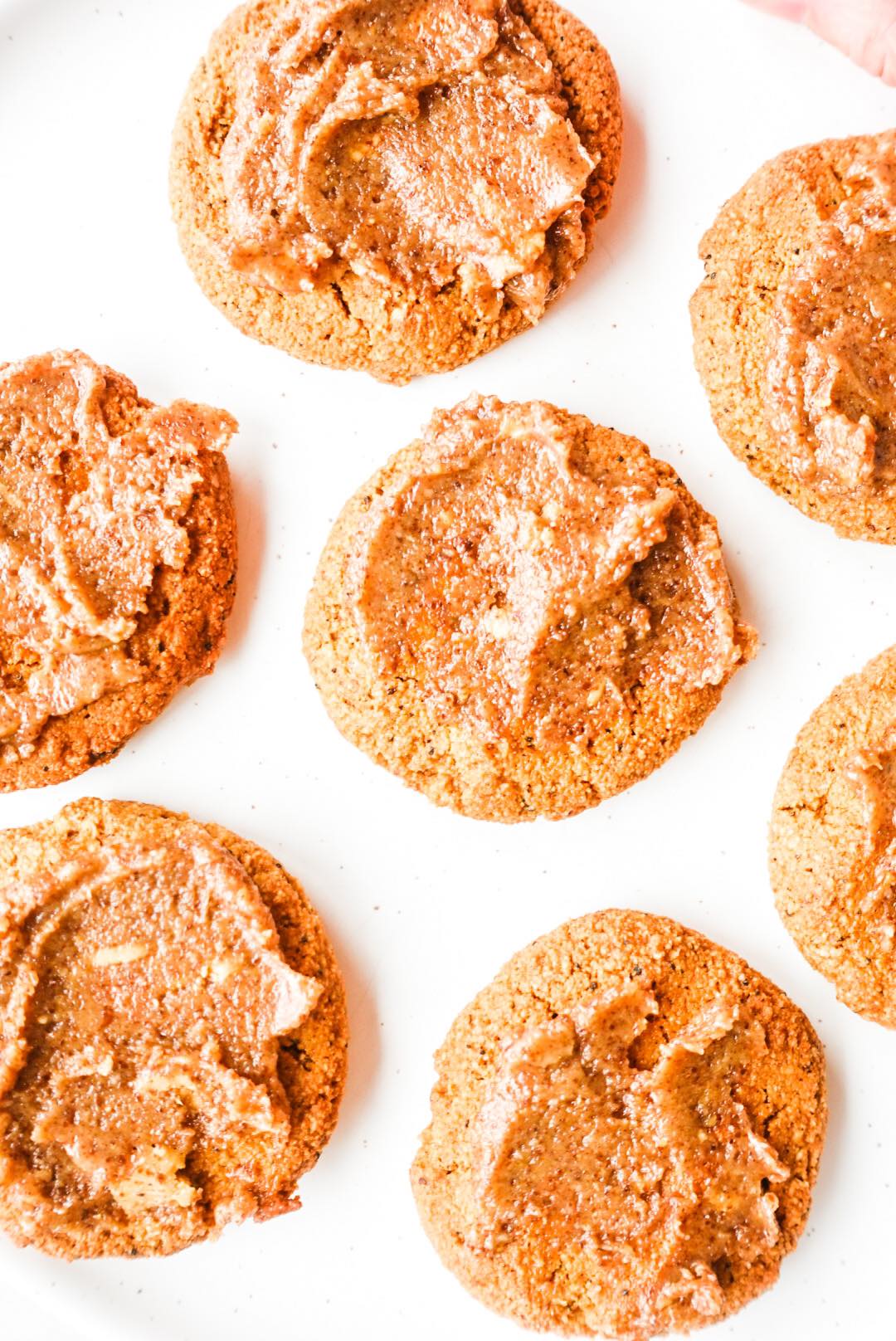 Other vegan christmas cookies you will LOVE:
Vegan Gingerbread Cookie Recipe
Taylor Swift's Pumpkin Chocolate Chip Cookies, Veganized
The Recipe: Taylor Swift's Chai Tea Eggnog Cookies (Veganized)
A delicious warm chia tea almond flour cookies with an eggnog frosting to ring in the holiday season!
Ingredients
2 cup almond flour
⅓ cup coconut sugar, sub brown sugar
1 tsp baking powder
1 chai tea bag, cut open
1 tsp vanilla extract
¼ cup unsweetened cashew milk, sub almond or soy
¼ cup almond butter
2 tbsp vegan eggnog
Instructions
Preheat the oven to 350F and line a baking sheet with parchment paper.

Add almond flour, coconut sugar, baking powder, contents of a chai tea bag and salt to a bowl and mix well. Pour in the cashew milk and vanilla extract and mix until a batter is formed.

Using your hands, roll the cookies into small dough balls that are approximately 2 tablespoons each. You should have enough dough for approximately 9 cookies. Once they are on the baking sheet, flatten them with your palm or a fork. Place in the oven for 22 minutes until cooked through. Meanwhile, prepare the icing by mixing the almond butter with vegan eggnog if desired.

Once cookies have baked, allow to cool for at least 15 minutes before icing.