Taylor Swift's Pumpkin Chocolate Chip Cookies, Veganized
A delicious gluten free, refined sugar free and vegan pumpkin chocolate chip cookie, inspired by Taylor Swift's original recipe.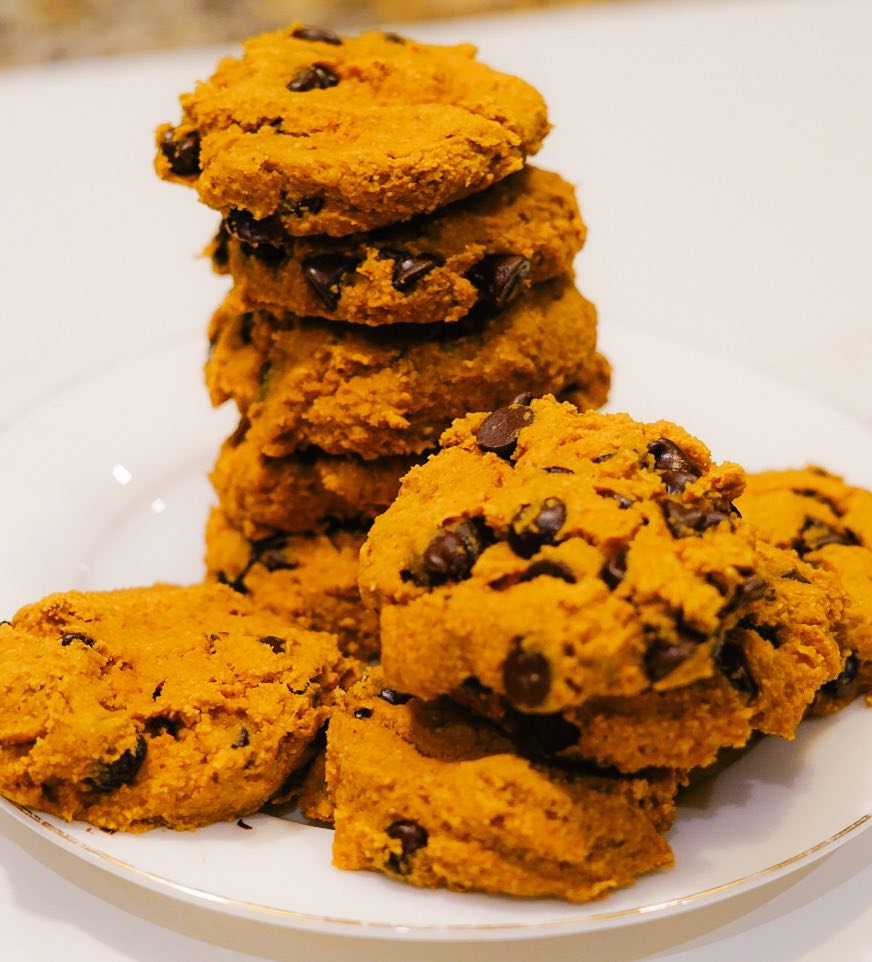 Just about anything Taylor Swift touches turns to gold, including her recipes. Recently I've started a new series on my instagram page, where I veganize celebrity recipes. Find Gigi Hadid's famous spicy vodka pasta here.
In this series, I try to use whole foods ingredients as much as possible, avoiding simple swaps like vegan butter and cream cheese which are often expensive and not so healthy for you.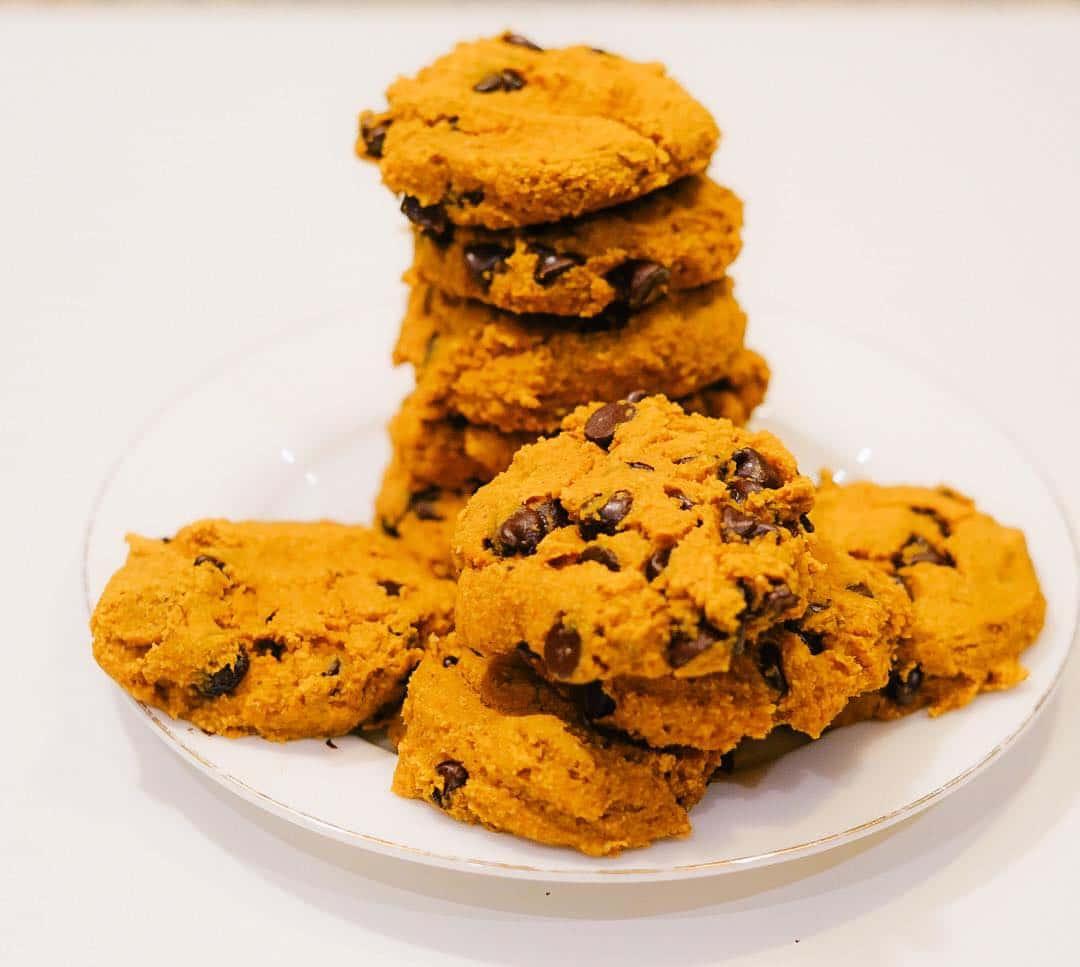 What's In The Original Taylor Swift Pumpkin Chocolate Chip Cookie Recipe?
I have to be honest. This wasn't the easiest recipe to veganize because there's so much dang butter in it… But I think I pulled it off. If you're not a vegan, here's the original recipe for you to try.
The cookies are described as a cross between a cookie and a cake, and I was able to achieve the same texture by changing up the flour and sweetener. If you're not a fan of soft cookies, I wouldn't recommend this recipe.
Full instructions for the original recipe are in the link above. I'm not entirely sure where this recipe dates back to, but after my research, it appears Taylor shared it on her instagram account a few years ago with her followers! She has since deleted all of her old photos.
1 cup (2 sticks) unsalted butter, softened
1 cup white sugar
1 cup light brown sugar
2 large eggs
1 teaspoon vanilla extract
1 cup canned pumpkin puree
3 cups all-purpose flour
2 teaspoons baking soda
1/2 teaspoon salt
1 teaspoon ground cinnamon
1/2 teaspoon ground ginger
1/4 teaspoon ground nutmeg
1/4 teaspoon ground cloves
2 cups (12-ounce bag) milk chocolate chips, not semisweet
1 teaspoon pumpkin pie spice
How I Veganized The Recipe
As noted earlier, I try to avoid vegan butter and other not so great for you swaps in my cooking. It's really the foundation of our weekly meal plan subscription to stick to whole foods as much as possible.
With that said, I'm always up for a challenge. For this recipe, I replaced the brown sugar with maple syrup, which is my preferred sweetener. I also swapped the white flour for oat flour, because I find it gives a great cookie texture and works for those of my readers who are gluten free.
I maintained the integrity of the cookie by using similar spices as well as dark chocolate chips in place of milk. As Taylor did, we also used pumpkin puree in the recipe. You want to make sure your puree doesn't have any added sugar or the recipe will turn out too sweet.
PRINT RECIPE
Taylor Swift's Pumpkin Chocolate Chip Cookies, Veganized
A vegan, whole-food, plant-based compliant pumpkin chocolate chip cookie inspired by Taylor Swift's original creation.
Ingredients
2

cups

oat flour

1

cup

pumpkin puree

1/2

cup

maple syrup

1

tsp

vanilla extract

1/2

tsp

ground cinnamon

1/2

tsp

ground ginger

1

tsp

pumpkin pie spice

1/4

tsp

ground nutmeg

1 1/2

tsp

baking powder

1

cup

dark chocolate chips

1

pinch

sea salt
Instructions
Preheat the oven to 350F and line a baking sheet with parchment paper.

In a bowl, combine the wet ingredients, including the pumpkin, syrup and vanilla extract.

In another bowl, add the flour, spices, baking powder and salt and whisk well. Add the wet ingredients to the dry ingredients and fold in the chocolate chips.

Using a cookie scooper create 12 cookies (approximately 2 tablespoons of batter each) and place them 2 inches apart. Bake for 15 minutes as desired.
Notes
This is a cakey cookie. If you don't like soft cookies, this is not the recipe for you.