Collard Green Wraps
Collard Green Wraps are a simple and delicious plant-based meal that take less than 15 minutes to throw together or meal prep!
Meet your new favorite week day lunch: Collard Green Wraps. These veggie packed wraps are quick to make and are friendly for my followers who are gluten free, plant-based and of course vegan.
And if you're not a fan of collard greens – fear not. You can make these veggie packed wraps with your favorite whole wheat or gluten free tortilla instead.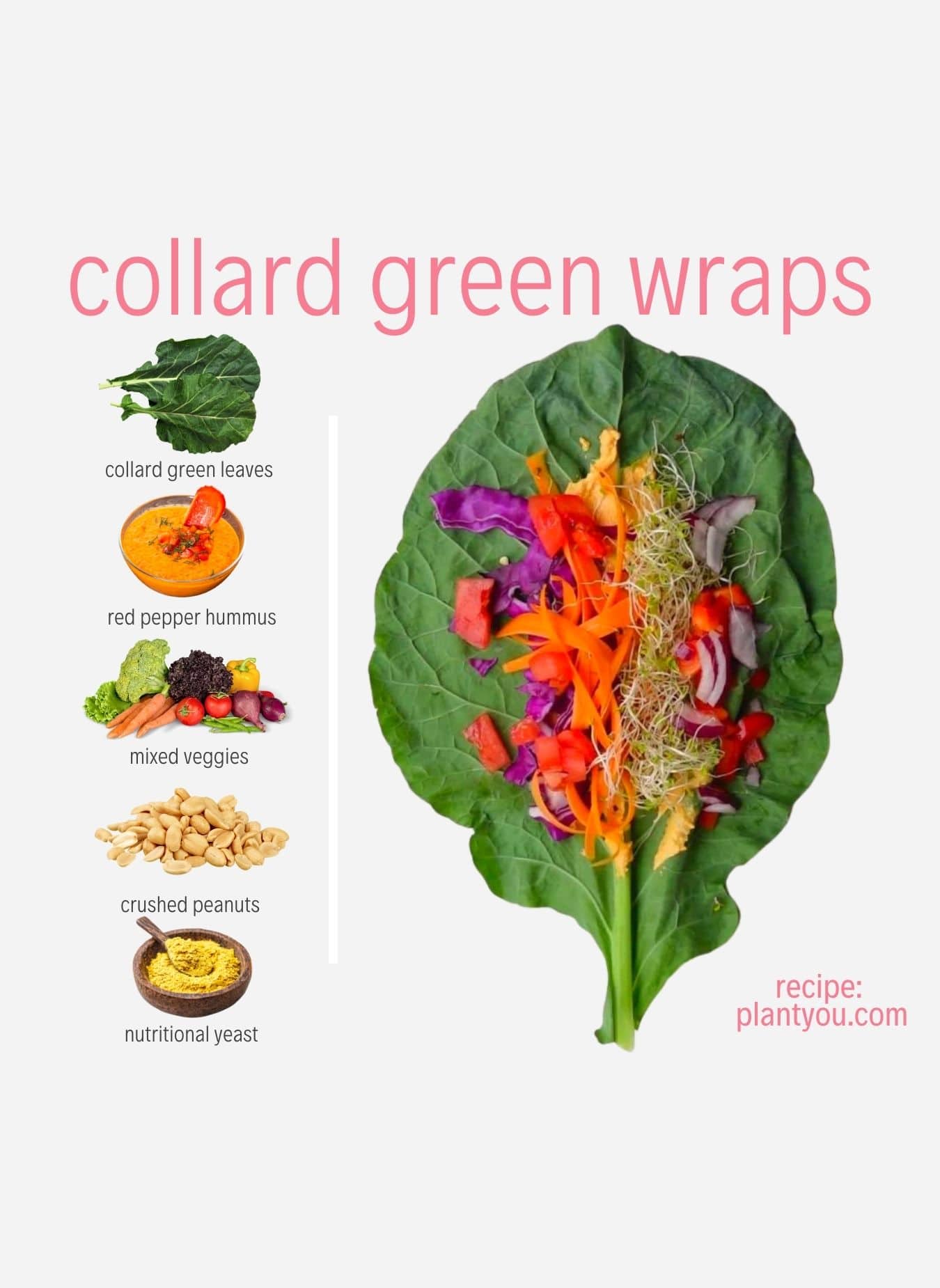 What's So Great About Collard Greens?
Along with being the perfect host to our veggie packed wraps, collard greens are also insanely good for us.
They're an amazing source of Vitamin A, Vitamin C, Vitamin K, calcium, iron, magnesium and more! When selecting collard greens for this wrap recipe, you want to try and choose the ones with the largest leaves to make them easier to wrap.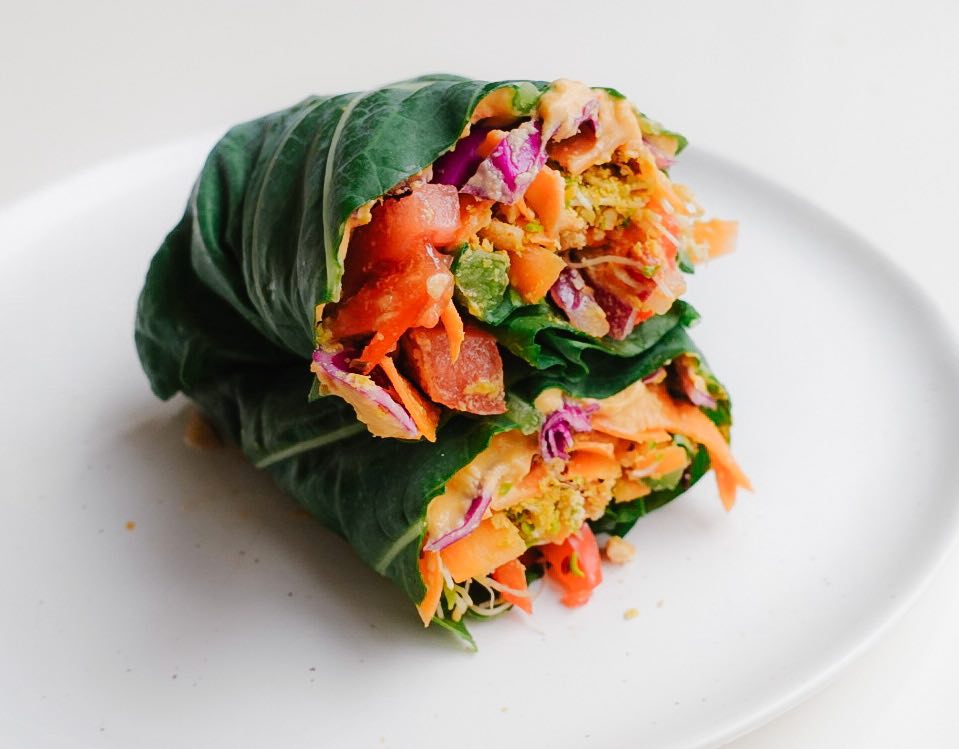 What's In These Collard Green Wraps?
To make a truly delicious collard green wrap, the filling is what matters most. I love to amp up the flavor of my collard green wraps with hot sauce, nutritional yeast and hummus to tip them over the edge of deliciousness. You also want lots of delicious crunchy veggies as well. The best part is you can use whichever veggie you have on hand to make this recipe.
Here's exactly what I put in mine:
Roasted Red Pepper Hummus (any of your favorite hummus' will do. We have a great oil free hummus recipe here)
Red Cabbage (gives it a nice crunch)
Broccoli sprouts (insanely good for you and adds a nice bitterness)
Ribboned carrots
Red bell pepper
Tomato
Crushed peanuts (these are optional for my nut free followers)
Hot sauce (also optional)
A little sprinkle of salt
How Do You Wrap Collard Greens?
Wrapping collard greens is quite easy as long as you select a bunch with really large leaves.
You want to wrap them just like you would a burrito, folding in the sides with the stems, then slowly rolling until you have a nice firm wrap shape. You can even slice these collard green wraps in half to enjoy like a traditional veggie filled tortilla.
PRINT RECIPE
Collard Green Wraps
A delicious veggie filled vegan recipe that takes less than 15 minutes from start to finish.
Ingredients
1

collard green leaf

2

tbsp

roasted red pepper hummus

1/4

cup

red cabbage

chopped

1/4

cup

broccoli sprouts

1/4

cup

red bell pepper

chopped

1/4

carrot

ribboned

1/4

tomato

chopped

1/4

red onion

diced

1

tbsp

hot sauce

to taste

1

tbsp

nutritional yeast
Instructions
Cut the stem off of your collard leaf and lay it on a flat surface.

Fill the middle with the listed ingredients, and then fold in the stem sides and roll like you would a traditional tortilla or burrito.