Vegan Tomato Soup Recipe With Red Lentils & Cashews
This easy one pot Vegan Tomato Soup recipe comes together in just 15 minutes. It's also made with good-for-you ingredients like red lentils, cashews and fresh basil.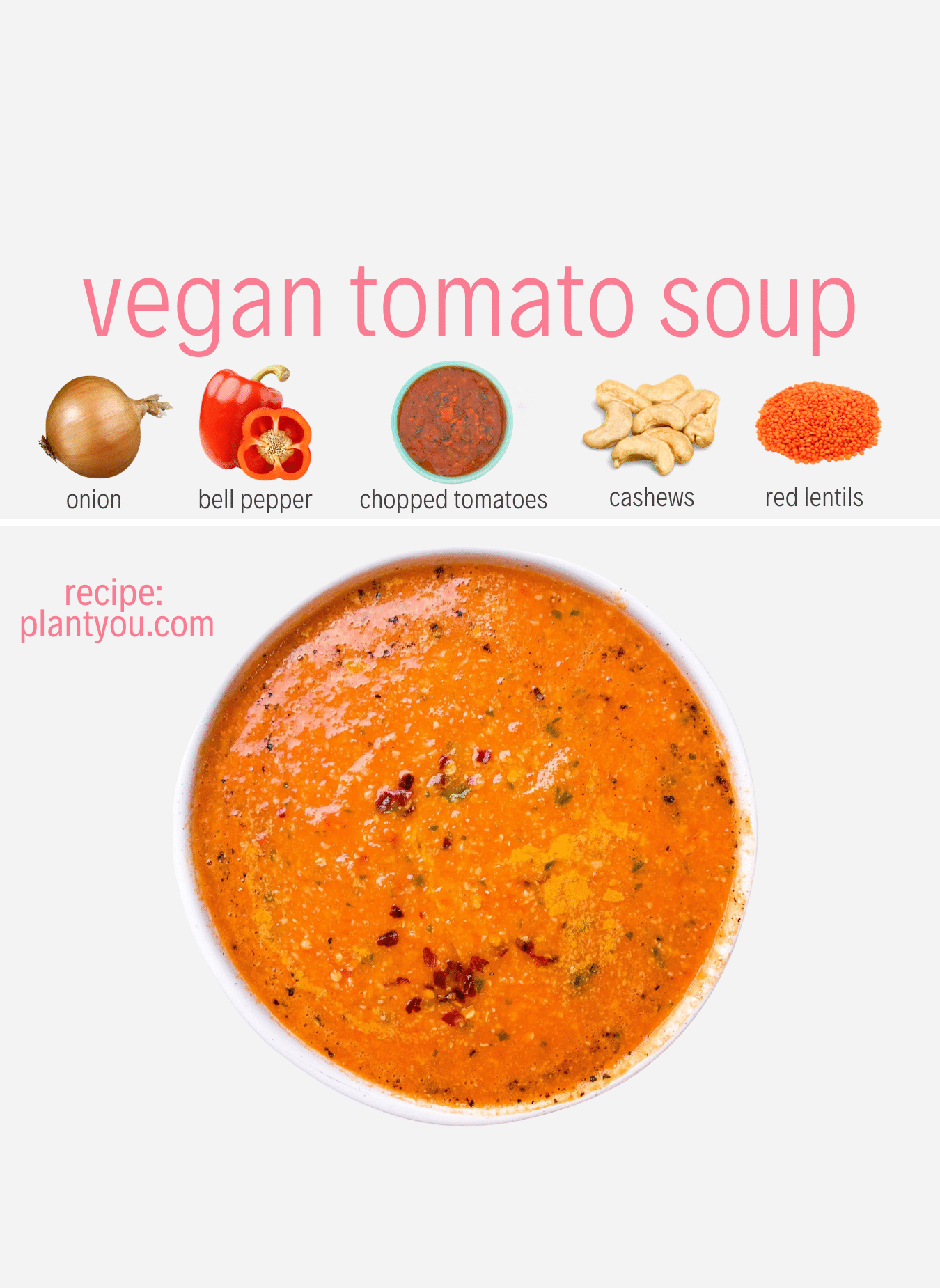 My childhood is defined by canned Campbell's tomato soup and grilled cheese. There was nothing better than jumping off the school bus and opening the front door to the wafting smell of creamy peppery tomato soup.
When I went vegan, the Campbell's soup just wasn't as creamy without the slab of butter and dairy milk my mom would add to the cans as a kid. And so I started searching for an equally easy, but vegan alternative! I'm excited to share that like almost all Plant You recipes, this soup is oil free and completely whole-food, plant-based (wfpb) compliant.
It's also insanely creamy, and takes just 15 minutes and one pot to whip together (just about the same amount of time as the canned stuff).
What's In A One Pot Vegan Tomato Soup?
For this tomato soup recipe, I've kept the ingredients list as simple as possible. You likely already have all the ingredients on hand in your fridge or pantry. Here's the breakdown:
Yellow onion (red or white will work just fine as well)
Red bell pepper
Garlic powder
Red chili flakes
Red lentils (you must use red lentils for this recipe – they cook the fastest and blend exceptionally well)
Cashews (you can omit cashews if you're nut free but they do add a creamy/cheesy element)
Vegetable broth
Canned chopped tomatoes
Fresh basil
One thing I always say about my recipes is that they are completely customizable to your tastes and needs. You could swap the basil for spinach in this recipe, leave out the cashews, or use any spices that are striking your fancy that day!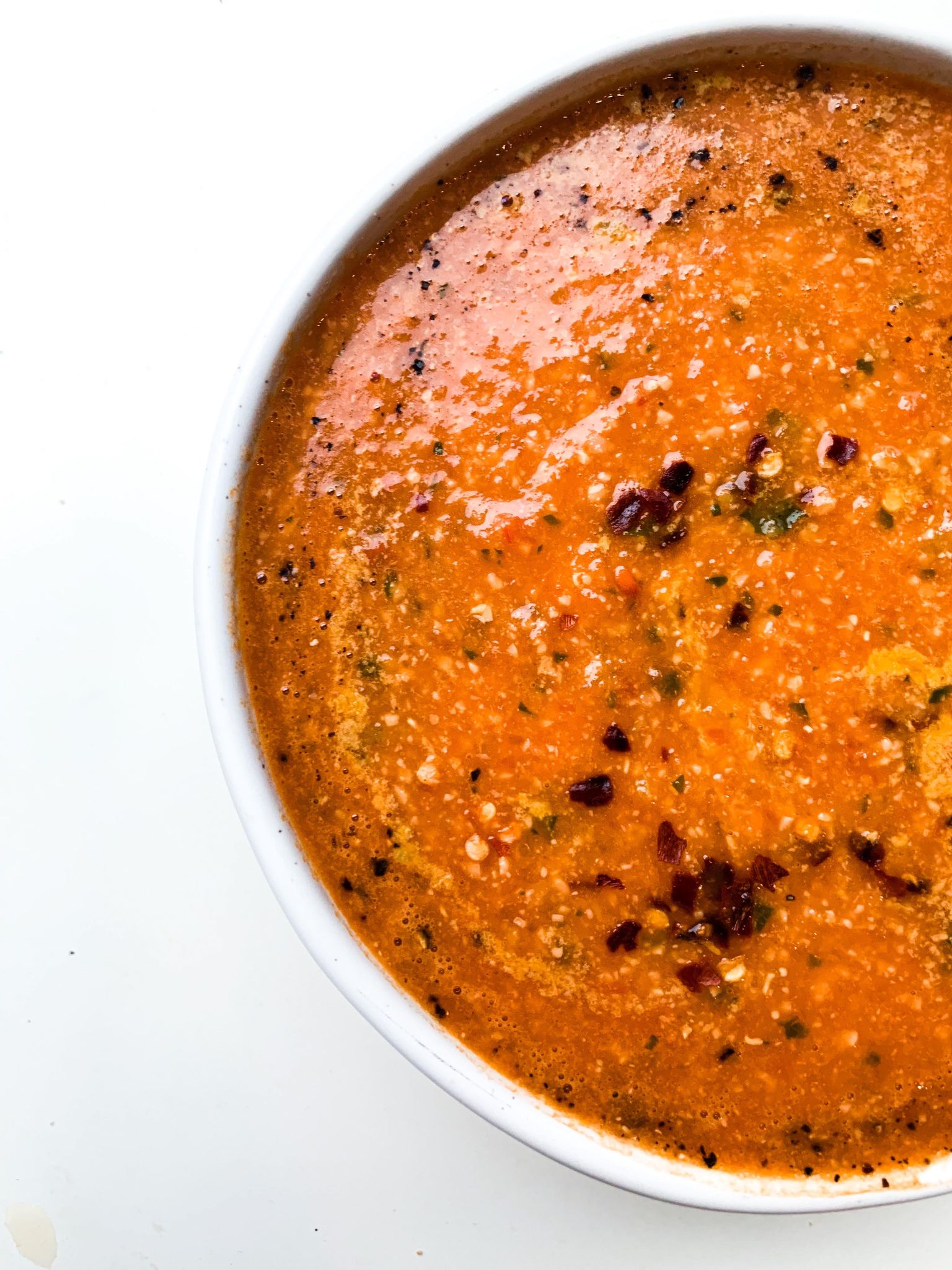 How To Make This Creamy Vegan Tomato Soup Recipe
You only need one pot to make this creamy Vegan Tomato Soup recipe. A handheld immersion blender or countertop blender will both work to make this soup smooth.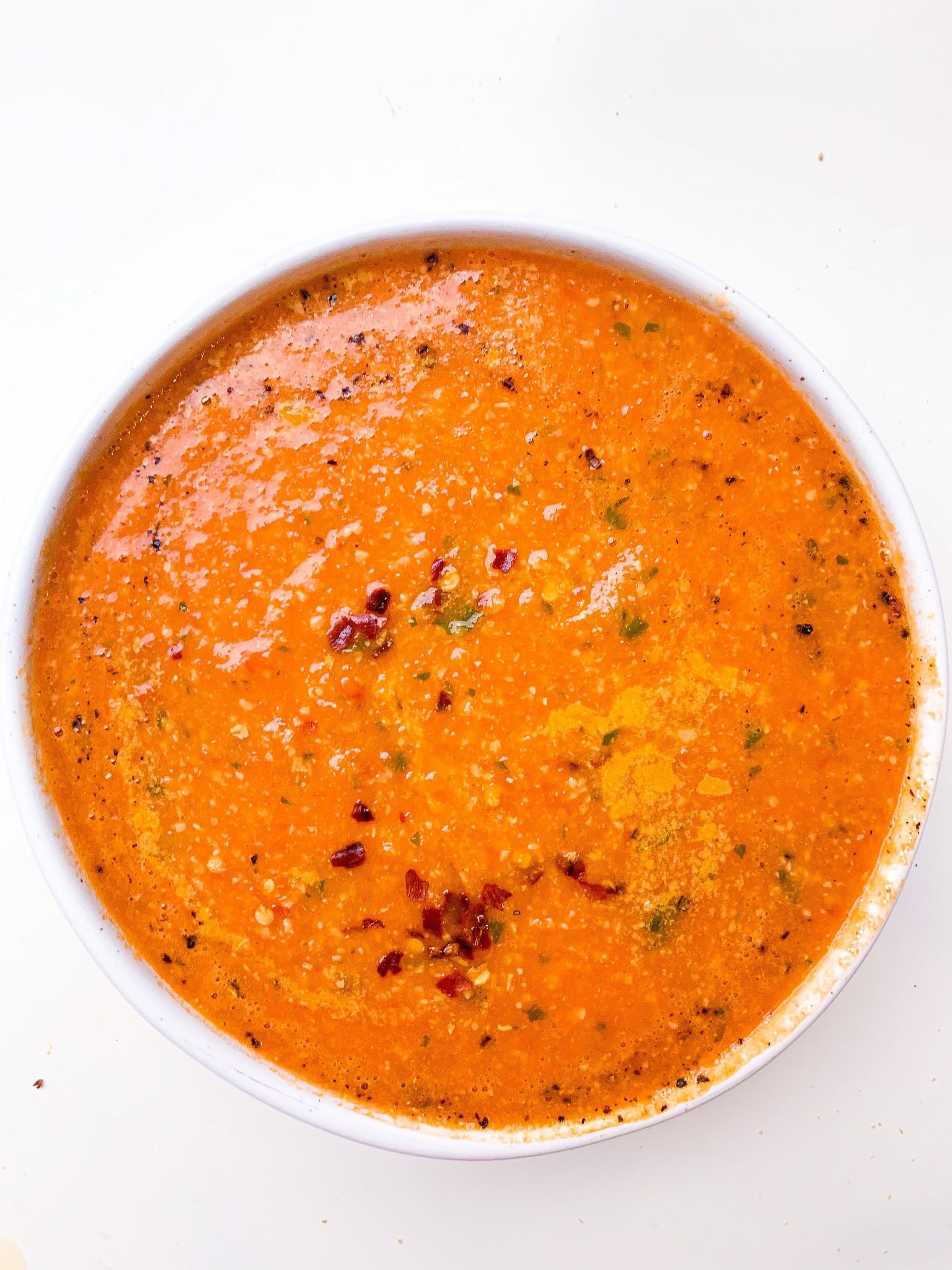 You start by sauteing the pepper and onions until softened, then add the remaining ingredients to the pot, bring to a boil and simmer for about 10 minutes until the lentils are cooked.
Lentils are cooked once they are soft and no longer crunchy. I find a tell tale sign of red lentils being cooked is when they turn a yellow color.
If you're looking for some other soup recipes, I also have this tomato soup with coconut milk, vegan chicken noodle soup, as well as this easy lentil soup.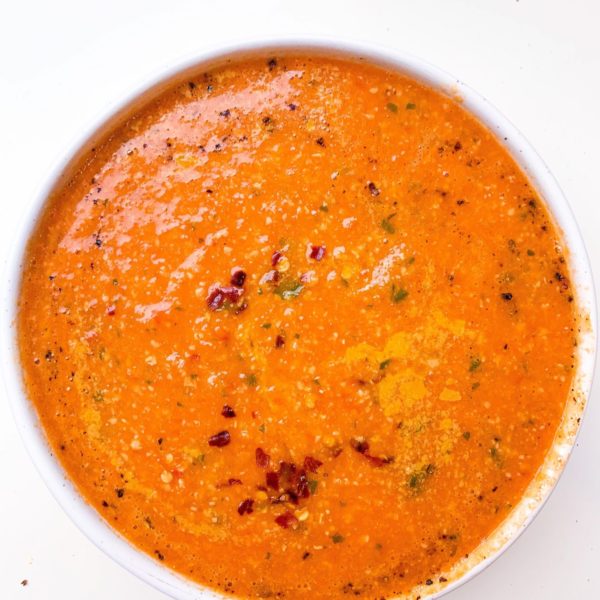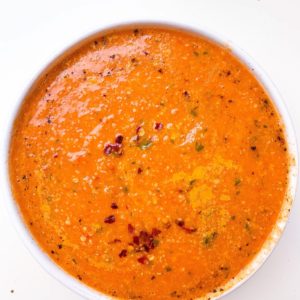 The Recipe: Vegan Tomato Soup Recipe With Red Lentils & Cashews
A one pot 15 minute tomato soup recipe made creamy with protein rich red lentils and cashews.
Ingredients
1 onion, chopped
1 red bell pepper, chopped
1 tsp garlic powder
½ tsp red pepper flakes
¾ cup red lentils
½ cup cashews
2 ¼ cups vegetable broth
2 cups chopped tomatoes, canned or fresh
1 handful fresh basil
Instructions
In a pot over medium heat, add the onion and pepper as well as a tablespoon of water or vegetable broth. Saute until softened, for approximately 3 minutes.

Add the rest of the ingredients to the pot except for the fresh basil. Bring to a boil, then cover and simmer on low heat for 8 to 10 minutes until the lentils have cooked.

Add the fresh basil into the soup. Allow to cool until safe to handle, then using an immersion blender or countertop blender, combine until a smooth soup is formed. Enjoy.