How to Meal Prep When Your Work From Home
Learn to meal prep from home while saving time, money and your health with our simple guide and practical tips!
Truthfully, meal prepping isn't just for the busy families, nutrition gurus or office workers – it's for anyone looking to save time, money and those who want to stay on track when following a plant-based lifestyle.
Working from home has turned into the new normal for many of us. When I first started working from home, I thought preparing healthy plant-based meals on the go would be simple. Boy was I wrong.
Running to the kitchen to make a meal with only 10 minutes to spare till my next meeting and finding time in my day to head to the grocery store was simply not working. I found myself reaching for premade microwave meals or ordering takeout on an app.
When I started getting back to my routine of meal prepping, everything shifted…
I got more productive throughout my workday

I'm able to stay on task since I'm completely satisfied

Being consistent with eating healthy meals has never been easier

I've said goodbye to the desk lunch that I always felt got boring by the end of the week

Spending basically no time in the kitchen – only heating, warming and dishes for me!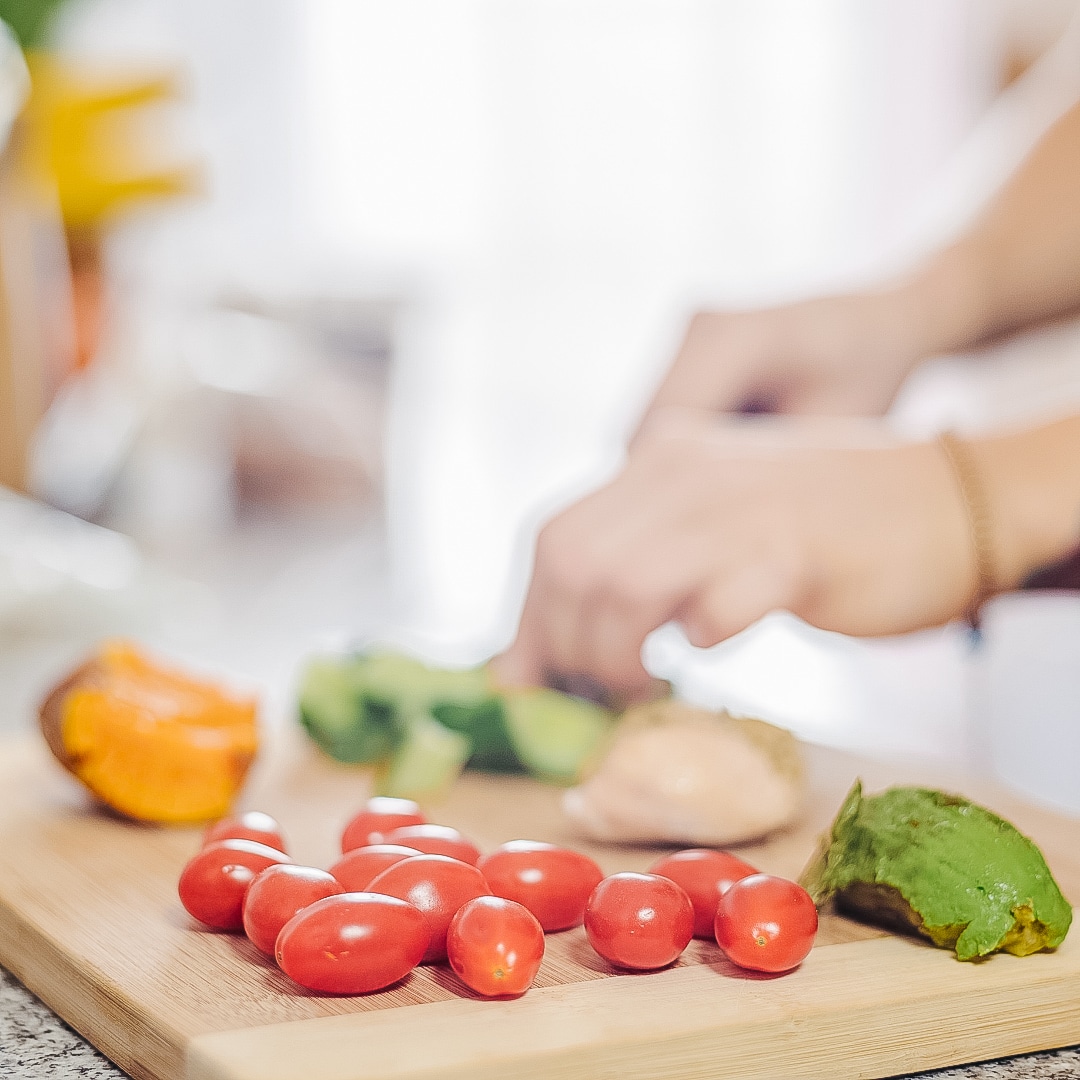 How to Meal Plan While Working From Home
Finding your preferred meal prep style while working from home will be the first step so you'll have to find what method works best for you and your schedule. I've provided a variety of meal prepping styles below for you to find the right fit!
Buffet Style Meal Prepping
This method is to mix and match ingredients to combine together to make your favorite dishes. You will prep your proteins, starches, sauces, and produce. Then organize these in your fridge with designated containers, pre-cooking any necessary ingredients. They will be ready for you to combine to create delicious meals.
Prep All Your Meals For The Week
You'll have to set aside a day in your week to prep. This will usually be before your workweek starts on Sunday, making a plan to make all the recipes you will need for the week. In my opinion, I like to do a small prep mid-week to ensure my food is always fresh!
Pro Tip: Use ingredients for multiple dishes to save time and money!
Prep For Breakfast, Lunch and Snacks
This is a halfway tactic when it comes to meal prep but still prepares you for the week, and if you have time in the evening, you can enjoy cooking up a meal for yourself or family.
Family Style Meal Prep
The best meal prep method for the work from home family. Family-style meal prep will have you cook your meals in large batches by picking 1-2 meals for breakfast, lunch and dinner. Using instant pot or crockpot recipes will be a good idea for this strategy.
Meal Prep Work From Home Meal Planning Chart
Try a meal planning chart to get things going! We've created a meal planning chart, download it now!
15 Minute Plant-Based Meals For Working From Home
If you don't think you're ready for meal prepping, how about starting out with these 15-minute vegan meals! For sure, they will beat any boring desk lunch and keep you on track with your new lifestyle.
Vegan Tomato Soup with Red Lentils + Cashews
Plant Ahead Approved Work From Home Menu
Try out this healthy plant-based sample menu this week using any of the meal prepping styles discussed in the article. We've set up the menu to reflect the Plant Ahead meal plan menus and the type of recipes you can find inside. In the Plant Ahead program, we do a mini-prep mid week.
Breakfasts:
Lunch:
Tempeh Teriyaki Meal Prep Bowl
Dinner:
Snack:
Lifestyle Tips for Working From Home
Working from home could be entirely new for you, so you're really starting at ground zero. So I thought it would be helpful to share my lifestyle tips for working from home since I've been doing this for a while now.
Finding what will set the scene for you to be in work mode will be essential! This can be as simple as setting up a Mon-Fri morning routine or putting out your "work" clothes the night before.
I'm lucky enough to have a home office now, so I've found it extremely helpful to have a designated space to enter on my workday instead of heading to the couch. If this isn't the case for you, set up a special area in your home that you can proclaim as your designated workspace! (This was my kitchen table at first)
My next tip would be to take BREAKS! While working at home, it can be easy to skip lunch, never move from your seat or step outside. Every 25 minutes, it's recommended to take at least a 5-minute break to clear the mind. And please take a break to eat lunch!
Tools that helped me develop this skill…
Iphone Timer (any type of timer will work)
One of my go-to's for taking breaks is to take a walk! This has been tremendous for my mental health and helps me take a moment for myself daily. Finding a good podcast can be helpful for this too!
Here's a couple of podcasts I've been on recently to help you get started…
Lastly, I need to mention that meal prep has played a key role in maintaining my work from home lifestyle; it sets me up for success!
My Best Advice For Working From Home
Join the Plant Ahead Program – whole food plant-based oil-free meal plans delivered straight to your inbox each week. Taking out the guesswork and providing you with everything you need to stay on track while working from home. Each week we serve an entirely new plant-powered menu of delicious recipes. We include a labelled shopping list, weekly meal guide, and every single recipe has nutritional caloric information.
Sound like this a tool you need to make your work from a home life easy? Join the program for $7.99 and leave it to the experts.