Vegan Tuna Salad Wrap
Who doesn't love an old-fashioned tuna salad filling? This vegan tuna salad wrap is a great option for an easy, filling lunch!
Did you love tuna sandwiches as a kid? This vegan tuna salad wrap takes the familiar flavors to the next level. Not only is it 100% plant-based, it is also made with healthy whole-food ingredients. This recipe has been a long-standing favorite among the members of the PlantYou Planner, because is perfect for meal prepping. Not to mention, it's delicious!
Why You'll Love This Recipe
When you transition to plant-based living, you have to be prepared for the fact that vegan alternatives to meat and fish aren't going to be exactly the same. However, this vegan tuna salad comes pretty close to mimicking the texture and flavor of tuna.
This is a great recipe for those who are still in the process of adapting to the vegan diet. Having a go-to recipe that tastes like your comfort food is always helpful! This way, you don't feel like you're missing out.
If you love meal prep, you have to include this recipe in your rotation. The filling is super quick and easy to make. Then, it can be served in a wrap, a sandwich, or as a salad topping.
Believe it or not, this recipe doesn't contain any chickpeas! If you weren't a fan of chickpea "tuna", you should definitely try this take on vegan tuna.
The filling is chock full of protein and dietary fiber, both integral in a healthy plant-based diet.
How to Make This Recipe
First, prepare all of your ingredients. Round them up, then chop and dice. In traditional French cooking, this is known as mise-en-place, and it really simplifies the entire process.
In a large bowl, mash your beans with a potato masher until you achieve a chunky consistency. Add your pickle, red onion, celery, nori, soy milk, capers, dried parsley, black pepper, and salt. Mix well until you reach desired consistency.
Wrap it in a tortilla, along with fresh tomato, sprouts, and more pickles.
Hack It!
If you can't have soya, that's fine! Just use different plant-based milk or sub with water.
For meal prep, store the white bean "tuna" mixture separately. When you are ready to enjoy your vegan tuna salad wrap, add the filling to the tortilla.
Mix it up! Why not serve the filling in a sandwich, pita bread, taco shell, or as part of a vegan tuna Nicoise salad?
For a gluten-free option, use brown rice or corn tortilla.
If you don't have any white beans in your pantry, try hearts of palm or pulsed cauliflower for a flaky vegan tuna salad recipe.
Kick Up The Flavor
If your want a stronger "fishy" flavor, try adding some kelp or dulse to the mix. Dulse is dried seaweed that is a dark shade of purple. Dulse is an amazing source of fiber and rich in healthy minerals. The taste of dulse is salty and has a fishy aroma since it is a part of the sea vegetable family. Kelp is another edible sea vegetable that would go really well in the vegan tuna salad recipe.
If you add horseradish, this powerful plant will really boost the flavor of any seafood dish. The taste of horseradish has an intensity to it, you will only need a small portion to get the kickback from this amazing root vegetable.
You could also try adding celery seeds, mustard powder, crushed bay leaf, star anise, or minced garlic.
Other Recipes You'll Love
If you loved this vegan tuna salad filling, we've got more where that came from. Check out the PlantYou Planner, a digital meal planner platform where you can fully customize your menu. You will have a choice of OVER 600 delicious vegan recipes, and you can even toggle the number of servings for every dish! Plus, the planner generates a tailored grocery list based on your selection. Plant-based living at its finest!
And if you prefer the chickpea tuna, check out the PlantYou Cookbook. As well as wraps and sandwiches, this cookbook features recipes for every taste and occasion. Your whole family will be fighting for a chance to cook the next dish from the book!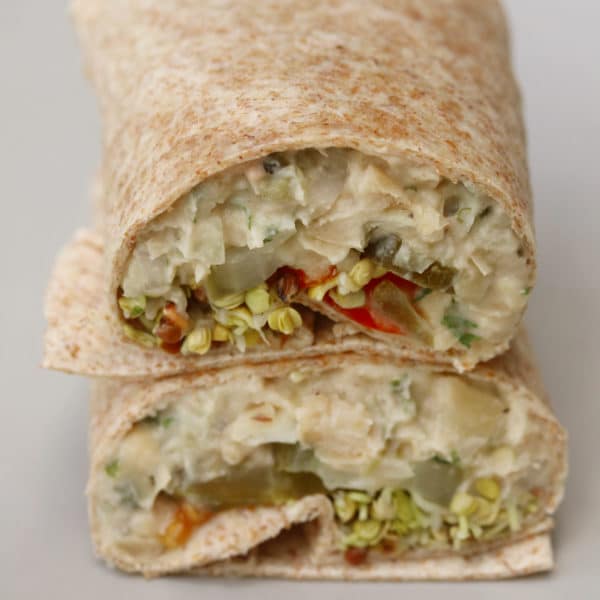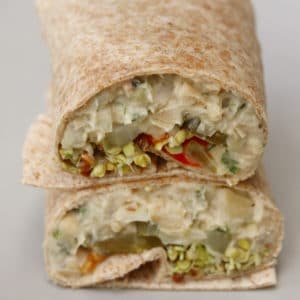 The Recipe: Vegan Tuna Salad Wrap
This tasty vegan tuna salad is the perfect replacement to the traditional classic filling.
Ingredients
1 can White Beans, drained and rinsed
2 tbsps Pickles, diced
2 tbsps Red Onion, chopped
½ stalk Celery, diced -small
½ Nori Sheet, diced
2 tbsps Soy Milk
2 tsps Capers
1 tsp Dried Parsley
1 tsp Black Pepper
1 tsp Sea Salt
1½ cups sprouts, alfalfa, radish, sunflower, mustard etc.
1 tomato, sliced
1 Whole Wheat or Brown Rice Wrap
Equipment
chopping board

knife

Can Opener

mixing bowl
Instructions
Rinse and strain your white beans thoroughly. In a large bowl, mash them with a potato masher until you achieve a flaky consistency.

Add in your diced pickle, chopped red onion, celery, nori, soy milk, capers, dried parsley, black pepper, and salt. Mix well until you reach adesired consistency.

Serve on a tortilla with freshly sliced tomato, alfalfa sprouts and more pickles. If prepping, store the white bean tuna mixture separately from the wrap untilready to eat and assemble.
Notes
Notes: Gluten-Free -Use a brown rice tortilla, corn taco shell, or serve between gluten-free slices of bread as a sandwich. In the Fridge -Keep the white bean tuna mix separately from the wraps in the fridge for up to 3- 4 days. Soy Free -Use oat, unsweetened almond or another alternative instead.
Calories: 182.8kcal, Carbohydrates: 32.2g, Protein: 11.1g, Fat: 1.8g, Saturated Fat: 0.5g, Polyunsaturated Fat: 0.4g, Monounsaturated Fat: 0.1g, Sodium: 1006.2mg, Potassium: 641.8mg, Fiber: 7.7g, Sugar: 2.8g, Vitamin A: 482.3IU, Vitamin C: 8.9mg, Calcium: 139.8mg, Iron: 3.9mg