Vegan Salmon (Lox Recipe)
This Vegan Salmon Lox recipe is an absolutely delicious alternative to your traditional brined salmon recipe, without the fish.
If you've just watched Seaspiracy and have decided to abandon eating fish because of the environmental and health consequences, you've made it to the right place.
Enter this Vegan Salmon recipe. You'll be shocked to learn that even though this lox recipe looks like the real thing, it's actually made with carrots! We're able to achieve a salmon flavor and texture by doing a quick marinade in caper brine and soy sauce, and baking to soften. It's absolutely delicious and guilt free.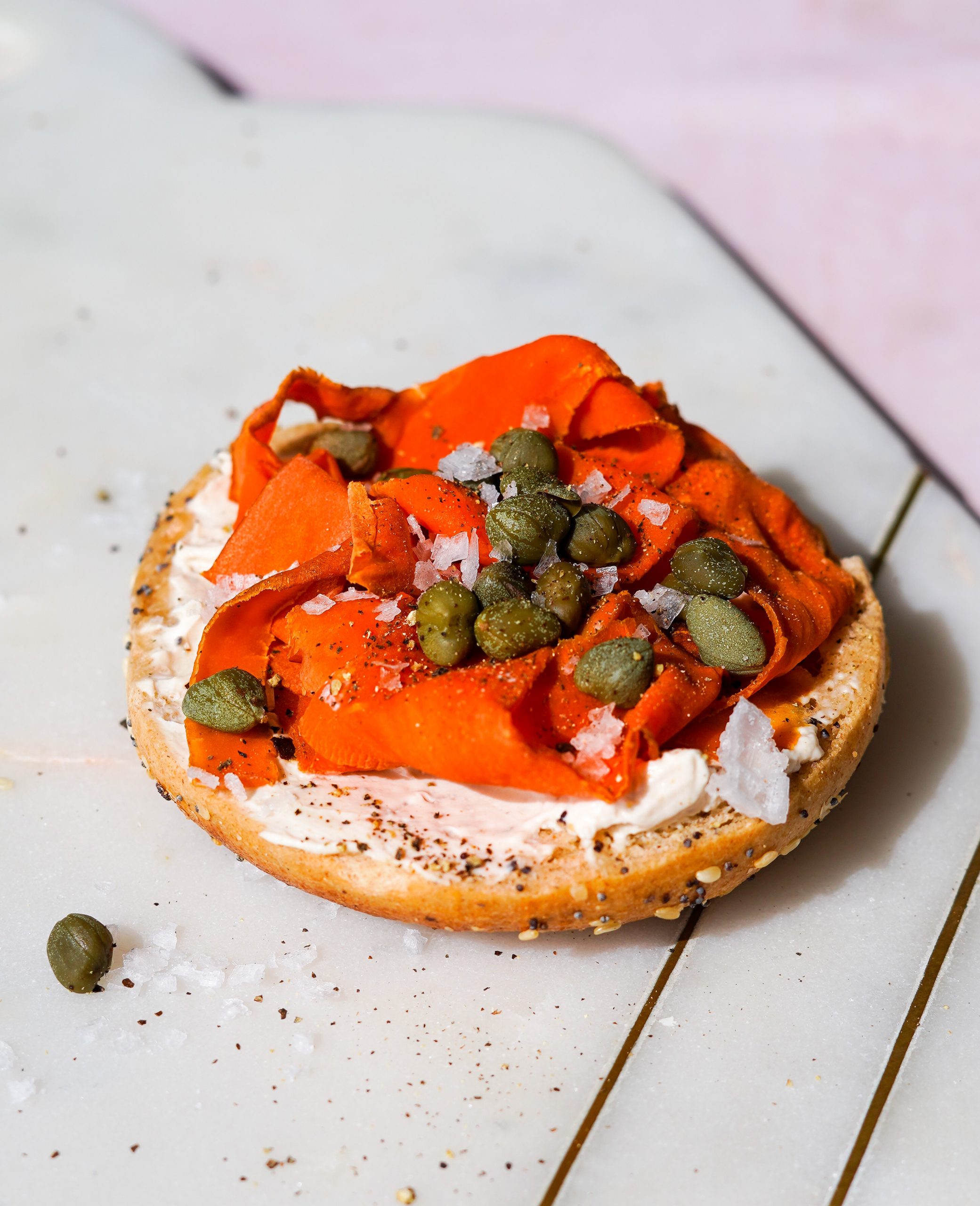 Why You'll Love This Recipe
It's Delicious: This vegan lox recipe will be your new favorite breakfast, with a subtle sea flavor and velvety texture, perfect on top of a bagel with vegan cream cheese.
Super Easy: Making this carrot salmon could not be easier. You simply peel it, add to a quick marinade, then bake. It's really fool proof!
So Healthy: Vegan lox is so healthy. For this carrot salmon recipe we use absolutely no oil or vegan butter. The carrot is the star of the show.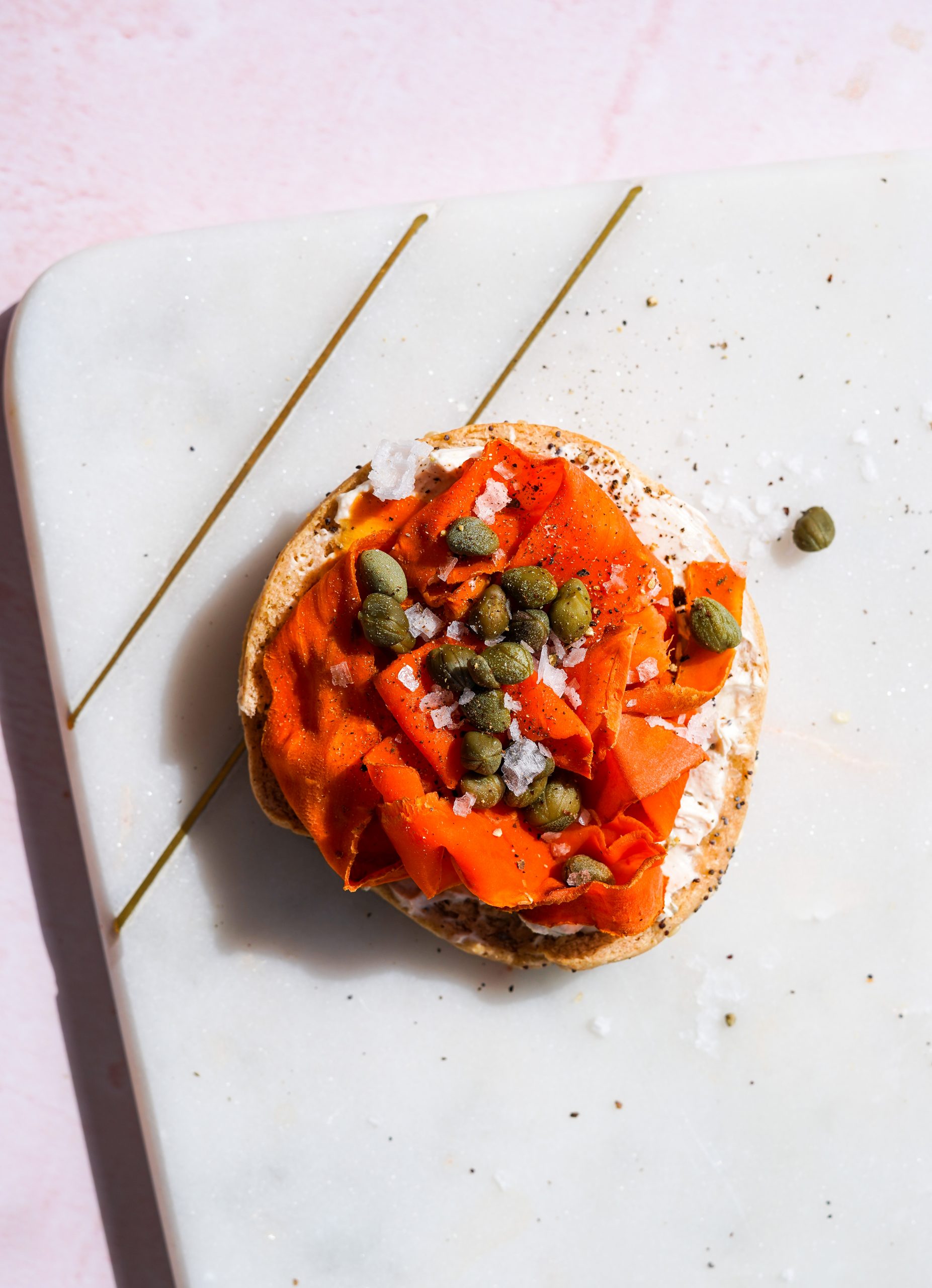 How To Make Vegan Salmon
You're going to love how easy it is to prepare this vegan salmon recipe.
First, using a potato peeler, ribbon your carrot into thick strips.
Then create a quick marinade out of soy sauce, maple syrup and caper brine.
Soak the strips in the marinade for around 5 minutes, then place in an oven safe dish. Bake for about 25 minutes, and you're done!
What To Serve Carrot Lox With
Once you're ready to eat, top this carrot lox over a whole grain bagel with our vegan cream cheese and some more capers on top. It's wildly delicious.
Alternatively, you could serve this vegan salmon over a salad, like our best vegan salad recipe.
The Recipe: Vegan Salmon Recipe
A vegan salmon (lox) recipe using carrot instead of fish!
Ingredients
1 Carrot
2 tbsp Soy Sauce
2 tbsp Caper Brine
1 tsp Maple Syrup
Instructions
Preheat the oven to 400F and line a baking sheet with parchment paper.

Using a potato slicer, ribbon your carrot into wide strips.

Create a quick marinade with caper brine, soy sauce and maple syrup. Soak the ribbons in the brine for five minutes.

Transfer the carrot ribbons to the baking sheet, and bake for approximately 25 minutes.

Allow to cool and serve on a bagel with vegan cream cheese, flakey salt and more capers as desired.
Calories: 65.5kcal, Carbohydrates: 12.6g, Protein: 4.3g, Fat: 0.2g, Saturated Fat: 0.1g, Sodium: 2053.7mg, Potassium: 287.3mg, Fiber: 2g, Sugar: 7.7g, Vitamin A: 10190.7IU, Vitamin C: 3.6mg, Calcium: 35mg, Iron: 1.1mg