Vegan Scalloped Potatoes
These Vegan Scalloped Potatoes are the creamy, easy and delicious whole-foods, plant-based side dish you've been waiting for.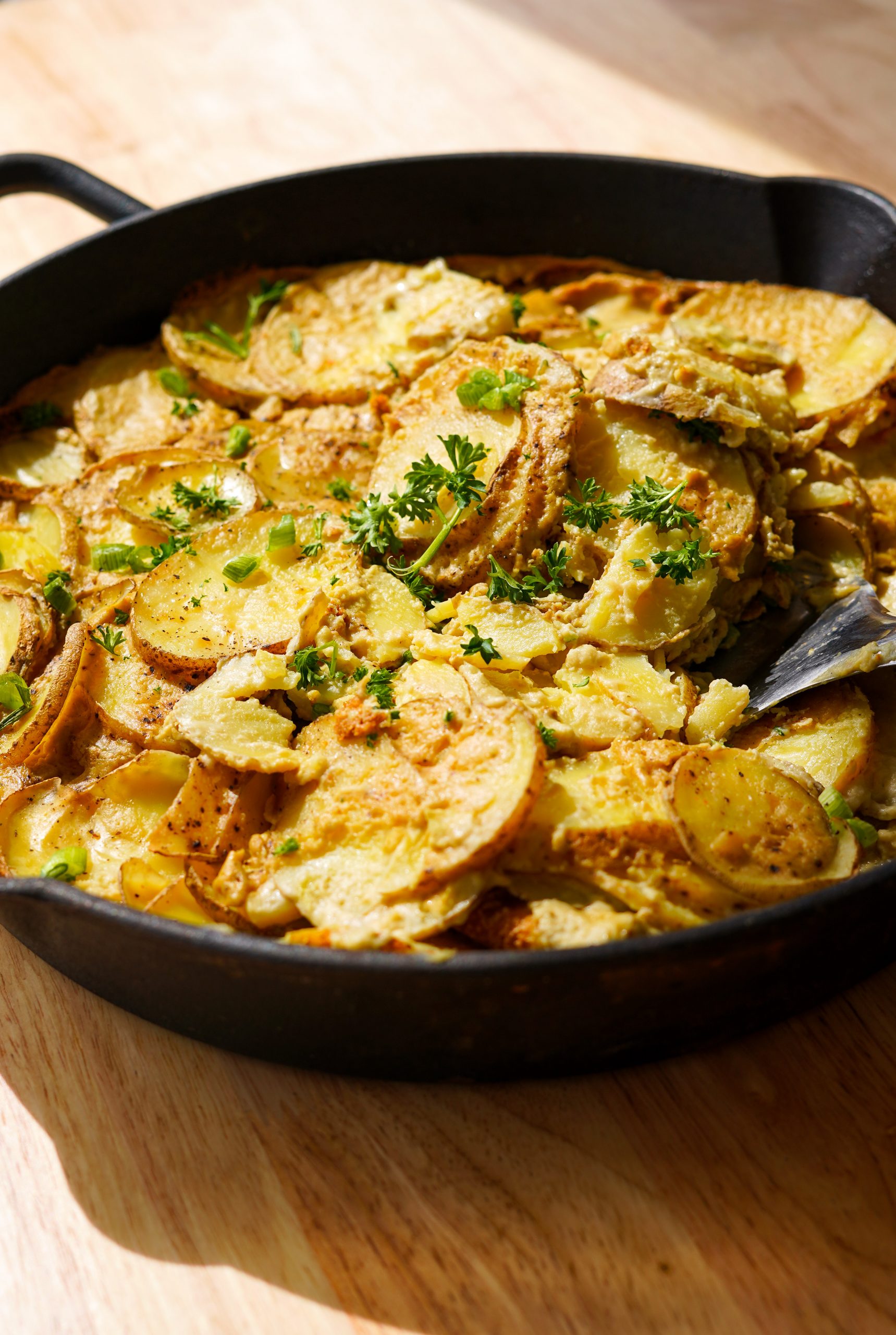 You're going to feel like you're in heaven when you take a bite of these vegan scalloped potatoes. Not only are they lusciously creamy and delicious, they're also super easy to make with a simple sauce and bake situation.
The best part? Your dairy and cheese loving friends will have absolutely no idea these scalloped potatoes are entirely vegan and made with healthy simple ingredients.
Why You'll Love These Vegan Scalloped Potatoes
They are seriously good for you: This vegan scalloped potato recipe is made without oil, butter or vegan cheese replacements. Instead we use whole food ingredients like cashews, nutritional yeast and spices to create a velvety cheese sauce that you can feel great about eating.
So simple to make: This is a foolproof recipe that would be seriously hard to screw up. Slice your potatoes. Blend your sauce ingredients. Put it all in the oven and that's it!
Easily Customizable: You can add onions to these scalloped potatoes to take them up a notch, replace the cashews with tofu if you're nut free, and even add some dijon mustard. I'll go over all of the amazing possibilities for these vegan scalloped potatoes later in this post!
How To Make This Recipe
It doesn't get easier than these vegan scalloped potatoes.
The first step is slicing your yukon gold potatoes into thin slices. No need to peel! Slice about 8 yukon gold potatoes, and set aside while you make your sauce.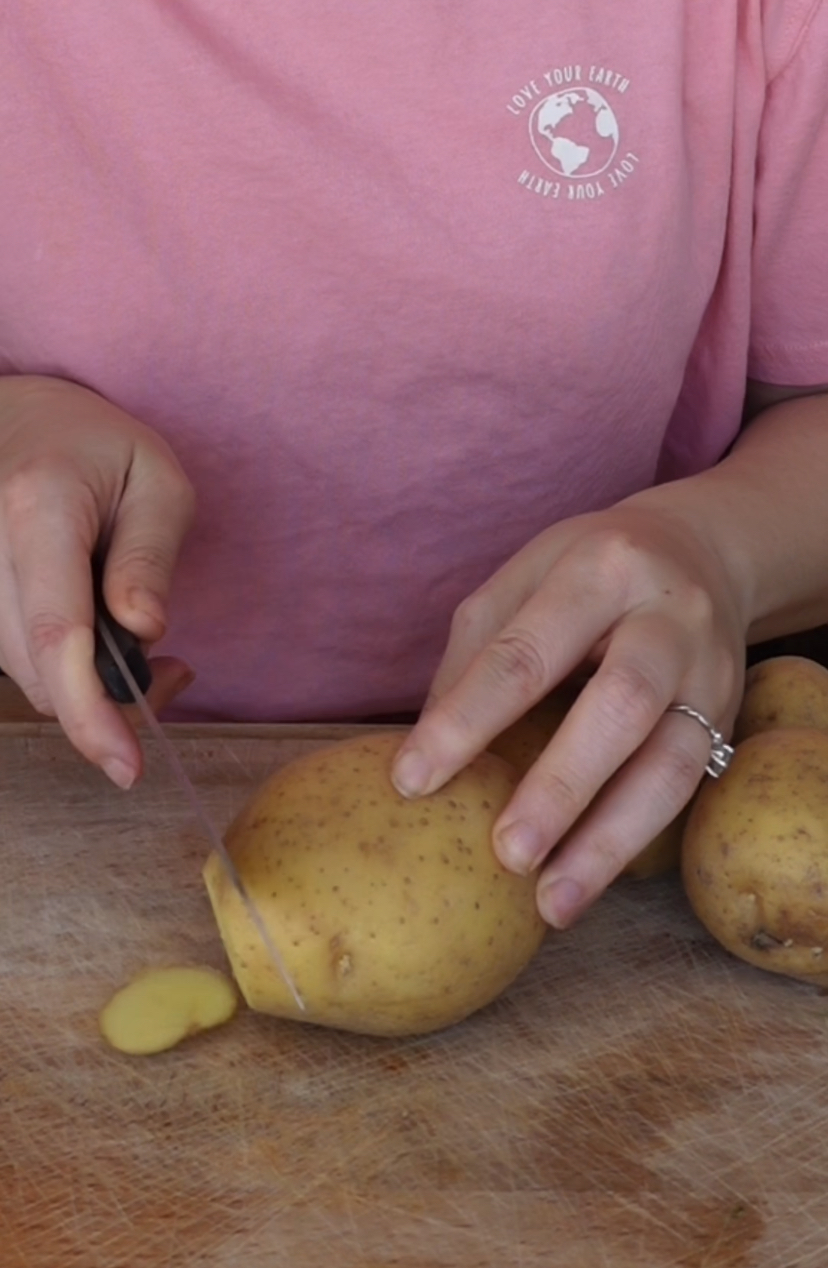 Now add all of the sauce ingredients to a blender, including cashews, nutritional yeast, cashew milk, garlic powder and salt. Give that a good blend.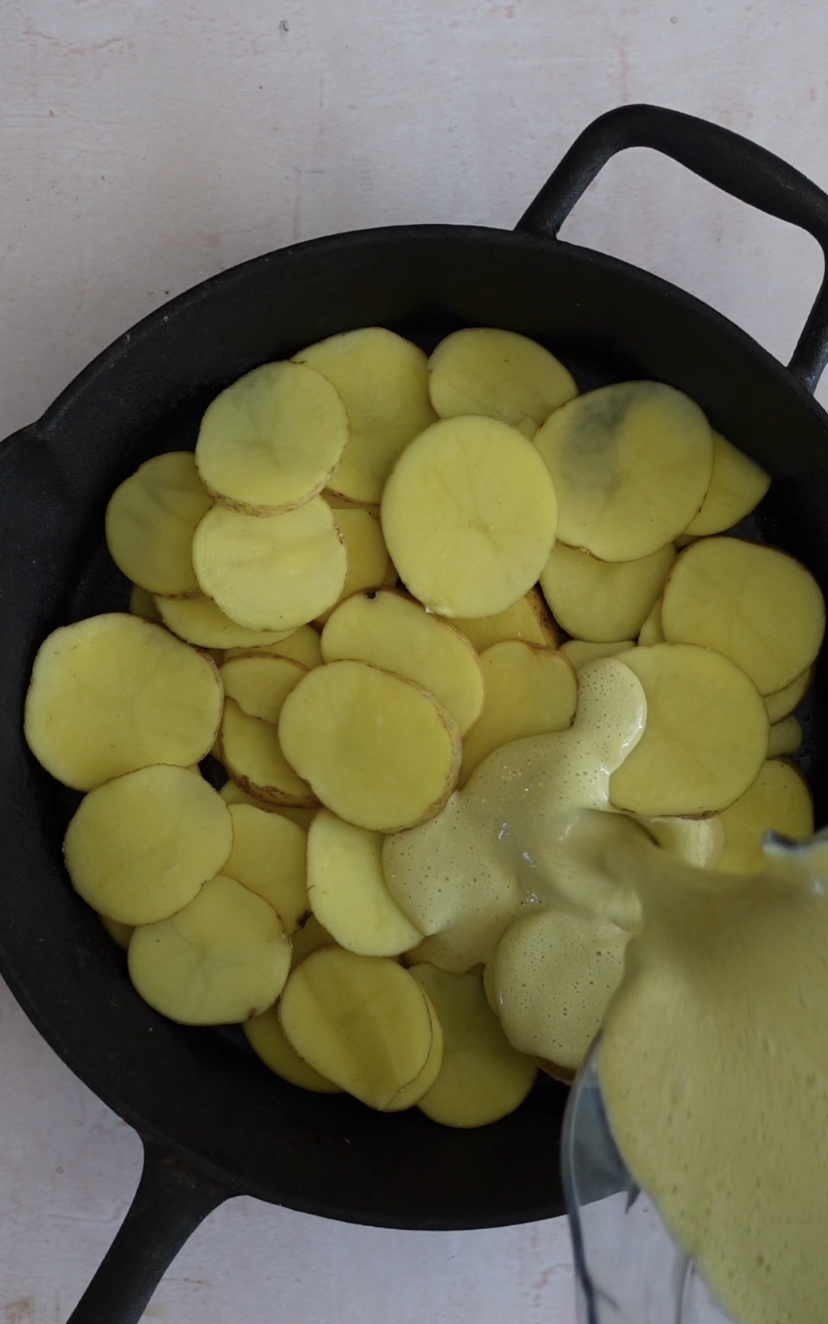 Finally, layer half of the potatoes in an oven safe baking dish. Pour half the sauce over top, then repeat until both the potatoes and sauce are used up. Cover and pop in the oven for an hour and you've got the easiest and best tasting scalloped potatoes of your life!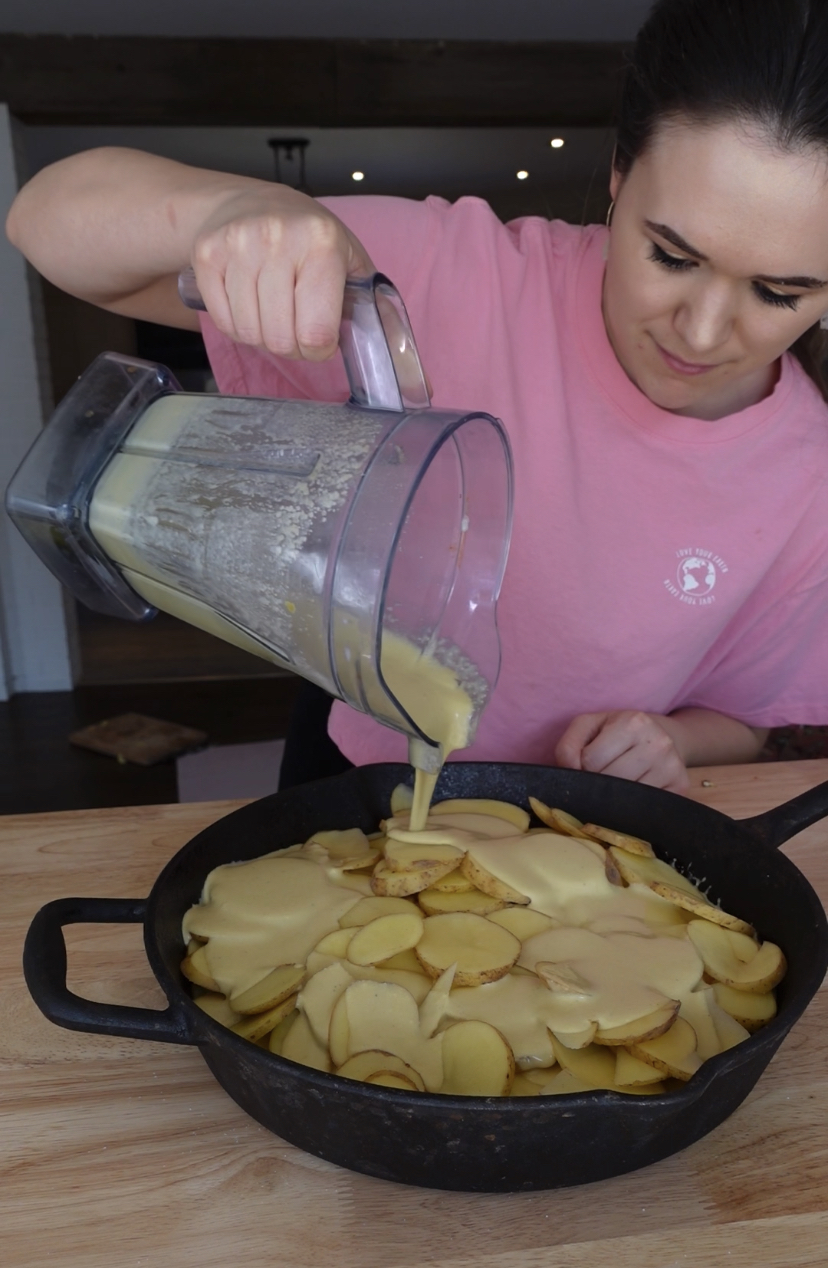 Customize These Scalloped Potatoes
Nut Free Option: Instead of cashews in this recipe, simply use a block of drained silken tofu instead. It will be equally as creamy as delicious. You can also opt for soy milk or rice milk instead of cashew milk.
Fancy It Up: To add an elevated taste, I would suggest incorporating a tablespoon of dijon mustard to the sauce, or even some chili flakes for spice if desired.
Add Veggies: You can totally add sliced white onion to these vegan scalloped potatoes, try them with sweet potato instead of yukon golds, or even incorporate diced broccoli for more of a casserole situation.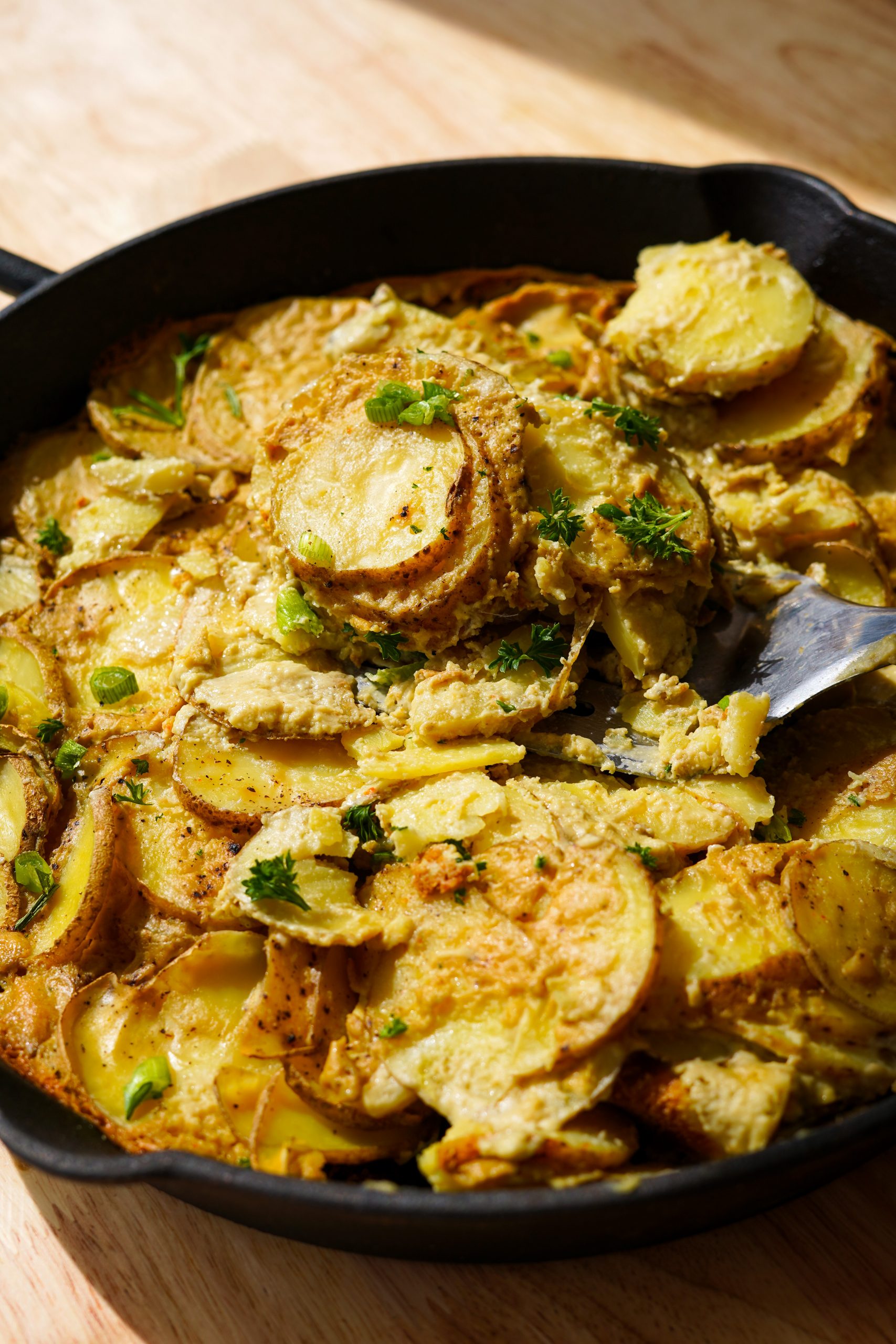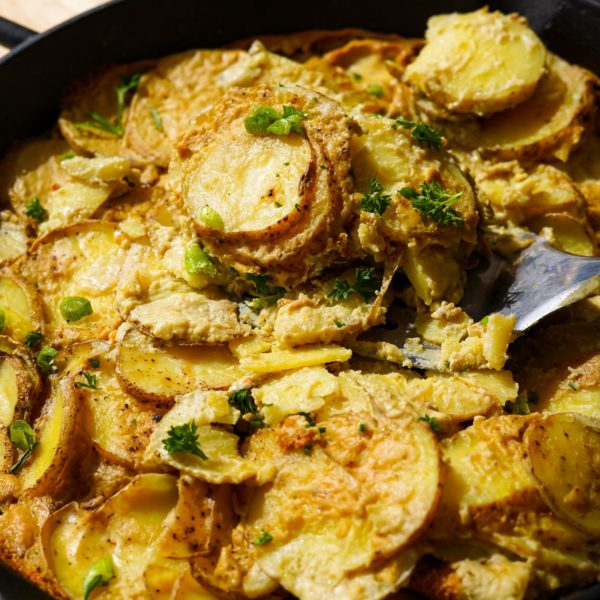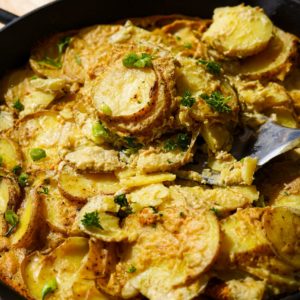 The Recipe: Vegan Scalloped Potatoes
A vegan scalloped potatoes recipe with a creamy whole-foods, plant-based sauce.
Ingredients
8 Yukon Gold Potatoes
2 cups Unsweetened Cashew Milk
1 cup Cashews
½ cup Nutritional Yeast
2 tsp Garlic Powder
½ tsp Sea Salt
Instructions
Preheat the oven to 400F and line a baking dish or cast iron pan with parchment paper.

Thinly slice the potatoes and set aside.

Combine all remaining ingredients in a blender and combine until smooth.

In the prepared dish, add half of the potatoes. Pour half of the sauce over top. Add the remaining potatoes, and remaining sauce. Finish with some salt and pepper. Cover with foil and bake for an hour.
Calories: 322.2kcal, Carbohydrates: 48.7g, Protein: 10.9g, Fat: 10.8g, Saturated Fat: 1.7g, Sodium: 318.9mg, Potassium: 1181.5mg, Fiber: 7g, Sugar: 3.1g, Vitamin A: 4.5IU, Vitamin C: 44.8mg, Calcium: 136.1mg, Iron: 3.5mg