Kale Chips Recipe (Oil Free)
This kale chips recipe is the perfect crunchy, savory and healthy snack!
I know what you're thinking. How could green, bitter and flimsy kale ever taste like anything related to a chip?!
I'm here to show you the way with this cheesy, crispy and delicious kale chip recipe you'll be sure to go nuts for.
Like all Plant You recipes, we've made these kale chips oil-free for you to enjoy. Read a little bit about why we choose to cook oil-free, and access our weekly oil-free meal plans here.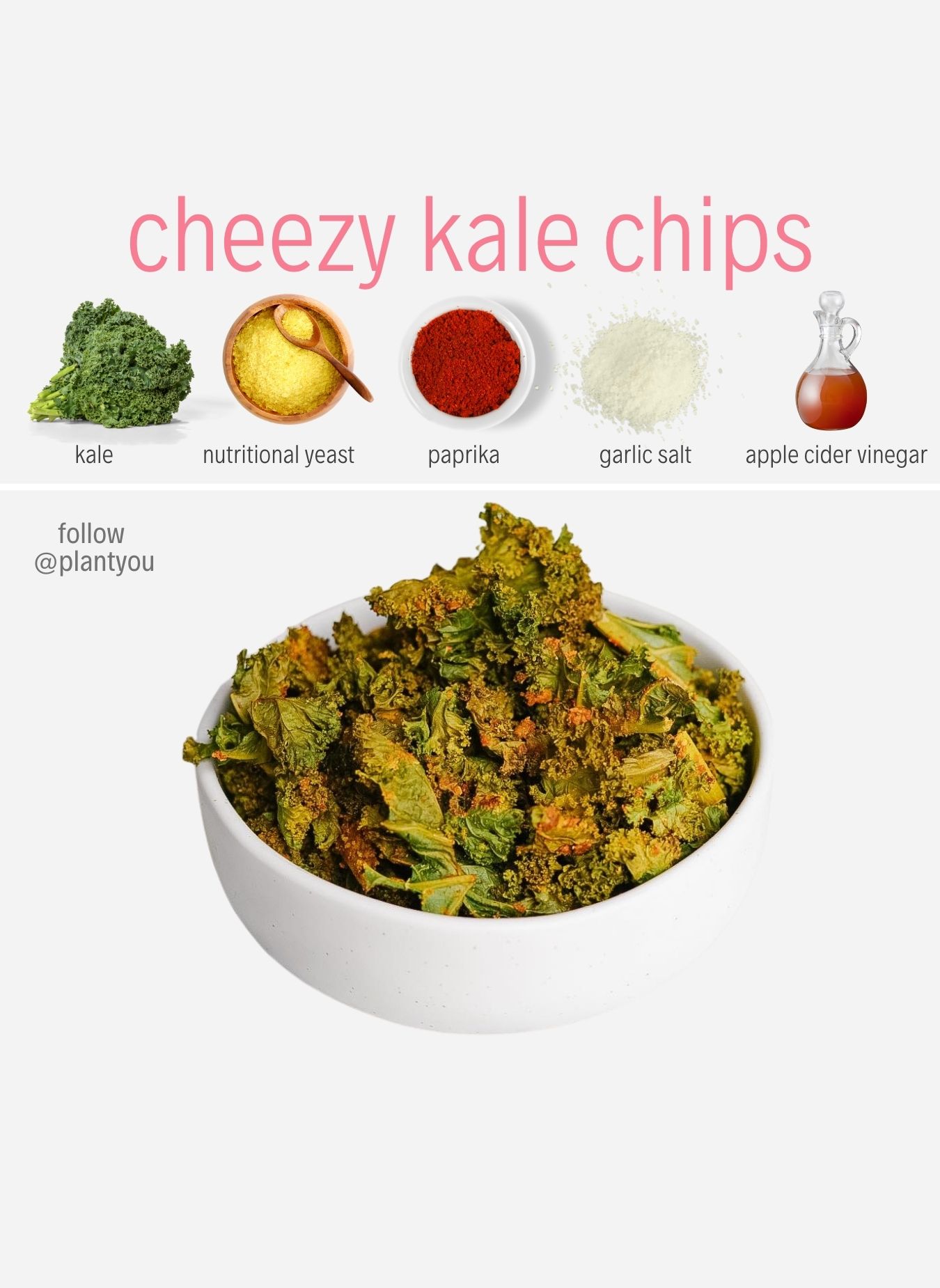 Are Kale Chips Healthy?
As long as they're not soaked in oil, kale chips are about the healthiest "chip" you're going to find! Not only are most kale chips (like ours!) extremely low in calories, kale itself also boasts a whole bunch of amazing nutrients like:
Vitamin A (great for eye and skin health)
Vitamin C
Folate
Minerals potasssium, calcium and phosphorous and zinc
… and more.
The benefit of making them at home is that you can completely control the ingredients you put on them, to ensure they're not loaded with unnecessary fat and sodium. If you want, you can even add a little bit of coconut or extra virgin olive oil to these kale chips to crisp them up even more (although they really don't need it)!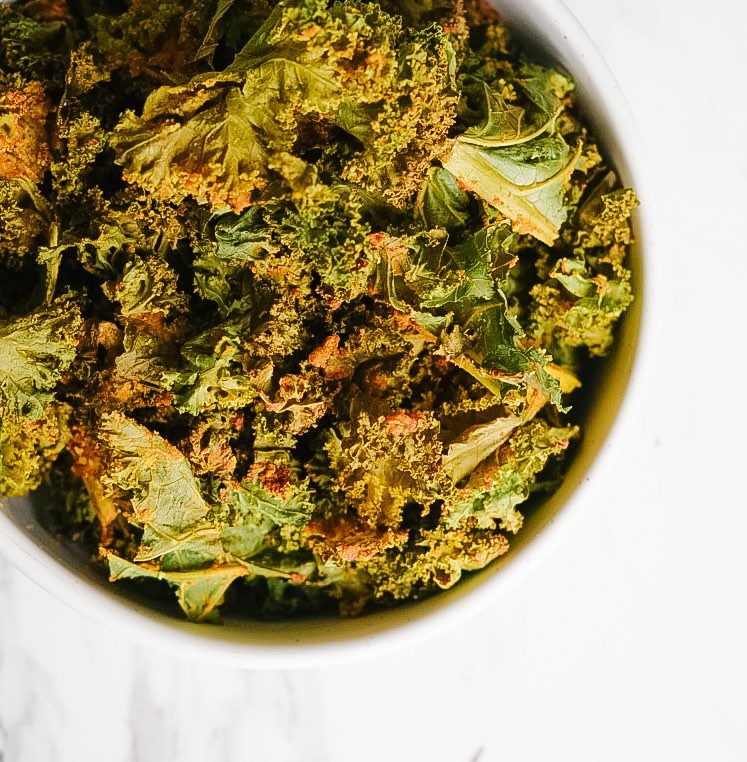 How Do You Make A Kale Chip?
You can have a big bowl of kale chips in your hands in just a few simple steps! You simply need to chop your kale into bite sized pieces, season it with your favorite spices (we use nutritional yeast, paprika, garlic salt and apple cider vinegar) and then throw them in the oven until crispy.
The trick to getting them crispy without burning your kale chips is by cooking on a non-stick mat or parchment paper at low heat.
We love these silicone baking sheets which you can grab from Amazon (this is an affiliate link):
If you're having a hard time finding nutritional yeast, which gives these kale chips their signature cheesy flavor, you can also grab those from Amazon here:
If you're searching for other easy vegan snacks to enjoy, definitely checkout:
Our Top 5 Easy Plant-Based Snack Recipes!
The Five Best Plant-Based Super Bowl Snacks and App Recipes
Baked Oatmeal Cups (Vegan)
Refined Sugar Free Power Balls
And if you're searching for more vegan, oil-free recipes, you can gain access to over a year's worth of easy done for you plant-based meal plans here.
PRINT RECIPE
Cheesy Vegan Kale Chips (Oil Free)
Pin Recipe
A low calorie delicious snack, these Cheesy Vegan Kale Chips are both are free and good for you!
Ingredients
7

cups

kale

1

tsp

paprika

1/4

cup

nutritional yeast

2

tsp

apple cider vinegar

1

tsp

garlic salt
Instructions
Preheat the oven to 300F and line a baking sheet with parchment paper or a silicone mat.

Chop your kale into bite sized pieces and place in a bowl, along with the rest of the ingredients.

Toss with your hands until covered, the spread out onto the mat. Bake for 25 to 30 minutes until crispy.