Guide to Plant-Based Yogurt
We often get so many questions about plant-based yogurt and today, we're here to answer them.
I love plant-based yogurt. It is so versatile – You can add it into smoothies, make super delicious parfaits, or mix it into meals to add some extra creaminess.
So what's the deal with plant-based yogurt? Does it have the same benefits, like protein and probiotics, as dairy yogurt? And, how do you make your own?

Here are the answers to all your plant-based yogurt questions, and more!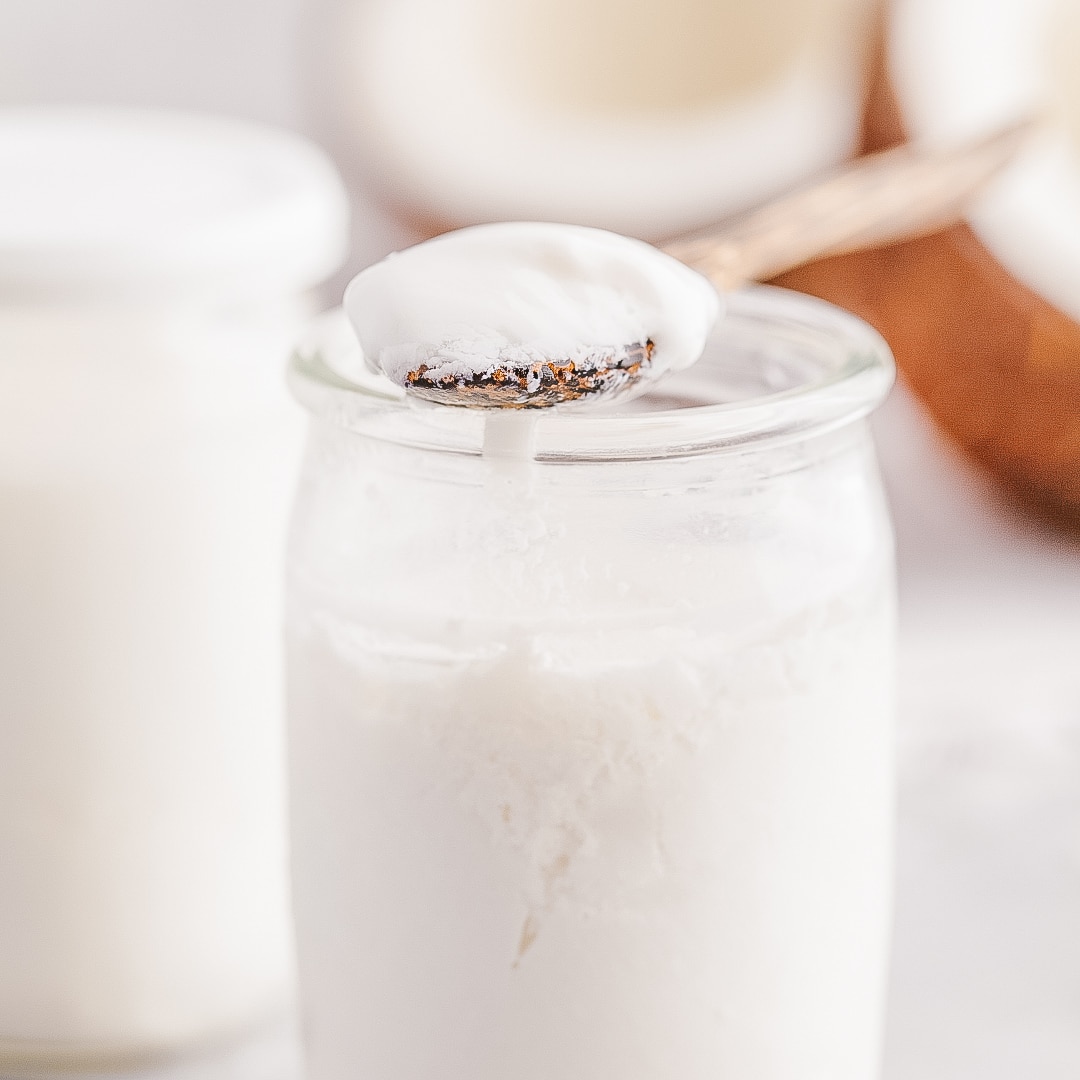 What is Plant-Based Yogurt?
Plant-based yogurt is yogurt made from plants. It is typically made from nuts, like almonds, cashews, coconuts, and even other foods like soybeans, plantains, oats, and peas.
There are no traces of animal by-products in plant-based yogurt, which makes it ideal for anyone who is following a vegan or plant based lifestyle.
Benefits of Plant-Based Yogurt
Vegan yogurt has most of the same benefits as dairy yogurt – It contains protein and gut-healthy nutrients.
Some vegan yogurts even have up to 11g of protein in them.
The key to finding an excellent plant-based yogurt is always to read the nutrition information. With any type of yogurt, added sugar can creep into it, especially when you get into all the delicious flavors like vanilla bean and strawberry.
And with plant-based yogurt, it's no different. Some plant-based yogurts can be lower in protein and higher in refined sugar content, so make sure to read the label to know what kind of nutrition that you are getting!
Our Favorite Vegan Yogurt Brands
All plant-based yogurt brands listed below are mostly available in the USA and Canada.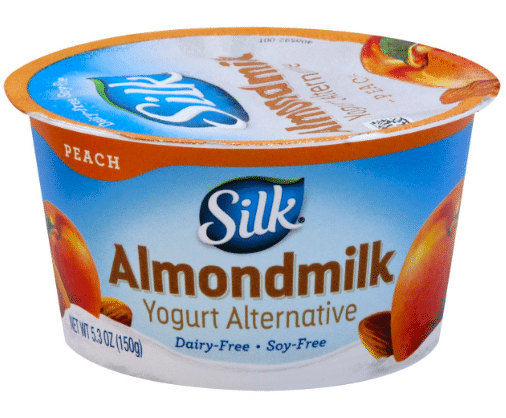 Silk Almondmilk Yogurt Alternative
Silk is a great yogurt that uses a fair amount of almonds in their yogurt to make it super creamy and gives a delicious flavor. It also is made from real ingredients which makes it perfect for a plant-based lifestyle.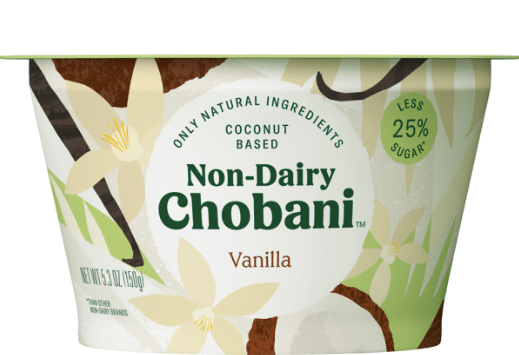 Chobani Non-dairy Coconut Yogurt
This dairy-free yogurt is a great option because it contains live cultures and has a delicious dairy-like consistency. The only downfall is that it doesn't come in an unsweetened version (yet!). It's still great though, with a little granola on top.
Daiya Greek Yogurt Alternative
Daiya is a great brand for delicious, dairy-free options, and now they're introducing a new, dairy-free greek yogurt alternative too. It contains 8g of coconut and pea protein, and it's fruity flavors are made with real fruit.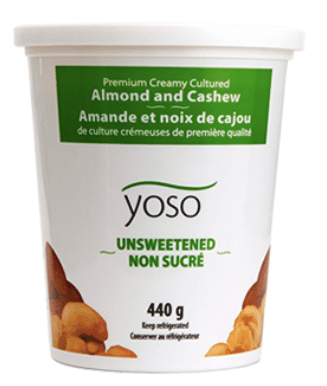 Yoso is a plant-based yogurt brand that originated in Canada. They have a variety of yogurt options that include oat, almond milk, cashew milk, coconut, and soybean.
Kite Hill is a superb dairy-free option because it is low in sugar and boasts about 11g of protein. It has excellent ingredients and delicious flavors and also has almond milk, and greek yogurt alternative options.
However, this yogurt is only available in the USA.
Does Vegan Yogurt Have Probiotics?
The answer is yes! Most vegan yogurt does contain prebiotics, probiotics, and live cultures that are beneficial to keeping your gut healthy.
Probiotic vs. Prebiotic: What's the difference?
There is a considerable difference between prebiotics and probiotics! These two get easily confused – They're still super beneficial though to your gut health- but both play different roles.
Prebiotics:
Prebiotics are indigestible fibers that eventually become food for the living creatures in your gut.
You can find prebiotics in fiber-filled foods, like vegetables, whole grains, and fruits!
Probiotics:
Probiotics are the tiny microorganisms living in your gut. They include bacteria and yeast.
You can find probiotics in lots of fermented foods, like yogurt!
You should make an effort to consume both as they do help each other out. But be aware; consuming too many probiotics can upset the delicate balance in your gut.
Other Sources of Gut Healthy Probiotics
Plant-based yogurt isn't the only place you can find your daily dose of probiotics. Other vegan sources of probiotics include:
Tempeh

Miso

Sauerkraut

Kombucha
And even, Sourdough bread.
If you want to stay away from the processed, store-bought vegan yogurts, I have created my own plant-based yogurt recipe just for you!
How To Make This Homemade Coconut Yogurt?
While making your own yogurt might seem a little daunting at first, it's actually way simpler than you think!
*Note: avoid metal bowls and whisk here because it can actually spoil the yogurt.*
You only need two ingredients:
1 can of coconut milk

1 plant-based probiotic capsule
First, you need to pour the entire can of coconut milk (including the water) into a mixing bowl. Whisk the coconut milk until it has an extremely smooth consistency.
Once the coconut milk is smooth, add in the probiotic powder from the capsule and whisk until everything is well combined.
Move the milk mixture to a mason jar or cover with cheesecloth or plastic wrap and then store it in a cool, dry place, like the top of your fridge or in a cabinet. Leave it there for 24-48 hours, depending on how strong you'd like the taste.
Once it's finished, move the yogurt to the fridge to cool down for 1-2 hours, and then, it's ready to enjoy!
Add your favorite toppings now, like fruit or granola, to make a delicious and homemade parfait.
PRINT RECIPE
Coconut Plant-Based Yogurt
Pin Recipe
This homemade vegan and gluten free yogurt is perfect for meal prepping and as a healthy midday snack.
Ingredients
1

can

coconut milk/coconut cream

full fat, organic

1

capsule

probiotic

plant-based
Instructions
Pour your can of coconut milk into a large mixing bowl, whisk the coconut milk till the milk is smooth in consistency.

Add in your probiotic and whisk again till everything is combined.

Store your coconut yogurt in mason jars or covered with a cheesecloth or plastic wrap for 24 hours in a cool place. (Top of fridge, cabinet etc) You can store the coconut yogurt for up to 48 hours for a stronger taste.

Move to the fridge and wait 1-2 hours till your yogurt is ready to eat.

Add your favorite toppings: Maple syrup, cinnamon, chocolate chips, granola or frozen fruit!
Notes
Note: Try avoiding using any metal kitchen tools or mixing bowls. The probiotic and metal are known to react which will most likely spoil your yogurt. 
Yogurt Recipes To Try:
Here are some fantastic recipes to try with your new favorite plant-based yogurt:
This bagel recipe is terrific because it only has four ingredients, and it is so easy to make. It is oil-free, dairy-free, and preservative-free, so these bagels are perfect for your weekday breakfast or a weekend brunch bagel bar. I love mine topped with a little peanut butter and chocolate chips.
Ditch the JELLO instant pudding and say hello to your new favorite dessert! This vegan chocolate pudding is made with whole-food ingredients, like our delicious plant-based yogurt. While the recipe calls for almond milk, adding some plant-based yogurt will make the pudding that much creamier.