Healthy Vegan Chocolate Pudding
This Healthy Vegan Chocolate Pudding recipe is ridiculously easy, and comes together using just four whole-food, plant-based ingredients!
Did anyone else love that JELLO instant pudding as a kid? I swear I lived off that stuff as a quick and delicious after school snack.
Unfortunately not only is the JELLO instant pudding not vegan, it's also chalked full of sugar (the first ingredient), cornstarch and additives.
This Vegan Chocolate Pudding recipe is arguably just as easy to make, and so much healthier!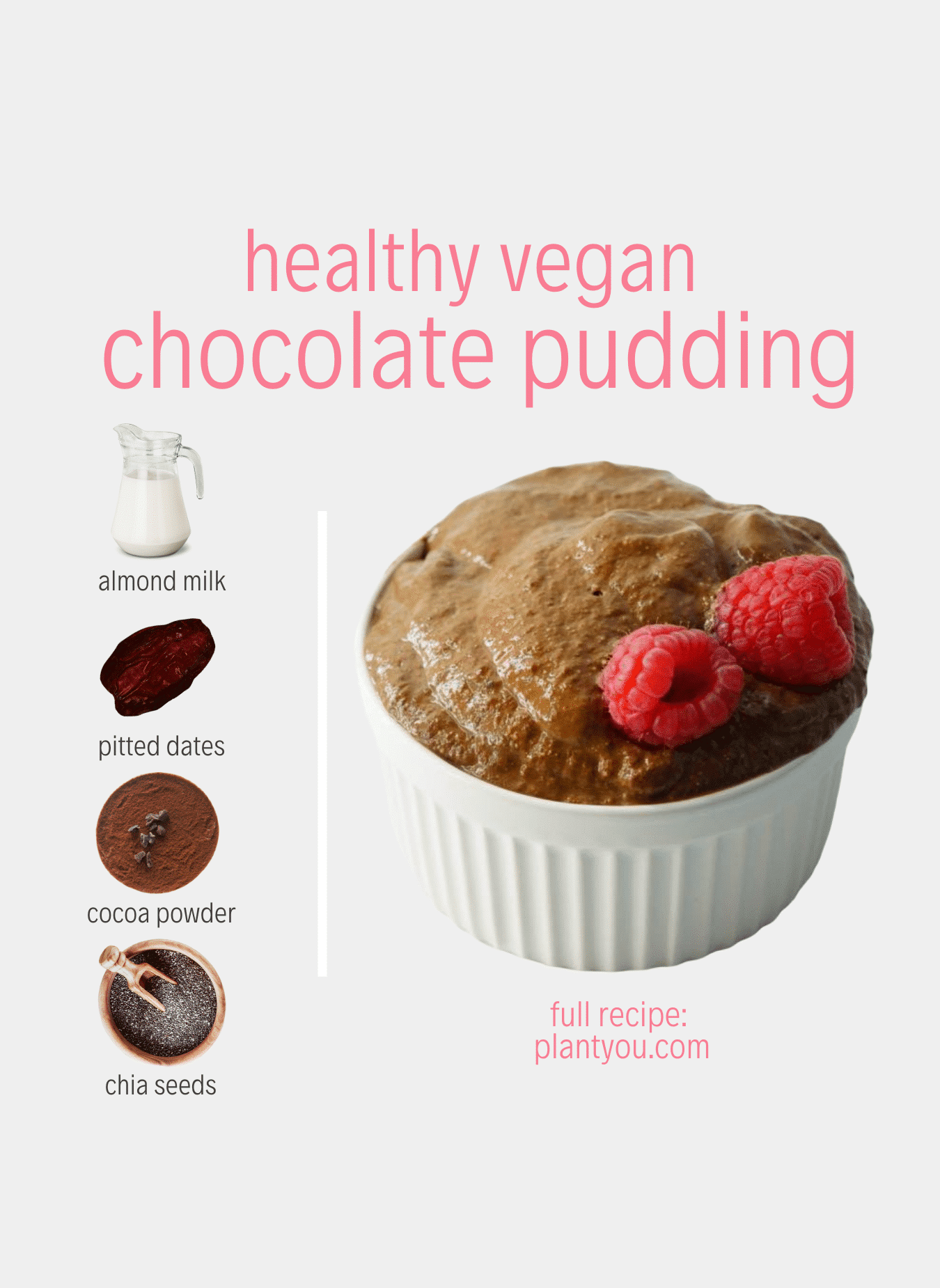 What's In Healthy Vegan Chocolate Pudding
You will be shocked at the simple ingredients used to make this delicious Healthy Vegan Chocolate Pudding.
You simply need:
Pitted Dates
Cocoa Powder
Chia Seeds
Almond Milk
You know we love short ingredient recipes, but this one might just take the cake! This four ingredient recipe will quickly become a staple in your dessert recipe book.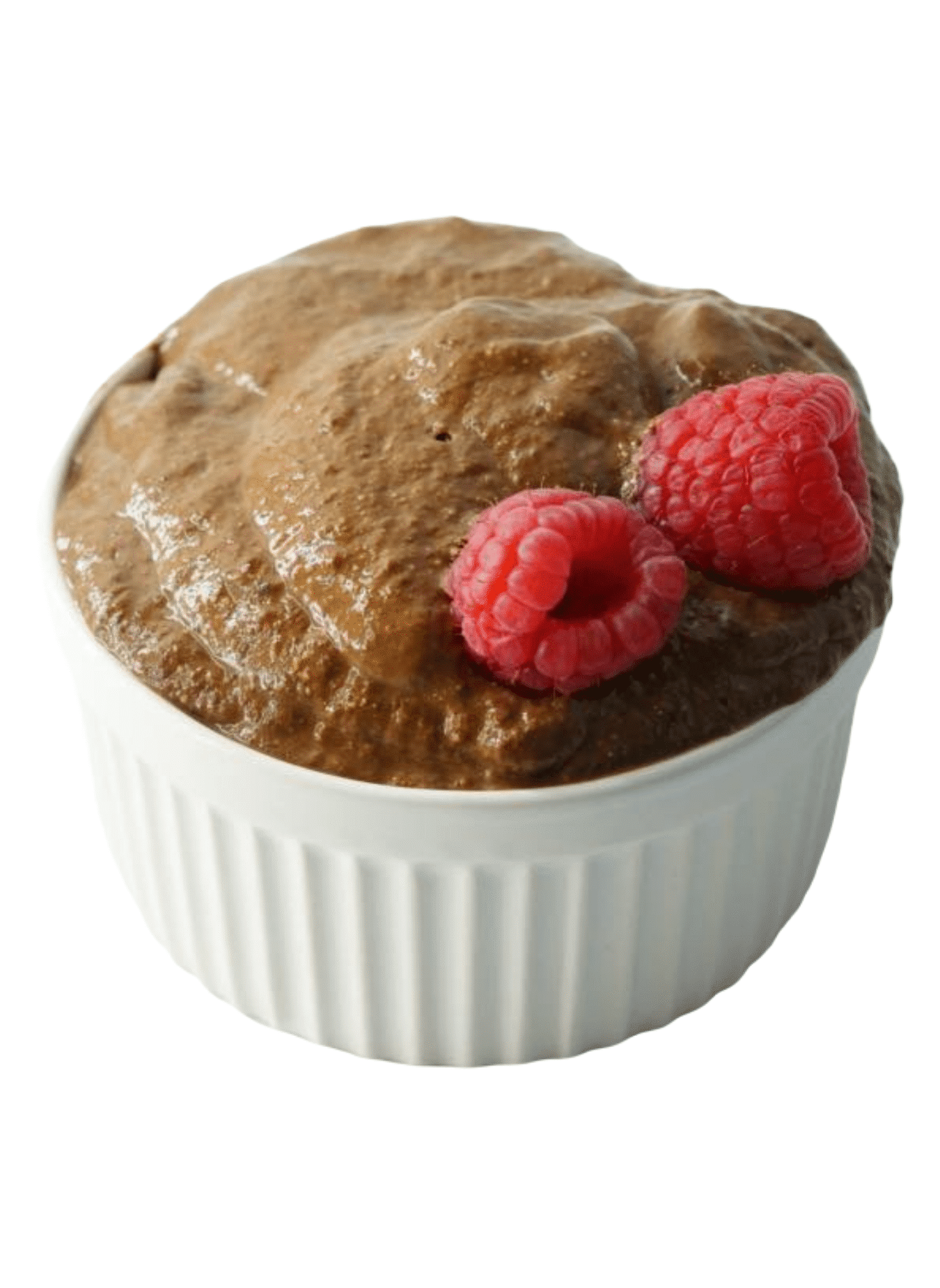 How Do You Make Healthy Vegan Chocolate Pudding?
Making this Healthy Vegan Chocolate Pudding could seriously not be easier. All you need to do is add all your ingredients to a blender, and combine until completely smooth.
We love putting ours in the fridge for an hour or two after to firm up even more, but it's not necessary at all.
In terms of a blender, we absolutely love our Vitamix because it will blend just about anything. If you have any sort of heavy duty blender, this recipe should work just fine. You could even try making this easy vegan chocolate pudding using a food processor instead.
This is the exact Vitamix blender we own and you can't really go wrong with it.
What Should You Serve Your Chocolate Pudding With?
We like to to top our easy vegan chocolate pudding with fresh fruit, like chopped raspberries or strawberries.
Here are a few other tasty ideas for toppings:
Frozen berries
Shredded coconut
Cocoa Nibs
Chocolate Chips
Drizzle of Peanut Butter
Crushed Nuts
The possibilities are truly endless! If you're looking for some baked goods to try with this ridiculously easy chocolate pudding, we suggest trying our Peanut Butter Cookies, Black Bean Brownies, Vegan Cookie Dough, Chocolate Truffles and more!
How To Make Your Vegan Chocolate Pudding Nut Free
We used almond milk for our vegan chocolate pudding, but the good news is, you could use just about any plant milk to make this delicious pudding recipe.
We suggest trying:
Oat Milk
Cashew Milk
Coconut Milk
Soy Milk
Healthy Vegan Chocolate Pudding Pie
I've seen a craze on Instagram lately about chocolate pudding pie. Just saying the words "chocolate pudding pie" make me hungry.
We haven't tried using our Healthy Vegan Chocolate Pudding recipe yet for a pie, but we can almost guarantee it would taste amazing.
We suggest buying a premade pie crust, and simply pouring this Healthy Vegan Chocolate Pudding recipe inside. Let it rest for a few hours in the fridge, then top with coconut whip cream!
What Kind of Cocoa Powder to Use?
We love of our cocoa powder and use it in so many different recipes.
That's why it's important to select a high quality cocoa powder for your recipes, like this easy Healthy Vegan Chocolate Pudding.
For this particular recipe, we used the HERSHEY'S Natural Unsweetened Cocoa Powder. We've also previously tried Fry's Cocoa Powder which we love as well!
Whichever cocoa powder you use, they should generally all work in this pudding recipe.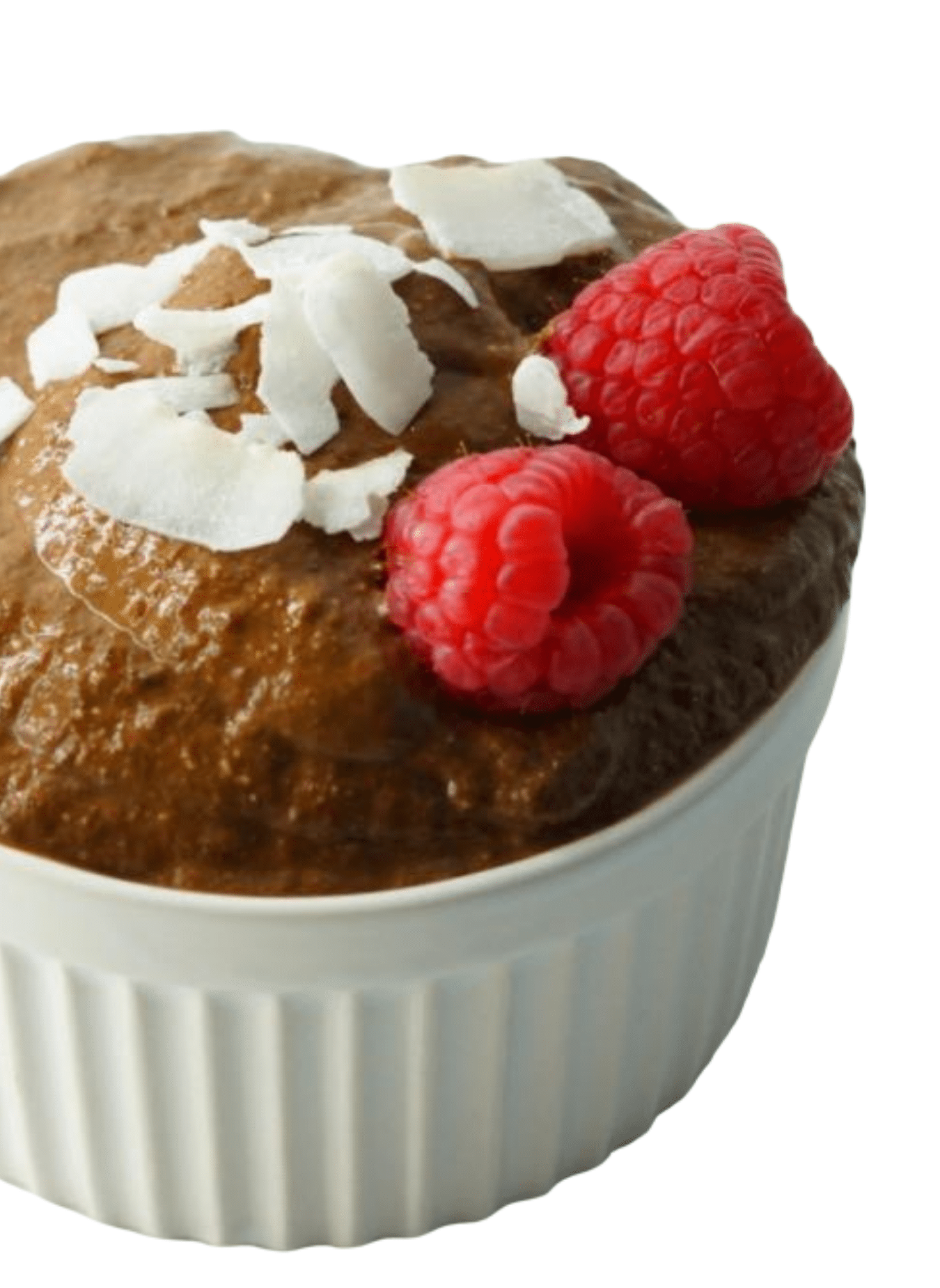 Can I Use This Vegan Chocolate Pudding For Breakfast?
Yes, this Vegan Chocolate Pudding can be enjoyed for breakfast!
With just these four simple ingredients, you can feel good knowing you're nourishing your body with both a healthy and delicious recipe. This recipe will keep in the fridge for up to four to five days, so it's excellent to meal prep and keep in the fridge overnight!
The Recipe: Healthy Vegan Chocolate Pudding
A Healthy Vegan Chocolate Pudding that utilizes just four simple ingredients! Perfect for dessert or a protein packed plant-based breakfast.
Ingredients
2 Cups Almond Milk
12 Pitted Dates
4 Tbsp Cocoa Powder
6 Tbsp Chia Seeds
Instructions
Combine all ingredients in a blender until completely smooth. If desired, chill in the fridge for two hours.
Notes
Nut Free: Use oat or soy milk instead, Keeps in the fridge: For up to four days