Vegan Meal Prepping On A Budget
Vegan Meal Prepping On A Budget 101
If saving time, money and eating healthier all sound like good things to you, you're going to love vegan meal prepping on a budget!
The best part? When you meal prep – it's easy to save money, and in this article, we're going to show you all our secrets. Let's start with the basics.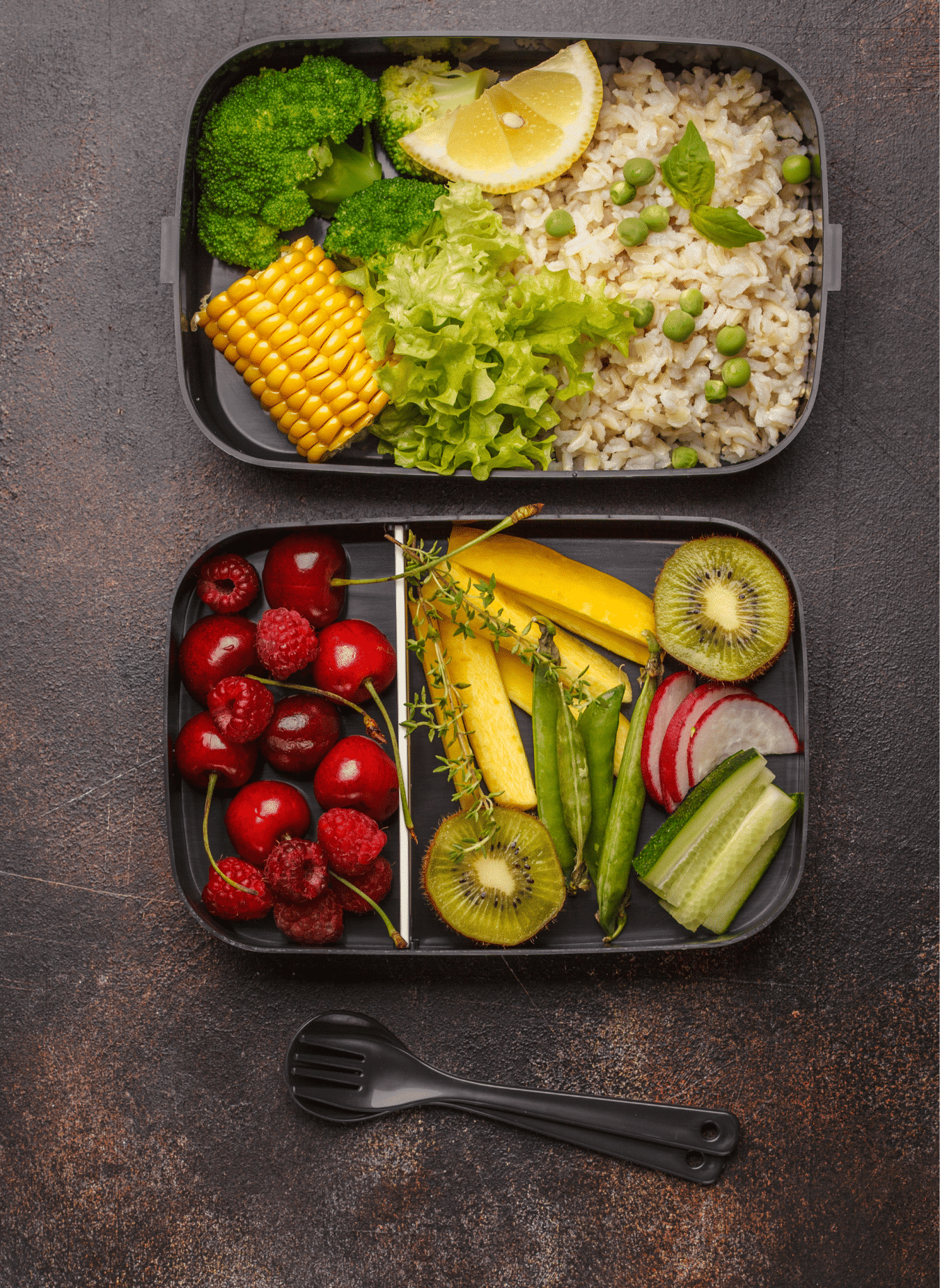 What is Meal Prep?
At its simplest form, meal prepping means preparing some or all of your meals ahead of time. By having a plan for each ingredient before you head to the store, and making large batches of food, meal prepping is an excellent strategy for saving money on a whole-food plant-based diet.
At Plant You, we promote a whole-food, plant-based diet because there is a staggering amount of evidence to support the amazing health proofing powers of this lifestyle.
You can find many fantastic reasons to go plant-based in this article here: Reasons to go Plant-Based in 2020.
How To Start Vegan Meal Prepping On A Budget
The Right Meal Prep Containers
To get yourself set up for meal prepping, you're going to want to make sure you have the right storage containers for your meals! These can range from budget containers like mason jars, to glass snapware. We have a full breakdown of our preferable, eco-friendly meal prep containers in this blog post.
Make a Meal Plan
Now that you have your meal prep containers, you are going to want to set aside an hour to plan out your meals for the week. A meal prep schedule can look different for each person, depending on your preferences, work, family and budget.
A standard meal prep schedule looks something like this:
Two hours set aside on Sunday to prepare three main meals
This would include five breakfast servings, five lunch servings and five dinner servings
An example could look like five servings of overnight oats, five servings of a vegetable lunch wrap, and five servings of chili
If you can wrap your head around eating the same thing everyday during the workweek, it means when you come home after a long day you no longer have to prepare food, do dishes or pack lunches. You'll also stay consistent with your healthy lifestyle because there's no excuse to pop through the drive-thru or throw in a microwave meal.
If you prefer more variety, we suggest planning to do a meal prep on Sunday for meals Monday to Wednesday, then doing a mini-prep on Wednesday to get you through Thursday and Friday. This is how our suggested schedule is laid out in the Plant Ahead program.
Alternatively, you could choose to just prep one meal for the week to help take some of the stress off and help with your weekly food budget, such as dinner or lunch for the week.
If you want access to over 60 done-for-you whole-food, plant-based meal prep plans with shopping lists and macros for each recipe, you can join our weekly digital meal plan subscription here (it's just $7.99/month and you can cancel anytime): plantyou.com
Why You Need To Use A Meal Planning Chart
Using a simple meal planning schedule will help you stick to your budget and save a ton of money on groceries. As we explained earlier, completing a vegan meal prep with a foolproof system will be essential for staying on a budget. Becoming organized in the kitchen will keep you out of the fast-food court and from grabbing quick overpriced snack foods to keep you going throughout the week. We've designed a FREE Meal Planning Chart to help anyone looking to make the first steps towards a plant-based diet on a budget.
Download Your Free Weekly Meal Planning Chart Here
Make Sure You Have a Shopping List
We can't stress this enough. Heading to the grocery store with a shopping list is one of the keys to saving money while meal prepping on a budget.
Once you have your meal plan Before you head to the shops make sure you have your vegan shopping list ready to go. This is one of the BEST tips for sticking to your budget when heading to the grocery store. We make sure we have a list of all the ingredients we require for our meal prep throughout the week, and you will be sure to stay on budget when you only purchase what you have on your shopping list. You will also notice that you get the job done a lot quicker too!
Get Cooking
During your dedicated "meal prep" power hour (or two) preparation is key. We suggest making a plan before you start. Once you know the orders in which you're going to make your meals, start by washing and chopping all of your fresh produce. This will make sure the actual cooking process goes quickly.
If you want to make your vegan meal prep hour enjoyable, turn on some of your favorite food, throw on a podcast or catch up on a Netflix show!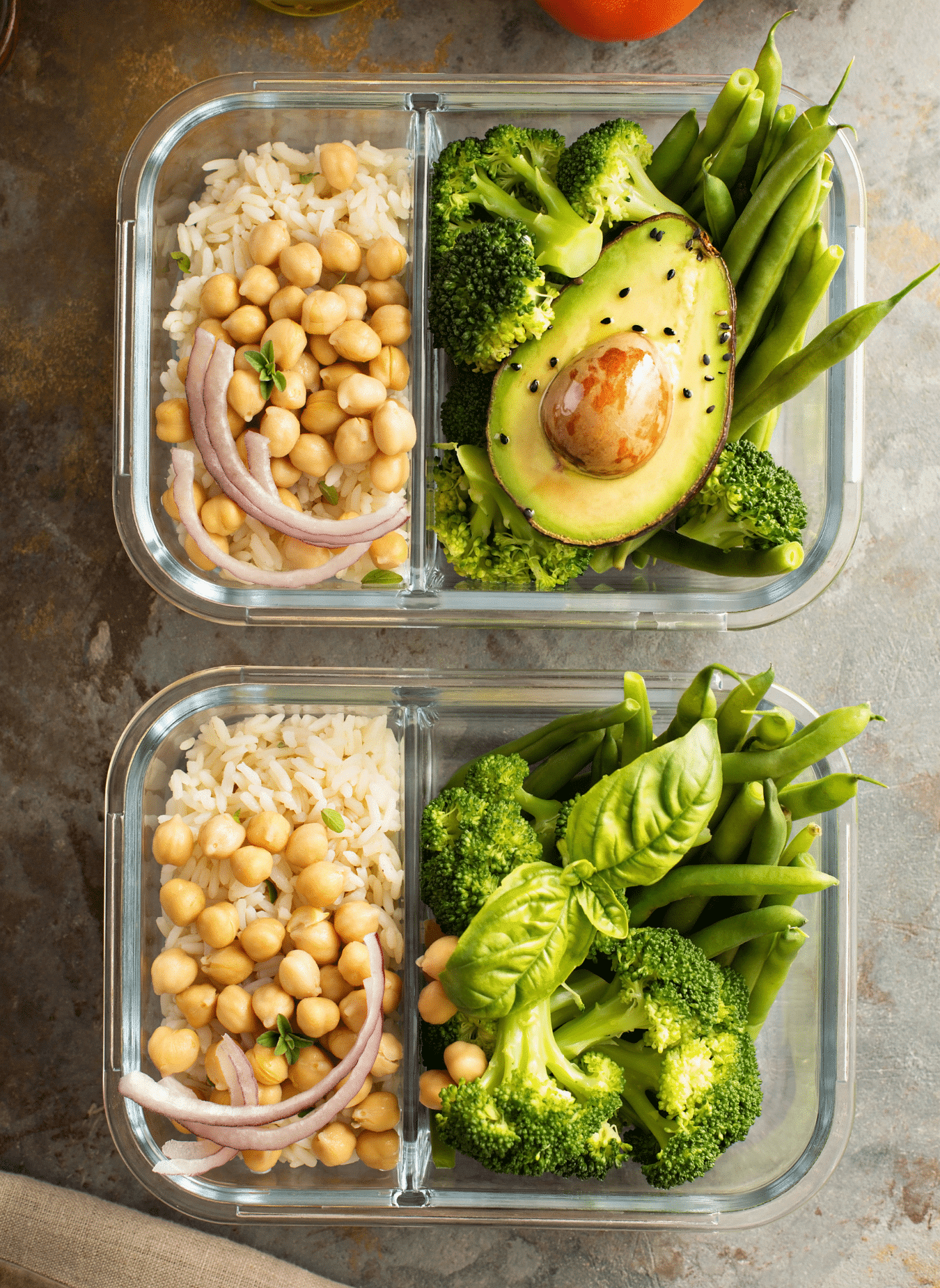 How To Save Money Vegan Meal Prepping On A Budget
By choosing to meal prep vegan food, you are already ahead of the curve when it comes to saving money. Meal prepping means you already have a plan for each ingredient you have (yay – no food waste) and you won't have to default to takeout or expensive convenience foods during the workweek.
Above and beyond this, there are some great strategies to make your money stretch even farther at the grocery store.
You will need to be strategic. Eating foods as close to their natural state is a simple way to meet your daily nutritional needs but also stick to your budget.
Some of the cheapest foods in the world are whole-food plant-based naturally, which makes this lifestyle even more achievable as well makes vegan meal-prepping on a budget easy.
Plant-Based Foods That Are Extremely Budget-Friendly
Beans – A

verage price of 1lb of dried beans between $1.19-$1.69

Potatoes –

Average cost of 5lb bag between $2.50-$3.10

Brown Rice –

Average cost of 2kg bag between $4.00-$6.00

Oats –

Average amount of 1kg bag of oats between $2.50-$4.00

Bananas –

Average cost per 1 pound 0.57 cents

Dried Whole Wheat Pasta –

Average price per 900 grams $0.97-$1.80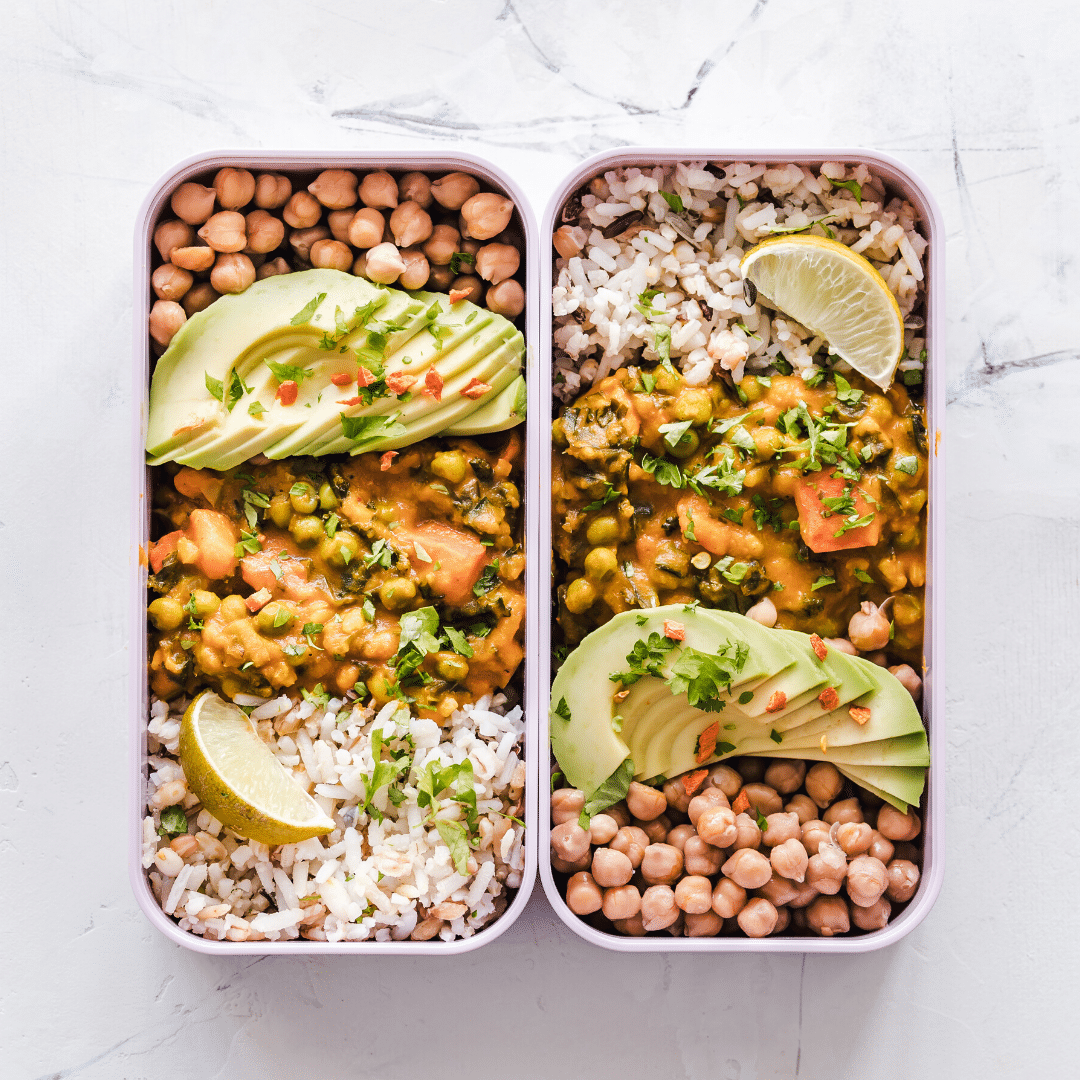 The bulk store will help you save money when meal planning.
When it comes to plant-based ingredients, we find it financially beneficial to source beans, grains, spices and pasta from your local bulk store to save money meal prepping on a plant-based diet. We have a fantastic resource for plant-based pantry staples, which you can check out here: Plant-based Pantry Staples
Overlap your ingredients with your recipes!
To save money, meal prepping find recipes that use similar ingredients to ensure your shopping list will become shorter. It will help you stick to a tight budget when needed. Also, use your leftover food scraps to make cooking broth as well as soups! This way, nothing goes to waste, and you can save money in the process. We find sticking to one grain, one starch, and two different protein sources each week can be an easy way to adapt just about any recipe while staying on budget. We do encourage trying to get in a variety of vegetables.
Plan your meals around seasonal ingredients
Grocery shopping when produce is in season is a great way to save money in the kitchen. It is an excellent reason to head to your local farmer's market to see what they have in for a reduced rate for fruits and vegetables.
Shop the reduced price shelves
When heading into the grocery aisles we love to head over to see what they have in store on the reduced priced racks. This is usually the home to imperfect vegetables and fruits or anything that is going to be expiring in the upcoming days. These shelves are amazing to be able to shop a variety of different ingredients that may not always be in easy access.
Meal Prep Recipes
If you need some inspiration for vegan meal prep recipes on a budget, we would suggest trying some of our favorites including:
Join the Plant Ahead Meal Plan Program
Becoming a member of the Plant Ahead Program is one of the easiest ways to be successful when meal prepping on a budget. We provide you with all the tools you need as well as an abundance of whole-food plant-based recipes that are oil-free and refined sugar-free.
When joining you will receive a new weekly meal prep plan, which will include guidelines for meal planning, itemized labelled shopping list, new recipes to meal prep for the week, macro breakdowns with each recipe and helpful PDFs for snacks and dessert recipe ideas.
It doesn't end there when you join the Plant Ahead Program; you also will have access to our entire database of whole-food plant-based meal plans. This way, you can switch up your weekly meal plan menu to fit your budget needs!
When signing up for the Plant Ahead Meal Prep Program, you will see the benefits beyond saving money because you will also find that you will be saving time, and it will become easier than ever to stick to a healthy plant-based diet effortlessly.
Become a member of the program today for $7.99/per month and remember that you can cancel anytime!