Vegan Peanut Butter Mug Cake (Five Minutes)
This Vegan Peanut Butter Mug Cake is easy, delicious and requires just seven simple, whole-food, plant-based ingredients.
What if I told you that you could have a delicious vegan dessert on the table in less than five minutes?
Enter our new obsession: VEGAN PEANUT BUTTER MUG CAKES
Of course our first mug cake recipe just had to feature our favorite ingredient combo ever… That's right, this vegan mug cake is for all the peanut butter chocolate lovers out there!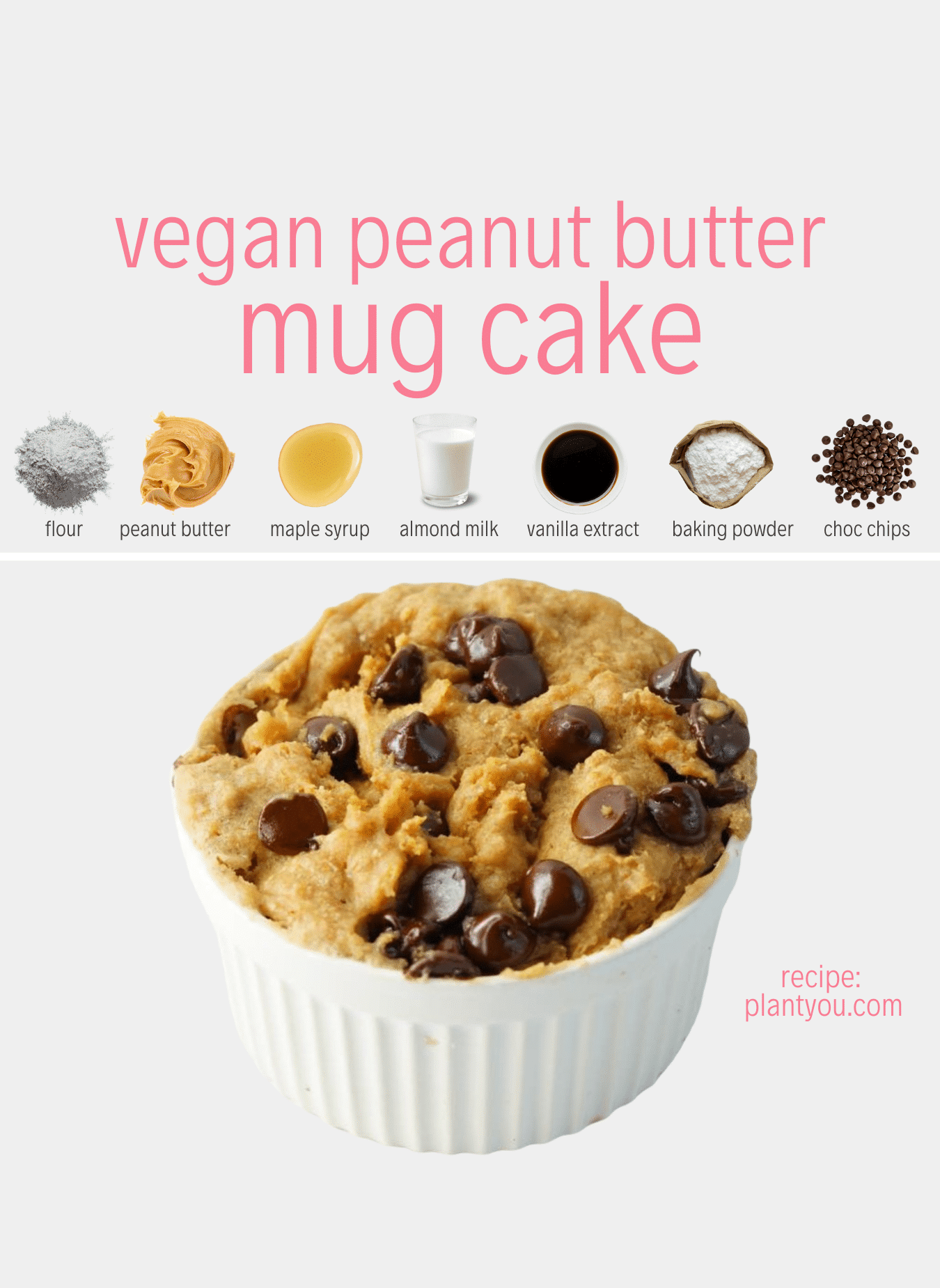 How Do You Make a Peanut Butter Mug Cake From Scratch?
Mug cakes follow the same recipe guidelines that any normal vegan cake would need. You start with flour, something moist such as banana or nut butter, something liquidy like almond or cashew milk, baking powder and something sweet such as maple syrup or date syrup.
For this recipe, we chose to go with the PB & Chocolate combo. Here's all you need to make this delicious Vegan Peanut Butter Mug Cake recipe!
Creamy natural peanut butter
Dark vegan chocolate chips
Whole wheat flour
Almond milk
Maple syrup
Baking powder
Just six simple ingredients go into a mug and come out in a delicious cake form! It truly does not get easier than this. You'll notice that our mug cake contains absolutely no added oil either.
That's something that's really important to us at Plant You, and you can read about why here.
After combining your ingredients in a mug, you simply microwave for around one minute or longer as needed. Microwave times can vary, so we suggest watching your mug cake to make sure that it doesn't over-cook.
How To Make This Recipe Nut Free
The longer I have been blogging about plant-based food, the more of come to realize just how many people are allergic to nuts.
That's why for recipes in the Plant Ahead Program, we always provide nut free substitutions so everyone can enjoy.
If you haven't heard, the Plant Ahead Program provides members with a weekly whole-food, plant-based meal plan in their inbox each week, along with a shopping list, caloric information for each recipe and a prep schedule. You can sign up and get access to every single one of our past meal plans for just $7.99/month today. Get started here.
To make this particular Vegan Peanut Butter Mug Cake recipe nut free, we suggest swapping out the peanut butter for something called Wow Butter! If you've never heard of Wow Butter, it's a soy based 'butter' that truly mimics a traditional nut butter. It's an excellent choice for kids because it's something they can bring in their lunches as well.
To avoid using almond milk in this recipe, we suggest using oat milk or soy milk instead.
If you aren't allergic to nuts, but just aren't a fan of peanuts, any nut butter would work for this recipe including:
Almond Butter
Cashew Butter
Nut & Seed Butter
Pumpkin Seed Butter
If you also want to go on the healthier side with this mug cake, you could swap the dark chocolate chips out for another whole nut, fruit or omit all together. You can truly customize this Vegan Peanut Butter Mug Cake to your taste.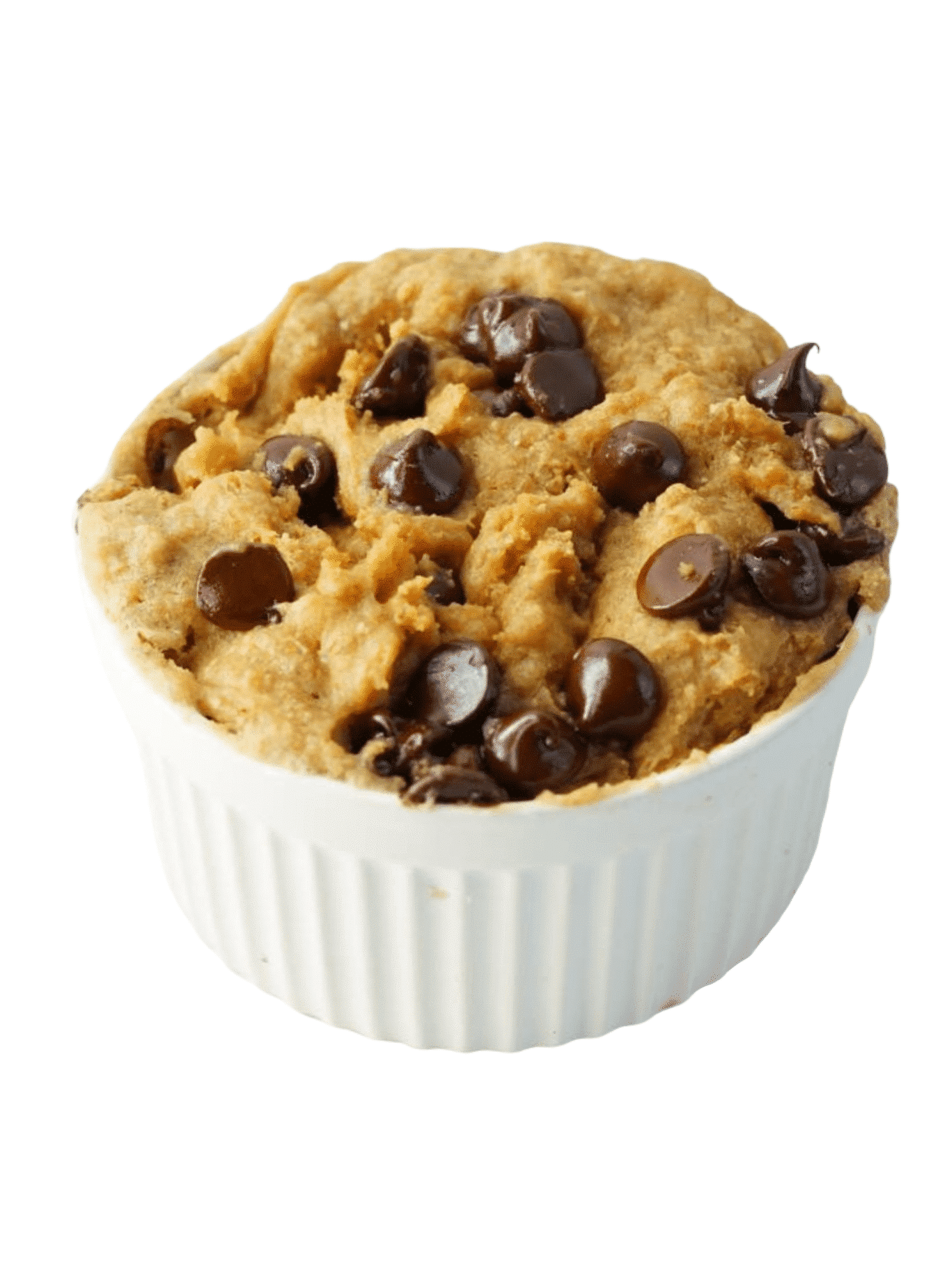 How To Make This Mug Cake Recipe Gluten Free
Like nut free recipes, we also offer gluten free substitutes for all recipes in the Plant Ahead Program.
To make this Vegan Mug Cake Recipe gluten free, we suggest using a gluten free flour blend or utilizing oat flour. We find oat flour has a very similar cook time and consistency and can often be used interchangeably with whole wheat in recipes.
Let us know what you think if you give it a try!
What Kind Of Mug Should You Use For Mug Cakes?
For this Vegan Peanut Butter Mug Cake Recipe, we chose to use a small ramekin. This gives the best visual presentation for your mug cake, as it billows up nicely and flows over the sides.
However, you can use just about any microwave mug that you please. We love the look of mug cakes in traditional tea mugs but didn't have any of this shoot unfortunately!
Can You Meal Prep Mug Cakes?
Trust us… We'd love to have a whole batch of mug cakes prepped for the week if we could. Unfortunately, a mug cake is not something I suggest meal prepping. They are best enjoyed warm out of the microwave or they get a little deflated and crusty over time.
If you are looking for a dessert that is ideal for meal prep and is also whole-food, plant-based compliant, we suggest:
You could also pair your amazing Vegan Peanut Butter Mug Cake with one of our newest recipes, Vegan Baileys!
Can You Make a Mug Cake in the Oven?
If you're not a fan of using the microwave, or don't own one at all, we have good news for you. You can make a mug cake in the oven!
You just want to ensure that whatever mug casing you are using for your batter is oven safe. Then you will want to preset your oven temperature to 350F and bake for around 25-30 minutes.
It's that simple, and you will have an equally delicious mug cake in your hands using the oven!
PRINT RECIPE
Vegan Peanut Butter Mug Cake Recipe
This delicious vegan peanut butter mug cake recipe uses just seven ingredients and comes together in under five minutes.
Ingredients
3

Tbsp

Peanut Butter

Natural, Creamy

3

Tbsp

Whole Wheat Flour

1/2

Tsp

Vanilla Extract

1/2

Tsp

Baking Powder

1

Tbsp

Chocolate Chips

1

Tbsp

Maple Syrup

1/4

Cup

Almond Milk
Instructions
Mix your flour and baking powder in your mug or a bowl.

Add your peanut butter, maple syrup and vanilla extract and combine all ingredients until a batter is formed.

Finally add in your chocolate chips.

Place in the microwave for approximately one minute and thirty seconds until the batter has risen. Enjoy warm.
Notes
Make sure to use a microwave mug or ramekin
Microwave times may vary so you are best to watch the mug cake closely
Serve with coconut whip cream or vegan ice cream over top
This will work with any other nut butter or wow butter