Vegan Pantry Only Recipes
These Vegan Pantry Only Recipes will provide you with ideas on how to make nourishing plant-based meals using only shelf stable foods you likely already have on hand.
At the time of writing this, the world is in the grips of the Coronavirus. The current Covid-19 breakout has caused many communities to go into lockdown, closing schools, malls and events. For most up to date information on Covid-19, please refer to the World Health Organization's website.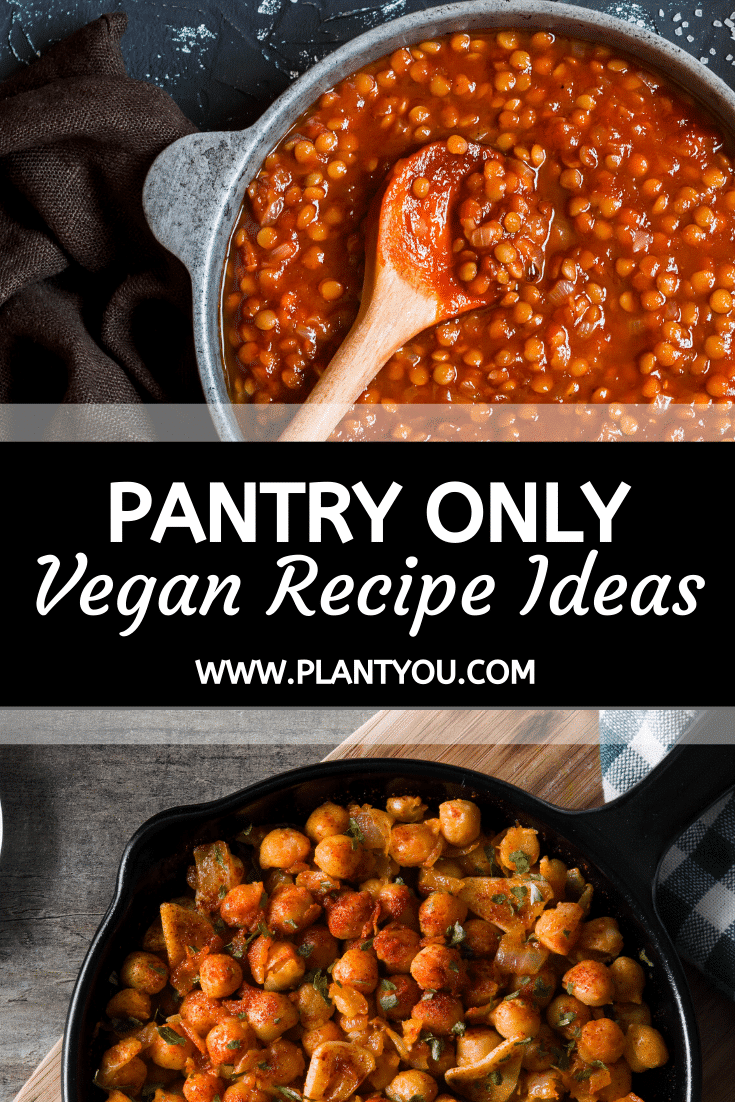 Who are Vegan Pantry Only Recipes for?
During the covid-19 outbreak, many people who are showing symptoms of a cold or a flu have been placed in a 2-week quarantine to help stop the spread.
Those who have a compromised immune system or are in the vulnerable age range (60+) are being encouraged to stay away from busy public spaces at this time.
Unfortunately the fear of the virus has also led people to stock up on many grocery items. This means many store shelves are left empty.
Finally, because of Covid-19, many local businesses and employees are being impacted by the virus. This could mean that some are suffering financially and have to rely what is in their pantry.
In all of these cases, relying on vegan meals from pantry items on hand might be one of the only options.
But What About Fruits or Vegetables?
In an ideal world, we would suggest that instead of stocking up on rolls of 2-ply, you grab a pack of frozen vegetables and fruits at the grocery store. These can all be easily integrated into the meals I'm going to list below.
However, for many that is not feasible – and that's okay. We have made sure that these meal combinations are tasty and nourishing without the addition of frozen fruit or vegetables.
Pantry Stable Snacks & Breakfast Ideas
Before we get down to meals, here are some snack ideas that we suggest. You can also refer to our "Vegan Pantry Staples" blog post for items we always suggest having around in your pantry on a plant-based diet.
Bowl of warm oatmeal with hemp hearts or chia seeds
Crackers and peanut butter or almond butter
Nuts and seeds like crackers
Dried cereal such as brown rice puffs or flakes with shelf stable almond milk
Handful of dried cranberries and nuts
Rice cakes with jam and peanut butter
Here is Our List of Pantry Only Recipe Ideas