Vegan Chicken Noodle Soup (With Tofu, Kale and Mushrooms)!
This Vegan Chicken Noodle Soup is warming, nourishing and down right delicious. Using just simple whole-foods, plant-based ingredients, this oil-free recipe is ideal for Fall or Winter time when the weather starts to cool.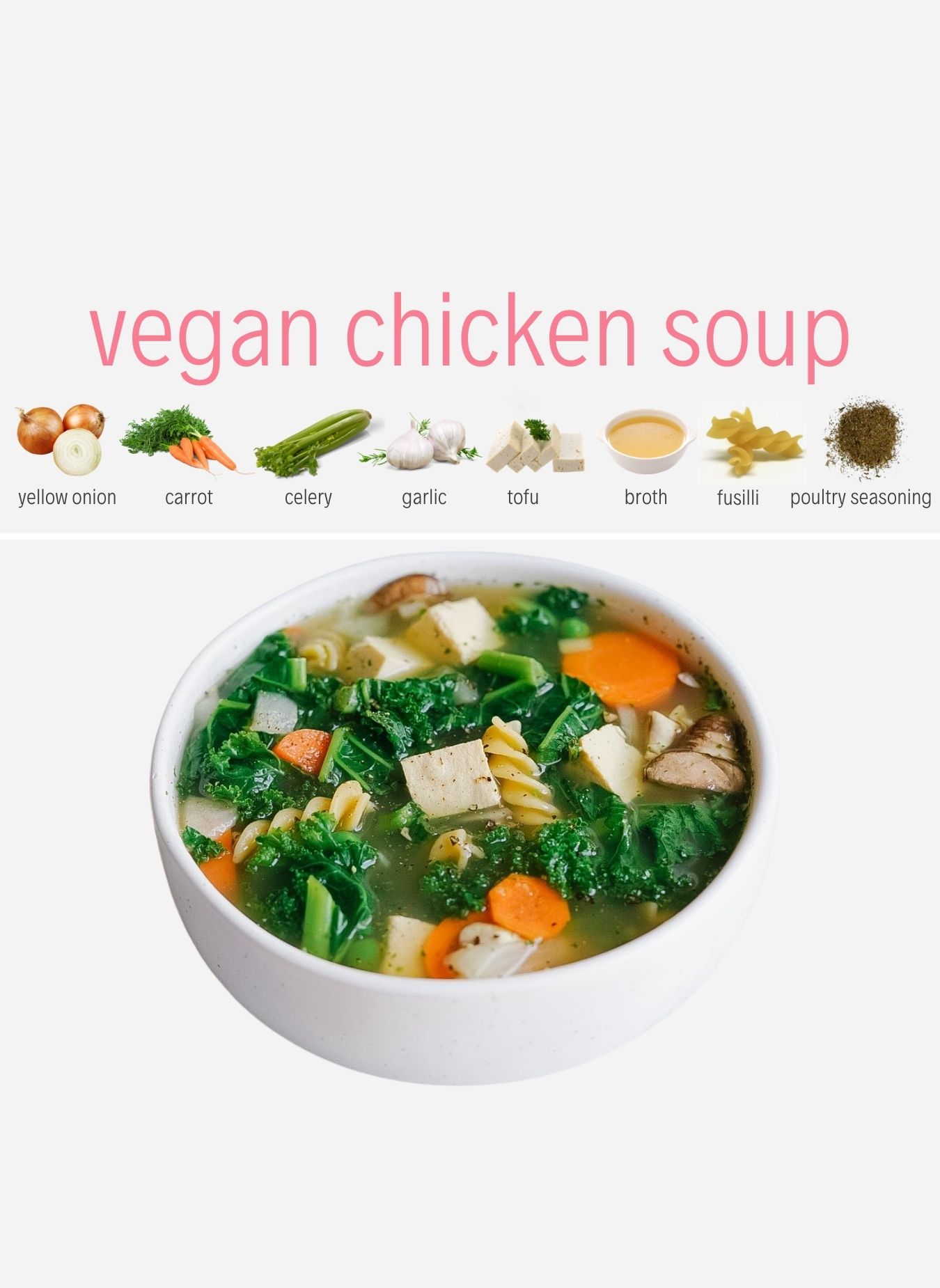 Chicken Noodle Soup used to be a mainstay in our home growing up, especially when any of us broke out with the cold or flu. As it turns out, eating soup to help heal a cold is not just an old wives tale. Warm broth can actually ease a sore throat, ward off dehydration and clear sinuses.
Of course when I went vegan, I needed to make an upgraded version of the old classic. In place of chicken, I use extra firm tofu. To kick the health factor up a notch, I also add mushrooms and kale to this soup which makes it amazingly hearty.
How To Make Vegan Chicken Noodle Soup Actually Taste Like Chicken
To make your vegan chicken noodle soup actually taste like the classic soup you grew up eating, you want to get your hands on poultry seasoning.
Poultry seasoning can be found in the regular spice isle of your grocery store, and is typically used in chicken, turkey and stuffing recipes. With hints of sage and rosemary, it really gives that traditional chicken soup flavor without the chicken!
Here's a brand I love that you can grab from my Amazon affiliate page.
What Else Is In This Soup?
Like all Plant You recipes, I've packed this to the brim with plants!
Here's the lineup for this Vegan Chicken Noodle Soup:
Garlic
Onion
Celery
Carrots
Kale
Extra Firm Tofu
Crimini Mushrooms
Chickpea Pasta
Thyme
Vegetable Broth
Poultry Seasoning
Dried Thyme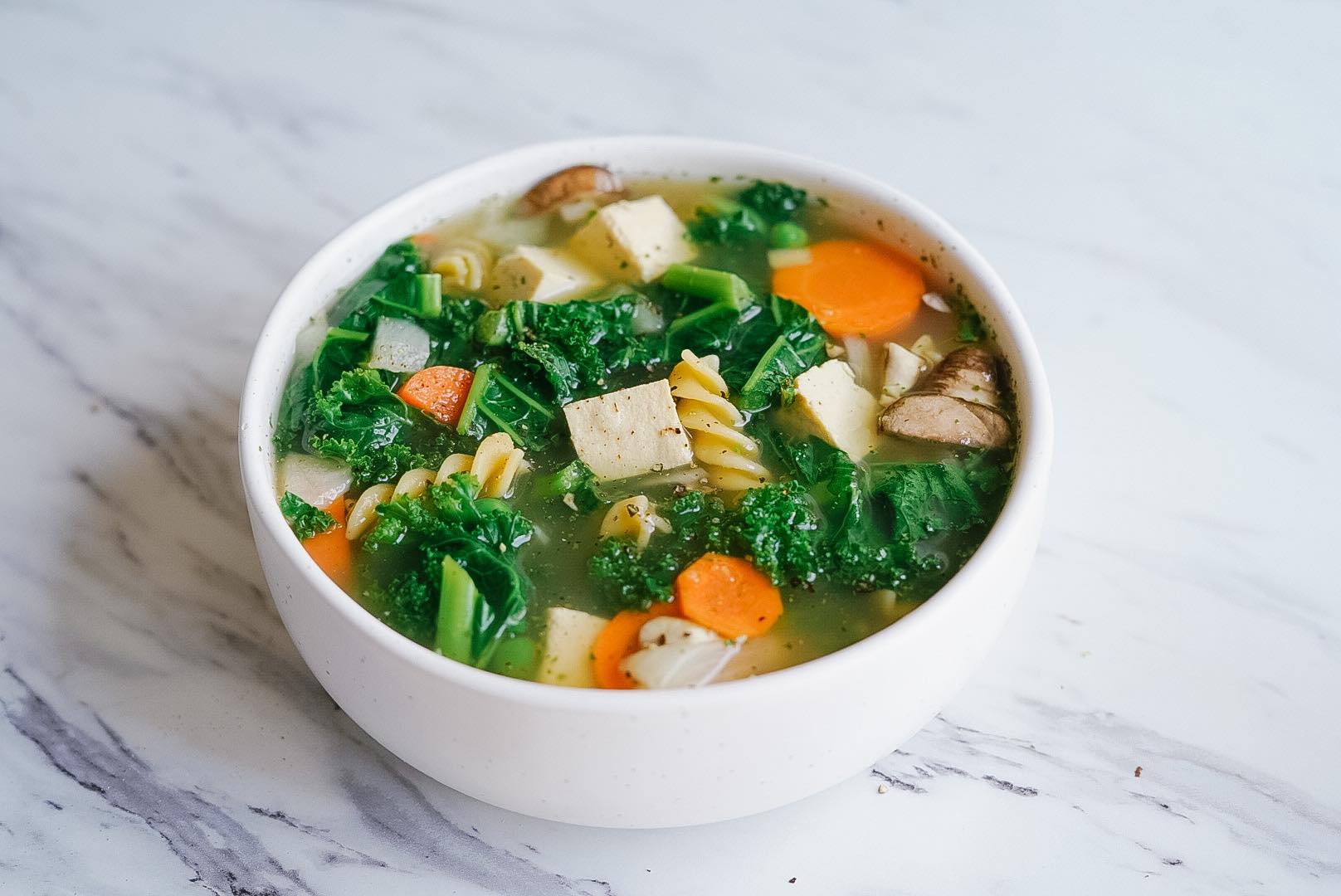 It's a really simple recipe that comes together in less than 30 minutes. Of course, you can swap out any of the vegetables according to preference. Spinach would be excellent in this soup, and chickpeas in place of tofu!
If you're fancying some other soup recipes, you must try our Healing Lentil and Potato Kale Soup and Creamy Coconut Tomato Soup recipes!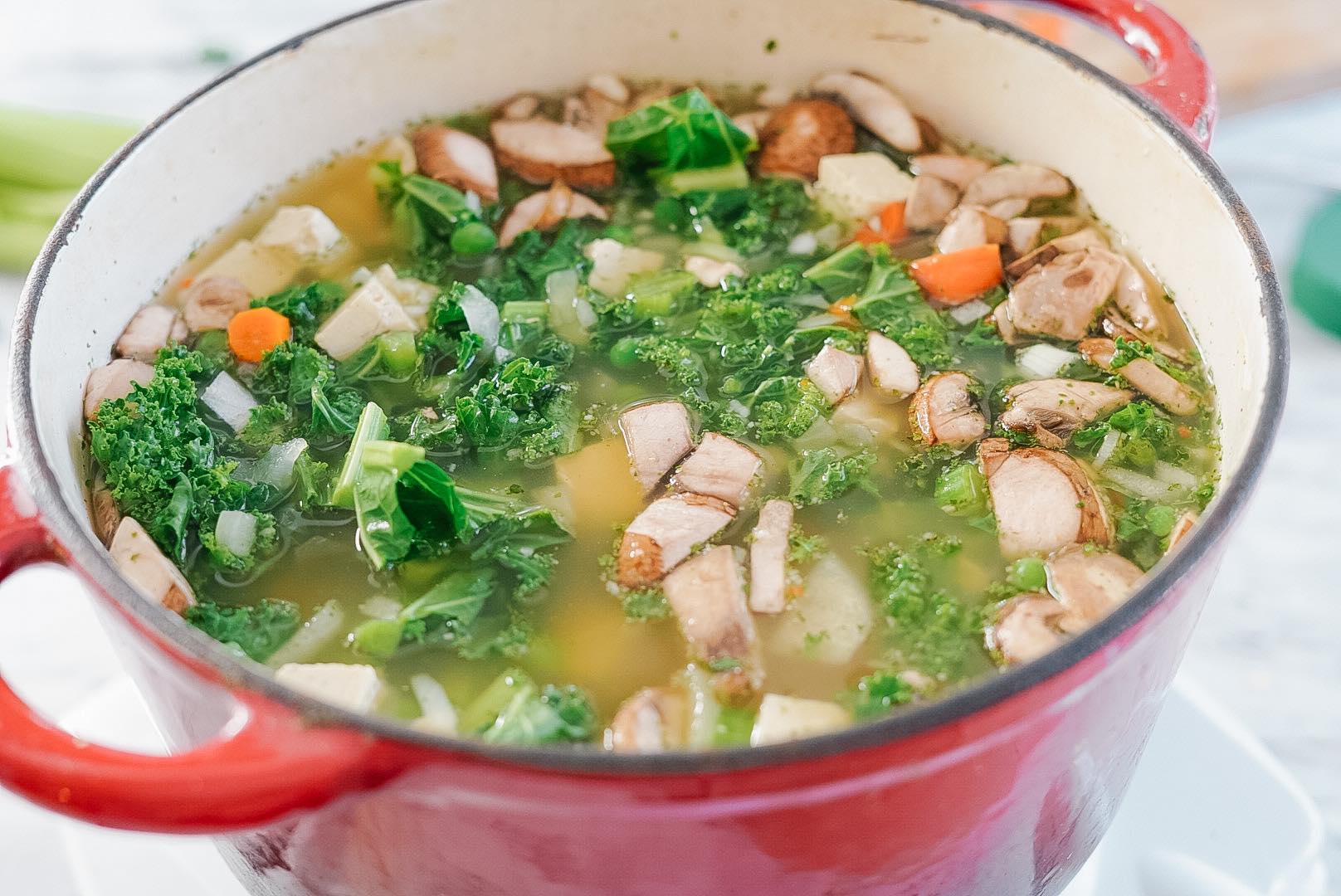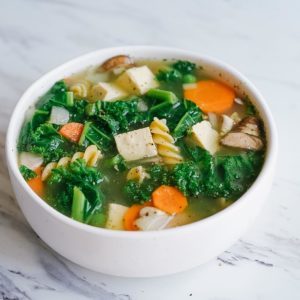 The Recipe: Vegan Chicken Noodle Soup
A comforting Vegan Chicken Noodle Soup recipe that is oil-free, plant-based and ready in less than 30 minutes!
Ingredients
2 stalks celery, chopped
2 carrots, peeled & diced
½ yellow onion, diced
4 garlic cloves, minced
350 grams extra firm tofu, pressed, sliced into 1 inch cubes
2 cups kale
1 cup crimini mushrooms
6 cups vegetable broth
1 teaspoon poultry seasoning
1 teaspoon dried thyme
1 ½ cups green peas
1 ½ cups brown rice pasta
Instructions
Cook your pasta according to package directions and set aside.

In a pot over medium heat, add the carrot, celery, onion and garlic with 1 to 2 tablespoons of vegetable broth. Saute until softened, approximately 5 to 10 minutes.

Add the rest of the ingredients except for the kale and green peas to the pot. Bring to a boil, then simmer for 10 minutes.

Add the kale and peas to the pot, and stir until the peas have thawed and kale has wilted. Add to bowls with the cooked pasta, or store in the fridge separately for up to four days.
Notes
Best served with a crusty slice of sourdough bread. 
Calories: 195kcal, Carbohydrates: 31g, Protein: 9g, Fat: 4g