Healing Lentil, Potato and Kale Soup
This Healing Lentil, Potato and Kale Soup is comforting, delicious and packed full of nutrients to help you get over that winter cold. It's also plant-based, vegan, dairy and oil free!
There's nothing quite like getting sick to make you appreciate your health. I've been camped out on the couch for the last week with a nasty cold. After pigging out on Thai food for a month straight in Southeast Asia and then wrestling with some nasty jet-lag, I'm not surprised.
On the bright side, being cooped up has meant a lot of productivity on my Holistic Nutrition & Health Coach Certification Program with Nutraphoria. I'm currently on Section 2 of the program, Principals of Holistic Health. I've been working my way through the course book which is called Staying Healthy With Nutrition by Elson M. Haas. This book is pretty much a nutritional bible, and even includes some basic healthy recipes to use as bases for weekday meals. The particular recipe I'm going to share today was inspired by Elson M. Haas's Thick Vegetable Soup.
I don't know about you — but whenever I get sick, I instantly crave soup (ps. have you tried my vegan creamy basil tomato soup yet?!). Through my coursework with Nutraphoria, I have learnt about the amazing impact superfoods like kale can have on your health and vitality, and I knew I wanted to include it as part of this recipe.
Elson M. Haas suggests staying clear from canned soups, and making your own vegetable broth if time allows. This is because canned soups have a ton of extra sodium which really isn't necessary. Instead of slaving in the kitchen and making my own broth, I opted for buying vegetable broth with no added salt instead. This provided the perfect base for this soup full of delicious superfoods.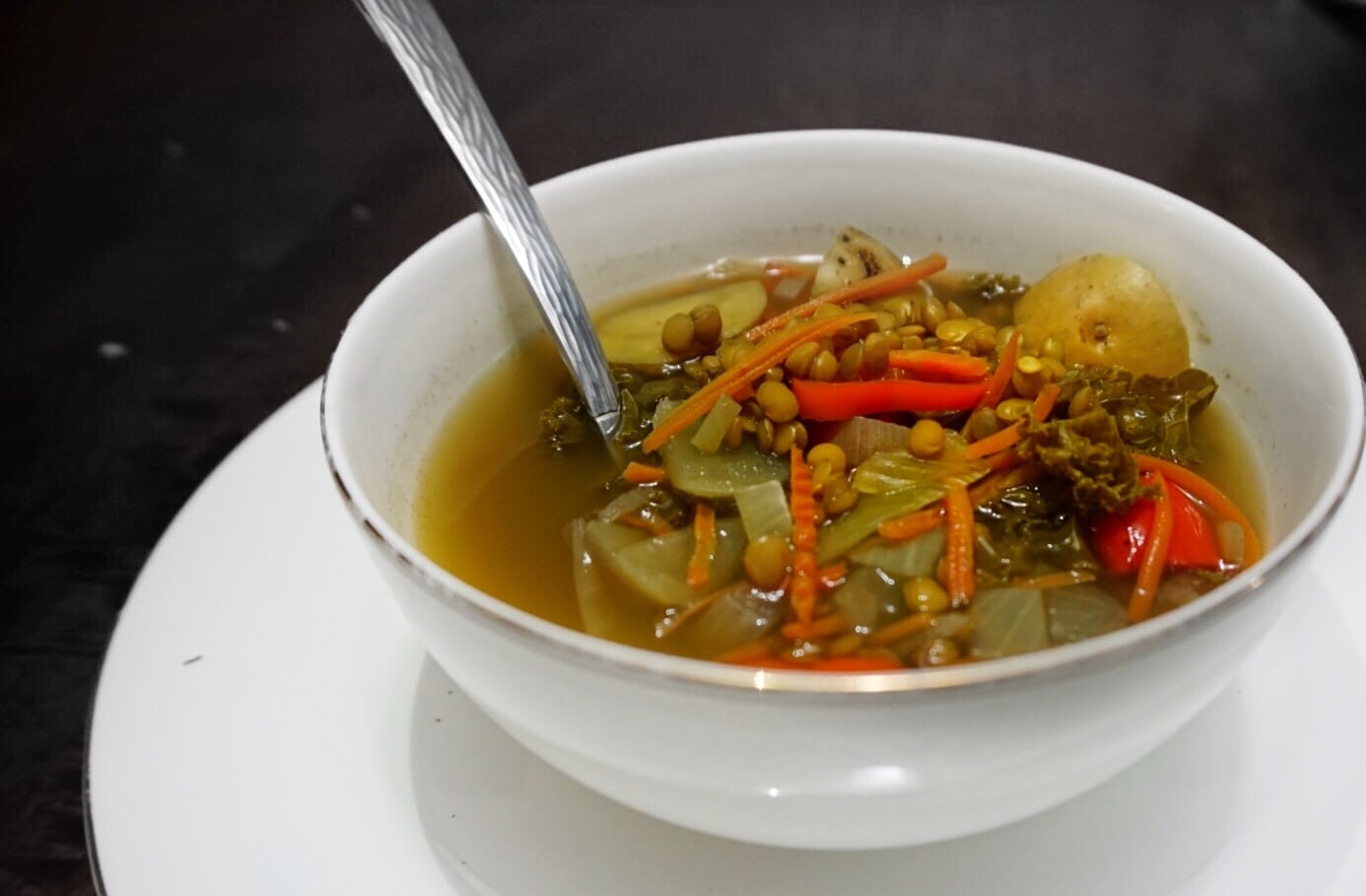 Healing Kale, Potato Lentil Soup (Serves 4 with leftovers)
Ingredients
1 Yellow Onion (Chopped)
1 Cup of Brown Lentils (Rinsed)
1 Cup of Matchstick Carrots
2 Red Bell Peppers (Chopped)
2 Medium Potatoes (Diced)
1 Whole Bunch of Kale (Chopped)
6 Cups of Low Sodium or No Sodium Added Vegetable Broth
1 Tsp of Turmeric
1 Tbsp of Red Chilli Flakes
1 Tbsp of Apple Cider Vinegar
1 Tbsp of Garlic Powder
2 Tbsp of Soy Sauce (to taste)
Directions

1. Heat the onion, carrots and peppers in a pot over medium heat for a few minutes.
2. Add lentils, broth, turmeric, garlic powder, vinegar, chilli flakes and soy sauce. Stir together and bring to a boil. Once soup has reached a boil, reduce heat to low and simmer, covered for 20 minutes.
3. Add chopped potatoes and simmer, covered for 15 minutes or until potatoes are tender.
4. Add kale and simmer for 5 more minutes.
5. Season to taste with salt and pepper