Sushi Inspired Rice Balls (Onigiri & Korean Rice Ball Inspired)
Craving a simple handheld snack? These sushi inspired rice balls are super easy to make, and equally easy to enjoy. Rice balls are a very common and delicious snack that originates in both Korea and Japan. Traditionally, these rice balls are known as Jumeokbap in Korea (which literally translates to rice ball), and would be a considered a spin on Onigiri in Japan. 
If you have leftover rice kicking around from either a weeknight meal or takeout, these sushi inspired rice balls are the perfect scrappy solution. Today, I have a really simple plant-based sweet potato stuffed version that I know you will love.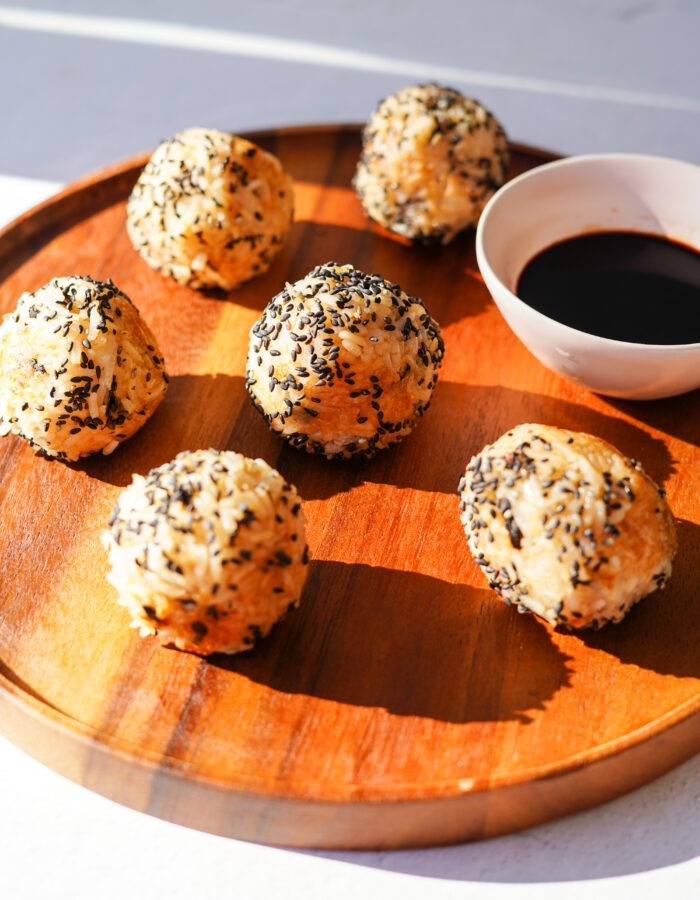 Why You'll Love This Recipe
These sushi inspired rice balls are easy to transport and to handle! Perfect for anyone taking lunch to work, eating on-the-go, or travelling.
You know who likes cute little handheld foods? Kids! If you're trying to inspire your kids to eat homemade snacks, this is a great segue to healthy snacking!
This recipe is a part of my Scrappy Cooking series, which allows you to save money and reduce household food waste!
Talk about affordable! Made with ONLY SIX commonly available ingredients, this recipe is proof that you don't need to spend tons of money to enjoy delicious food.
This recipe is beginner-friendly and very hard to mess up! If you aren't too confident in the kitchen, these sushi inspired rice balls can ignite your love of cooking.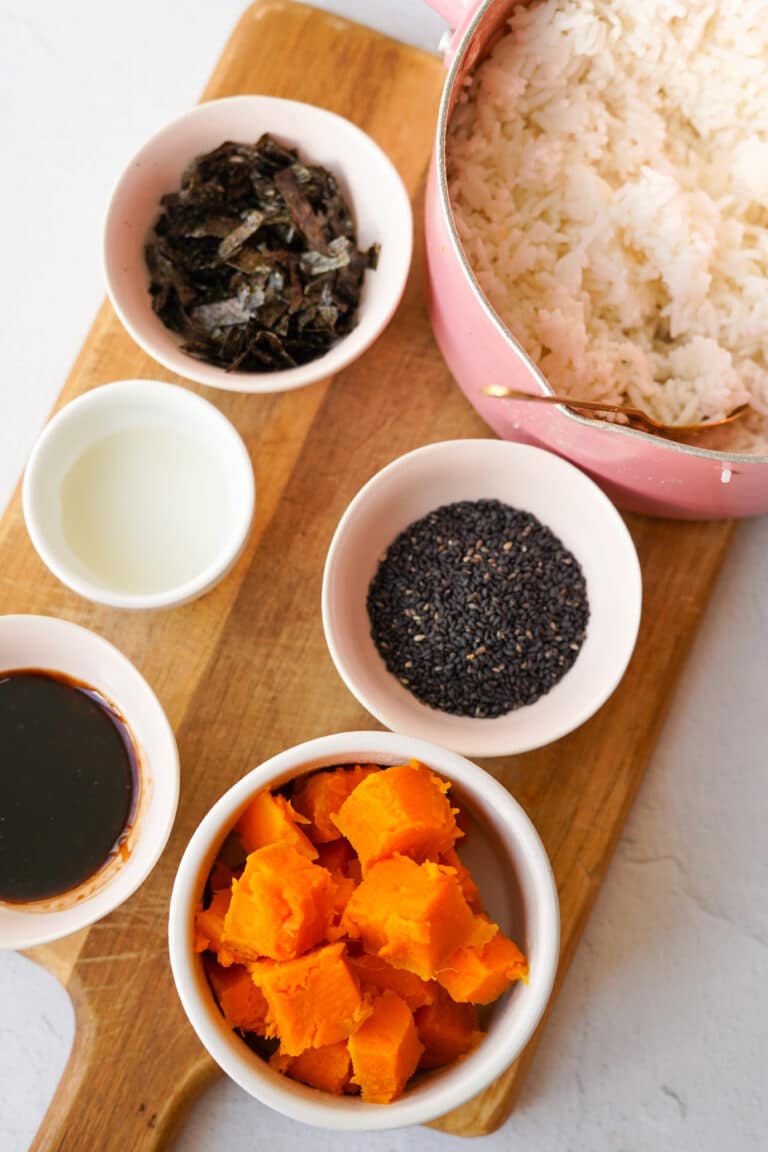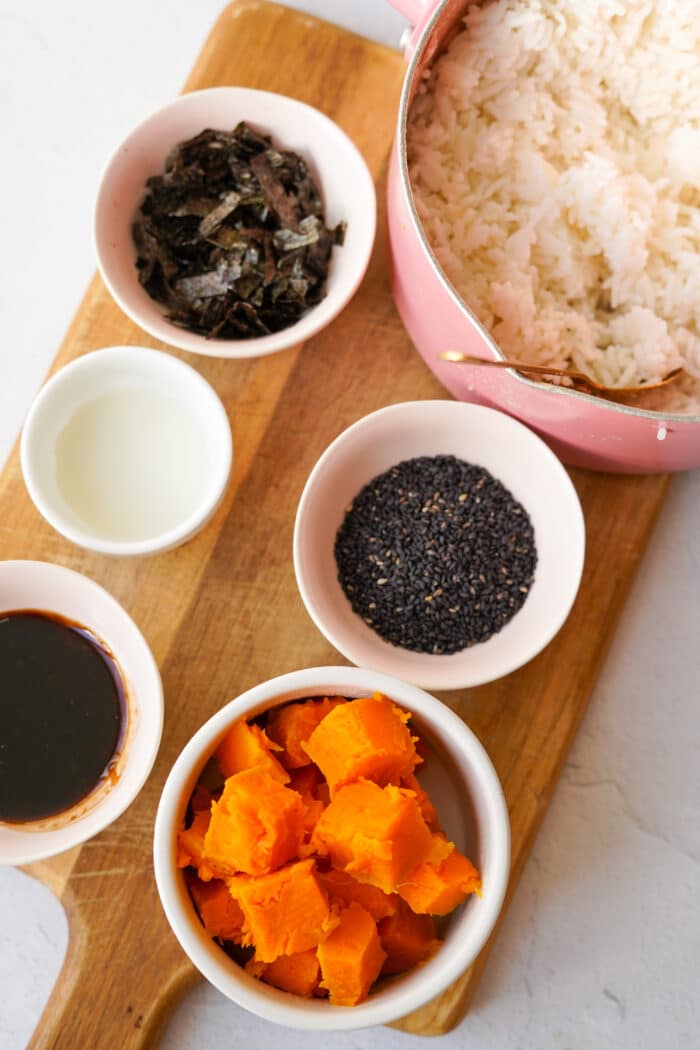 How to Make This Recipe
First, cut your sweet potato into cubes and roast them in the oven until soft. Alternatively, you can pierce the skin of the sweet potato and microwave it, before cutting the "flesh" into cubes.
You'll need some leftover white rice to make sure your rice balls stick nicely together. Heat a pan over medium heat, then add the leftover rice and combine it with hoisin sauce, rice vinegar and nori. Let the rice cool down enough to handle.
Time to form your sushi inspired rice balls! In a small saucer, add 1 to 2 tablespoons of rice, make a divot in the middle. Place a cube of sweet potato in the centre, and then layer another 1 to 2 tablespoons of the rice on top.
With wet hands, press the rice around the sweet potato until you have a firm rice ball. Repeat until you use up the rest of the ingredients.
Heat a non-stick pan over medium heat. Grill the rice balls until they are slightly toasted on all sides. Finally, coat each rice ball in black sesame seeds and enjoy dipped in soy sauce!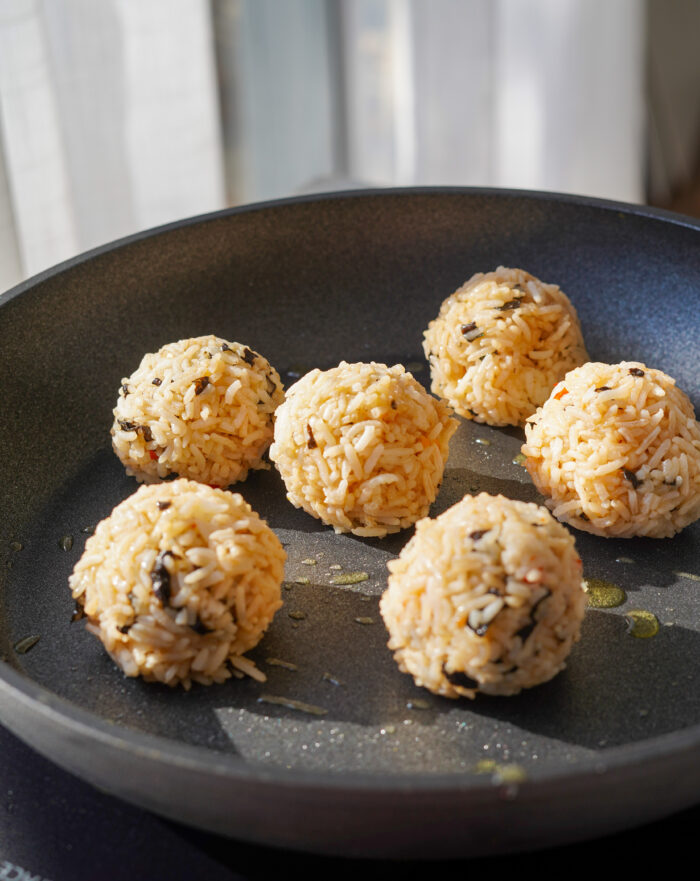 Hack It!
Depending on what you have in your fridge or even pantry, you can stuff your rice balls with virtually anything. It's a scrappy recipe, after all… Some of my favorites include tofu, avocado, cucumber and more.
While soy sauce is a traditional accompaniment to sushi, you can dip your rice balls into the sauce of your choosing. Try them with peanut sauce, hoisin sauce, or sweet chilli!
The reason this recipe calls for white rice is because it allows it to stick together unassisted. Brown rice doesn't usually hold shape quite so well, but you are welcome to try!
If you have a sesame allergy, you can coat your rice balls in crushed peanuts, toasted breadcrumbs or crispy onions instead.
Other Recipes You'll Love
If you're new to meal prepping, check out the PlantYou Planner! If you like the sound of meal prepping nutrient-dense plant-based meals, but need a little more guidance, we release curated meal plans for the members every month. You can also create your own CUSTOM MEAL PLAN drawing inspiration from our huge database of recipes. Plant-based eating has never been easier!
And if you haven't got a copy of the PlantYou Cookbook yet, you better hurry while the stocks last! The book features over 140 recipes for every taste and every occasion. Truly, this is the book I wish I had when I first transitioned to being plant-based. It's so easy to navigate, and bursting with colors! Dare I say, it would make a great Christmas gift…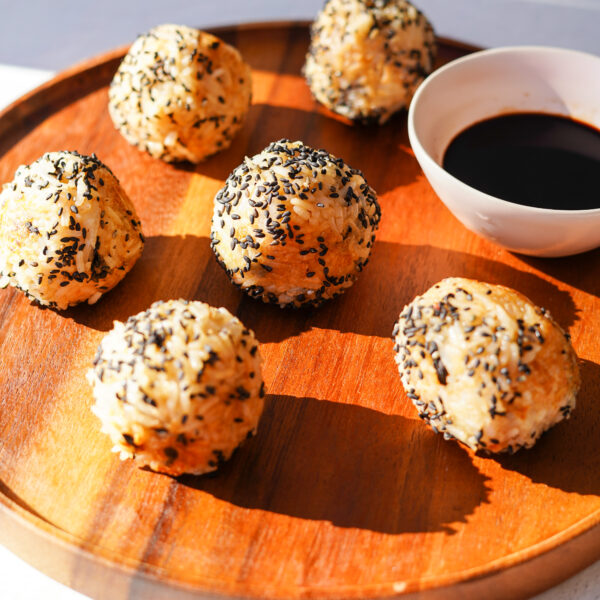 The Recipe: Sushi Inspired Rice Balls
A great way to use up leftover rice and enjoy traditional sushi flavors inspired by Korean Jumeokbap or Korean Rice Balls.
Ingredients
1 ½ cup cooked white rice
1 tbsp hoisin sauce
1 tsp rice vinegar
1 nori sheet, crumbled
3 tbsp black sesame seeds
1 small sweet potato, cooked, cut into 1 inch cubes
Instructions
In a pan over medium heat, combine the leftover rice with the hoisin sauce, rice vinegar and nori sheet.

In a small saucer, pack 1 to 2 tablespoons of rice, and then make a divot in the center. Place the sweet potato in the centre of the rice, and then layer 1 to 2 more tablespoons of the rice over top

Wet your hands, then transfer the rice "ball" into your palms. Pack the rice around the sweet potato until a firm tight ball is formed. Repeat until all of the rice and sweet potato is combined.

Heat a pan over medium, and grill the rice balls until slightly toasted on each side. Pour the sesame seeds on a plate, and roll each of the rice balls in the seeds until slightly covered.

Enjoy with soy sauce immediately.
Calories: 112.8kcal, Carbohydrates: 20.8g, Protein: 2.5g, Fat: 2.2g, Saturated Fat: 0.3g, Polyunsaturated Fat: 1g, Monounsaturated Fat: 0.8g, Cholesterol: 0.1mg, Sodium: 65mg, Potassium: 164.2mg, Fiber: 1.8g, Sugar: 2.3g, Vitamin A: 5366IU, Vitamin C: 1.1mg, Calcium: 55.4mg, Iron: 0.9mg