Cranberry Butter
If you love cranberries, you will love this marmalade-esque cranberry butter. It goes perfectly with toast, oatmeal, and more.
Have you ever wondered why cranberries are so heavily featured in Thanksgiving and Christmas meals? That's because in North America and parts of Europe the cranberry season is mid-autumn to early winter. Starting in late September, cranberries reach their peak in color and flavor, ready for harvest.
As well as serving a mean cranberry sauce or Christmas potpourri, you can make this incredible, aromatic cranberry butter.
Why You'll Love This Recipe
After making this recipe, your kitchen (or even your entire house) will smell amazing.
You can use this cranberry butter on virtually anything! Spread it on your morning toast, add it to your oatmeal, drizzle it on top of yogurt… YUM!
This is one of the easiest recipes you'll ever make. It only takes 5 ingredients, and most of the cooking process is hands-off.
It lasts! If you manage to get your hands of a large batch of cranberries while they are in season, this is a great way to use them.
How to Make This Recipe
You really don't need any special equipment or cooking experience to make this cranberry butter. It couldn't be easier!
Just add cranberries, orange juice, maple syrup, water and cinnamon into a pot large enough to accommodate all ingredients.
Bring the contents to a simmer and cook everything together for one and a half hours over low heat until the berries are soft.
Finally, blend everything together with an immersion blender until you have a smooth "butter" and enjoy!
Hack It!
If you pour your cranberry butter into jars while it's still hot, the cooling down process will seal the jars and preserve this spread for longer. Make sure the jar (or jars) is sanitized before you start.
I don't know about you, but I am a big fan of spice. A kick of chilli goes surprisingly well with sweet jams and jellies. You can simmer a whole chilli pepper with your cranberries to add some heat to your cranberry butter. It's up to you whether you want to take it out before blending it.
You can use this recipe in place of cranberry sauce with your Thanksgiving dinner or Christmas feast.
It also makes a perfect breakfast item! Enjoy it with toast, yogurt, oatmeal, pancakes, and more.
Other Recipes You'll Love
If you're looking for a perfect Christmas present, it's not too late to stock up on a few copies of the PlantYou Cookbook. The book features 140+ healthy plant-based recipes for every taste and every occasion. Inspire your friends and family to eat more wholesome, varied meals every day of the year!
And if you want to make plant-based living as easy as possible in the upcoming year, why not treat yourself to a PlantYou Planner subscription? With over 600 recipes in its database, the planner allows you to customize your weekly menu, toggle the number of servings, and more!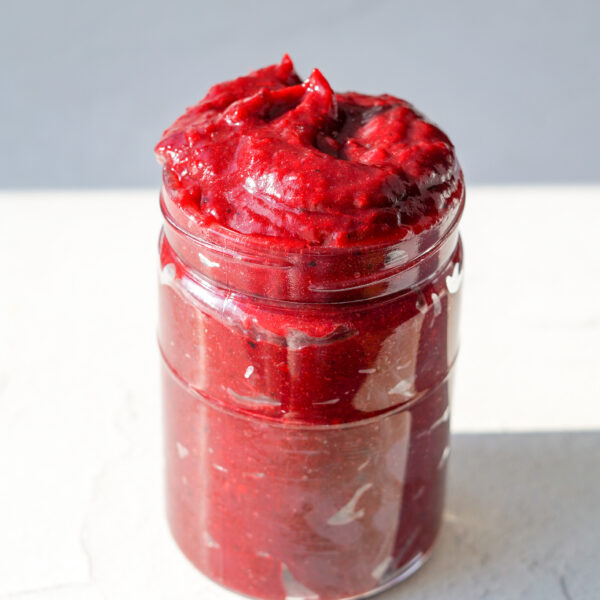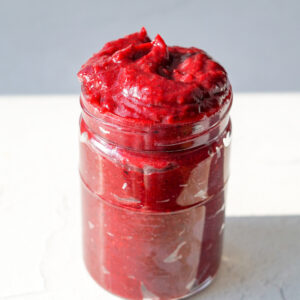 The Recipe: Cranberry Butter
An easy-to-make, aromatic spread made with seasonal winter berries!
Ingredients
36 oz cranberries, fresh
2 cinnamon stick
1 orange, juiced
1 cup maple syrup
½ cup water
Equipment
large pot

Immersion blender
Instructions
Combine all ingredients in a large pot. Bring to a boil, then simmer over low heat for 1 1/2 hours, until the cranberries are soft. 

Remove the cinnamon sticks. Using an immersion blender or a countertop blender, combine the cranberries until a smooth "butter" is formed. Serve with toast, over yogurt and more. Store in the fridge for up to one week, or use safe canning procedures to can this recipe for months.
Calories: 117.4kcal, Carbohydrates: 29.8g, Protein: 0.5g, Fat: 0.1g, Saturated Fat: 0.01g, Polyunsaturated Fat: 0.05g, Monounsaturated Fat: 0.02g, Sodium: 4.6mg, Potassium: 149.4mg, Fiber: 3.5g, Sugar: 20.7g, Vitamin A: 76.5IU, Vitamin C: 17.7mg, Calcium: 43.6mg, Iron: 0.3mg