Christmas Potpourri
This Christmas Potpourri recipe will transform your home for the holidays. It takes just five minutes and one pot to make your home smell like a Christmas wonderland.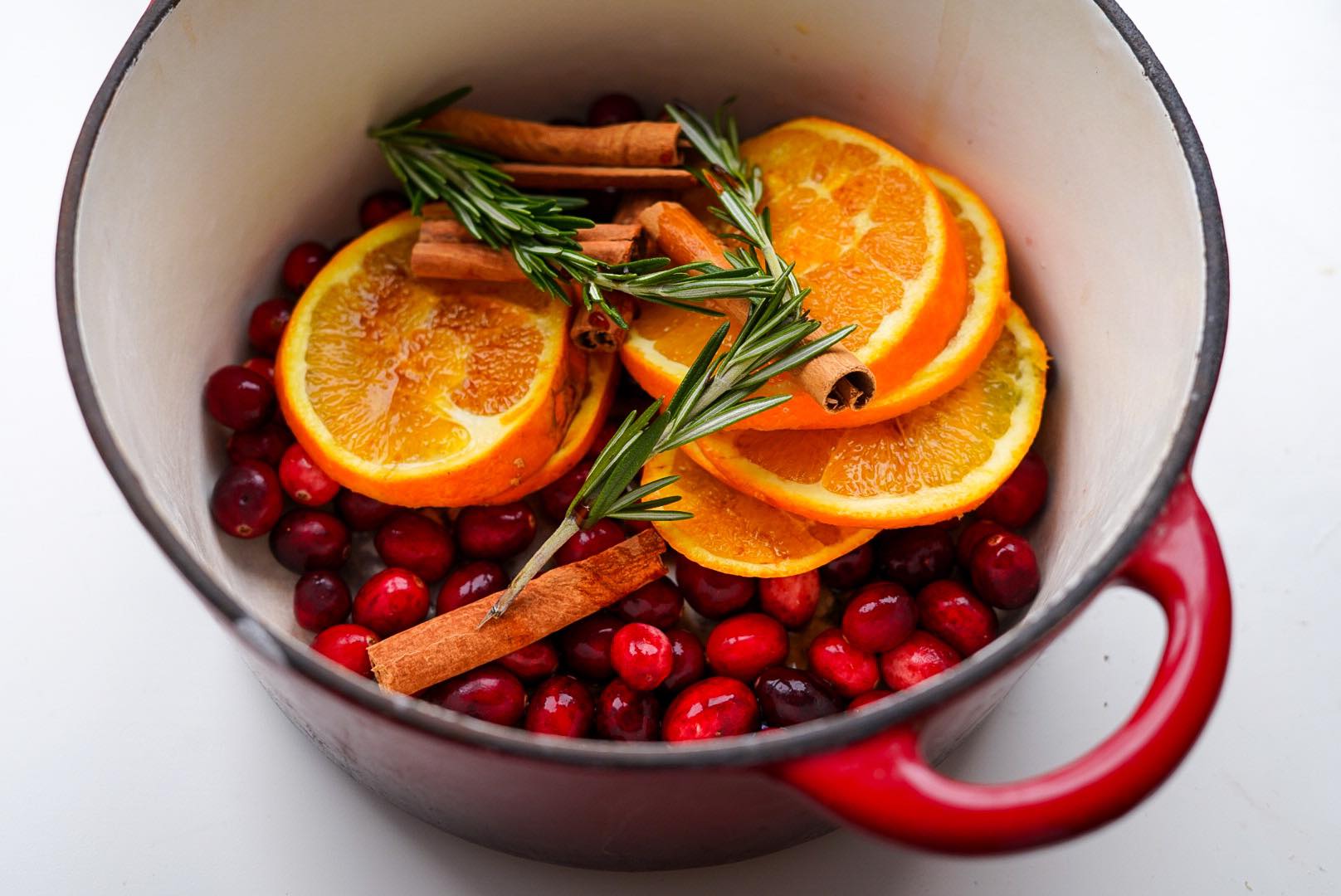 If you want your home to smell Christmassy, look no further than this easy Christmas Potpourri recipe. I can't imagine a scent more reminiscent of the holidays than cinnamon, fresh orange and cranberries simmering over the stove.
This potpourri can double as the perfect holiday gift or a quick natural air freshener for your home.
Why You Will Love This Potpourri Recipe
Once you make this potpourri recipe once, you'll want to make it for every festive holiday or party! Here's why:
It's Insanely Easy: This recipe, once you secure all the ingredients, literally takes 5 minutes and dirties one pot only. What could be better than that?!
It Leaves Your House Smelling Amazing For Days: You can make this potpourri once, and leave it simmering on low on your stove for the day. When you wake up in the morning, fill the pot with water again and let the amazing Christmasy scent overtake your home. This can last up to four days.
You Can Gift It: Throw all in the ingredients needed to make this Holiday Potpourri in a jar and gift it to a friend or family member. It's the ultimate DIY thoughtful Christmas gift that will make your friend or fam's home smell like a dream.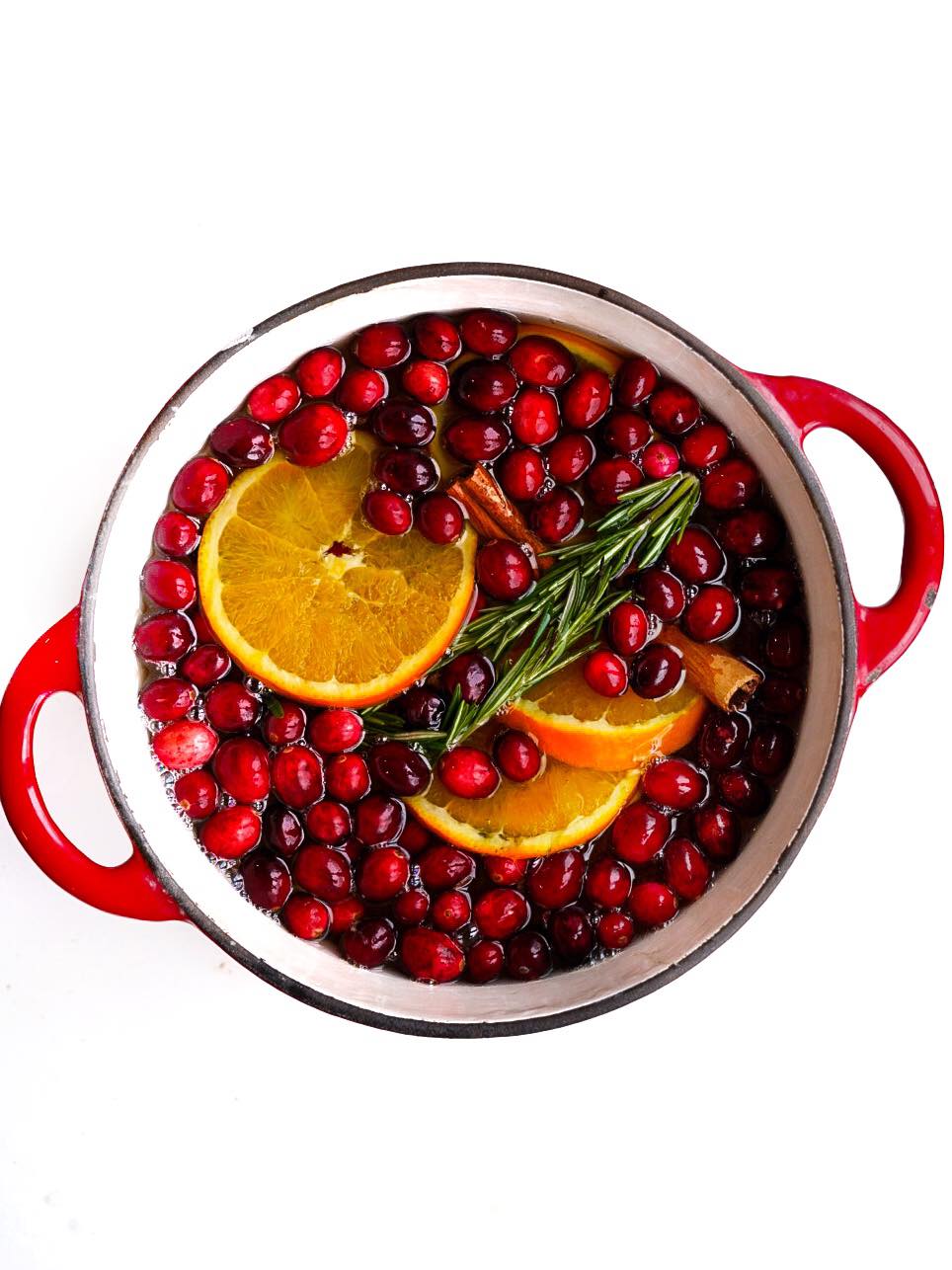 What Do You Put In Christmas Potpourri?
This potpourri recipe is super quick and uses just five really simple ingredients you can find at your local grocery store.
This includes:
Fresh cranberries: You can usually find these in the veggie and fruit section of your grocery store around Christmas time
A navel orange: You'll be slicing this and throwing it in the pot as well. Just about any orange will do the job.
Fresh rosemary: Gives off an intoxicating scent. Use a few sprigs and save others for your holiday meal (like stuffing)!
Cinnamon Sticks: No explanation needed! The smell of cinnamon just screams holiday magic.
Vanilla extract: Adds an extra layer to this easy potpourri recipe with a scent of vanilla. Pure is best, but the artificial stuff is just fine too.
How Do You Make Potpourri?
To make potpourri, simply gather your ingredients including the cranberries, navel orange, rosemary, cinnamon sticks and vanilla extract.
Place in a pot or dutch oven piece by piece. Snap a pic before you pour water over top because it just looks so festive!
Pour in water to the brim. Then place on the stove and bring to a boil. Lower the heat and allow to simmer on the stove and waft into the air. Refill the water as needed every morning for up to 4 days.
Other Vegan Christmas Recipes You'll Love!
The Recipe: Christmas Potpourri
A holiday potpourri recipe that will make your home smell like Christmas, with cranberries, rosemary, cinnamon, vanilla and orange slices.
Ingredients
1 ½ cups fresh cranberries
1 orange, sliced
2 sprigs rosemary
4 sticks cinnamon
1 tsp vanilla extract