Vegan Red Curry Soup
A fun twist on traditional red curry, Vegan Red Curry Soup with sweet potatoes and brussels sprouts.
Is the winter blues starting to get to you? A batch of this vegan red curry soup will do the trick. This curry soup is vegan, gluten-free, and oil-free. It is super simple to make, and only requires 1 pot, a sheet pan, and a blender.
Plus, the curry flavor is very comforting. This soup is excellent to enjoyed on a cold winter's night when you want to make something warm, delicious, and easy.
This soup also makes for a great leftover lunch, or you can just freeze it for a rainy day.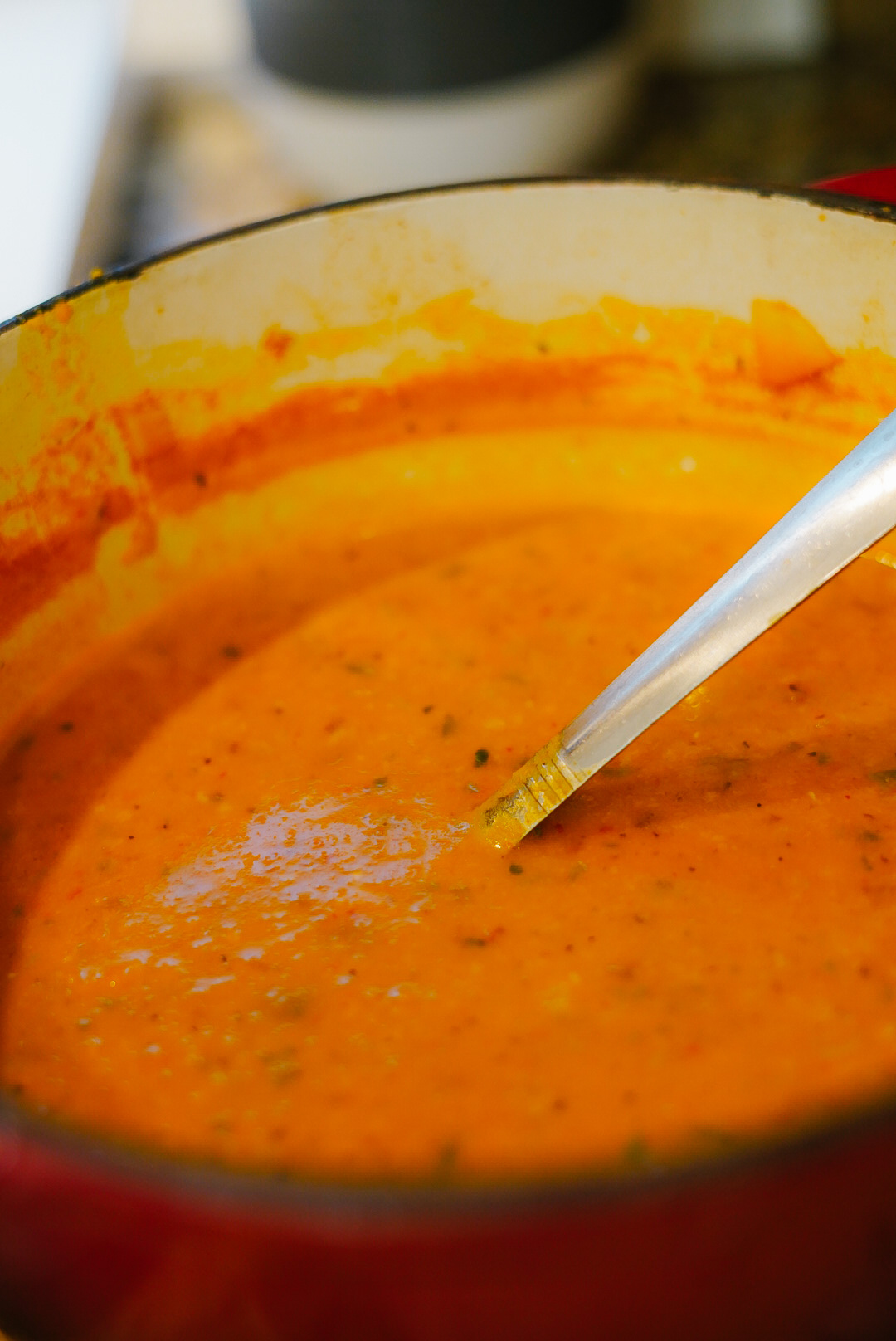 What is curry?
Traditionally, curry is an Indian dish that packs a lot of exciting flavors. Vegan curry is made with red curry paste, coconut milk, chickpeas, and fresh veggies like sweet potatoes and spinach.
I love red curry, which is why I wanted to switch it up and make it into a warming soup for the wintertime.
What's in this soup?
The base of the soup is made with vegetable broth and red curry.
In addition, it has red curry paste and almond milk to give the delicious red curry flavor, and to add a little extra nutty zing, peanut butter, and lime juice.
This soup is loaded with veggies like sweet potatoes, red bell peppers, onions, and brussel sprouts. And as for spices, all you need is ginger and some garlic.
How to make Vegan Red Curry Soup?
This vegan red curry soup is a breeze to make. First, you'll need to roast your sweet potatoes and red bell peppers in the oven for about 20 minutes at 400 degrees.
While that is roasting, you can saute the garlic and onions until translucent. Add in the red curry paste and stir until the garlic and onions are fully covered.
Once the roasted veggies are done, add them to the pot along with the vegetable broth, almond milk, peanut butter, ginger, salt, and brussels sprouts.
Give it a good stir and let it simmer for about 10 minutes. After that, take your immersion blender (or put about half of the soup in a regular blender) and puree 'til about half the soup is smooth.
Separate it into bowls and garnish with fresh cilantro and peanuts for that final touch.
Why you're going to love this vegan red curry soup!
You can sneak in lots of veggies! This vegan red curry soup has an excellent flavor from the red curry paste and peanut butter that masks the veggies' taste. So if you have a picky vegetable eater in your life, this soup will be perfect for them.
You can make this soup in about 30 minutes and it requires minimal dishes. It's so effortless.
And It's very versatile, too. However the soup tastes fantastic with these veggies, don't be afraid to get creative and use whatever you happen to have on hand. Because many of the ingredients are shelf-stable, this is a great option to use any veggies you have leftover.

Is Red Curry Soup spicy?
The spice level mostly depends on the brand of red curry paste you decided to use. The one I like is not spicy, but you can add-in sriracha or red chili's to amp up the taste buds.
More plant-based soup recipes to enjoy
Healing Lentil, Potato and Kale Soup
The Recipe: Vegan Red Curry Soup
This soup is delicious and filled with vegetables! Perfect anyone that is looking for a vegan, gluten-free and oil-free soup recipe.
Ingredients
2 sweet potato, chopped into small cubes, approximately 3 cups
2 red bell pepper, diced
3 cloves garlic, minced
1 onion, chopped
2 cups brussels sprouts, quartered 
2 tbsp red curry paste
1½ cups almond milk
½ tsp ground ginger
1 tbsp peanut butter
3½ cups vegetable broth
1 lime, freshly squeezed 
Instructions
Preheat the oven to 400F. Place sweet potato and bell pepper in the oven for 20 minutes, until they're both tender and tasty. 

In the meantime, heat the onion and garlic until translucent, approximately 5 minutes. Add the red curry paste and stir 'til fully covered. 

Add the roasted vegetables to the pot, along with the vegetable broth, vegan milk, peanut butter, ginger salts, and brussels sprouts. Stir and simmer over medium heat for about 10 minutes. 

Using an immersion blender, puree the soup until half is blended smooth. Garnish with fresh cilantro and peanuts. Voila!