Vegan Cabbage Soup Recipe
This Vegan Cabbage Soup Recipe is a light, flavorful detoxing soup recipe that comes together in less than 40 minutes using simple, whole-food, plant-based ingredients.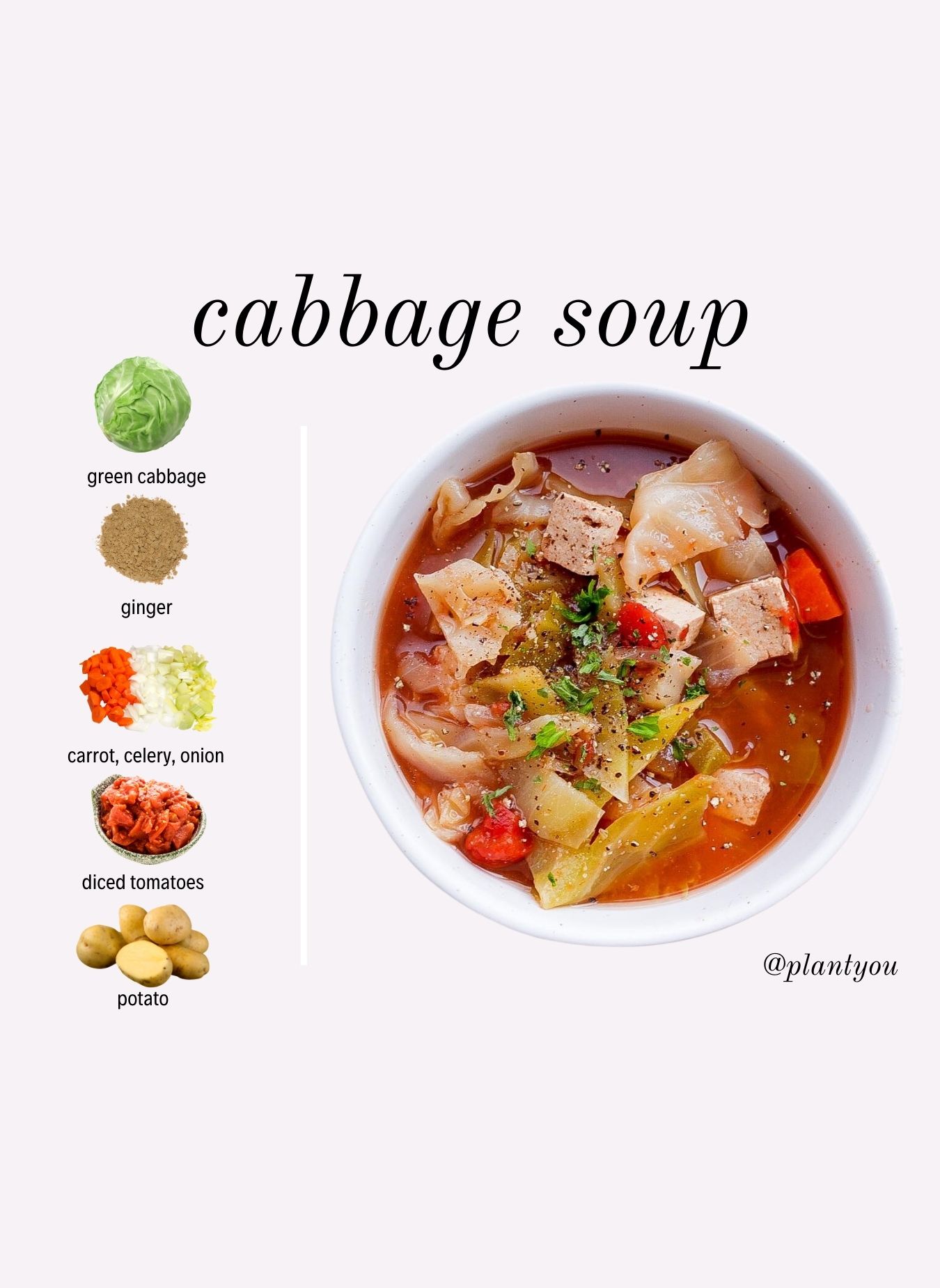 I'm obsessed with this vegan cabbage soup recipe. I've made it two weeks in a row, because it's just so soul warming, nourishing and uses really affordable plant-based ingredients.
The best part of this cabbage soup is the deep flavor, achieved by a combination of detoxing spices like ginger, garlic and oregano. When these spices meld with the heartiness of cabbage, potato, carrot, celery and onion you've got a soul warming soup that will get you through the cold winter nights.
What's In This Soup?
This Vegan Cabbage Soup Recipe is whole-food, plant-based (wfpb) compliant, oil-free, nut-free and gluten free, so it will satisfy almost all diet types!
To make this soup, you need some simple plant-based ingredients you can find at just about any mainstream grocery store.
Green Cabbage: We would recommend green cabbage as the main ingredient in this soup recipe, as unlike purple or red cabbage, it won't dye the broth a purple color. Really – just about any cabbage will work but we like green cabbage the most.
Carrots, Onion & Celery: The main components of any good soup recipe. We like to dice the carrot, onion and celery fine before adding to this flavorful soup.
Ginger, Garlic & Oregano: The ginger and garlic gives this soup a deep and delicious flavor, and also adds to its detoxing quality. You could add other spices like dried basil, cumin and italian seasoning if preferred.
Yukon Gold Potatoes: Along with the cabbage, finely diced yukon gold potatoes give this cabbage soup a heartiness perfect for a dinner or lunch recipe.
Diced Tomatoes: To up the flavor of this soup we love adding a cup of canned diced tomatoes. You could use fresh crushed as well!
Tofu: This is a completely optional add-in, but we love the protein hit and additional heartiness that chopped extra firm tofu adds to this cabbage soup. You could also use chickpeas, green peas or white beans if preferred, or simply omit.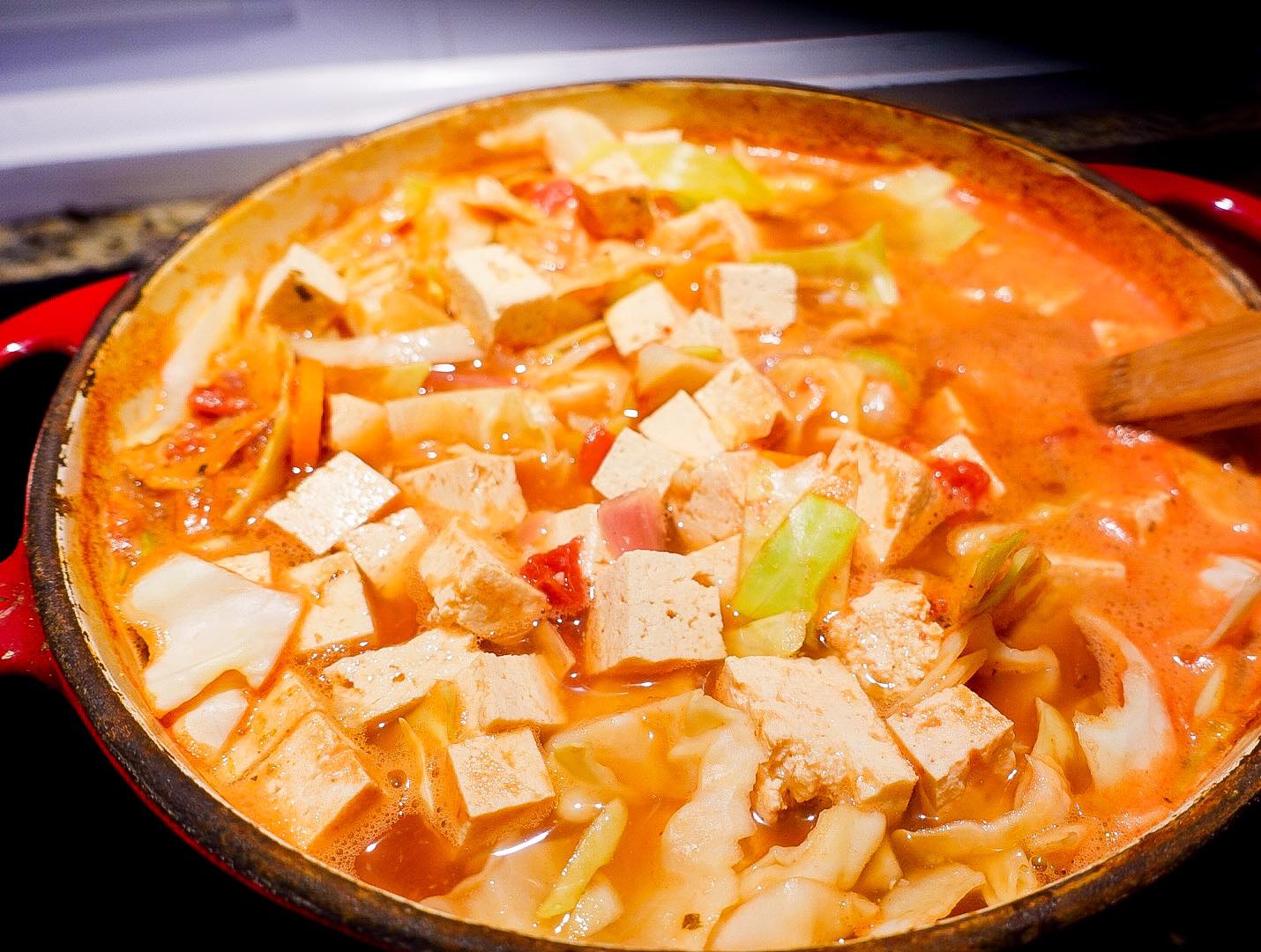 Is Cabbage Soup Healthy?
Honestly – I can't think of any recipe much healthier than this Vegan Cabbage Soup. It contains a large diversity of plants and aromatic spices that are great for you, and is naturally low in calorie because of the whole-food ingredients.
Cabbage in itself is a nutrient dense and fiber rich food that is great to integrate into any diet protocol.
Cabbage contains nearly 20 different flavonoids and 15 different phenols, supporting antioxidant activity in your body. Not to mention the nutrient density of the ginger, garlic, celery, carrot, onion and potatoes all packed into this savory soup!
For other healthy plant-based soup recipes, you must check out some of these plantyou favorites:
Vegan Tomato Soup Recipe With Red Lentils & Cashews
Vegan Chicken Noodle Soup (With Tofu, Kale and Mushrooms)!
Creamy Vegan Tomato Soup With Coconut Milk
Healing Lentil, Potato and Kale Soup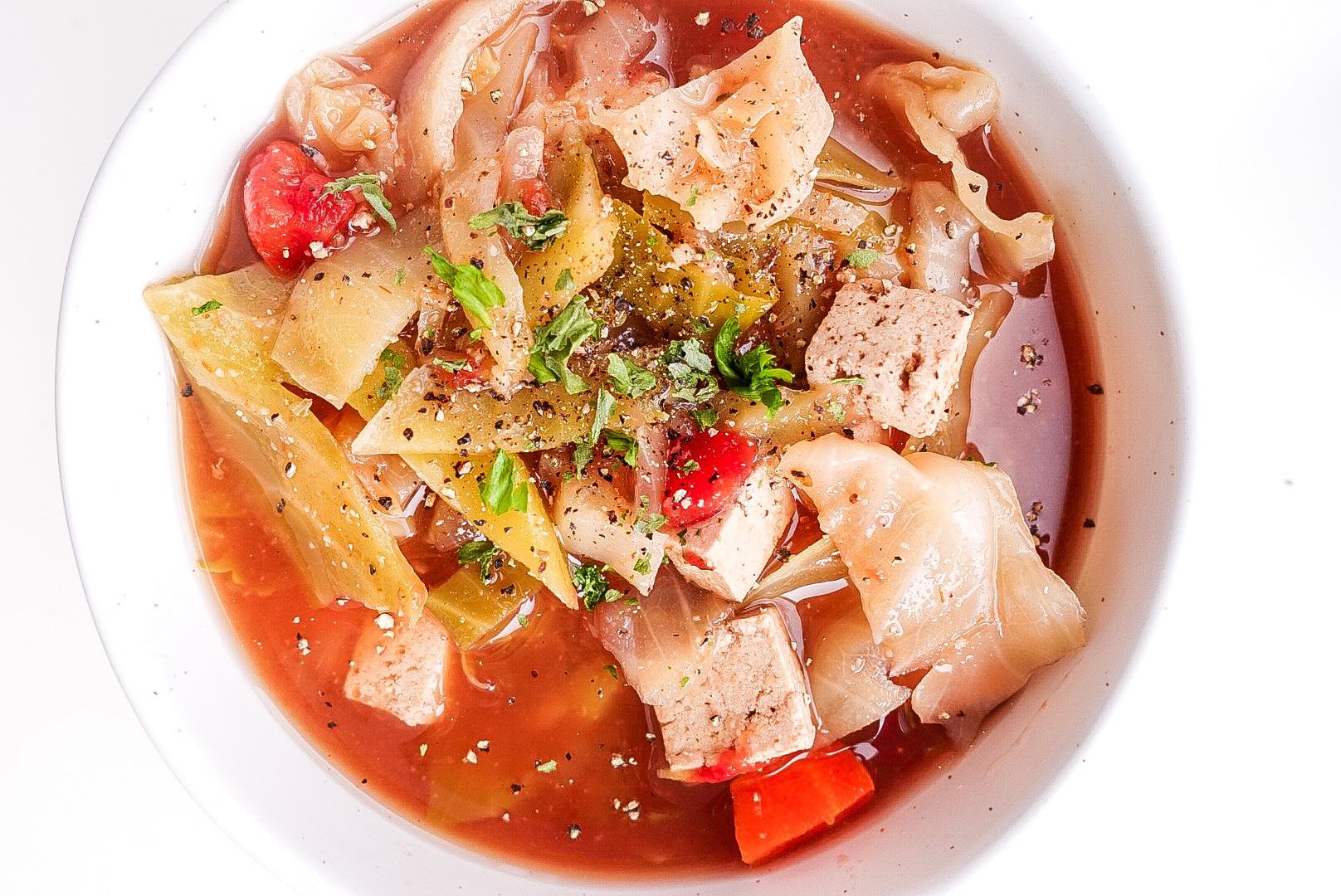 Can You Make This Cabbage Soup Spicy?
I'm spice obsessed, but my partner not so much. To make this cabbage soup spicy, I like to add a few squirts of sriracha to my serving and it does the trick.
If everyone in your household is a spice lover, you can add a teaspoon of red chili flakes to this soup. Alternatively, a teaspoon of sriracha in the broth can amp things up. Just remember to taste as you adjust the spice level so you don't take things too far.
If you do add sriracha, I also love to garnish this soup with crushed peanuts. It really gives it an Asian flavor profile that is insanely delicious!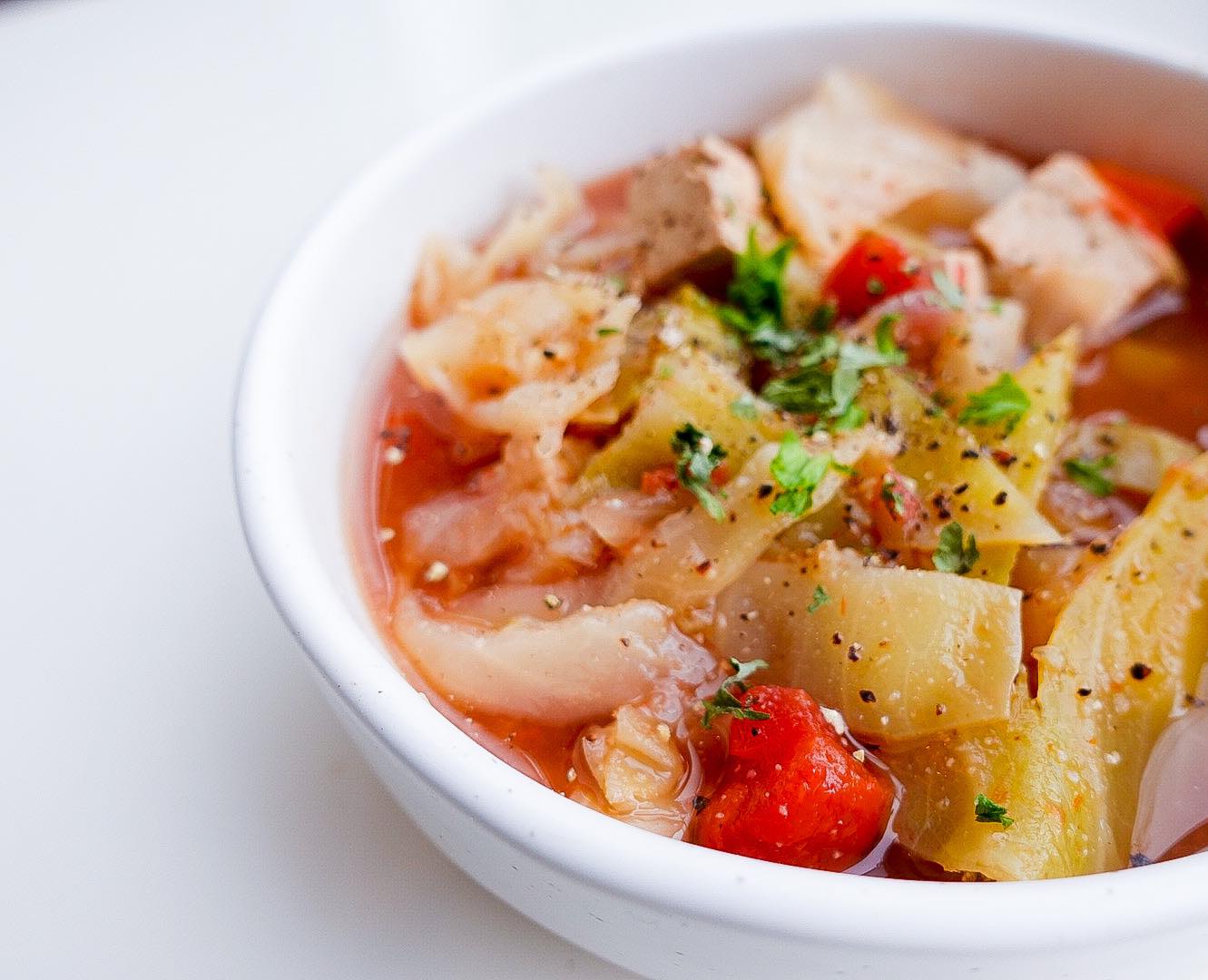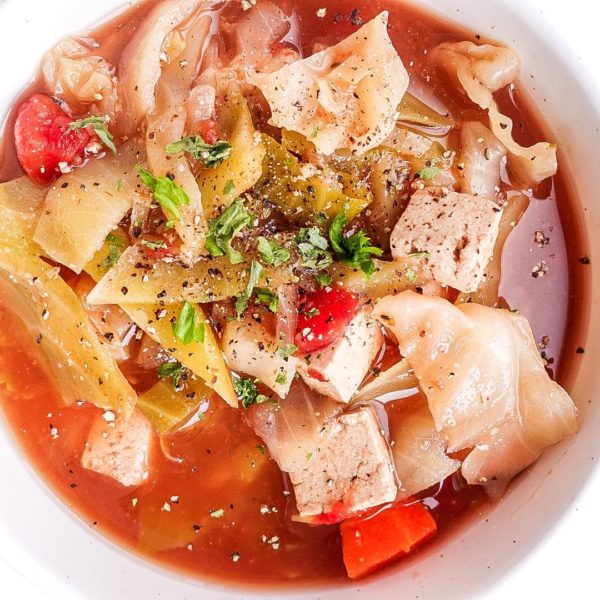 The Recipe: Vegan Cabbage Soup Recipe
This Vegan Cabbage Soup Recipe is a light, flavorful detoxing soup recipe that comes together in less than 40 minutes using simple, whole-food, plant-based ingredients.
Ingredients
4 cloves garlic
4 yukon gold potatoes
2 carrot, diced
2 ribs celery, diced
1 yellow onion, diced
1 tsp oregano
1 tsp ginger
1 ½ tsp garlic powder
8 cups vegetable broth
1 ½ cups diced tomatoes, canned
½ green cabbage, finely chopped
500g extra firm tofu, pressed and chopped
Instructions
Add garlic and onion to a pot over medium heat and cook until translucent, approximately 3 minutes.

Add the potatoes, carrots, celery and spices to the pot, stir and cook for an additional 5 minutes until soft.

Add the vegetable broth, diced tomatoes and cabbage to the pot. Bring to a boil, then simmer for 25 minutes until everything is cooked through. Add the tofu in at the end if desired.