Vegan Lasagna Soup Recipe (Gluten Free & Oil-Free)
One of my favorite cold weather comfort meal is vegan lasagna soup!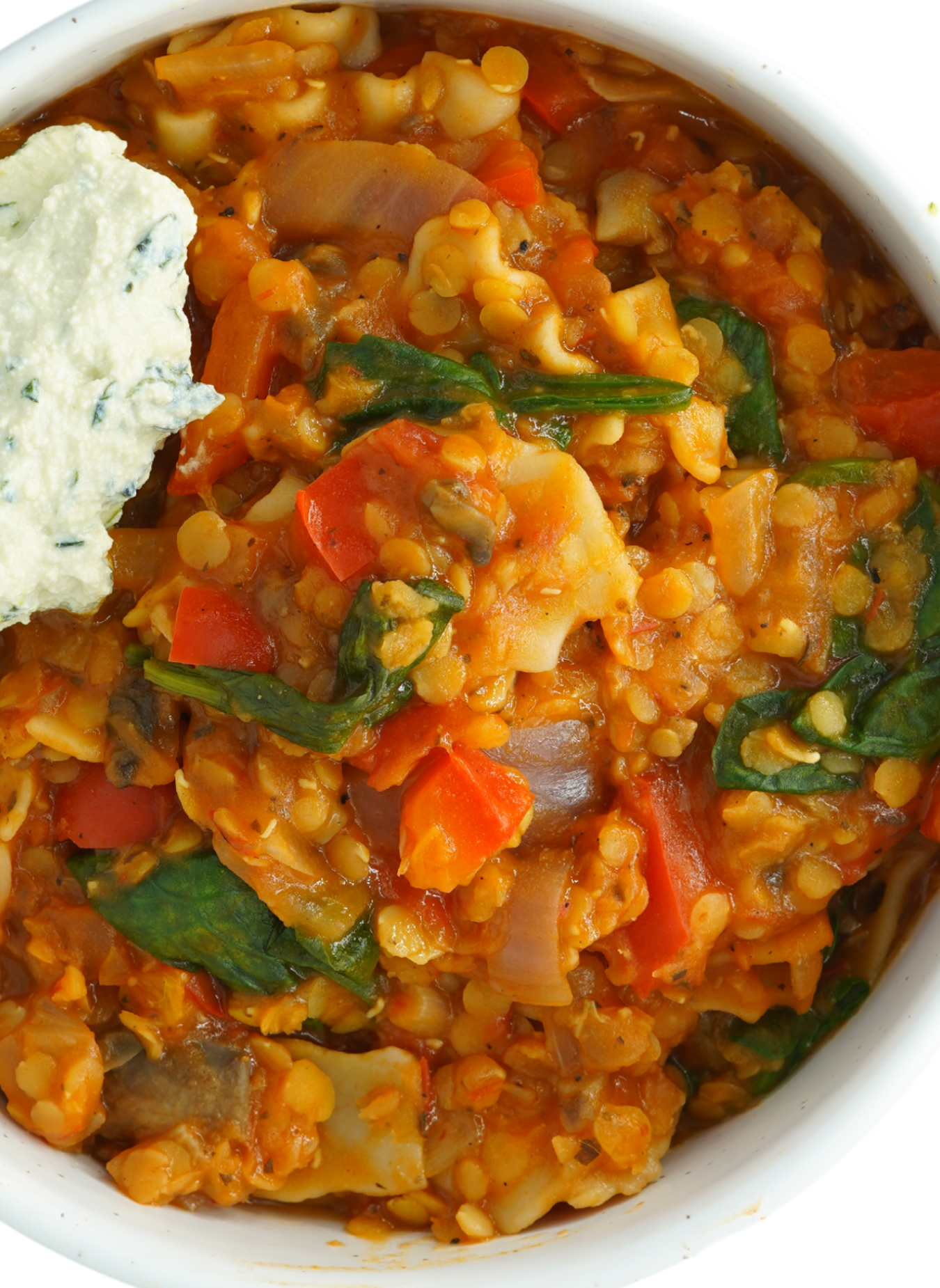 Lasagna is time-consuming to make from scratch, so I don't make it very often. But that all changes with this vegan lasagna soup recipe.
This soup packs all the delicious and comforting flavors of a regular vegan lasagna, but without all the mess in the kitchen. Instead of a few hours of preparation, this soup only takes about 30 minutes.
It is super easy to make, and you can customize it any way you want by adding extra veggies or kicking up the spice.
Why You'll Love Vegan Lasagna Soup Recipe
It is super easy to make. You can get all of the lasagna flavors without all of the preparation. Plus, it is one pan, which makes for an easy clean-up.

It has a variety of vegetables like bell peppers, tomatoes, and onions.

Mushrooms are a great source of antioxidants, protein, and fiber.

Lentils are an excellent source of protein and iron.

It is gluten-free and oil-free, so you can easily accommodate all diets.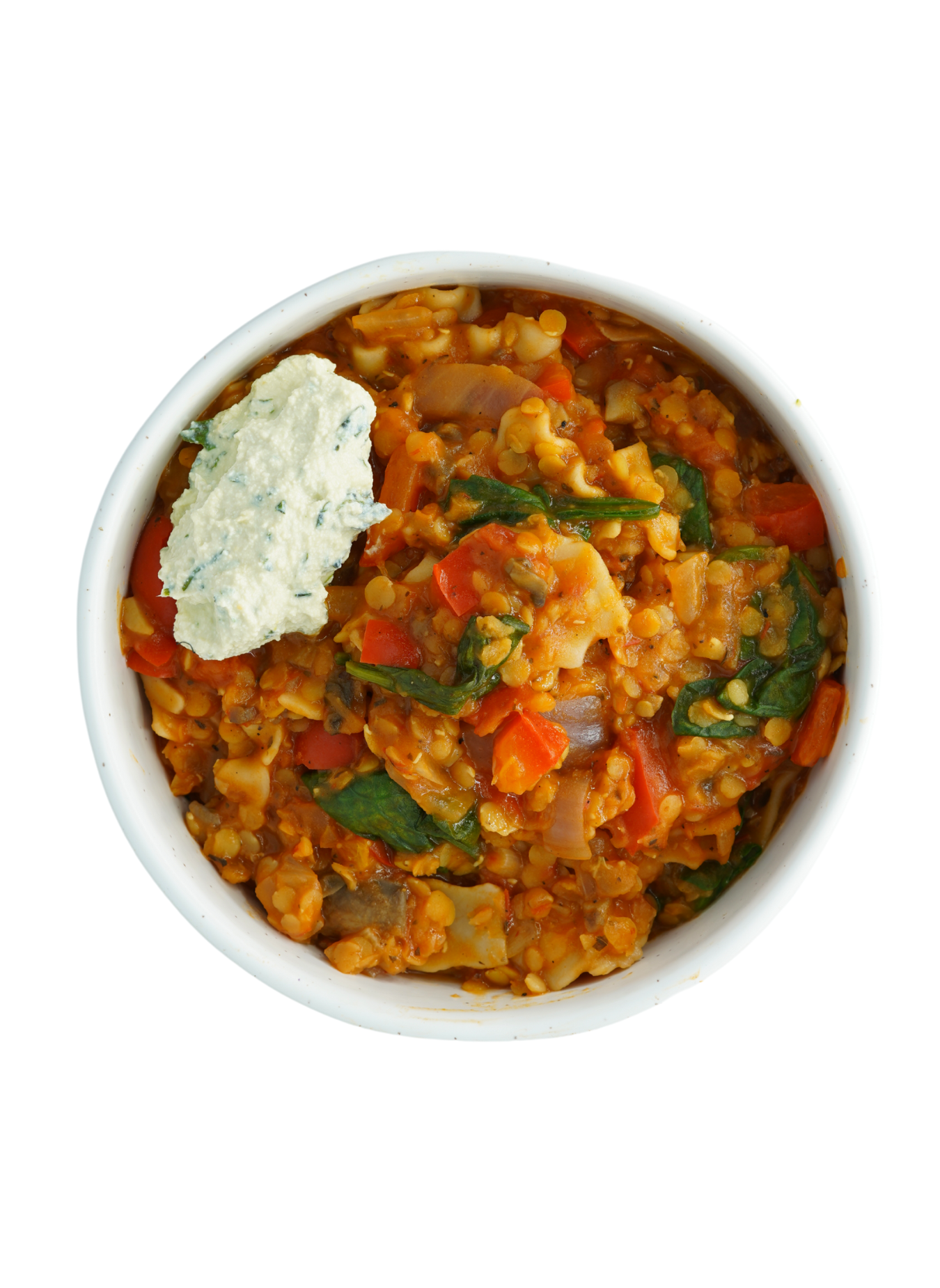 How To Make This Tasty Lasagna Soup
In your dutch oven or a large pot, start heating your garlic with 1-2 tablespoons of water. Once that starts cooking, add in all of your vegetables including the cherry tomatoes.
Let the vegetables soften for about 5 to 7 minutes, and then add in your lentils, water, and tomato sauce. If your tomato sauce does not have any seasonings in it, add in some Italian seasonings too.
Mix everything together and bring it to a boil. Once it is boiling, break-up your lasagna noodles and add them to the soup.
Cover the soup and let it simmer for about 15 to 20 minutes, or until the lasagna noodles and lentils are fully cooked.
Once they are cooked, add in your spinach and let it wilt, mixing the soup well. Serve this soup with basil, red pepper flakes, and/or nutritional yeast on top.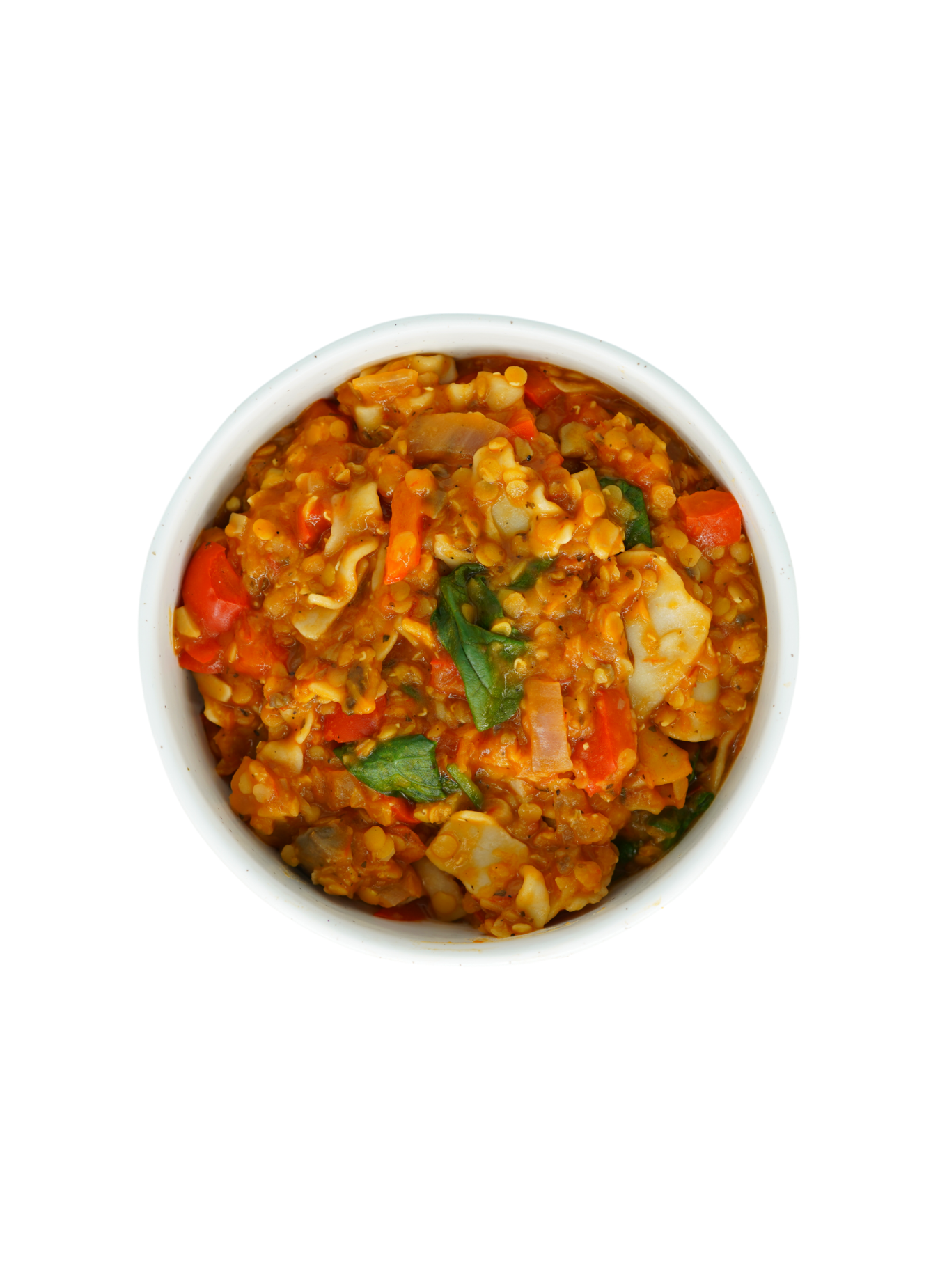 Hack This Recipe
Soup is so fun because you can't really mess it up! This soup can be amped up easily to your taste, try out these hacks:
Amp up the flavor: Top this recipe with some vegan mozzarella or cashew cheese ricotta for a flavor boost.
Kick up the spice: Add in red pepper flakes to give it an extra kick.
Amp up the nutrients: Add in extra veggies, like eggplant, zucchini, or kale to give it an added nutrients boost.
Serve With Vegan Cream Cheese: Find the recipe here.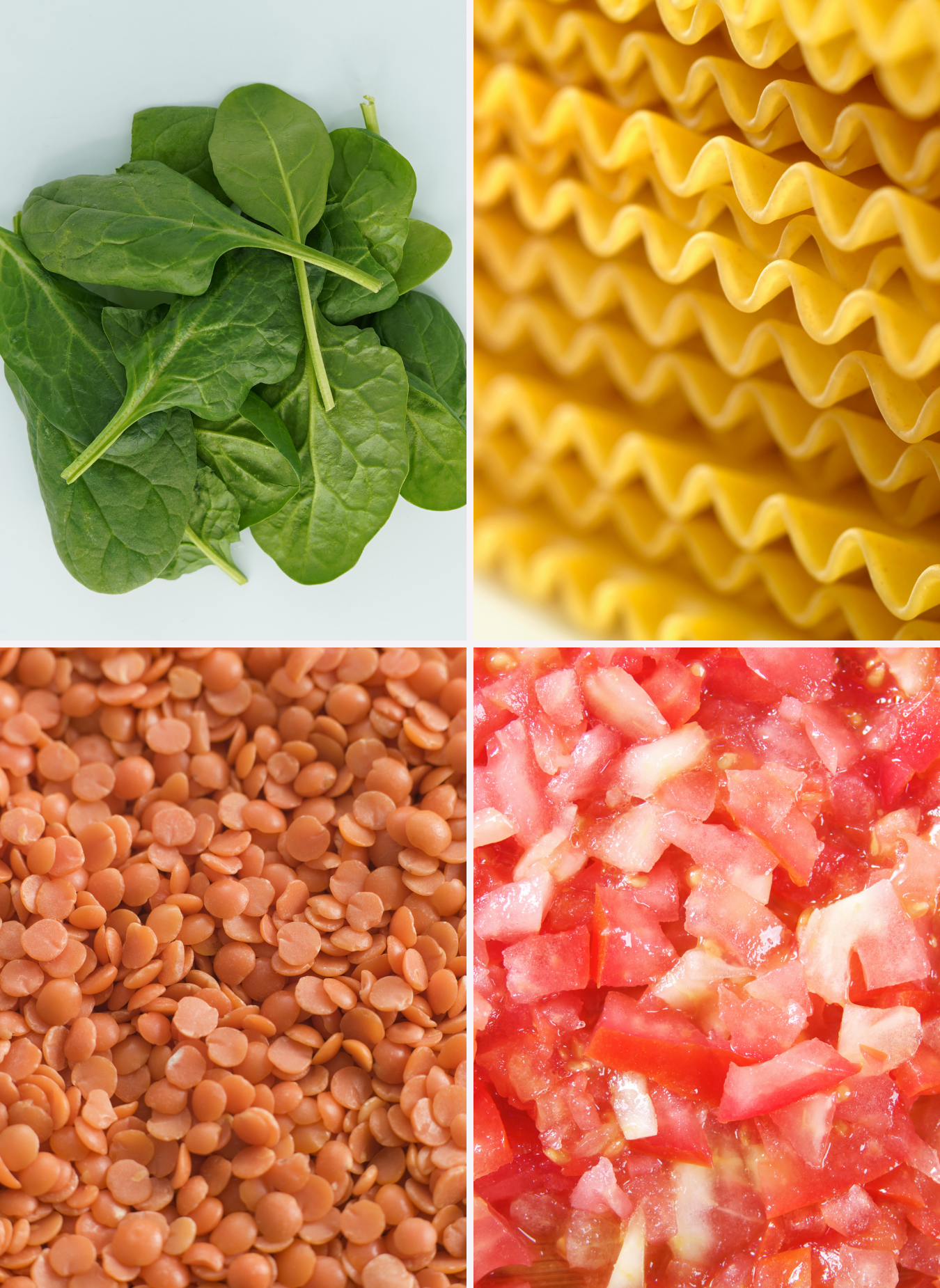 Equipment We Use For This Lasagna Soup Recipe
I have to tell you about my all-time favorite Dutch Oven, I use it for most all my soup recipes. I've linked it below for you to check it out. It really captures all of the flavors and makes for an easy clean-up.
Other Recipes You'll Love:
If you are in soup-mode for the winter, check out these other delicious vegan soups:
Delicious Vegan Chicken Noodle Soup
PRINT RECIPE
Vegan Lasagna Soup Recipe
Pin Recipe
This soup recipe is also gluten-free and oil-free!
Ingredients
1

Red Onion

Chopped

1

Red Bell Pepper

Chopped

12

Cremini Mushrooms

Chopped

¾

cup

Cherry Tomatoes

2

tbsp

Garlic

Minced

¾

cup

Dry Red Lentils

2

cups

Tomato Sauce

2½

cups

Vegetable Broth

Or water

1

tsp

Italian seasoning

5

Rice Lasagna Sheet

2

cups

Baby Spinach
Instructions
Chop your mushrooms, bell pepper and onion.

In a large pot or dutch oven, heat your minced garlic with 1 to 2 tablespoons of water. Add your vegetables to the pot, along with your whole cherry tomatoes.

Once the vegetables start to soften (about 5 to 7 minutes), add the lentils, water and tomato sauce.

Add some Italian seasoning for extra flavour, (if you're using pasta sauce, this may not be necessary).

Mix well. Bring the soup to a boil and break apart your 5 lasagna sheets and throw them in. Let it simmer on low-heat while covered for about 15-20 minutes or until lentils and lasagna noodles have been cooked well.

Add in a handful of spinach and mix around until wilted. Let cool and separate into tupperware or soup containers. Garnish with red pepper flakes, nutritional yeast and/or fresh basil.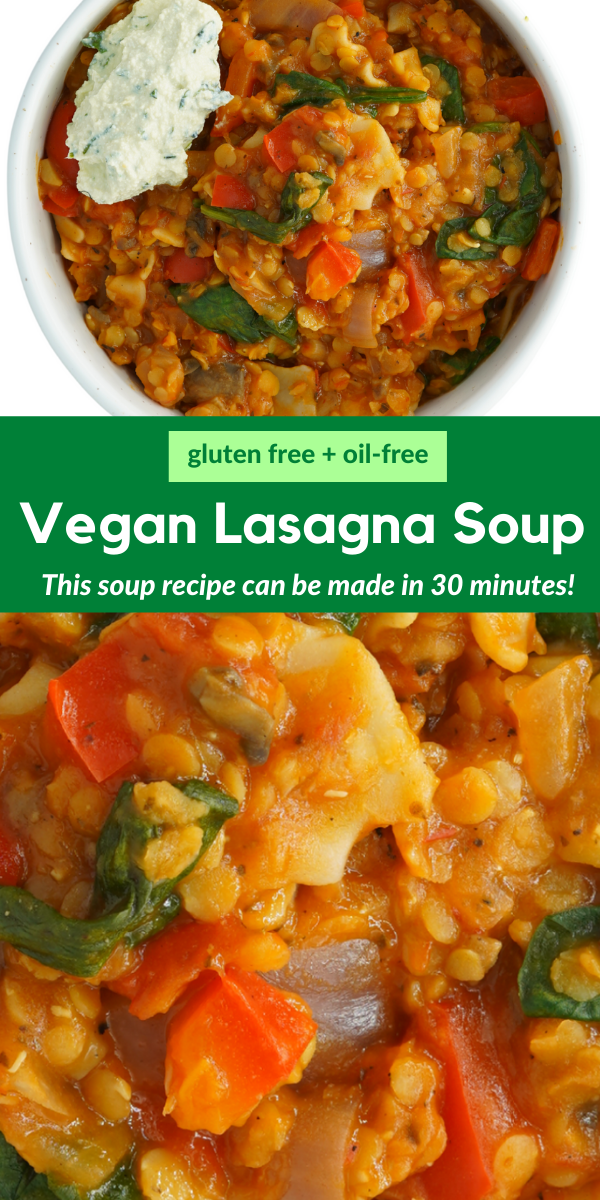 This article includes affiliate links***