Vegan Sloppy Joes
Nothing screams comfort food quite like these vegan sloppy Joes. An ideal plant-based weeknight dinner that comes together in less than 25 minutes!
When someone asks me how they can eat a more plant-based diet, I always suggest veganizing familiar foods first. The flavors and emotional connection stay intact, except now you're enjoying a meatless version. This allows for an easier, more realistic transition.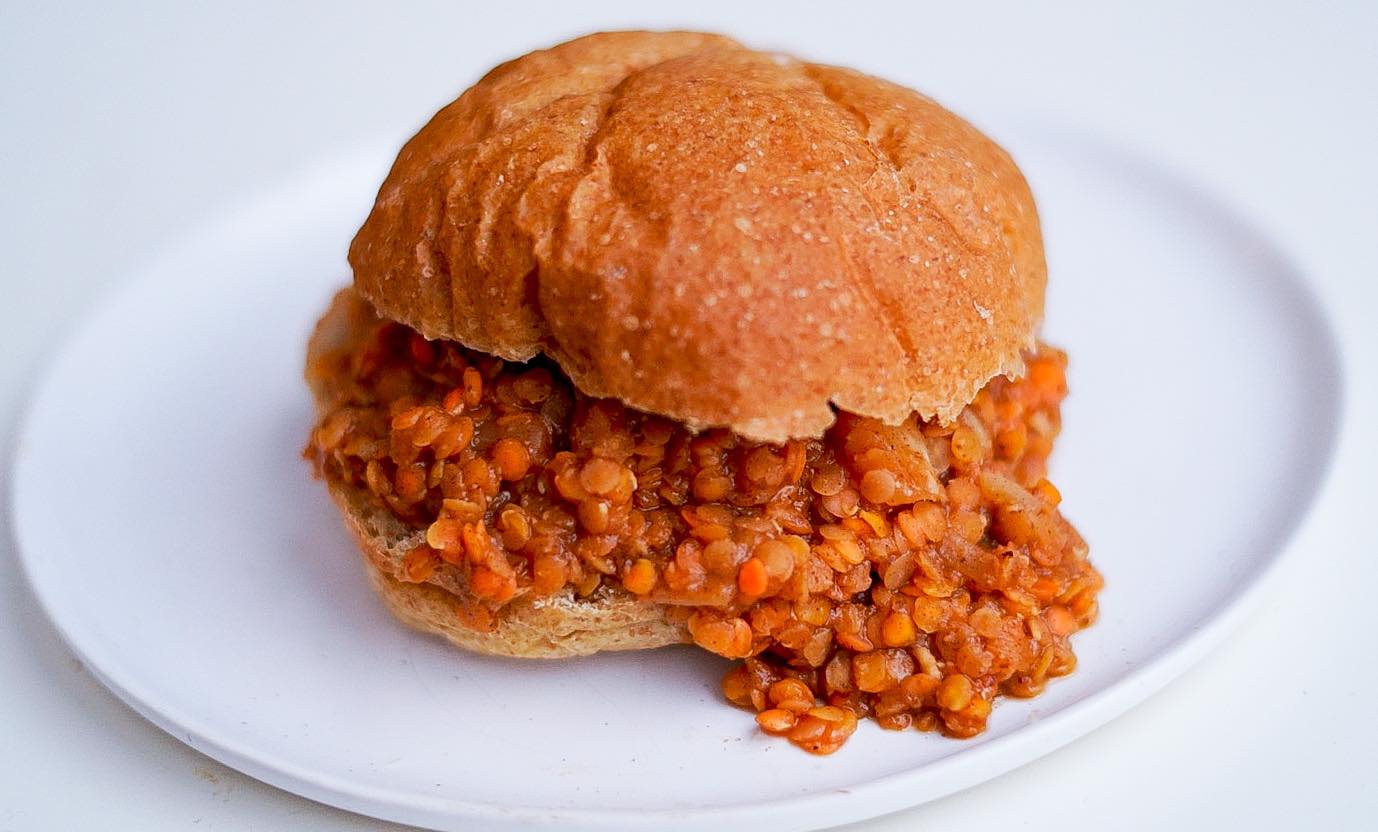 Which brings me to these vegan sloppy Joes. I don't know about you, but sloppy Joes were definitely a frequent meal for dinner when I was growing up! When I transitioned to a plant-based lifestyle, they were one of the first things I attempted to veganize.
Instead of ground beef, I used red lentils. These vegan sloppy Joes are equally as tasty, not to mention they're rich in fiber, protein and nutrients, making them a fantastic well-rounded main.
Why You'll Love This Recipe
They're quick and easy! These plant-based sloppy joes take less than 25 minutes start to finish and only require one dirty pot (score).
Like most PlantYou recipes, these vegan sloppy Joes are healthier than their traditional counterpart. This dish is fully plant-based, oil-free and can easily be made gluten free (see below).
Red lentils are an excellent source of fiber and plant-based protein!
Using a mix of aromatics like garlic and paprika to create a delicious broth, along with a high quality BBQ sauce, these sloppy Joes are ridiculously delicious, so much so that you'll be going for seconds!
They're kid-friendly! These lentil sloppy Joes are fun and a little bit messy. And I have no doubt that your kiddo will find joy in digging in.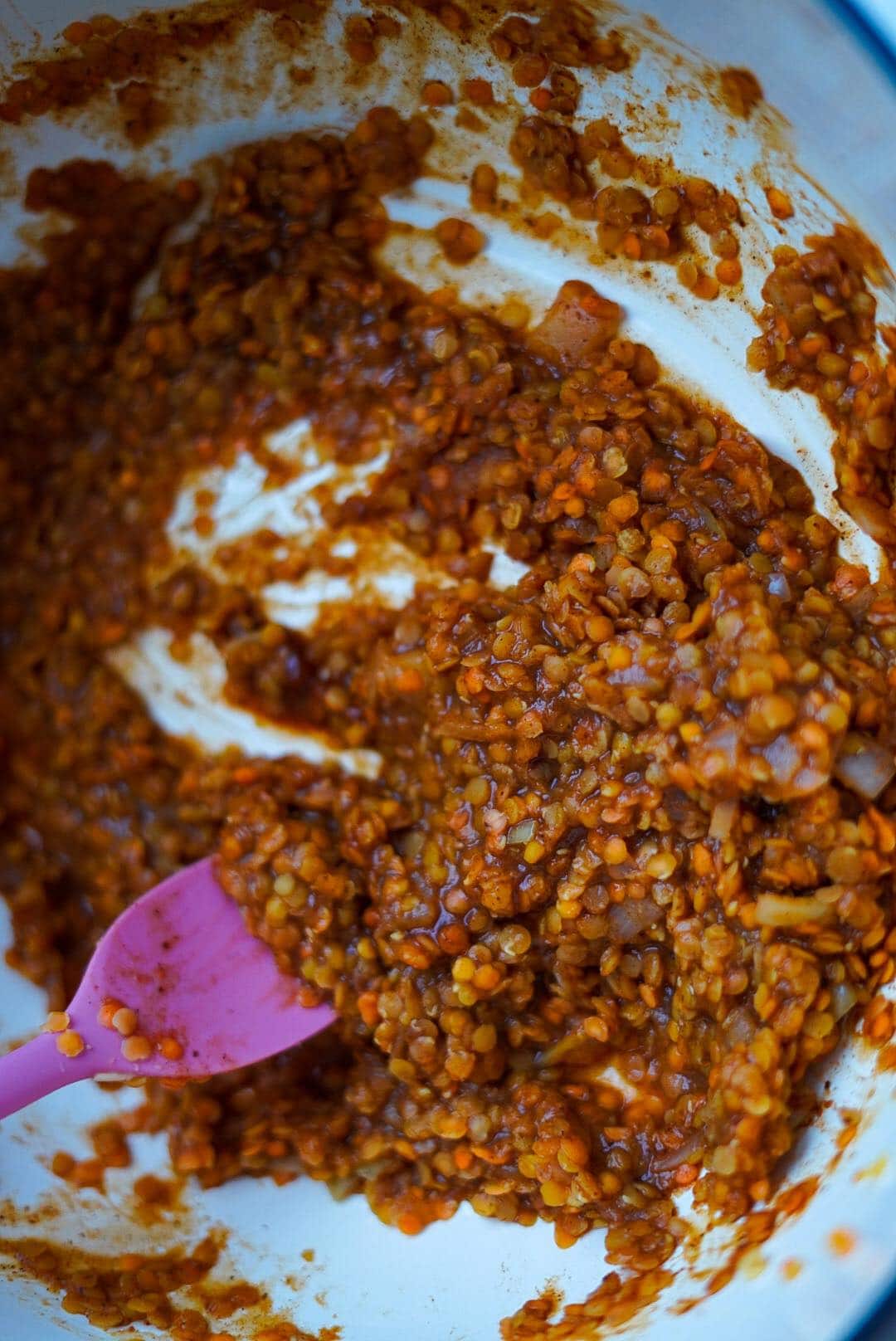 Why BBQ Sauce?
BBQ sauce is the secret ingredient that make these sloppy joes extra saucy!
The BBQ sauce also provides an amazing smoky/tomatoey flavor melded with the lentils that you won't be able to get enough of.
For this recipe, I was lucky to have Good Food For Good BBQ sauce sponsor the Instagram video I did of this recipe, and their sauces are truly unmatched in terms of quality and taste. All of their sauces are organic, contain no added sugar, and for every single bottle purchased, a meal is donated to someone in need. For this particular recipe, I used half a cup of their classic BBQ sauce, and half a cup of their sweet and spicy BBQ sauce (which in my opinion made the perfect delicious combo)!
You can learn more about their sauces and make a purchase here. Use code PLANTYOU15 for 15% off your purchase.

How To Make Vegan Sloppy Joes With Lentils
Making this vegan sloppy joe recipe could truly not be easier. You are going to start by sauteing garlic and onion in a pan over medium heat, with a touch of water. You can use oil if you would prefer, but it tastes just as good without, I promise!
Add your spices, including garlic powder, paprika and sea salt, along with the red lentils and water. Bring to a boil, then simmer covered for approximately 20 minutes until the lentils have cooked and thickened.
Next, add in a cup of BBQ sauce and stir until thoroughly mixed. Give the lentil mixture a taste and adjust seasonings as desired. Serve in a big whole wheat bun!
Hack It!
The filling contains no gluten. All you have to do to make this dish gluten-free is serve it on a GF bun!
BBQ sauce is really easy to make at home! You could take the entire dish to the next level with a homemade sauce.
One of the best part about vegan sloppy joes? They go with just about anything! You can serve them with a side of carrot fries, potato wedges, or a nice side salad.
If you like a bit of spice in your meals, you can add some hot sauce to the lentils, alongside BBQ sauce.
You can make an extra big batch by doubling, or even tripling the ingredients. Perfect for a kids birthday party, a family barbecue, or a gathering to watch a sports game.
Other Recipes You'll Love
If you love simple, beginner-friendly recipes like this one, you should check out the PlantYou Planner! It's a digital meal planner with a huge database of easy plant-based recipes for every occasion. It's much easier to plan your meals ahead when you have over 600 recipes to choose from! Additionally, the planner generates a grocery list that reflects your weekly meal plan and allows you to toggle the number of servings. It's a perfect tool for people who want to eat plant-based but don't want the hassle!
And if you've been hanging around for a little while, you already know that the PlantYou Cookbook was released earlier this year! The amount of support it received was honestly incredible, and I thank every single one of you who preordered my book or bought it from a local bookstore. In case you haven't grabbed a copy yet, call your local bookstore and ask for the PlantYou Cookbook – it has 140+ easy vegan recipes to satisfy your cravings!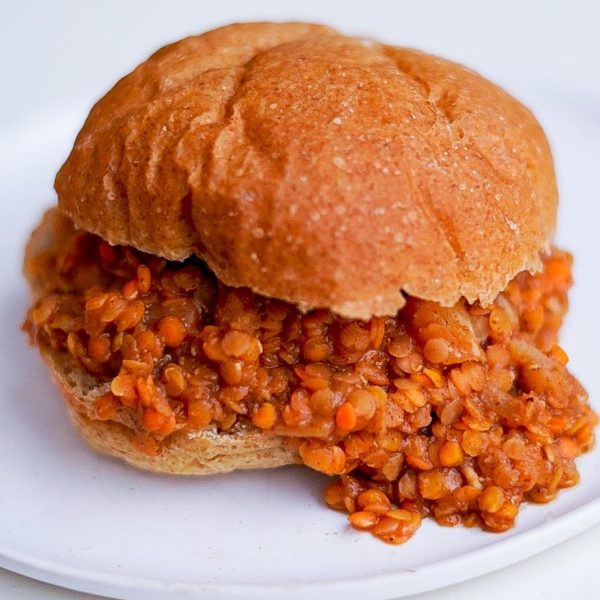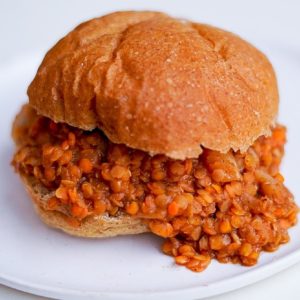 The Recipe: Vegan Sloppy Joes
A Vegan Sloppy Joe recipe using whole food, plant-based ingredients like red lentils, onion, garlic and and paprika.
Ingredients
1 onion, diced
3 Garlic (Cloves), minced
½ tbsp paprika
½ tbsp garlic powder
½ tsp sea salt
1 cup red lentils
2 cups water
1 cup BBQ sauce
4 whole wheat hamburger buns
Instructions
In a pot over medium heat, saute the garlic and onion with a tablespoon of water until softened, for approximately 3 minutes.

Add the garlic powder, paprika and salt to the pot and stir. Next add the water and red lentils. Bring the mixture to a boil, then cover and simmer until the lentils have cooked and the mixture is thick, for approximately 15 minutes.

Add the BBQ sauce to the lentils and stir until thoroughly mixed. Taste and adjust seasonings as needed. Serve over hamburger buns as desired.
Calories: 418.1kcal, Carbohydrates: 80.4g, Protein: 17.1g, Fat: 3.7g, Saturated Fat: 0.7g, Polyunsaturated Fat: 0.8g, Monounsaturated Fat: 1.4g, Sodium: 1244mg, Potassium: 731.2mg, Fiber: 16.7g, Sugar: 28.7g, Vitamin A: 214.9IU, Vitamin C: 6.6mg, Calcium: 106.5mg, Iron: 5.8mg