Vegan Cauliflower Steaks
These vegan cauliflower steaks are the perfect proof that simple dishes are just as good, if not better than fancy substitutes. All it takes is some quality ingredients and plenty of seasoning.
I started by food-blogging journey a few years ago, and in that time I created hundreds of recipes, literally! And if this experience has taught me anything, it is the fact that simple meals are often the best meals. As much as I enjoy "veganizing" familiar favorites, sometimes you just have to take it back to the basics.
These vegan cauliflower steaks are a perfect example of simple plant-based cooking. A few simple ingredients result in delicious, easy-to-make dish. And if you like flavorful yet simple plant-based meals, check out the PlantYou Cookbook. It contains over 140 beginner-friendly vegan recipes, with every recipes accompanied by visual infographic.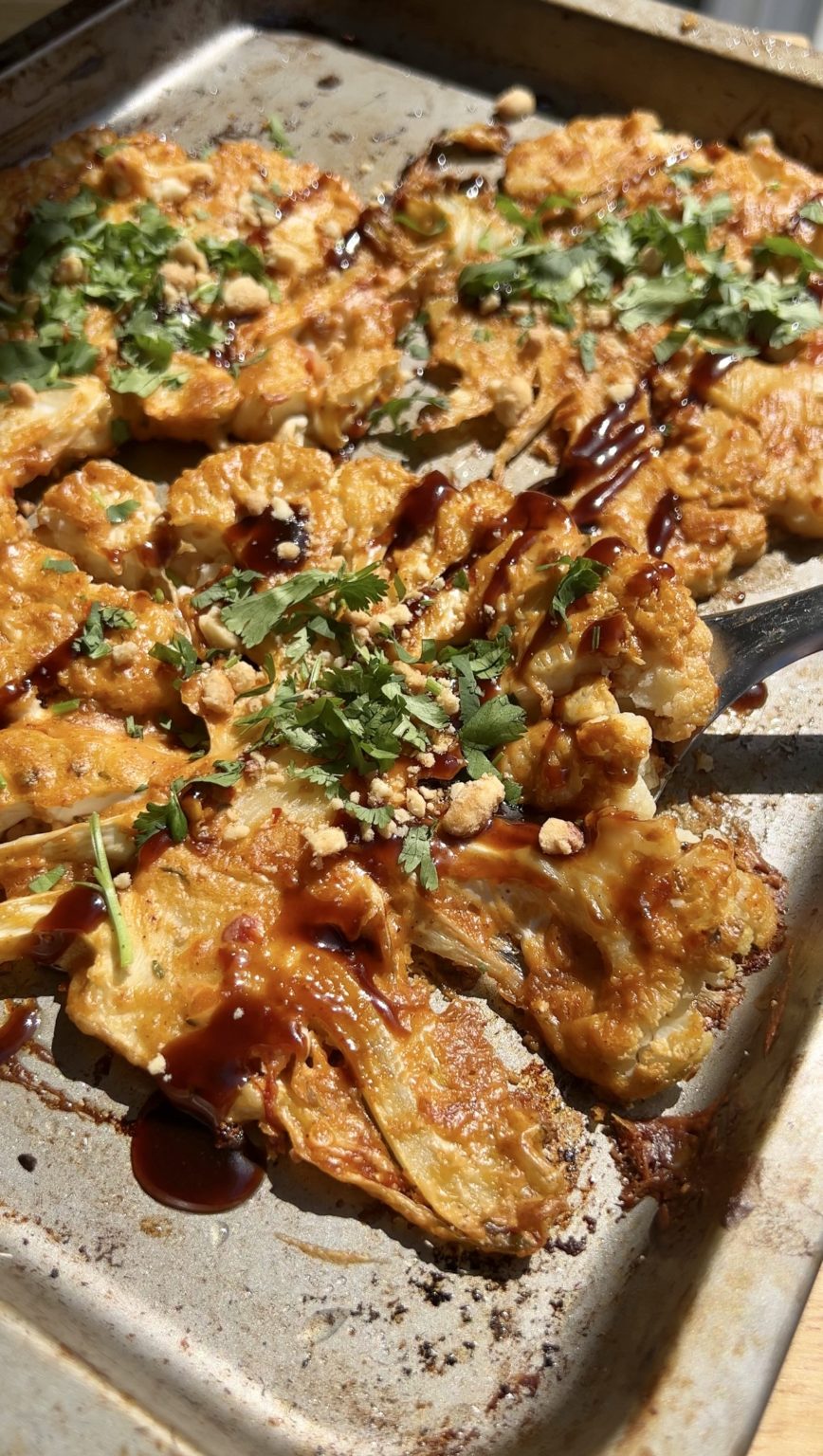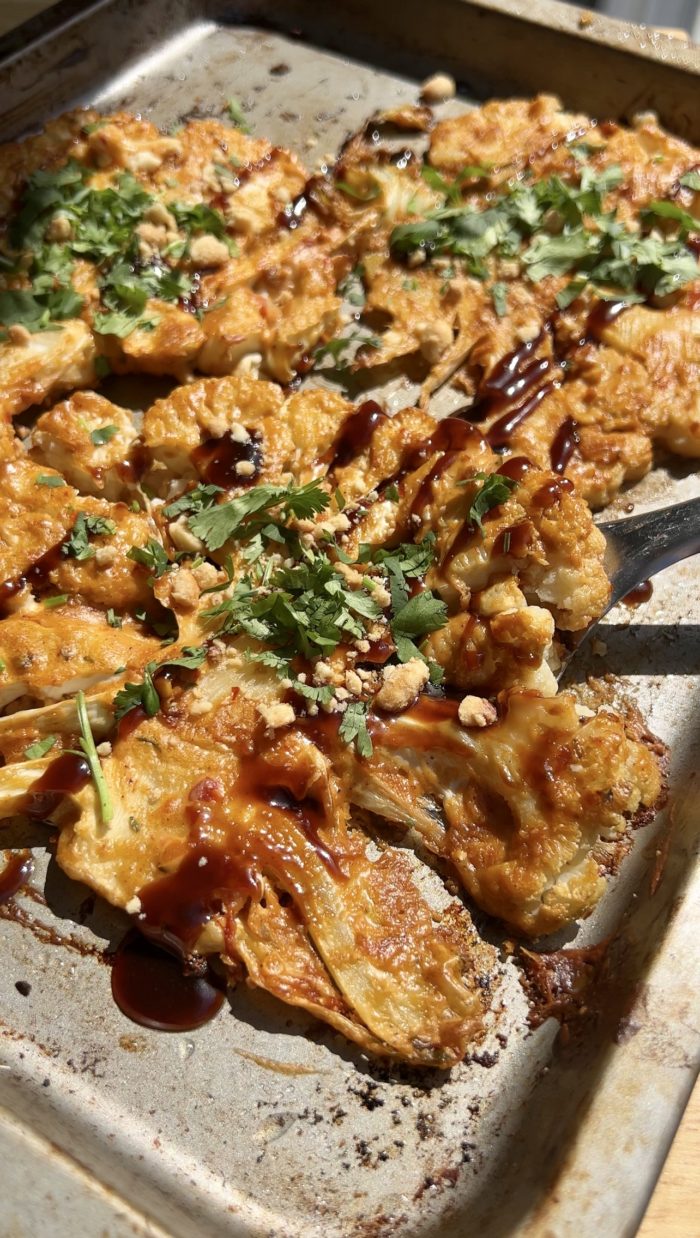 Why You'll Love This Recipe
It doesn't require any special skills or special equipment. It can be made by practically anyone!
If you ever see a beautiful, large head of cauliflower, but not sure whether you'll use it all… Go ahead and make this recipe! It's a great way to utilize cauliflower, and make your whole family love it!
Vegan meat substitutes can be quite pricey, which is especially inconvenient in the summer, with all the backyard barbecues. These vegan cauliflower steaks are a great budget-friendly option for such events.
Most of the time spent making these cauliflower steaks is hands-off. Let the heat do its work while you sit back and relax.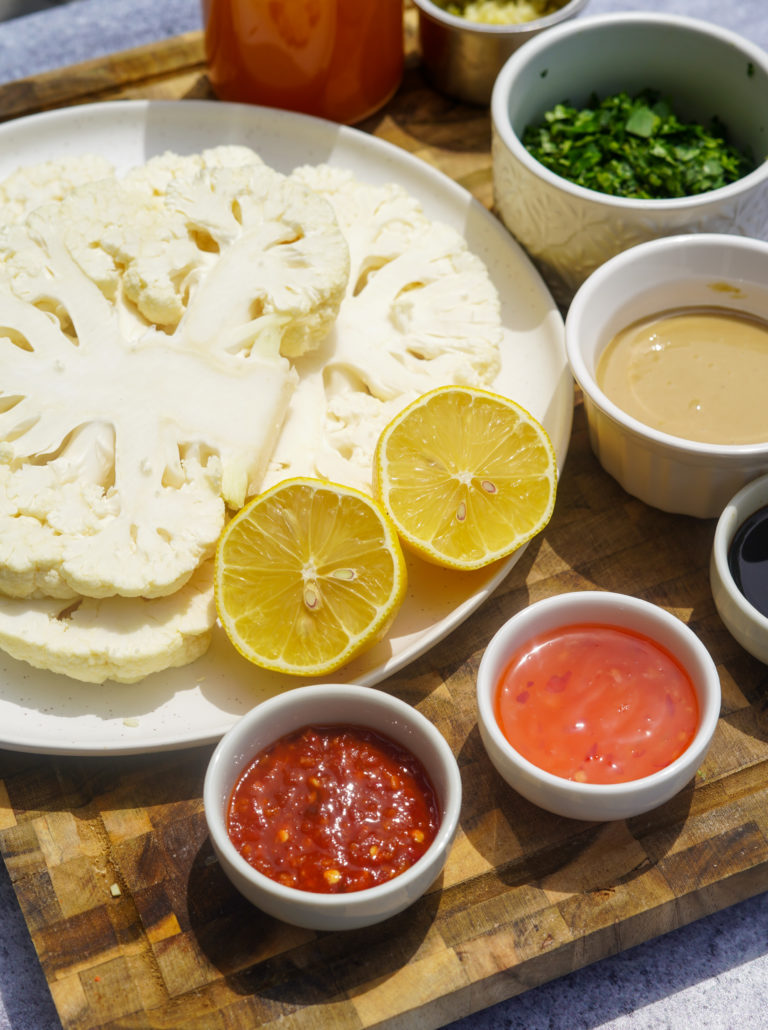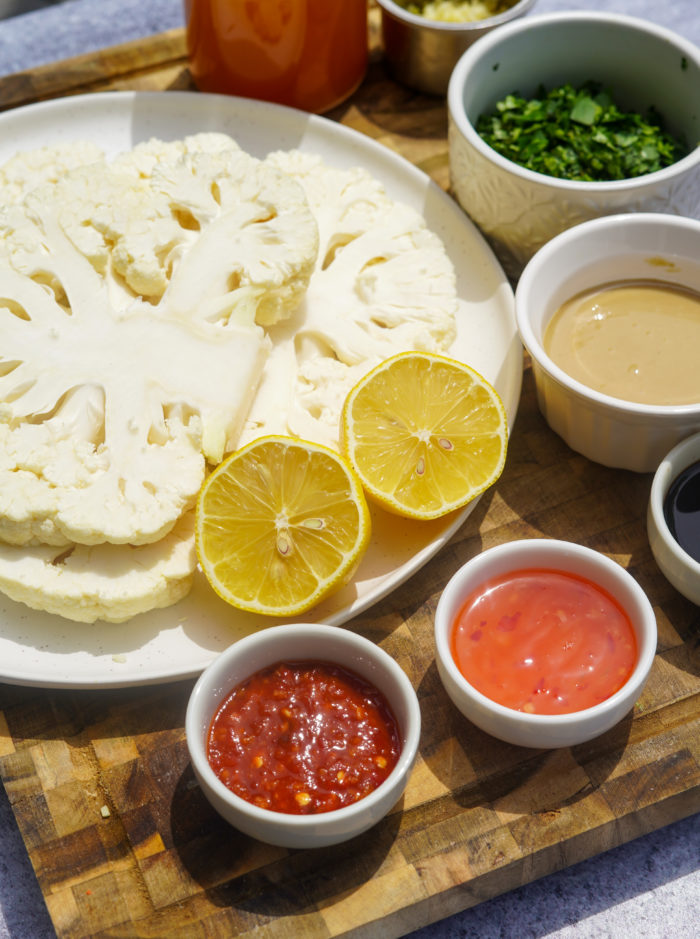 How to Make This Recipe
Start by removing the leaves from your cauliflower and cutting it into six steaks. Depending on the size of your cauliflower, you could have more slices. Arrange the cauliflower "steaks" on the lined baking sheet.
Next, make the marinade. Mix tahini, vegetable broth, sweet chili sauce, sriracha, garlic, and paprika. Stir until smooth, adding more water or broth as needed to achieve a drippy salad dressing consistency. Generously brush it onto the cauliflower on both sides.
Preheat the oven to 400F. Bake your vegan cauliflower steaks for 15 minutes, before flipping them over and baking for 20 more minutes. To serve, top with fresh cilantro and enjoy!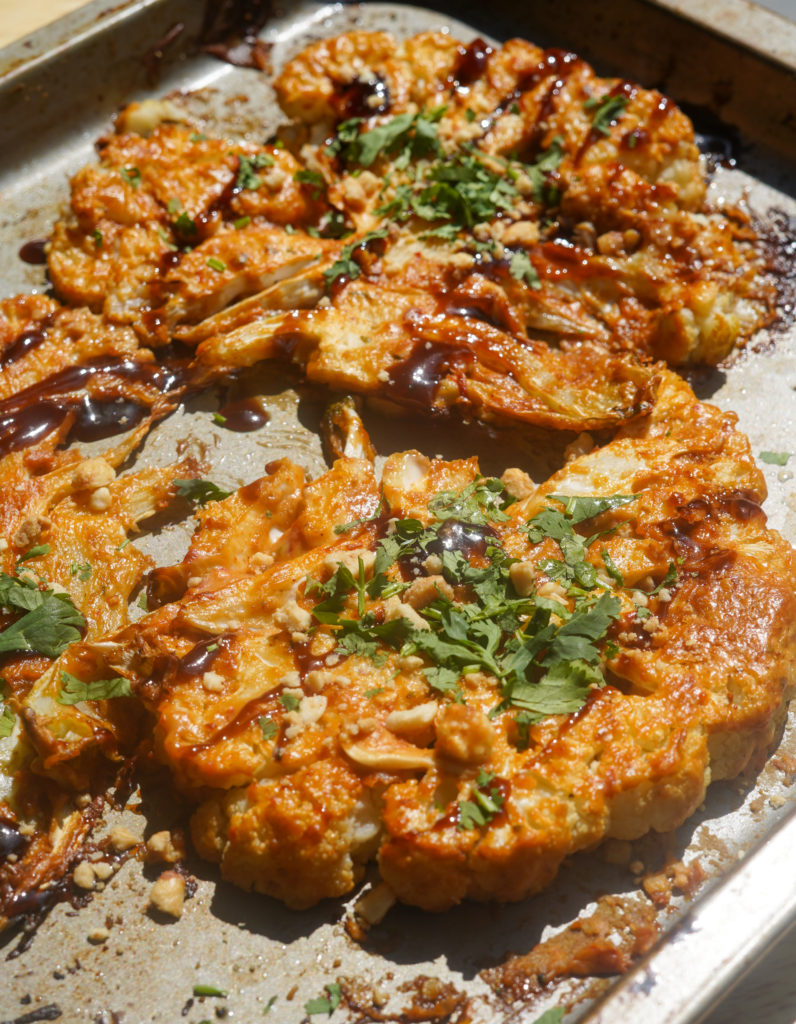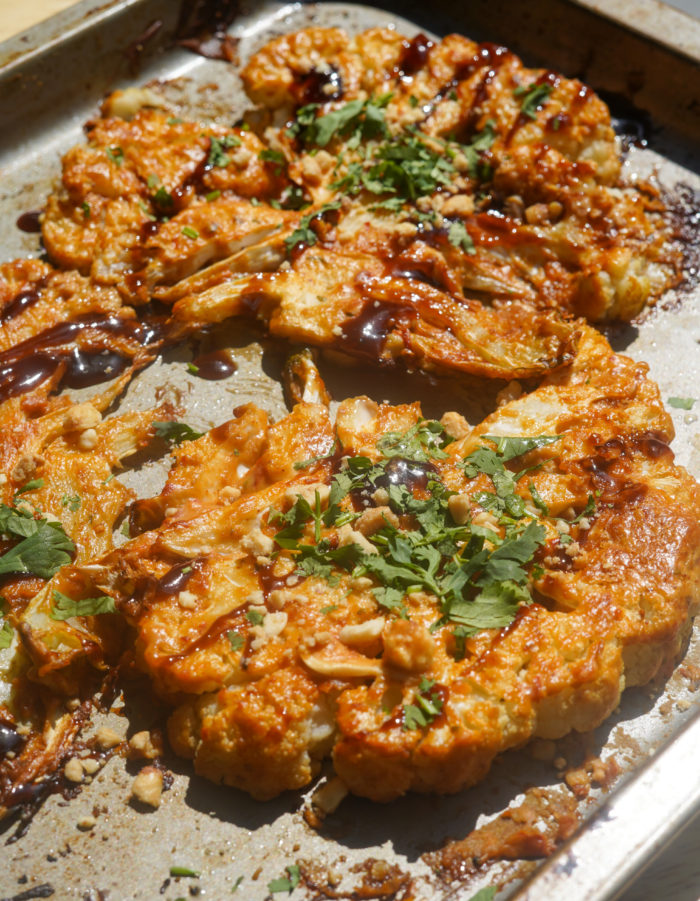 Hack It!
Not everyone likes cilantro, so feel free to replace it with fresh parsley, basil or chives.
If you're allergic to sesame seeds, use a nut or seed butter instead of tahini.
Depending on your preference, you can make the dish spicier by adding extra sriracha, or less spicy by eliminating it from the list of ingredients.
Cooking time may vary depending on the thickness of your cauliflower slices. Be prepared to leave your "steaks" in the oven for a bit longer.
Did I mention it's a great dish for an outdoor barbecue? Allow cauliflower to marinate in the tahini sauce for a little while, then grill until the cauliflower softens.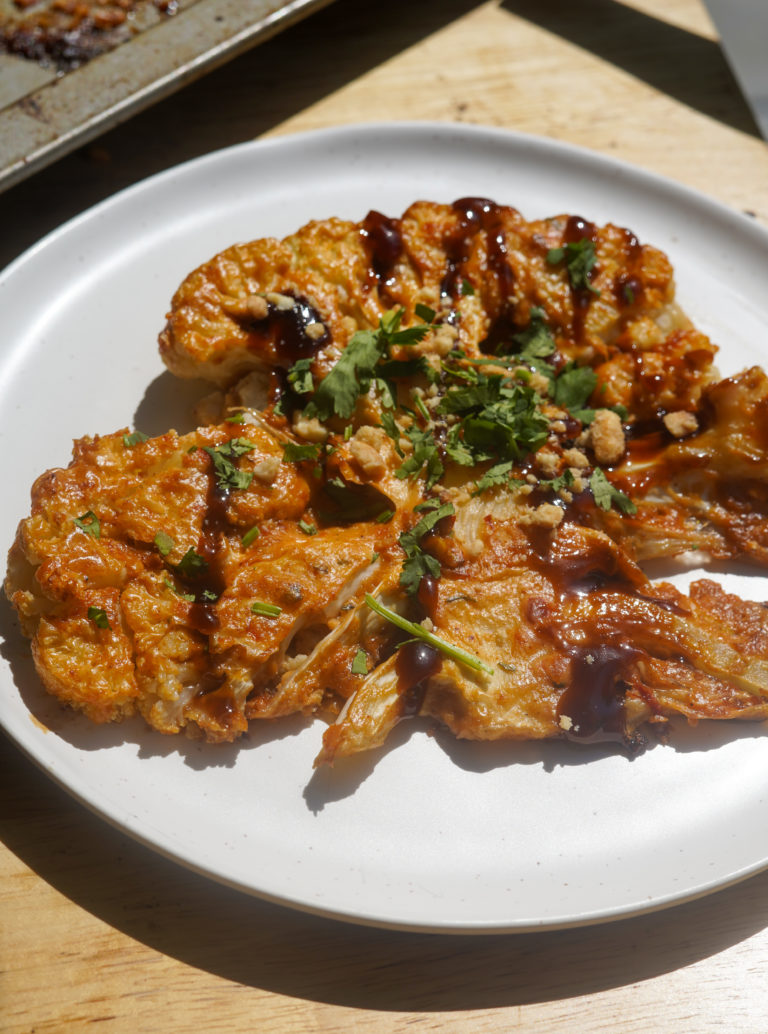 Other Recipes You'll Love
For more delicious plant-based recipes, check out the PlantYou Planner. It's a digital meal planner platform with a HUGE database of over 600 recipes. You can fully customize your weekly menu, including dish selection and the number of servings. In exchange, the planner generates a custom shopping list you can take with you to the store! By joining the planner, you also get to be a part of a supportive and generous plant-based community.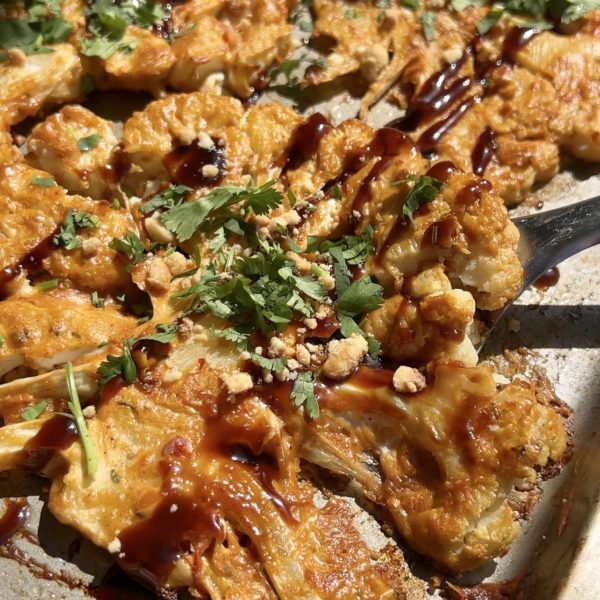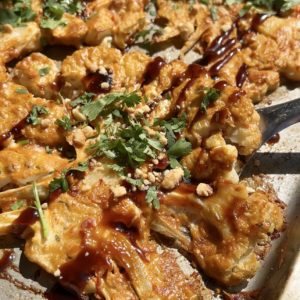 The Recipe: Vegan Cauliflower Steaks
A delicious melt in your mouth cauliflower steak recipe that's vegan.
Ingredients
1 head cauliflower, sliced into steaks, about 1/2 inch thick
½ cup tahini
¼ cup vegetable broth
3 tbsp sweet chilli sauce
1 tbsp sriracha
2 cloves garlic, minced
1 tsp paprika
1 cup cilantro, chopped
Equipment
chopping board

Sharp knife

Baking Sheet

baking parchment

Pastry brush
Instructions
Slice your cauliflower into steaks and line a baking sheet with parchment paper. Preheat the oven to 400F.

In a container, combine your tahini, broth, sweet chili sauce, sriracha and garlic. Stir until smooth, adding more water or broth as needed to achieve a drippy salad dressing consistency.Lay your cauliflower onto the baking sheet and brush liberally on each side with the sauce.

Place in the oven for 15 minutes and then flip. Cook for an additional 20 minutes. Top with cilantro.
Calories: 162.9kcal, Carbohydrates: 13.9g, Protein: 5.5g, Fat: 11g, Saturated Fat: 1.6g, Polyunsaturated Fat: 4.7g, Monounsaturated Fat: 4g, Sodium: 218.6mg, Potassium: 401.1mg, Fiber: 3g, Sugar: 6.1g, Vitamin A: 243.5IU, Vitamin C: 50.7mg, Calcium: 53.1mg, Iron: 1.4mg