Fruit Salsa Recipe
A spoonful of salsa can really enhance a dish. However, this fruit salsa recipe takes things to a whole new level!
This fruit salsa recipe is full of sweet and tangy flavors, perfect for tacos, burgers, and tortilla chips. I don't know about you, but I LOVE a generous spoonful of salsa! And I bet you've never tried salsa quite like this one…
Why You'll Love This Recipe
It's a perfect addition for both sweet and savory dishes!
If you're not sure what to bring to a backyard BBQ, this fruit salsa recipe is 2-in-1! A healthy fruit salad for people craving fresh produce, and an amazing topping for tacos and burgers at the same time.
It only takes 10 minutes to throw together, and voila!
In the summer, it doesn't get better than this fruit salsa recipe! It uses a bunch of seasonal produce, and it's super refreshing.
How to Make This Recipe
As I mentioned, this fruit salsa recipe couldn't be easier! All you have to do is make sure the fruit are clean, then finely chop apples and strawberries.
Mix all of the ingredients in a bowl and give it a stir. For the best result, allow your fruit salsa to sit for 5-10 minutes before digging in!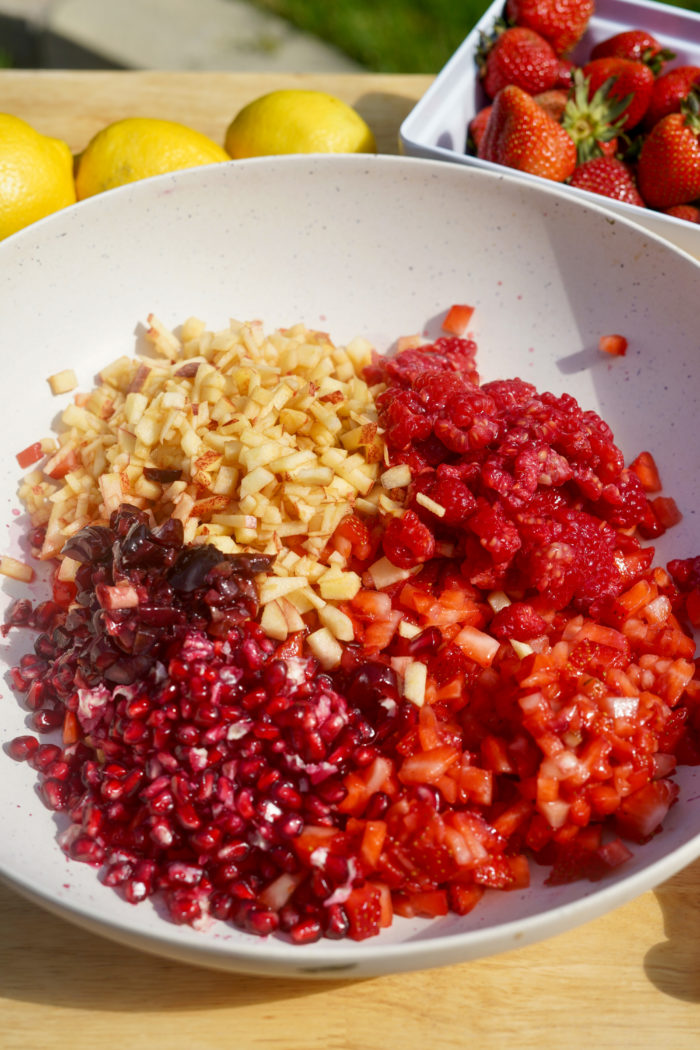 Hack It!
Once you try this fruit salsa recipe, you'll be open to a whole new world of sweet salsa! You can experiment with different fruit and berries, including mango, pineapple, or apricots.
There is a reason so many cuisines around the world feature a combination of sweet and savoury flavors. This fruit salsa goes well with Mexican dishes, burgers, and veggie bowls.
One of the best things about this recipe is that it gives way to THREE Scrappy Cooking recipes! Strawberry tops and apple cores can turn into wonderful vinegar. And lemon rinds can make a great DIY kitchen cleanser!
Other Recipes You'll Love
If you love simple but effective recipes for any household size, check out the PlantYou Planner! It's a fully customizable meal planner platform that allows you to select your weekly menu and toggle the number of servings for each dish. You can draw inspiration from over 600 WFPB recipes in the database, or use one of the curated meal plans.
And if you like having your recipes in physical form, I hope you've got yourself a copy of the PlantYou Cookbook! It features 140+ delicious vegan recipes, each one accompanied by a helpful infographic. It's great for people who don't like spending hours in the kitchen, and for beginner cooks. Be sure to tag @plantyou when you cook a recipe from the book!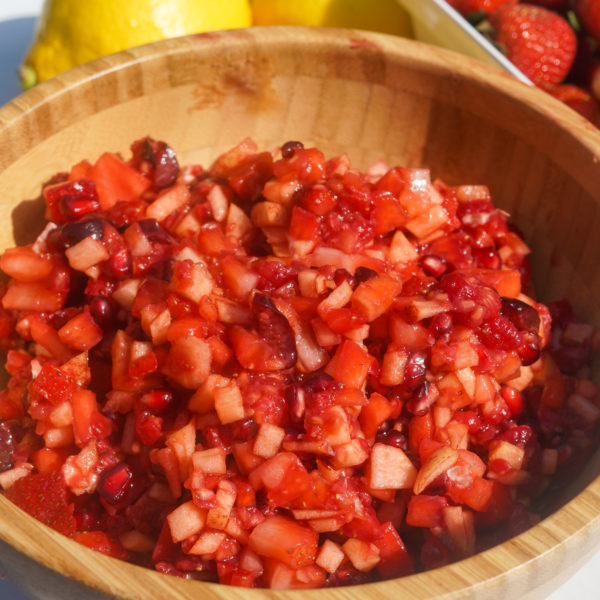 The Recipe: Fruit Salsa Recipe
A refreshing all fruit salsa, perfect for a summer BBQ or dessert.
Ingredients
2 cups strawberries, finely diced
2 red apples, core removed, finely diced
1 cup raspberries
1 cup pomegranate seeds
1 cup cherries, diced
1 lemon, juiced
½ lemon, zested
Equipment
chopping board

knife

mixing bowl
Instructions
Finely chop all fruit. Place in a bowl, and squeeze lemon juice over top. Mix, then zest half a lemon over the salsa. Allow to sit for 5 to 10 minutes before digging in.
Calories: 52.7kcal, Carbohydrates: 13.2g, Protein: 0.9g, Fat: 0.5g, Saturated Fat: 0.1g, Polyunsaturated Fat: 0.1g, Monounsaturated Fat: 0.1g, Sodium: 1.6mg, Potassium: 162.2mg, Fiber: 3.3g, Sugar: 8.4g, Vitamin A: 30.6IU, Vitamin C: 32mg, Calcium: 15.6mg, Iron: 0.4mg