Healthy Vegan Buffalo Wings Recipe
Vegan Buffalo Wings are my new obsession.
Made with cauliflower florets and tossed in delicious hot buffalo sauce, they are the perfect healthy snack or appetizer for Super Bowl Sunday. Because they're baked instead of fried, you can feel great about eating them too!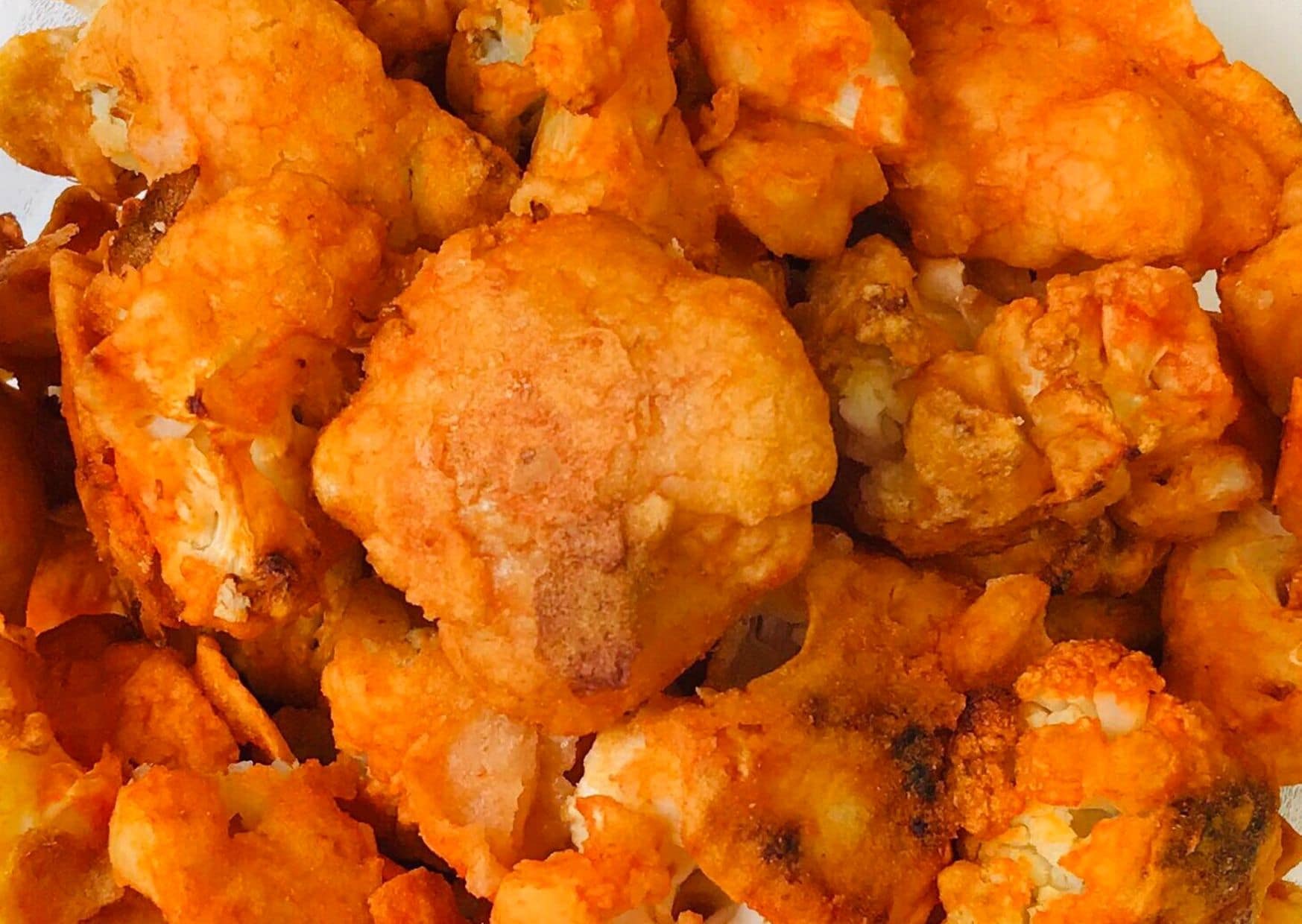 What You Need For This Buffalo Wings Recipe
These Vegan Buffalo Wings check off all the Plant You boxes. They are whole-foods, plant-based compliant, oil-free, gluten-free and most importantly are ridiculously easy to make. You'll never miss your boring old chicken wings. This specific recipe uses just five simple ingredients:
cauliflower (get a big white head of it and make sure to wash thoroughly)
brown rice flour (sub with other gluten free flour, white flour or whole wheat)
water (yes, we keep things simple)
garlic powder (onion powder would also work)
hot sauce (we go over this in a bit)
How To Make These Vegan Buffalo Wings
Here are the steps for making these ridiculously easy buffalo wings. Seriously, you're going to be shocked at how simple this is.
Get your head of cauliflower, wash it well with a scrub brush, and break it into bite sized florets. These will be your 'wings'.
Make your simple batter by combining the flour, water and garlic powder
Toss the florets in the batter
Bake for 20 minutes, toss in hot sauce, throw them back in the oven and cook for an additional 15
When all is said and done, the total time needed to make these Vegan Buffalo Wings comes in at less than 40 minutes with a prep time of just 10 minutes or less. If I were you, I'd double the recipe so all your friends can enjoy the plant-based goodness.
Why Brown Rice Flour for these Cauliflower Wings
You might be looking in your pantry and thinking why would I want to buy brown rice flour?
A lot of my readers happen to be gluten-free (it often comes along with a whole-foods, plant-based lifestyle), and I have found brown rice flour to be one of the healthiest alternatives to whole wheat that can mimic a nice light and fluffy batter that is needed to coat the cauliflower florets.
With that said, you could certainly use a whole wheat flour for these cauliflower wings, or an all purpose gluten free flour. You might just need to play around slightly with the water to flour ratio to get the perfect dippable batter!
What Sauce To Use On These Buffalo Wings
How you choose to sauce your cauliflower wings is up to you, but I highly suggest selecting your favorite buffalo sauce.
Mine is the classic Frank's Red Hot Sauce, and you'll be happy to know that their original flavor is actually vegan! After they're tossed in your favorite buffalo hot sauce, dip them in a delicious vegan ranch. You can buy a premade vegan ranch dressing at most grocery stores now (the Daiya brand is pretty good) or make your own. Here's a super easy bonus recipe you can whip up in less than five minutes that would be perfect for this wing dip:
1/3 cup coconut yogurt
1.5 tsp apple cider vinegar
1/4 tsp onion powder
1 tsp dill
That's it, that's all! This is a super healthy and delicious dip for your buffalo cauli wings and more. I also love to throw it on a buffalo wing wrap, with ingredients like lettuce, tomato, shredded carrots and cabbage.
You could also toss the vegan wings into a homemade barbecue sauce, go for a Thai flavor with a sweet n' sour sauce or General Tso's, or even a garlic parmesan by coating them in ranch dressing and adding nutritional yeast flakes.
What Else To Serve At The Big Game
There's never been more options for vegans for Super Bowl appetizers and snacks.
This week in Plant Ahead, we are releasing a full game day inspired menu including a chili recipe, homemade salsa, and cauliflower wing tacos.
We also have an amazing free salsa recipe on the blog, which you can find here. It's made with lentils instead of beans, and is one of our most highly rated recipes on our website, so definitely check it out!
I would also suggest throwing together some easy guacamole, maybe a vegan pizza, jackfruit pulled 'pork', spring rolls or even some vegan mac and cheese. The possibilities for vegan comfort food are endless, and the best part, a lot of them can be super healthy too if you're using the right ingredients.
That's one of the best parts about being plant-based. Even though recipes such as these Vegan Buffalo Wings would fall under "comfort food", there is actually nothing bad about them. I remember I always used to feel sick, sluggish and tired after a night like the Super Bowl from eating way too much cheese, oil and actual animal products like deep fried chicken wings. Now I look forward to enjoying all of my favorites without the bloated feeling.
How to Repurpose Your Buffalo Cauliflower Wings For Meal Prep
These buffalo cauliflower wings are also an amazing meal prep recipe! Here are some genius ideas on how to use them:
Have them in tacos in place of 'meat'
Throw them in a whole wheat tortilla with the vegan ranch dressing and veggies like crisp iceberg lettuce, carrots, tomatos and onion for a buffalo 'wing' wrap
Serve them over rice with chickpeas and sauteed peppers and onions for a delicious buddha bowl
They've appeared in both taco and a vegan buffalo wrap form in our meal prep program, Plant Ahead. If you haven't heard, we release a brand new whole-foods, plant-based, oil-free meal prep plan to members of our program each week, which includes the caloric information for every single recipe and a shopping list to take with you to the grocery store.
These cauli wings will lend around four servings, so if you're on your own, you'll definitely be able to repurpose the leftovers for the perfect work-week lunch.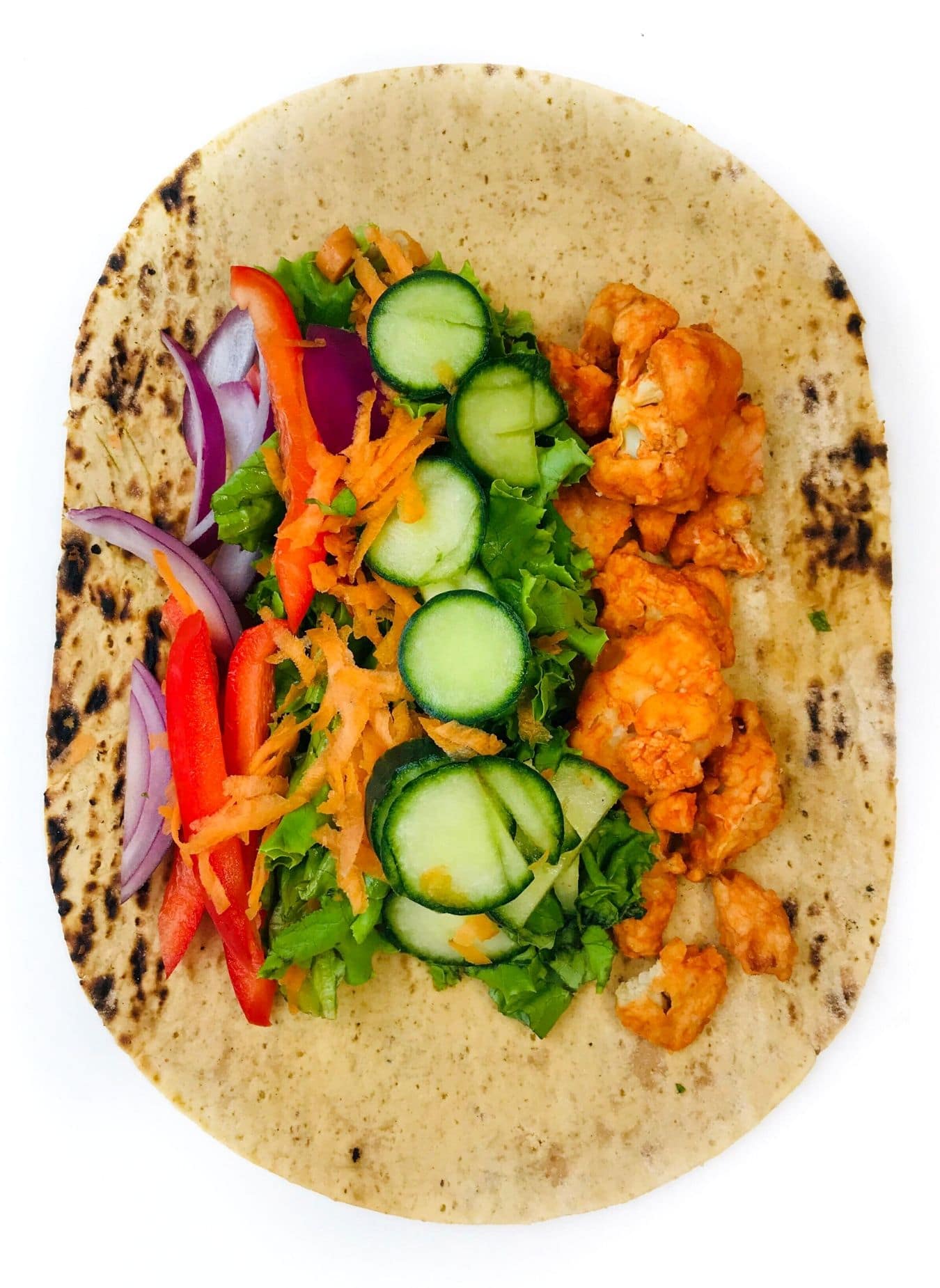 Why We Bake These Wings Instead of Fry Them
One of things I love most about this Vegan Buffalo Wing Recipe is that it is completely oil-free. Eating the majority of food without oil is a big component of the whole-foods, plant-based lifestyle. This is based on recommendations by leading physicians such as Dr. Colin Campell, Dr. Michael Greger, Dr. Joel Furhman and more.
This is because oil happens to be one of the most calorie dense foods on earth, with a single table spoon amounting to over 120 calories and 13 grams of fat. This makes oil extremely easy to overeat, without any satiating benefit. This includes all oils, including olive oil, coconut oil and even avocado oil.
Based on the teachings of these leading physicians, they suggest getting your fat from whole plant-based sources instead, such as nuts and avocados.
It's interesting, because many people look at a vegan diet as if it is extremely calorie dense because of the amount of carbs and fiber you naturally eat. In reality, when you remove the oil, it's actually difficult to get in an excess amount of calories.
These cauliflower wings for example come in at just over 90 calories per serving. That's pretty great for a delicious appetizer coated in your favorite hot sauce if you ask me!
If you're wondering how to start cooking without oil, you can start with this easy baked cauliflower wing recipe, and checkout my oil-free cooking guide which breaks down how to saute, bake, roast and stir-fry without oil. Once you get the hang of it, it's actually insanely easy!
Why Cauliflower For These Wings
You've probably heard of vegan wings being made of things such as seitan or tofu. So why did we decide to make this Vegan Buffalo Wing recipe with cauliflower?
As you probably know, cauliflower is one of the most versatile vegetables on the planet. The reason we love to use cauliflower for this wing recipe:
They crisp up perfectly
Cauliflower has a soft and tender center which gives it a 'meat like' quality
They absorb the buffalo hot sauce for optimal flavor and spice
Truly, it's one of the closest imitations of actual 'chicken' wings you can get (but of course not exactly the same).
It's Also Ridiculously Healthy For you
Cauliflower is a nutritional powerhouse. It's from the cruciferous family, and is fiber rich and packed with b-vitamins that can help enhance your ability to digest foods. Its ingredients are said to help strengthen bones and boost the cardiovascular system.
Just one cup of cauliflower can provide 77% of your daily vitamin C needs, 20% of your daily vitamin K needs, and 10% or more of your daily needs for Vitamin B6 and Folate!
Other Ways To Use Cauliflower
I think we could all use a little more cauliflower in our diets. If you are looking for more ways to use cauliflower in simple plant-based recipes look no further:
Try grating it using a box grater or a food processor to make 'cauliflower rice'. I love mixing it with regular basmati rice and you can't even notice!
Try adding it to a delicious and flavor curry, like this green thai curry dish
Try blending it into a soup for a creamy and fiber rich broth
Simply steam it and dip in a delicious vegan queso or nutritional yeast sauce
Cook and blend your cauliflower with your favorite spices to create a vegan alfredo
Parchment Paper Or Silicone Baking Sheets
For oil-free cooking, it's great to have parchment paper on hand. However, it can get a bit wasteful and expensive when you have to use a new sheet for each meal you bake.
Lately, I've been trying really hard to reduce the amount of waste I create in my kitchen and life in general. That's why I invested in these silicone baking sheets which are also perfect for oil-free cooking (like these vegan buffalo wings)!
They're great because they are non-stick, and you can reuse them again and again. I've even been told that you can throw these silicone baking sheets in the dishwasher and they will come out sparking clean.
I've used them for things like these Snickers Breakfast Cookies or vegan chicken tenders.
You can purchase them off my Amazon page here (I get a small commission from this) and read all about our recommended zero waste kitchen swaps in this blog post. 
Similarly, we recently swapped out all our plastic meal prep containers for glass and it's one of the best kitchen investments I've ever made. When you're refrigerating veggies like cauliflower, they can soften quickly, especially when they're in plastic. I find glass keeps food like these vegan buffalo wings fresher for longer, and I can feel good about storing my food knowing there's not potential leaching of plastic!
We recently covered our favorite eco friendly meal prep containers in this blog post. This includes options for glass, stainless steel and bamboo! Check it out and let me know what you think.
How Meal Prep Saved My Life
I am obsessed with meal prep because it honestly transformed my life. By setting aside a few hours on Sunday to prep some meals, I freed up busy weeknights for things I love! That includes writing this blog and going to the gym.
Most importantly, I am finally able to stick to my healthy lifestyle because I have vegan meals at arm's length. I am no longer tempted to go through the drive-thru after a long day at work. Or throw on a microwave meal because my healthy and delicious meals area already prepped in my fridge. Finally I am able to stick to this lifestyle with limited hassle. One of the best parts is that I am no longer spending my week-night's cooking, washing dishes and packing lunches. It's all taken care of.
As an unexpected bonus, I also slashed my grocery bill in half as I now have a purpose for every single ingredient in my cart. I know if I'm making a recipe like these buffalo cauliflower wings, that the whole cauliflower head will be used up. Even better, I can repurpose the leftover for lunches. It's that easy.
Right now, for less than the price of a single movie ticket (seriously), you can join my program Plant Ahead. Members are provided with an entire database of whole-foods, plant-based meal plans specifically designed for food prep, along with the caloric information for every recipe and an itemized shopping list to take with them to the grocery store.
Don't put this off any longer. 2020 is the year to go plant-based, and you can do this when you're empowered with my simple meal prep plans.
You can sign up right now here.
PRINT RECIPE
Vegan Buffalo Wings Recipe
Take a look at our delicious vegan buffalo wings recipe. The perfect snack for the big game.
Equipment
Baking Sheet

Parchment Paper

Oven
Ingredients
1

Head

Cauliflower

Broken into florets

1/2

Cup

Brown Rice Flour

1/2

Cup

Water

1

Tsp

Garlic Powder

1/2

Cup

Hot Sauce

I used Frank's
Instructions
Preheat your oven to 400F. Line a baking sheet with parchment paper.

Wash your head of cauliflower and break it into florets.

Make your batter by combining 1/2 cup of brown rice flour in a bowl with 1/2 cup of water and 1 tsp of garlic powder.

Toss your florets in the batter, then take them out one by one and place them on the parchment lined baking sheet until finished.

Bake your florets for 20 minutes, then remove them from the oven, and toss them in 1/2 cup of hot sauce. Place them bake on the baking sheet and cook for an additional 15 minutes until they are crispy.

Toss in additional hot sauce as desired. Serve with a vegan ranch dressing or in a taco or wrap.
Nutrition
Calories:
91
kcal
|
Carbohydrates:
19.1
g
|
Protein:
2.9
g
|
Fat:
0.7
g