Meal Prep Pasta Salad with Italian Dressing
This meal prep pasta salad is going to be your new favorite lunch or side dish! The salad comes with delicious vegan Italian dressing, and is oh-so-easy to make!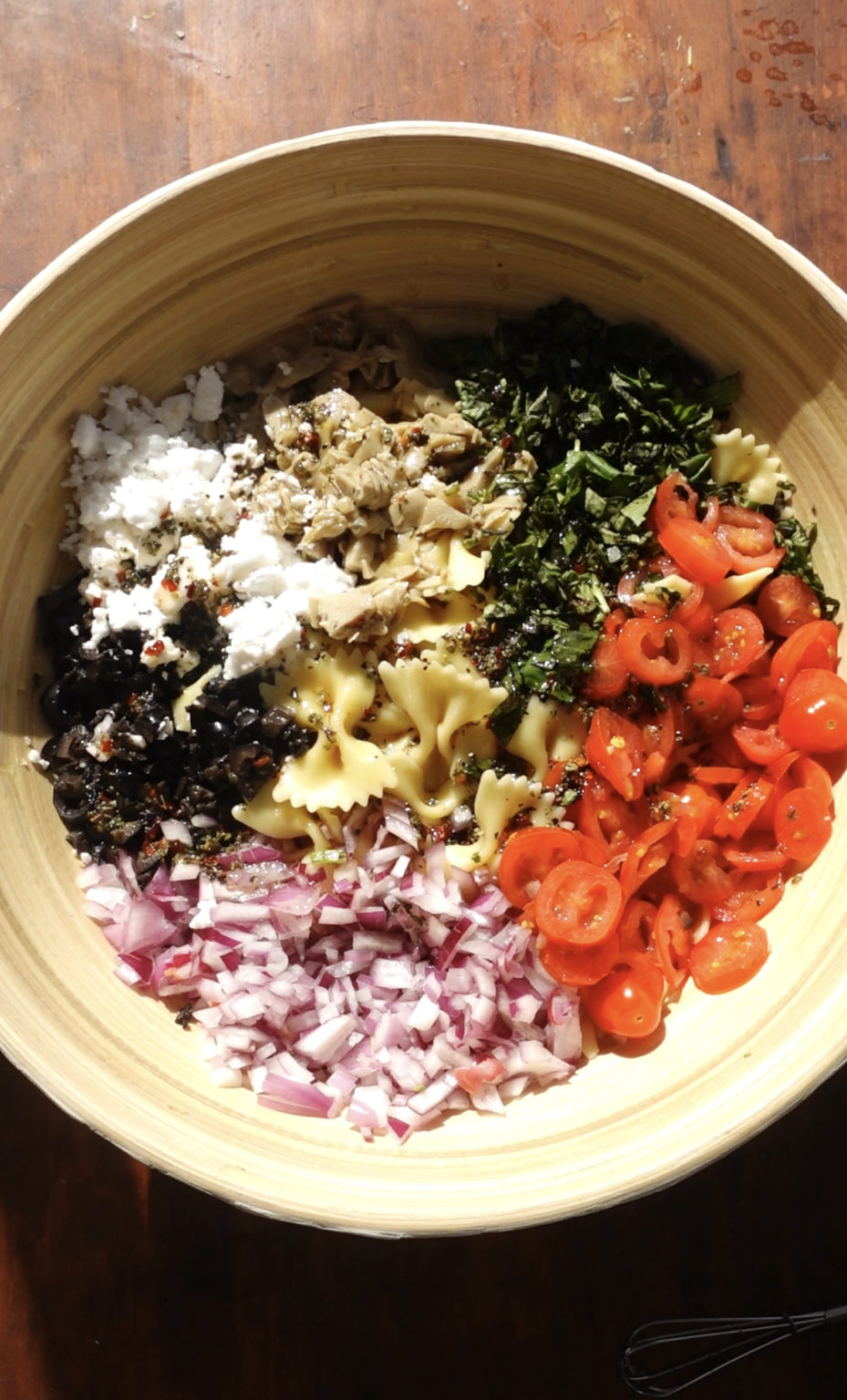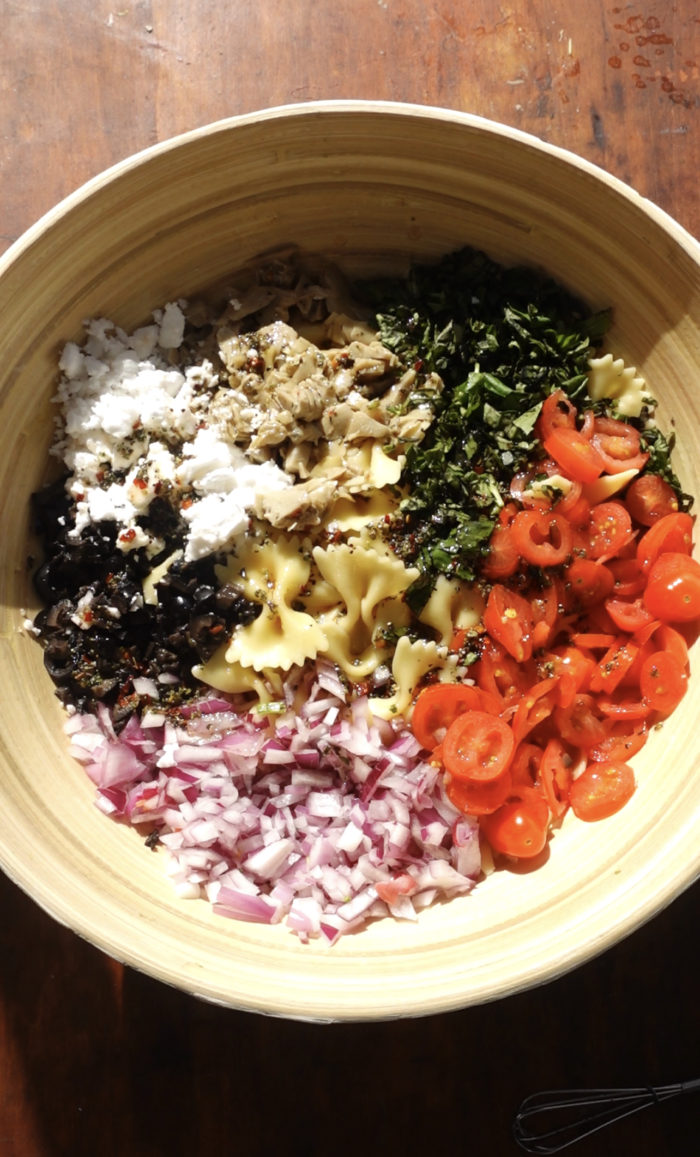 Is there anything better than a pasta salad for lunch? I love making this meal prep pasta salad on Sundays, and there's never any leftover before the week is over!
Now, don't let the word "salad" put you off. I don't know if it's due to growing up in the 90s, but for the logest time, I always thought of salads as a diet food. But it doesn't have to be! Let's move away from the diet culture and embrace all the wonderful combinations of fruit, veggies, and starches. Not to mention the dressings – zesty, creamy, nutty, spicy – your choice!
This meal prep pasta salad ticks all the boxes. It's filling enough to be served as the main course, it's full of flavor, and you can easily make a big batch to eat throughout the week.
Why You'll Love This Recipe
This meal prep pasta salad is a huge time saver! A big batch comes together in less than 25 minutes, and stays fresh in the fridge for up to five days.
This salad is a well-rounded, balanced meal that will keep you satiated without feeling overwhelmed. It has great sources of carbs, fibre, protein, and fats, as well as plenty of vitamins and other useful macronutrients.
Who says that salads must be bland and boring? This vibrant and delicious salad is proof that plant-based food doesn't equal rabbit food!
Pasta salads are a good common ground for families with different preferences. I mean, who doesn't like pasta?
How to Make This Recipe
The first thing you need to do is cook your pasta. I used whole wheat farfalle, but feel free to get creative. It's worth noting that the type of pasta you use may affect the cooking time. This especially applies to special pasta, e.g. chickpea or brown rice pasta. Be sure to check the packaging instructions! Once the pasta is cooked, drain the liquid and let the noodles cool down to room temperature.
To save some time, you can prep the veggies while the pasta is cooking and cooling down.
For the dressing, all you have to do is whisk olive oil, red wine vinegar, lemon juice, Italian seasoning, and salt.
Once all of the individual components are ready, mix everything together and enjoy! This meal prep pasta salad can be served both as a main meal, and as a side dish.
Hack It!
Just because you're gluten-free, doesn't mean you can't enjoy pasta! Simply sub the pasta with your favorite gluten-free variety.
I am well aware that not everybody likes olives. The good news is, they are optional! Try adding sundried tomatoes or pickled banana peppers instead.
If you don't have access to vegan feta cheese in your local stores, I have a whole-food vegan feta recipe on my Instagram! Perfect for this salad.
If you prefer oil-free dressings, check out these oil-free salad dressing recipes!
Store This Recipe
Once it's prepped, the salad can be divided into servings and refrigerated for up to a week in an airtight container.
Other Recipes You'll Love
Imagine if all plant-based cooking was as easy as this recipe… If that sounds like a dream come true, check out the PlantYou Planner! It's a digital meal planner with a huge database of easy, affordable, adjustable recipes. You can customize your weekly menu and take advantage of the autogenerated shopping list. Did I mention you can toggle the number of servings to suit the size of every household? With PlantYou Planner, you'll never struggle to pick what's for dinner!
I also released my debut cookbook this winter, which features over 140 recipes for every occasion. The PlantYou Cookbook is designed to make plant-based living as easy as possible, which includes an infographic for each recipe for visual learners like myself. I am beyond grateful for the incredible support the book has received so far, none of it would be possible without the PlantYou community!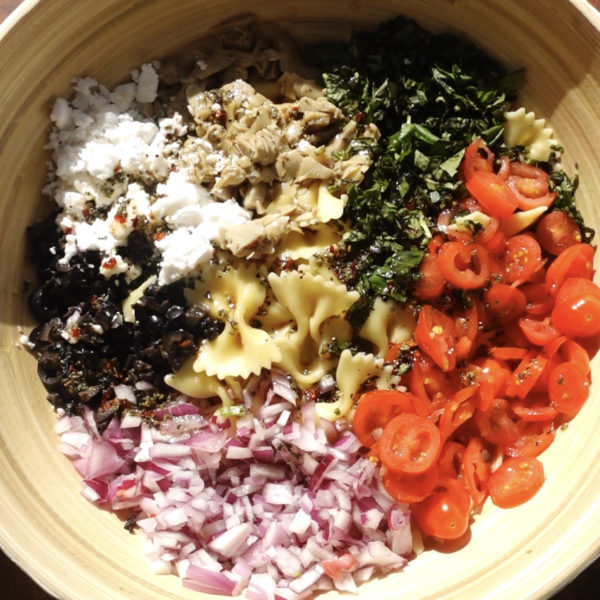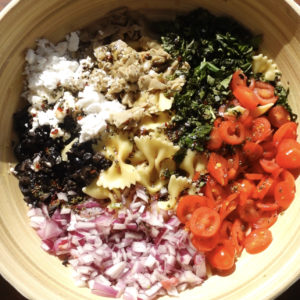 The Recipe: Meal Prep Pasta Salad
A simple, quick-to-prepare pasta salad with vegan Italian dressing.
Ingredients
16 oz whole wheat farfalle pasta, or whole wheat penne
1 red onion, diced
1 cup cherry tomatoes, chopped
½ cup black olives, chopped
1 cup marinated artichokes
½ cup chopped basil
½ cup vegan feta
Vegan Italian Dressing
¼ cup olive oil, sub vegetable broth
2 tbsp red wine vinegar
2 tbsp lemon juice
1 tbsp italian seasoning
¼ tsp sea salt
Equipment
chopping board

knife

mixing bowl

Jar
Instructions
Cook your pasta according to package directions then allow to cool to room temperature.

In the meantime, prepare your vegetables and combine all dressing ingredients in a jar.

Add all of the salad ingredients to a bowl and pour the dressing over top. Season with salt, pepper and chili flakes as desired.