Baked Feta Pasta (TikTok Recipe, Veganized)
This vegan baked feta pasta will make you shed a tear of joy. Using simple, plant-based ingredients I've been able to create the creamiest cheesiest pasta sauce of your dreams.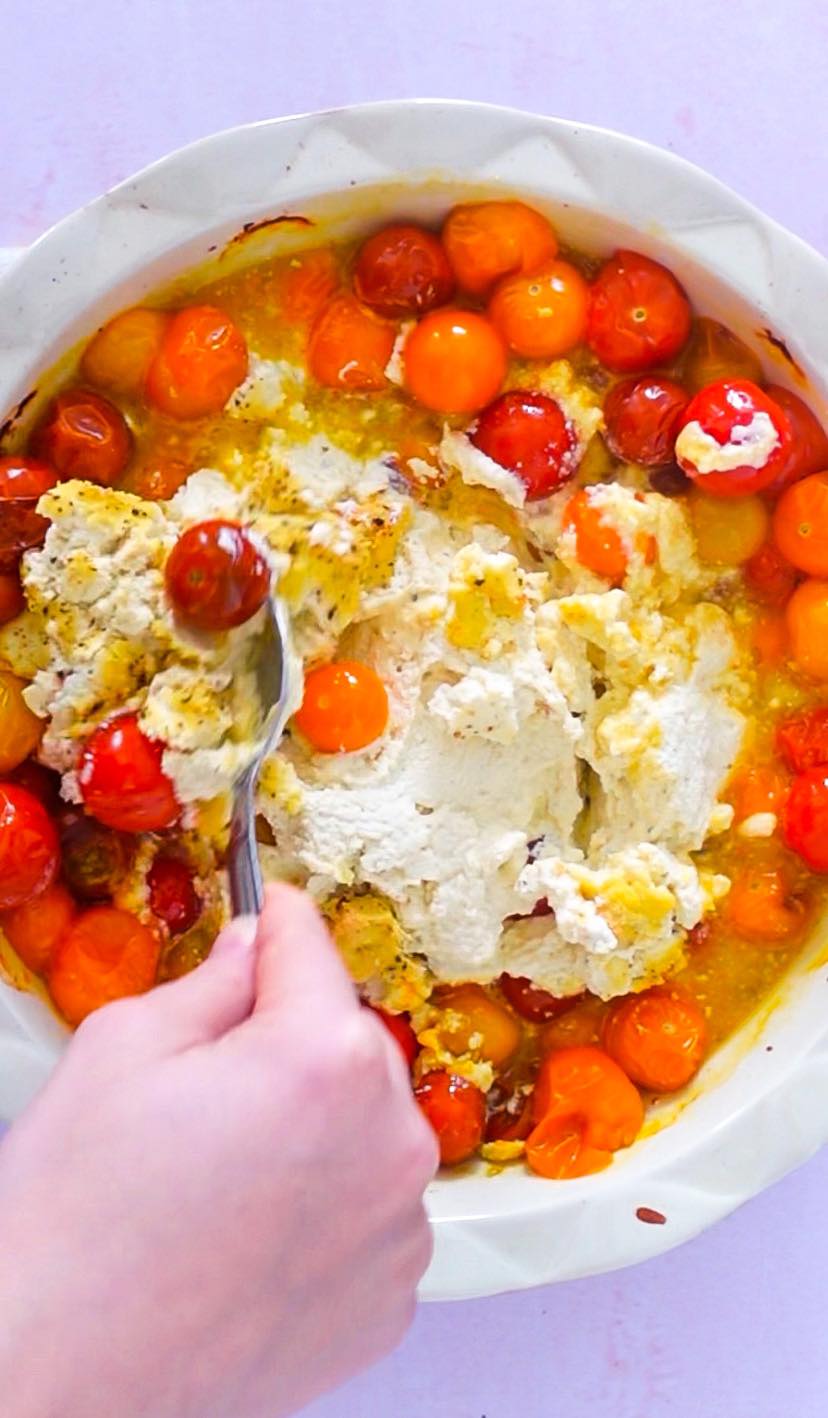 If you've been on Instagram or TikTok lately, you've surely seen a version of Baked Feta Pasta making the rounds. The TikTok famous recipe went so viral, that it supposedly saw feta cheese sold out all across Finland. The dish actually originates in Finland, by food blogger Jenni Häyrinen who created the recipe in 2019, coining the term Uunifetapasta.
Luckily, us vegans don't have to worry about feta being sold out across superstores. This recipe has no *actual* feta cheese in it. Instead, we make a mock feta cheese utilizing extra firm tofu, cashews and a few strategic seasonings and spices.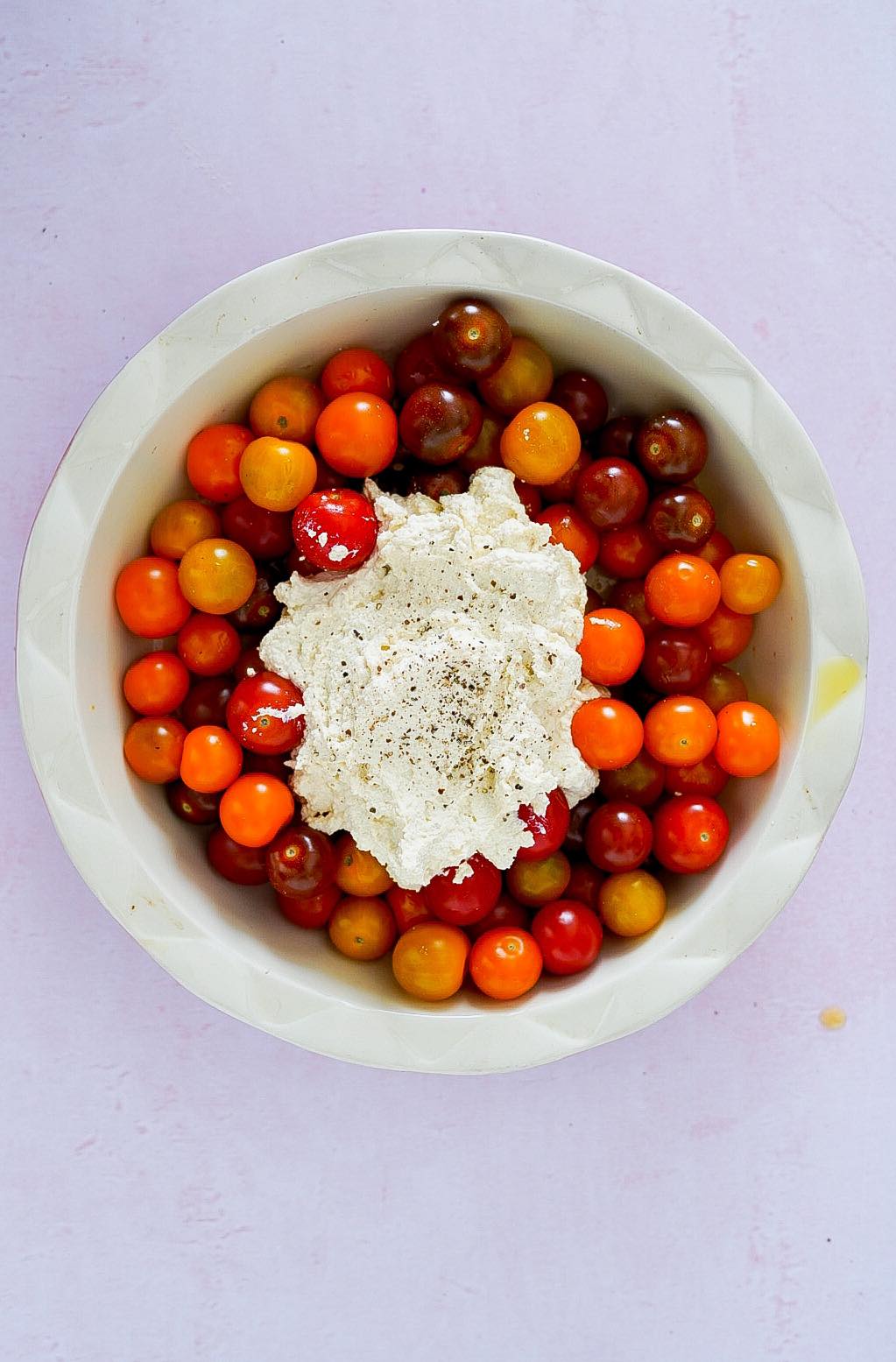 Why You'll Love Vegan Baked Feta Pasta
It's So Cheesy: Yes, I know there's no actual cheese in this vegan Baked Feta Pasta, but trust me when I say this dish is seriously cheesy. This is a dead ringer for a creamy cheese non-vegan pasta sauce.
It's Simple To Make: Like all my recipes, this is pretty straightforward. You just blend up your 'cheese' ingredients, throw tomatoes in an oven safe container along with the blended cheese, and let it bake. The prep probably takes less than 10 minutes.
Made With Good For You Ingredients: As far as healthiness goes, this recipe meets all the marks. Packed with protein from the tofu and the cashews, nutrients from the aromatic spices, tomatoes, and spinach packed in, and all topped off with a whole grain pasta, I'd say you've got a great well rounded vegan meal to enjoy!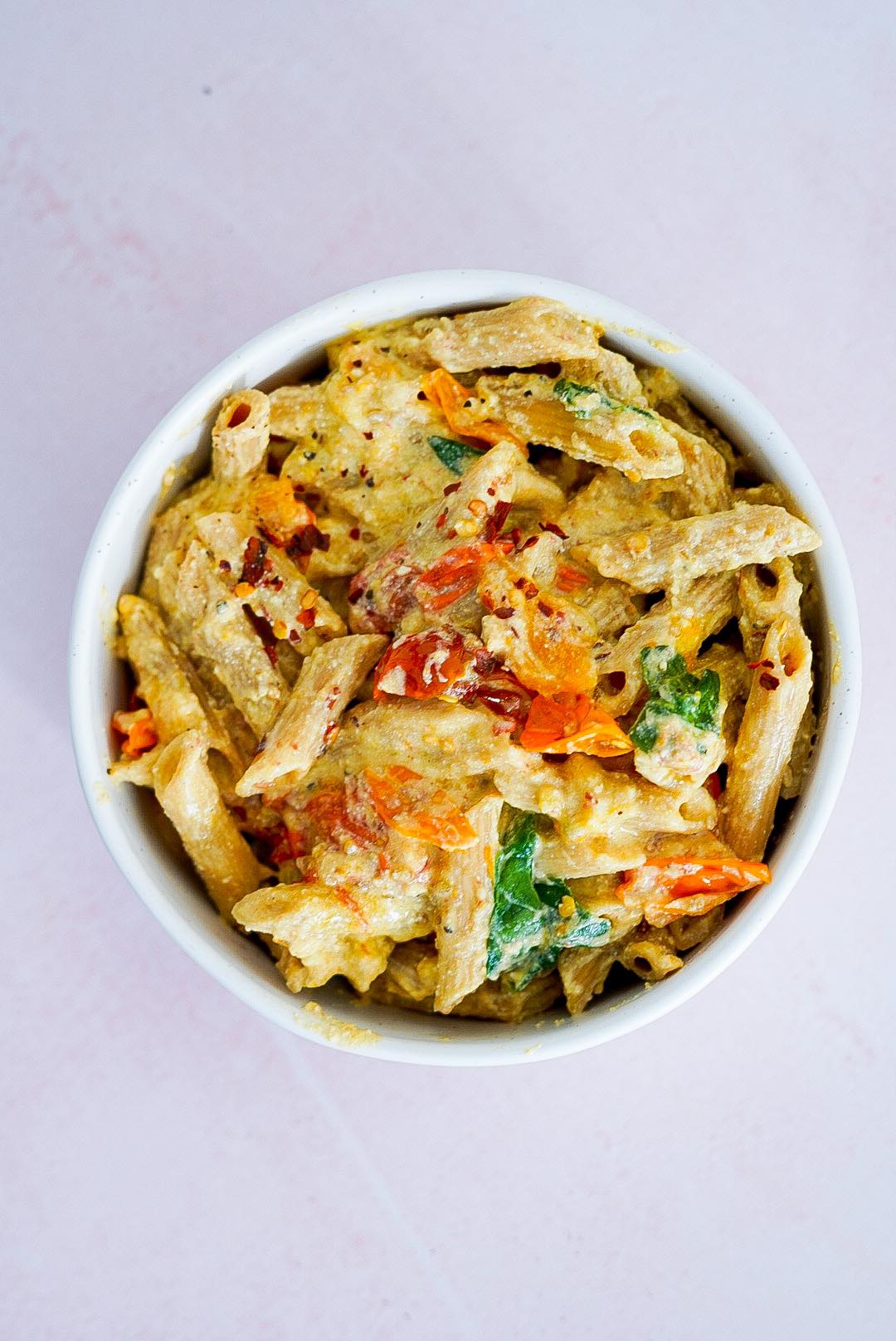 How To Make The Viral TikTok Recipe
Making this Baked Feta Pasta is easy.
You're going to want to start by preheating the oven to 400F, and picking out a deep baking dish to cook your sauce in.
Now, simply add all of the feta ingredients to a high speed blender or food processor, and give it a whirl. I used a vitamix, and I did have to use the tamper a bit. It probably took about three minutes to achieve a creamy consistency. And shhh… I didn't even boil or soak my cashews.
A standard food processor will do the job just fine as well.
Now that you feta is made, pour the tomatoes into the baking dish, drizzle with olive oil and top with salt and pepper. Scoop your 'feta' into the middle, and pop in the oven for around 35 to 40 minutes until the tomatoes have bursted.
While the sauce is roasting, cook up a pasta of choice. I used whole wheat penne. For a gluten free option, chickpea pasta or brown rice pasta would both work great.
Once the sauce is cooked, take it out of the oven and stir. This is the best part because you get to see the melty tofu feta meld with the bursted cherry tomatoes. Pour the pasta in, toss and enjoy!
Frequently Asked Questions
Can I Make This Recipe Nut Free?
Yes! To make the tofu feta recipe nut free, I recommend simply omitting the cashews. To add a little fat, you could sub with some tahini or sunflower seeds, but it's honestly not necessary.
Can I Make This Recipe Soy Free?
Yes again! To make this recipe soy free, I suggest using my cashew cream cheese recipe in place of the tofu feta which you can find here.
What About Oil Free? 
To make this recipe oil free, simply do not drizzle the tomatoes with olive oil. I caution against this though, because it really does add to the richness of the dish.
Can I Add More Veggies?
Absolutely. I would suggest adding sauteed mushrooms, peppers, onions and garlic to this dish. You could also add fresh basil!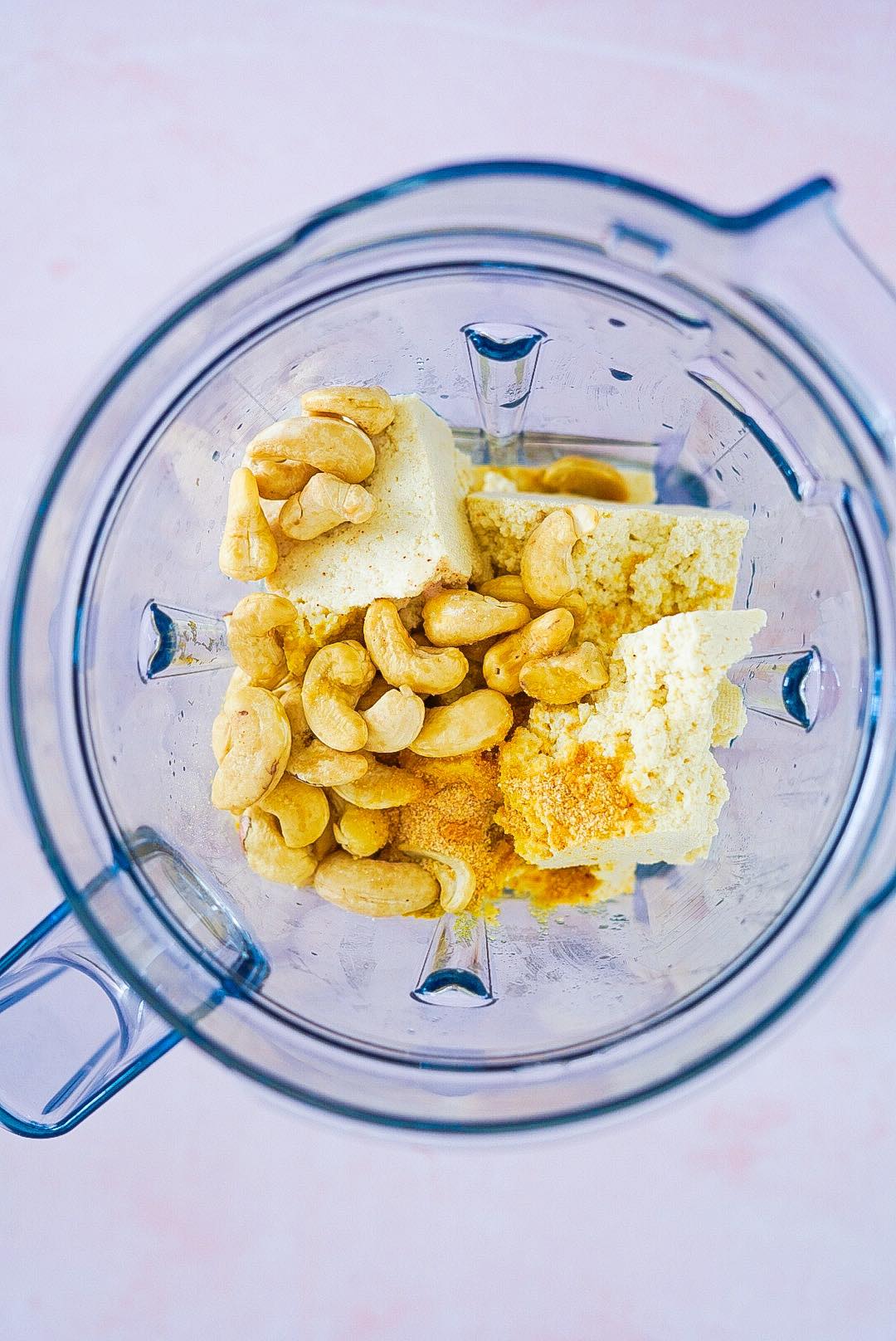 Other Vegan Pasta Recipes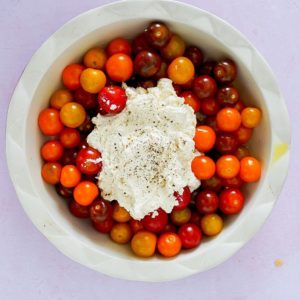 The Recipe: Baked Feta Pasta Veganized (TikTok Recipe)
The viral TikTok baked feta pasta veganized with healthy plant-based ingredients.
Ingredients
1 350g extra firm tofu
½ cup cashews, Soaked overnight or boiled for 30 minutes
2 tbsp apple cider vinegar
1 tsp sea salt
1 tsp garlic powder
1 tbsp nutritional yeast
2 ½ cups cherry tomatoes
2 tbsp extra virgin olive oil
2 cups penne, cooked, drained
1 handful spinach or basil
Instructions
Preheat the oven to 400F.

Add all the vegan feta ingredients to a high speed blender or food processor, including the tofu, cashews, sea salt, nutritional yeast, garlic powder and apple cider vinegar. Blend until a smooth sauce is formed.

Add the tomatoes to a baking or casserole dish, along with a drizzle of olive oil and salt and pepper. Pour the tofu "feta" in the middle, and top with more salt and pepper. Pop in the oven for 35 to 40 minutes, until the tomatoes have bursted.

Stir with a spoon until the tomatoes and "feta" meld together, and add a handful of spinach into the mix. Pour in the pasta, and mix until coated with the sauce. Enjoy with more freshly cracked pepper and red chili flakes.
Notes
Nut Free: Simply omit cashews, or replace with 2 tablespoons of tahini or sunflower seeds.
Soy Free: Make my cashew cream cheese and bake it instead.
Calories: 389.5kcal, Carbohydrates: 52.3g, Protein: 12.5g, Fat: 15.1g, Saturated Fat: 2.4g, Sodium: 604mg, Potassium: 529.2mg, Fiber: 3.7g, Sugar: 4.9g, Vitamin A: 1158.7IU, Vitamin C: 23.4mg, Calcium: 37.1mg, Iron: 2.9mg