Vegan Back To School Meal Prep Tips
It's that time of the year once again… back to school time! After a summer full of sun and fun, going back to school always means busier schedules, more routine, and less time for preparing delicious and healthy meals. That's why I am sharing my best back to school meal prep tips so you can make amazing, vegan meals while balancing your crazy schedule.
It can seem daunting to prepare vegan on the go lunches and easy to make dinners. Be on top of your food choice game by planning ahead and conquering all that back-to-school madness at the same time with plenty of healthy and simple meals.
Whether you have kids heading back to school or not, you are preparing for the fall semester, or you are trying to get in-sync with a regular work routine once again, these vegan back to school meal prepping tips will be super helpful in keeping you on track.
Why You Should Back To School Meal Prep
The number one secret to sustaining a vegan diet? Planning and prepping well ahead of time!
Back to school meal prepping saves you time, money, and mental energy. Especially around back to school time, we could all use as much extra energy as possible.
By investing a few hours at the beginning of each week to prep your vegan meals, you will save double that time during this time in preparing meals and grocery store trips.
And when you prepare it ahead of time, you'll save money by not resorting to ordering take out when you don't feel like cooking.
Your plant-based meals will be one less thing to worry about during the day, so you can spend that brainpower somewhere else.
And best of all, you will be keeping your family and yourself healthy.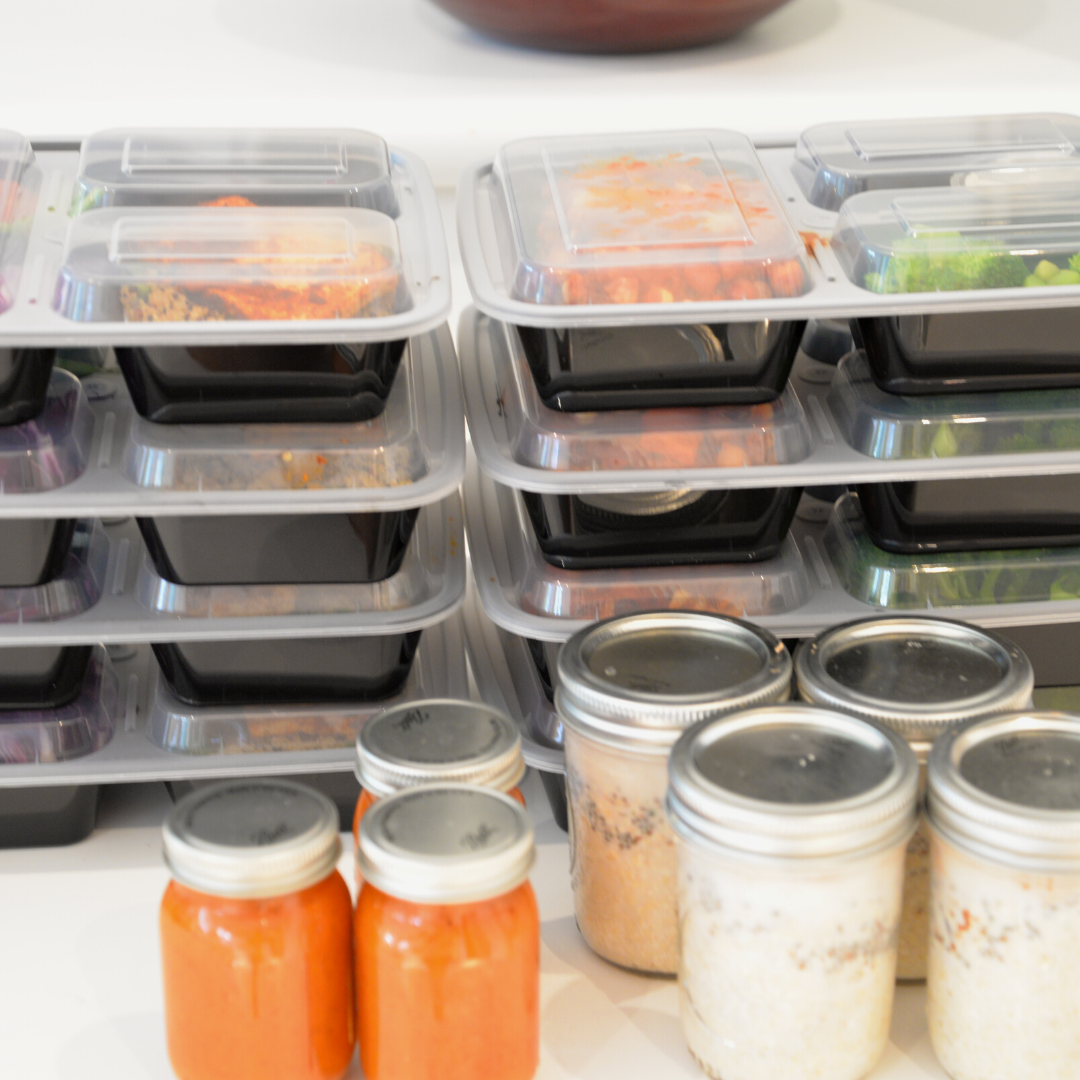 Tips For Back To School Meal Prepping
Tip #1: Prep a 'go-to breakfast'
Don't force yourself to cook a 5-star meal every morning. It can be very time consuming, especially if you're trying to get kids ready and out the door. I suggest preparing an easy, grab and go, or something you can heat quickly in the microwave or toaster oven that your kids and you can look forward to each morning.
Tip #2: Prep for a few hours on the weekends
Carving out a few hours on a Sunday to plan the weekly meals, hit the grocery store, and prep some snacks will save you double the time during the week.
Tip #3: Wash and cut fruits and veggies
Save time when cooking by washing and cutting your veggies ahead of time. I love cutting up some strawberries I can quickly grab during the day and being able to throw some already cut zucchini in a pan for dinner, as well. It seems like a little step, but it makes the whole process go so much more smoothly.
Tip #4: Cook grains and beans ahead of time
Cook your grains, like rice and quinoa, and beans ahead of time. Having rice cooked, and veggies cut, makes a stir-fry dinner a piece of vegan cake. Just throw everything in a pan and add some of your favorite sauce!
Tip #5: Prep snacks & sauces
One of my favorite things to prepare in advance is sauces! Sauces are excellent to prep because you can make them, use them that week, or stick them in the freezer for weeks. Adding sauce to any meal is always a good idea.
Lastly, prep all of those grab and go snacks ahead of time. Whether it's just some cut fruit, or delicious protein balls, having snacks on hand will keep you from getting hungry or 'angry'.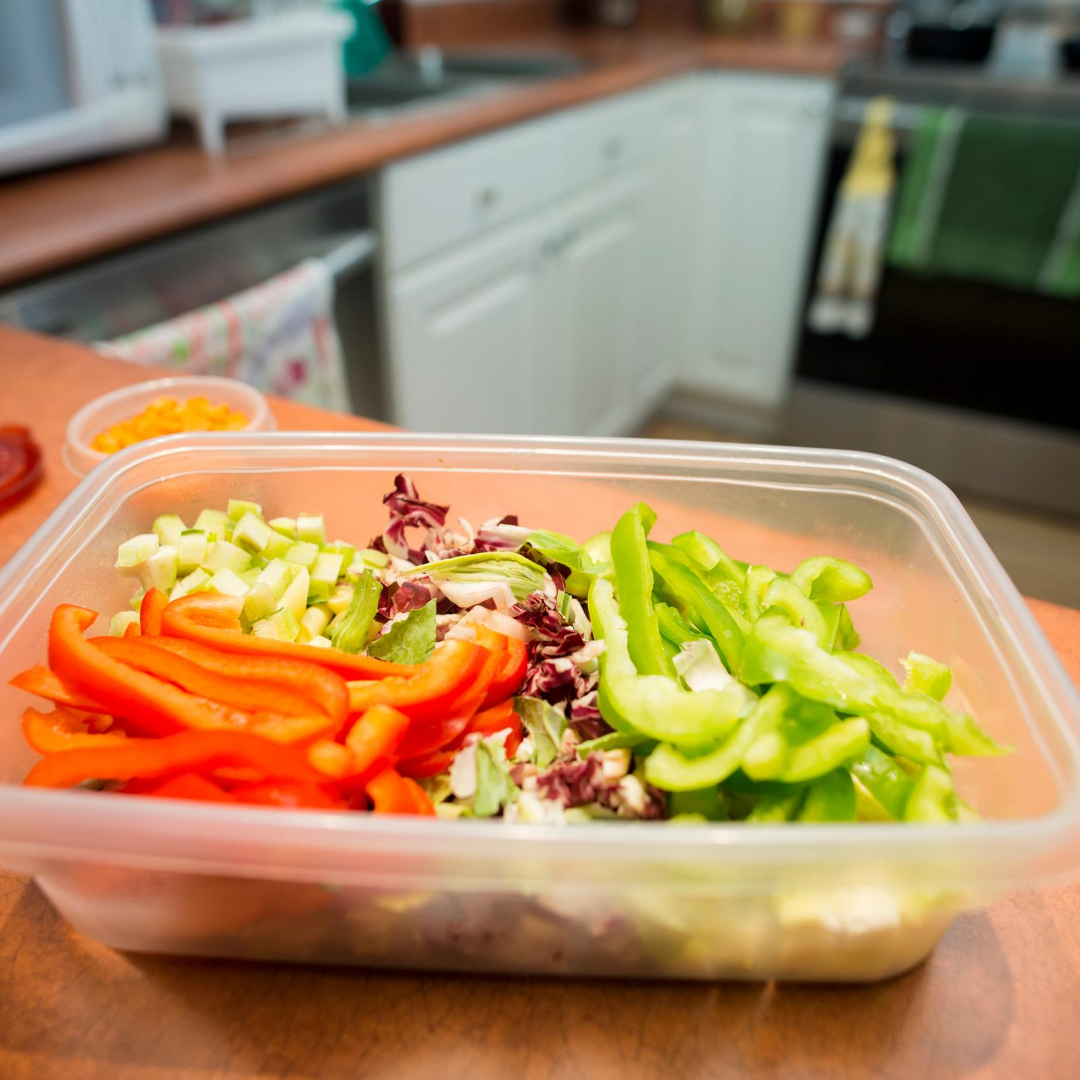 Meal Prep Tips For Working or School From Home
If you are stuck at home this fall, you might think "why should I even bother to meal prep?"
But you still should! Here's why: Working or doing school from home does not necessarily mean you're going to be less busy, quite the opposite.. Save yourself the time and energy of cooking every meal so you can focus more on the crucial tasks at hand.
Tip #1: Keep it simple
Just because you are at home, does not mean that you need to be cooking an elaborate meal every night! You can keep your same schedule of going to the store once a week, prepping on Sundays, and cooking dinner in 10 minutes. Keeping it simple is the best way to stay consistent.
Tip #2: Take a lunch break
It is tempting to eat lunch while you work, but it is not suitable for your digestion. Taking a break in your workday and eating a healthy, delicious meal helps re-energize your body and mind! I love to use this time to eat my meal prep and then take a leisurely walk to unwind for a bit before returning to work.
Tip #3: Focus on eating real food
Stock your fridge with whole foods. When the kitchen is only a few feet away, food becomes much more accessible. When you choose to fill your fridge with whole foods instead of processed foods, you don't need to worry about deciding what to eat. And when snack time comes around, you will have food that fuels your body on hand.
Our Top 3 Meal Prep Recipes for Back To School
Strawberry Coconut Overnight Oats
Delicious overnights oats that you can prep for the whole week! This is also a wonderful grab and go option.
Ingredients
1½

cups

Oats

Rolled or quick

1½

cup

Organic Coconut Milk

1½

tbsps

Chia Seeds

2

tsps

Maple Syrup

½

cup

Water

1½

cups

Strawberries

sliced

3

tbsps

Hemp seeds
Instructions
Combine oats, coconut milk, chia seeds and maple syrup together in a large glass container. Add water and stir well to evenly mix. Cover and store in the fridge overnight.

Remove from fridge. Use single-serving size jars (250 mL or 500 mL in size) and place a few spoonfuls of the oat mixture in the bottom of each. Then add a layer of diced strawberries followed by a sprinkle of hemp seeds. Repeat until all ingredients are used up. Store in the fridge up to 4 days or until ready to eat.
Notes
Notes: Warm it up: Heat in the microvwave for 30 to 60 seconds before eating if desired More protein: Add extra hemp seeds Lighten up: Use almond or soy milk instead of coconut milk.
Packable Veggie Wrap
This simple veggie wrap will be ready in under 30 minutes and is perfect for meal prepping!
Ingredients
½

cup

Quinoa

4

Corn Tortilla

whole wheat wraps option

1

tbsp

Unsweetened Coconut Yogurt

1

Garlic

minced

½

cup

Pickled Red Cabbage

¼

Cucumber

grated

¼

cup

Radishes

sliced

¼

cup

Fresh Dill

chopped

Salt & Pepper

to taste
Instructions
Cook your quinoa according to package directions and set aside.

In the meantime, make cucumber raita. Grate your cucumber. Then mix the grated cucumber with garlic, dill, yoghurt and some salt and pepper.

To assemble the wraps, lay tortillas on a flat surface. Start with raita, top it with quinoa, sliced radishes and cabbage. Add more salt if necessary and roll your wrap. Cut in half and enjoy.
Notes
Notes:
Leftovers:
You can store these wrapped, or keep the ingredients seperate to assemble on site.
Squash, Carrot and Lentil Soup
This hearty and healthy soup will make mealtime easy all week long!
Ingredients
1

Carrot

sliced

2

cups

Butternut Squash

cubed

½

Leeks

sliced

2

Garlic

minced

¾

cup

Dry Red Lentils

4

cups

Organic Vegetables Broth

2

tbsps

Rosemary

springs

3

Bay Leaf

1

tsp

Mustard Seeds
Instructions
Heat the broth in a large pot. Add the rosemary sprigs, mustard seeds and bay leaves, and let the liquid simmer for about 10 minutes. Take out rosemary and bay leaves, then add the lentils

Slice your carrots and leeks. Chop your butternut squash into cubes. Mince your garlic

Place carrots, leeks, butternut squash and garlic into a non-stick frying pan. Saute on high heat for 7-10 minutes uncovered, then add the veggies into the pot.

Let everything cook together for about 15 minutes, until lentils are softened. It can be served immediately or refrigerated for up to 5 days! Alternatively blend with an immersion blender or counter blender for a creamy thick soup.
Notes
Notes: Serve with: A slice of sourdough bread or crackers. Leftovers: Keeps in the fridge for up to five days.
Try out the Plant Ahead Program
I hope these tips make 'back to school meal prepping' much more manageable! Meal prepping is a huge factor in my productivity and sanity, so I created what I call the Plant Ahead Program.
I share my weekly grocery list and plant-based meals that are super simple and incredibly delicious in this program.
Using my Plant Ahead Program will help you stay strong in your vegan goals and keep you satisfied day after day. My goal with Plant Ahead is to keep healthy even on the go, so you too can feel your best and accomplish all of your goals.