How To Eat Plant-Based on a Budget
Think being plant-based is expensive? Think again!
It might seem like a trip to the grocery store costs more when you are buying whole foods instead of frozen dinners, but in the long run, cooking plant-based saves you money – and of course, it also helps you to maintain your health at the same time. In this article, we are discussing how to eat plant-based on a budget!
The key to eating plant-based on a budget is knowing how to shop; knowing what to buy, and what to make. Once you have these three things down, eating plant-based becomes natural and a lot less expensive too.
How To Shop Plant-Based On A Budget
My best tip for any location is to compare the grocers in your area. Fresh produce at a big grocery chain might be one-third the price at a local store. Although going from store to store does take time, especially at first, you could end up saving hundreds on your food bill. I also suggest checking out your local farmers market for in-season produce which are usually the most affordable!
Also, don't get caught up on all the organic hype. You don't have to buy all organic produce to maintain your health. When first starting out, stick to the Dirty Dozen and Clean 15 lists. You can find those here.
Lastly, try to go shopping only once a week! How many times have you walked into the store for a couple of vegetables and left with $50 worth of stuff? When you make it a point to eat what you have on hand by limiting weekly shopping trips, you'll end up with more money in your pocket.
Check out the Plant Ahead Program to see how our meal planner subscription can help you plan each week.
What Are Budget Plant-Based Foods To Buy?
So what foods should you be buying on a budget?
I suggest sticking to whole and unpackaged foods. The processed vegan cookies and specialty cheeses are delicious, but they are more expensive and will increase your grocery bill exponentially when planning to stick to your budget.
We all love to treat ourselves from time to time, but when we focus on filling our grocery carts with whole food, unprocessed foods, our wallet (and our health) will thank us for it later!
It is also tempting to buy pre-cut fruits and veggies, but it is even more expensive and worse for our environment. Buy your produce fresh and cut it yourself in order to save time.
Another way to save money is to buy storable foods in bulk. These include foods such as beans, legumes, brown rice, oats, dried fruit, vegetable broth, pasta, and practically anything shelf-stable.
Having some go-to stable bases for your food on hand makes it easier to eat what you have and save you from multiple trips to the store each and every week.
Plant-Based Meal Planning on A Budget
When you go into your week with a plan, you'll be able to stay on budget with a set grocery list heading into your favorite food store. This is a foolproof way of making plant-based on a budget easy and loads of fun too!
And to help with that – here is a free weekly planning chart!
For my entire step-by-step meal planning process, check out my full blog post here!
To make your meal plan last longer, I suggest making enough food with leftovers for the next day. That saves you a meal (or two) that you don't have to buy or even worry about making!
Plant-Based On A Budget Meals

Breakfast
Vegan Baked Bean and Potato Hash
The perfect way to use up any leftover produce at the end of the week is to make "hash"! This is my favorite recipe. You can easily make it your own by adding extra veggies before going bad!
This recipe also makes plenty of food for the whole family, or so you can have a relaxed breakfast for a few days.
Everything in these oatmeal cups is storage-friendly so that you can make them again and again without a trip to the grocery store. These are infinitely customizable so that you can throw on some fresh berries or plant-based yogurt to the top for an ideal breakfast!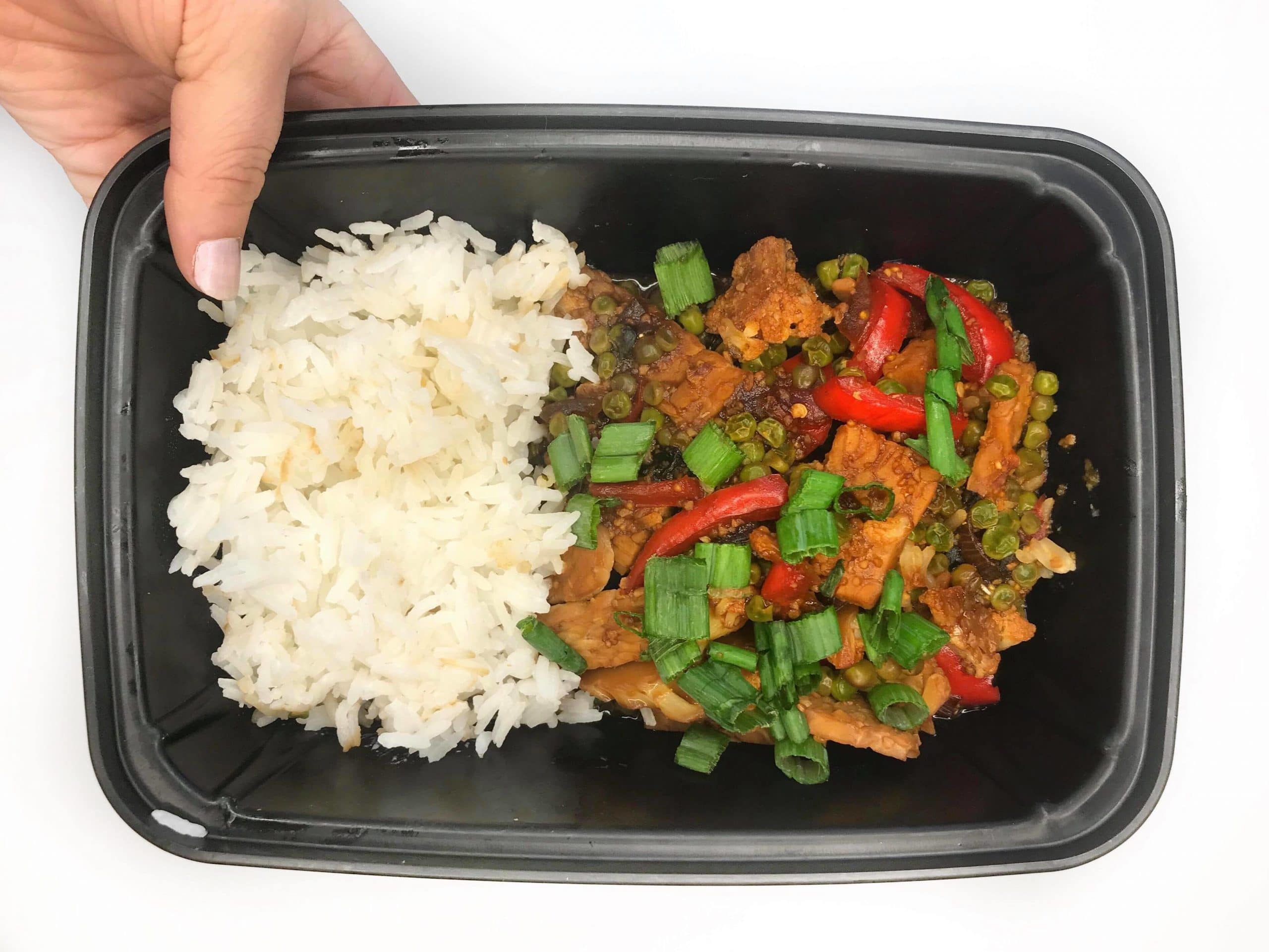 Lunch
Pull out your pasta from the pantry and add some vegetable broth plus any vegetables you are craving! Pasta is my go-to meal when it comes to saving money because I can use what I have. Plus, pasta is shelf-stable, so I try to always have some on hand.
Rice Bowls
Another budget-friendly go-to is any kind of rice bowl! Rice is a staple in my pantry, and then I love adding any leftover vegetables or tofu I happen to have lying around. Throw on any type of sauce, and you're good to go. It is also a great lunch to meal prep. Here is my Tempeh Teriyaki Rice Bowl if you need some inspiration.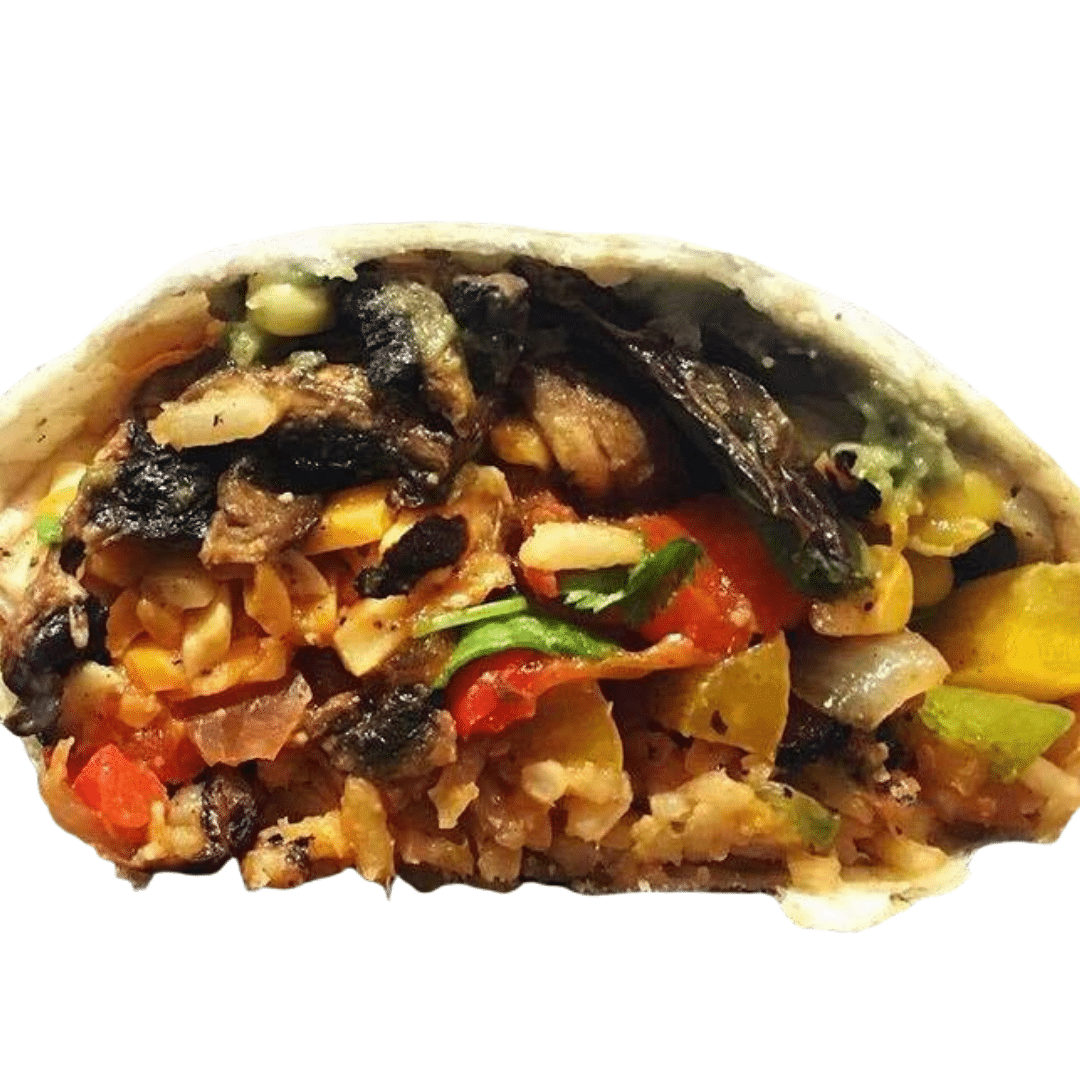 Dinner
Made with minimal ingredients typically found in a vegan pantry, this is one of my favorite dinners! It is a comfort food classic, and it doesn't break the bank (or clock) when it is time to make dinner.
The best simple and customizable dinner- vegan burritos! Tortillas, beans, rice, and salsa are the base – Add in whatever you find on sale at the grocery store. I love burritos only because I can stuff so many delicious foods inside them, making it the perfect vegan dinner.
Dessert
My 4-ingredient fudgesicles are the perfect dessert to whip up and keep in the freezer for a sunny day. No hard-to-find expensive ingredients here.
Bananas Based Desserts
Bananas about to go bad? Throw them in the freezer and use them for dessert! Bananas are so versatile when it comes to dessert making! Plus, storing your perfectly ripe bananas in the freezer means you can use them all for weeks.
Here are some easy and cheap recipes that will make you go bananas:
Banana Peanut Butter Sandwiches
If you need some more simple plant-based recipes that do not require a grocery trip to the store, check out my Vegan Pantry Only Recipes.