How To Give Up Cheese
Are you trying to live a healthier, plant-based lifestyle but are struggling with letting go of dairy products- especially cheese? In this article, I'm sharing how to give up cheese without the stress!
You're not alone! Even though some cheese products link to numerous health issues including: weight gain, bloating, and skin concerns, millions of people consume (and love) cheese daily, making it extremely hard to give up cheese.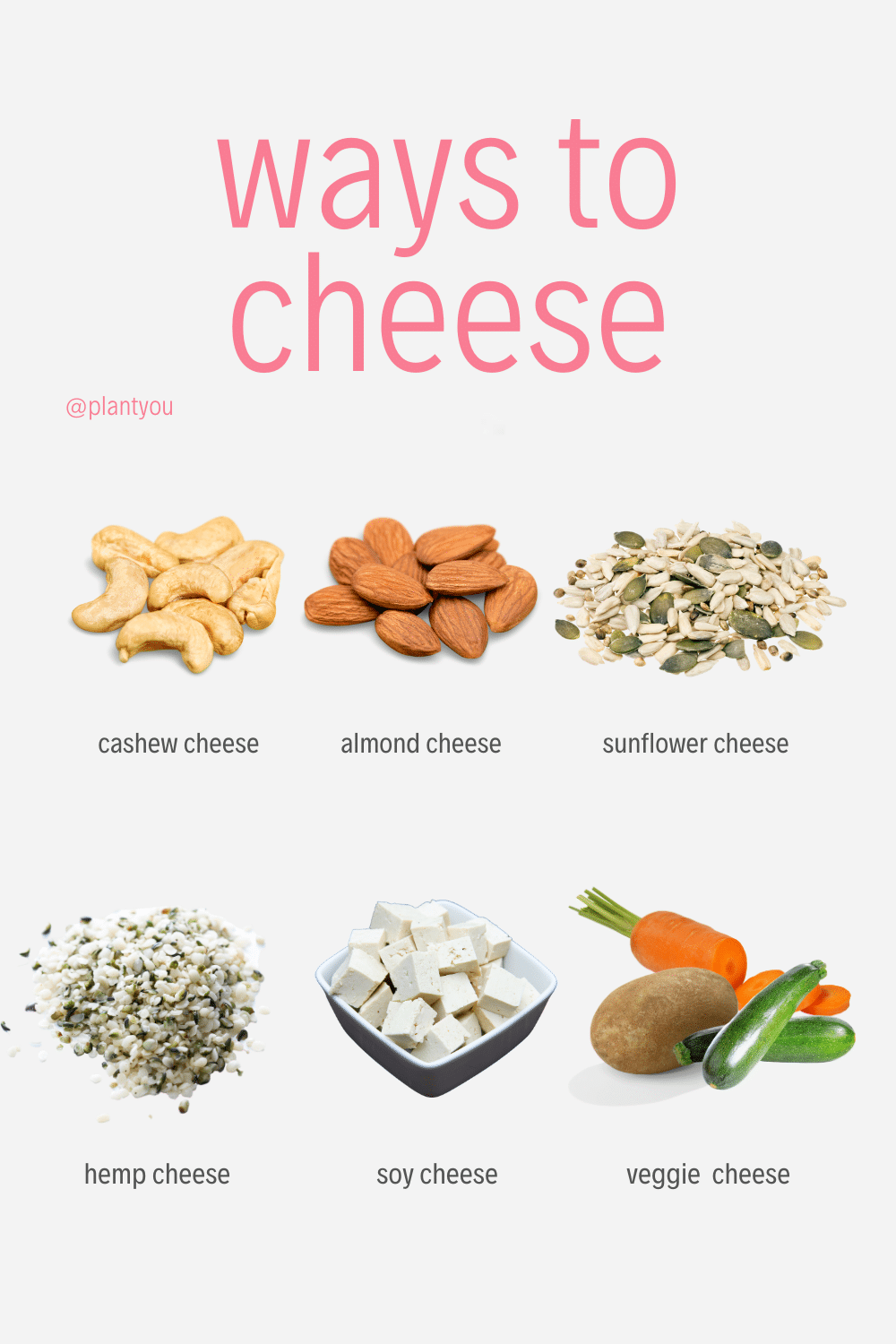 Why is cheese so hard to give up?
It's not just because of the taste or gooey-ness. There is new scientific evidence that some proteins and chemicals in cheese are addictive. So, don't worry, there is nothing wrong with you.
According to The Cheese Trap, cheese contains a concentrated version of a protein present in dairy called Casein. The process of turning milk into Cheddar cheese increases the amount of Casein present about 7 times.
So what's the deal with Casein?
When you digest Casein, it breaks down into longer fragments that release morphine-like compounds into your bloodstream. These compounds bind to the same reward-center neurotransmitters as other opiates, which lights up our brains with happiness and makes them highly addicting.
Babies (humans and animals) need to drink milk to survive, so it makes sense that there would be encouraging compounds present in milk, so they want to keep drinking and get the nourishment.
The good news is that the longer you don't eat cheese, the less you crave it. As someone who hasn't eaten cheese in years, I don't miss it all! The key to giving up cheese has satisfying alternatives, so you don't feel like you are missing out on all of the comforting cheesy dishes- like vegan pizza, cheesy vegan pasta, and vegan cream cheese.
Now, I can eat my "cheese" without worrying about the harmful side effects.
And how do you find these delicious alternatives?
There are two wonderful options to help you give up cheese: Make them yourself or purchase them.
How To Make Vegan Cheese With Cashews
A delicious way to make vegan cheese is with cashews! Cashews are super versatile and provide a subtle but not overwhelming nutty taste, while nutritional yeast provides a "cheesy" flavor.
All you need is cashews, a bit of nutritional yeast, some water, a food processor, and whatever seasonings you want to add.
First, you'ill want to soak the cashews in water for at least 2 hours, or overnight, to let them soften.
Then, put the water, cashews, and nutritional yeast in the food processor and mix until they have a smooth and creamy texture.
Lastly, add in any other seasonings you might like.
Here are some options:
Don't be afraid to experiment with spices and make it your own!
Here is the full recipe for my vegan cashew cream cheese.
And make sure to check out my recipe for making your vegan pizza cheese.
Make Your Own Nut-Free Vegan Cheese
Are you avoiding nuts or have an allergy? No problem! There are plenty of vegan cheese options made without nuts.
Here is one of my favorite simple oil free vegan cheese sauce recipes below!
For no nut cheese, you will need vegetables as the base, such as potatoes, carrots and zucchini. You will use some nutritional yeast for that cheesy flavor, lemon juice, and mostly the same seasonings as nut based cheeses. You will also need some liquid aminos, which gives the cheese a nice salty flavor.
How to prepare it:
First, you will cook the zucchini, carrots and potatoes until soft.
Then, you will add all of the ingredients in a blender and blend until smooth. You will want to mix for at least 2-3 minutes, as it will thin out the more you blend.
Simple enough, right?
If you are unsure about making your own cheese and want a little guidance at first, I highly recommend purchasing a vegan cheese making kit. The kit will break down the step by step process which is perfect for a first-time vegan cheesemaker.
Vegan Cheese Swaps
Not ready to start making your own vegan cheese, but looking for a few store-bought swaps for your recipes?
When I first gave up cheese, there were practically no options in the grocery stores. Nowadays, there are plenty of great plant-based brands that make all different varieties of cheeses. You can buy shredded cheddar cheese, flavored cream cheese, and even delicious cashew queso.
Here are some excellent vegan cheese brands that I recommend:
Vegan Cheesy Meal Ideas
As I said, the key to quitting cheese is making sure you are satisfied with your cheese-free meals.
But eliminating cheese from your diet does not mean that you need to sacrifice creamy, comforting foods.
Here are some meals I recommend to help you in the transition off cheese…
If you are ready to give up cheese, but wondering about all of the other addicting sources of dairy in your life, like milk and ice cream, check out my full post on How to go Dairy Free.
Are you looking for more whole food plant-based recipes?
Sign up for my plant-powered meal program to make living your best plant-based lifestyle easier than ever. In the Plant Ahead program, you get a weekly grocery list and 7 simple and delicious plant-based recipes. Put your meals on autopilot and transform your health with this easy-to-follow meal plan.